Natalie and I go way back to 9th grade gym class - (she's one hell of a floor hockey player - don't let her fool you!) and I was so excited when she called me last spring to say that she was getting married! I wish I could say that she was married on a beautiful sunny day - but that was only true half of the day. That was the saturday that it started to rain in the afternoon and poured till sunday morning. Rain is good luck! And makes for some great skies and deep colors for photos.
The day started at Natalie's parent's home where her Dad made a huge breakfast of bacon, sausage, eggs, and toast for Natalie and the bridesmaids. Natalie's niece and nephew were the flower girl and ring bearer - so cute!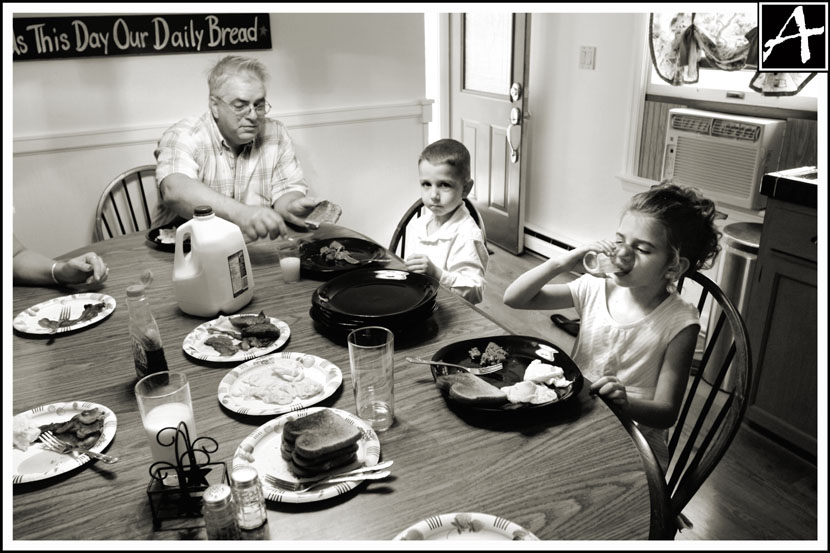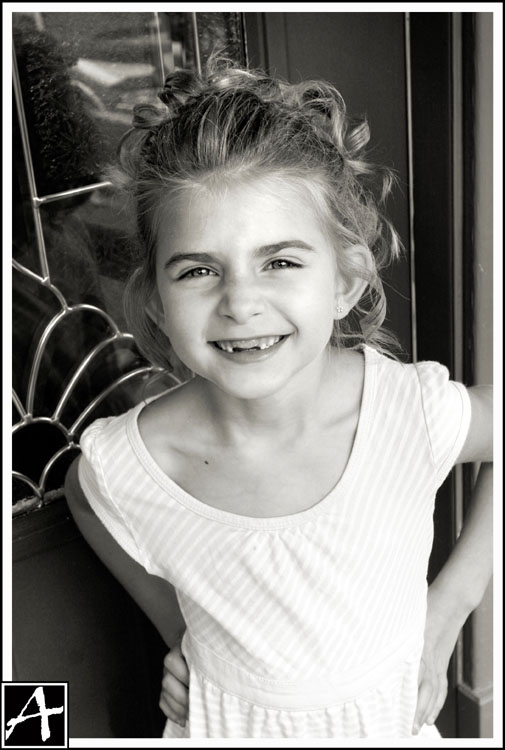 They were married at St. Gertrude Catholic Church in Vandergrift - we snuck outside before the ceremony to get some shots of Natalie as the skies were beginning to darken. She was a beautiful bride :-)
The church was gorgeous and decorated with handmade arrangements of flowers and ribbon at the ends of the pews.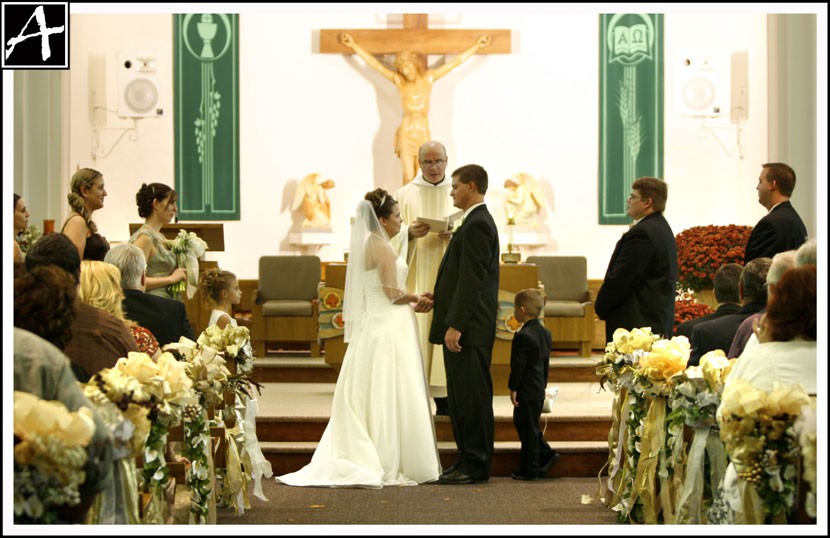 They stepped out of the church to a shower of bubbles - my friend here was determined to make the biggest bubble.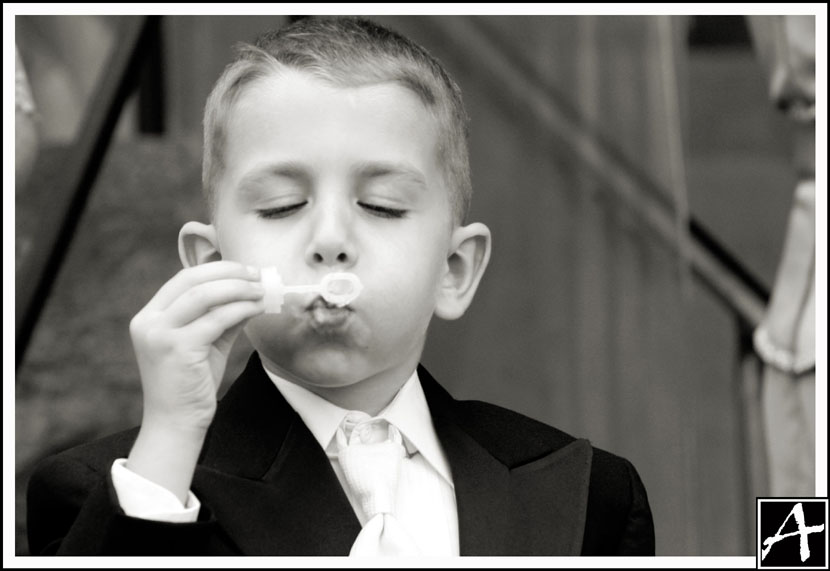 Their reception was held at Lingrow Farm in Leechburg. We were worried about the outdoor photos we had planned but were glad to be in the barn safe from the rain. Their guests were nice and dry as they sat on the porch with their drinks and cookies watching sheets of rain hit the lake. We went from worried about pictures to just plain bummed out.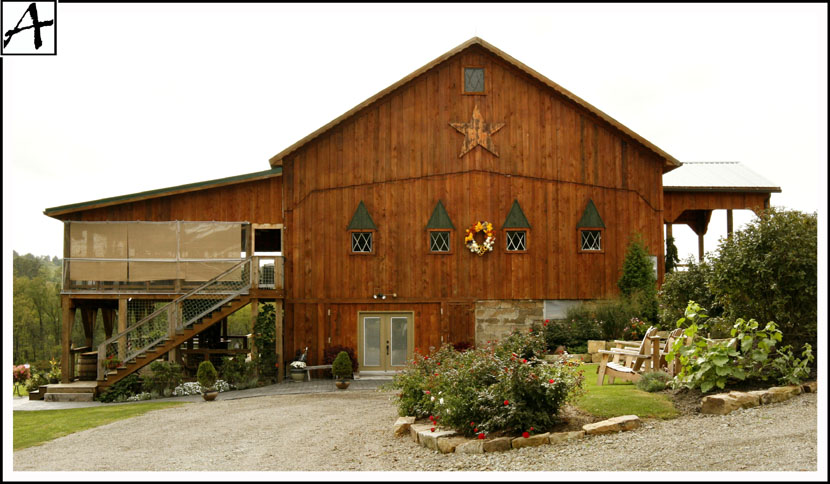 The barn was decorated with fall leaves and tulle. The families did all of the decorations themselves including the centerpieces which were hurricane vases with clear lights and cattails and grasses wrapped in green ribbon.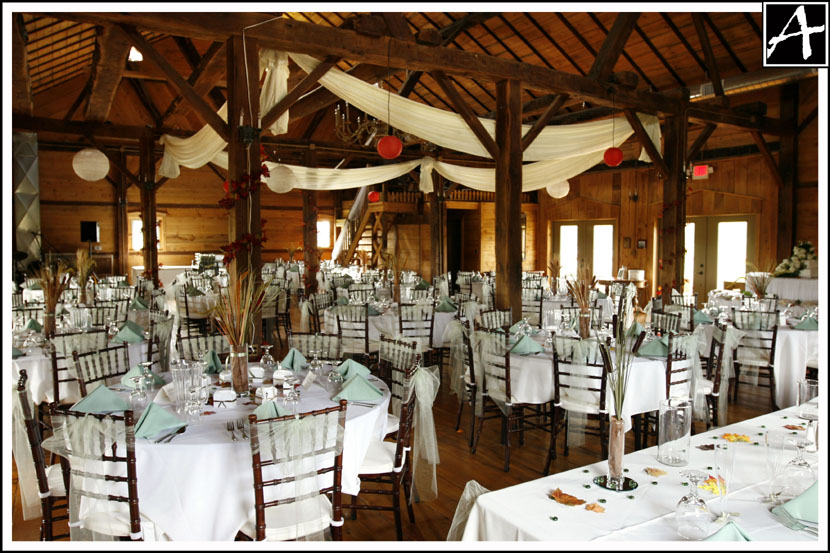 The head table equipped with crayons ;-)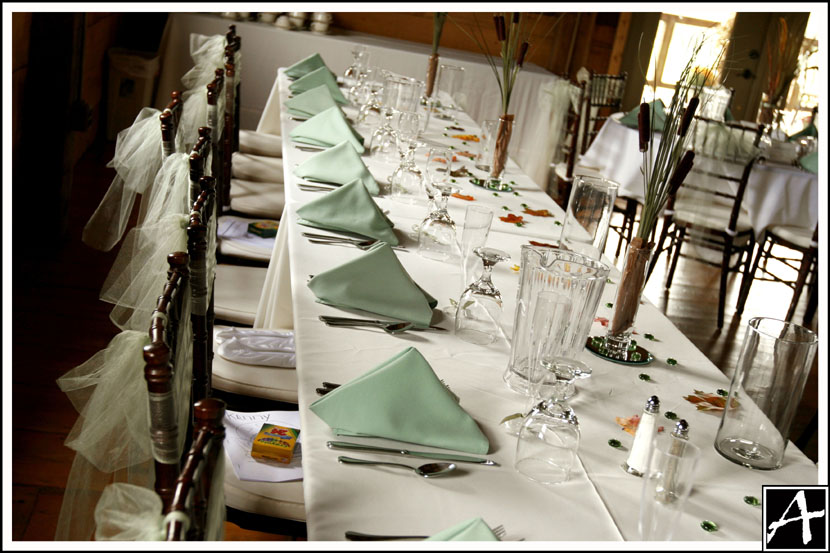 The sky was dark and they were calling for rain for the whole night.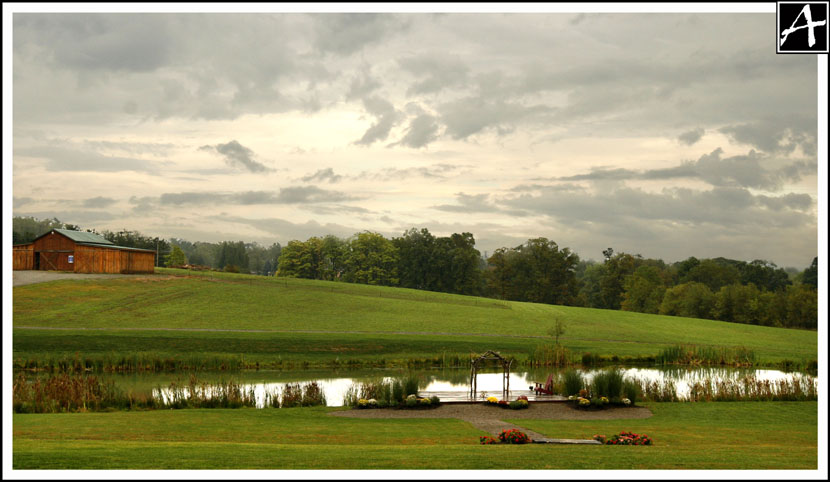 However - right after the toasts and just a few minutes in to dinner the rain slowed to a drizzle and then stopped completely for about 20 minutes. Natalie was outstanding - she told everybody to get up and were were going outside and we'd eat when we got back! She and Zack braved the mud to get down to the lake for pictures.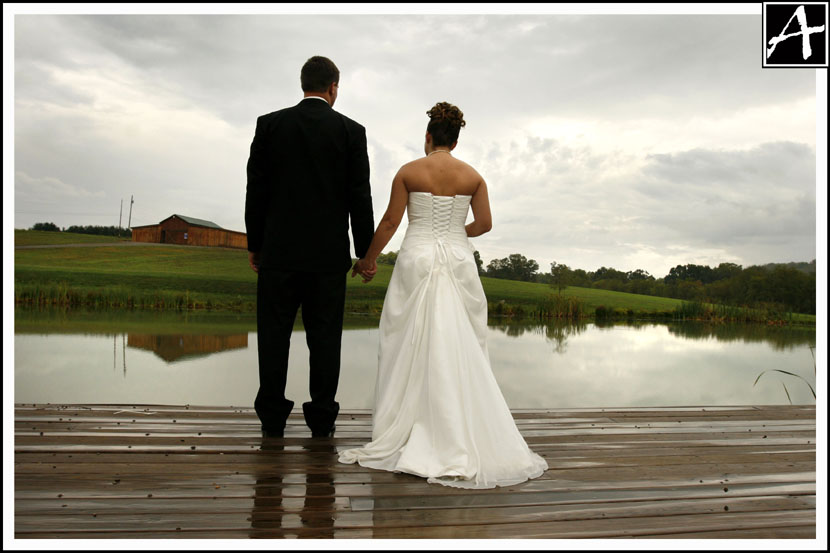 A little rain never hurt anybody!!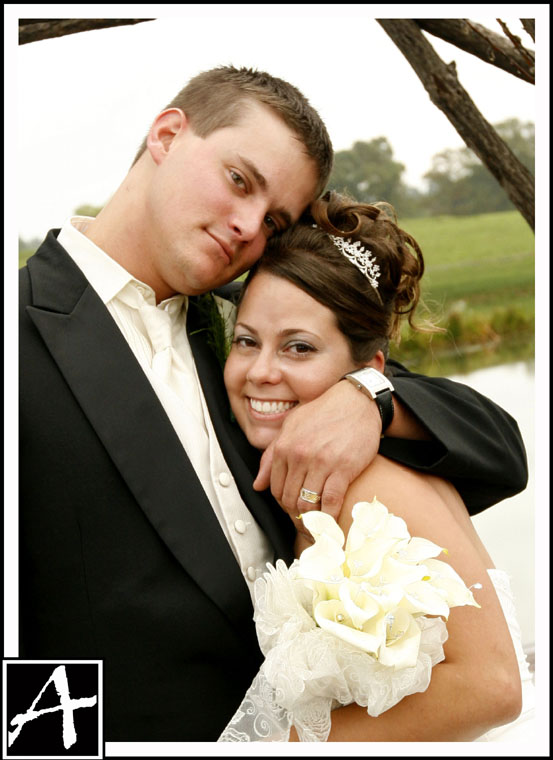 I love the reflection on the water. Impossible on a sunny day, but perfect in the rain. She is stunning!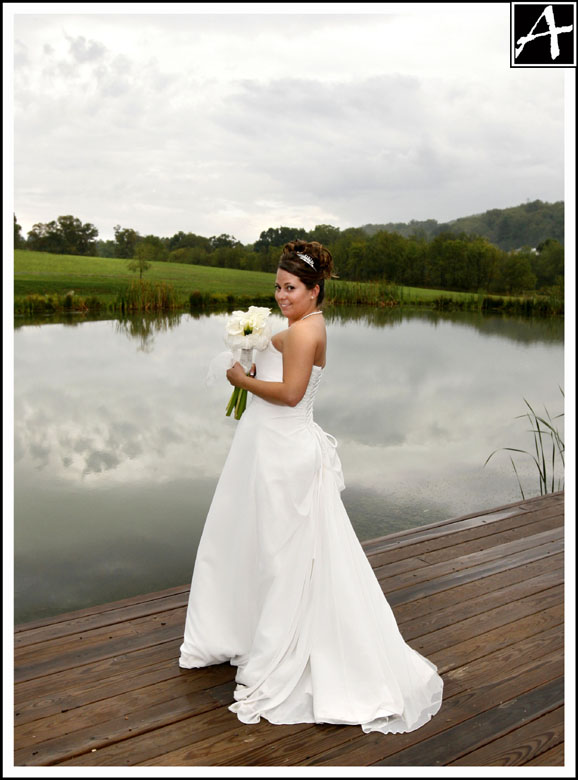 Their cake with the mongram cake topper Natalie made herself.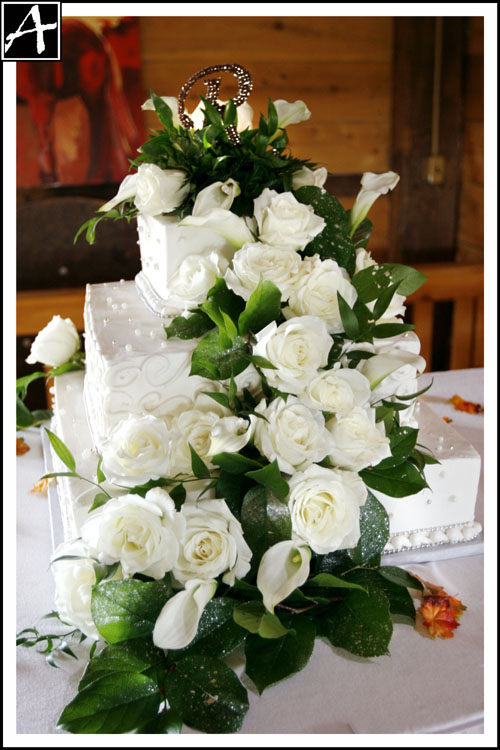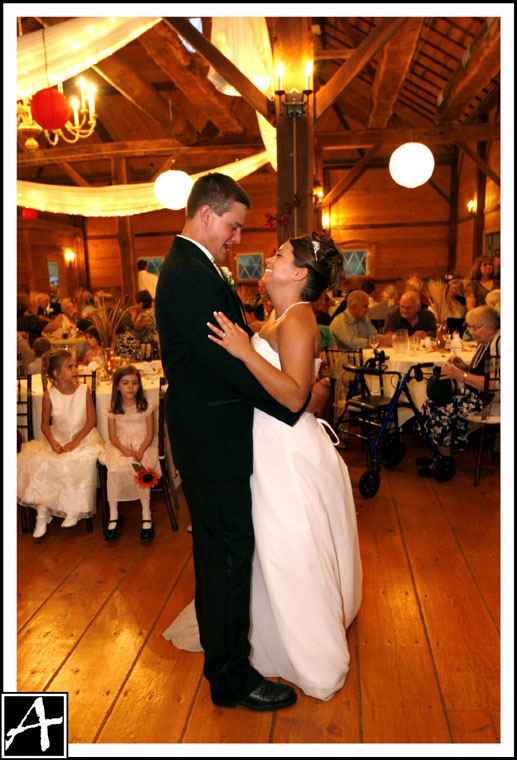 The rest of your photos are still in the works! It''s been crazy busy with senior pictures 6 nights a week! I blame the leaves!
I hope these tide you over a little while longer till I get your proofs online!
---
Ceremony: St. Getrude Catholic Church
Reception: Lingrow Farm
Flowers: Community Market, Lower Burrell
Cake: Deb Sutara