It was a warm hazy day back in August when Anna and I met up with Gillian and Mike at Edgewood Country Club near Churchill, PA for their wedding. The girls were downstairs in the ladies locker room and the guys were hanging out in the foyer. Gillian and I met in the seventh grade - she's always been fun with a calm and cautious personality. In fact, our seventh grade math teacher gave her a book that was the "worst case scenario survival handbook" which gave detailed instructions on how to escape from a mountain lion, or what to do if you fell out of a plane and landed in a swamp full of crocodiles. (She was always level headed and prepared.) Her wedding day was no exception - all of the last minute preparations were taken care of and the girls were just hanging out in the air conditioning doing make up and getting dressed.
Left two images by Anna.
Image by Anna.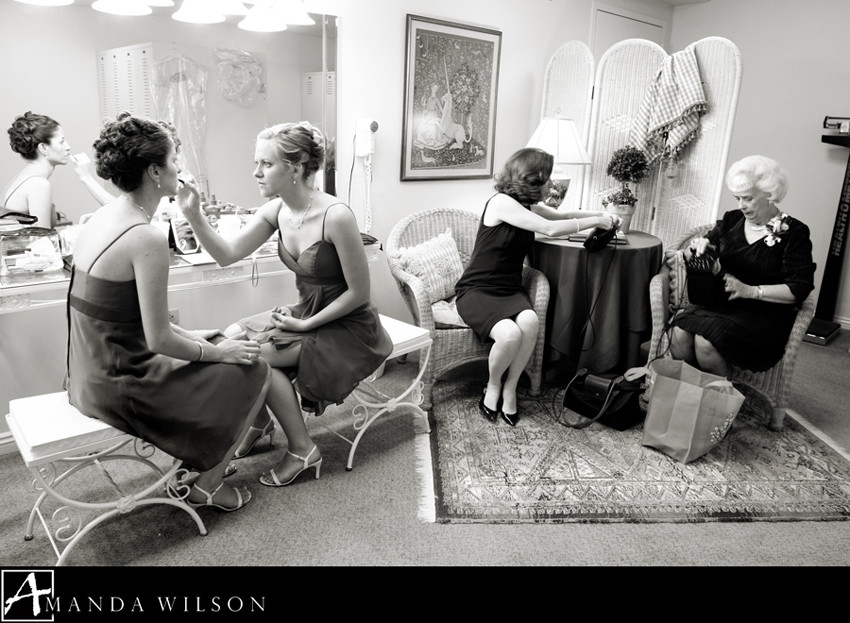 Mike and I went to elementary school together and rode the same school bus for years. I never would have pictured Gillian and Mike together when we were kids, but seeing them at the wedding - they are a perfect match :-)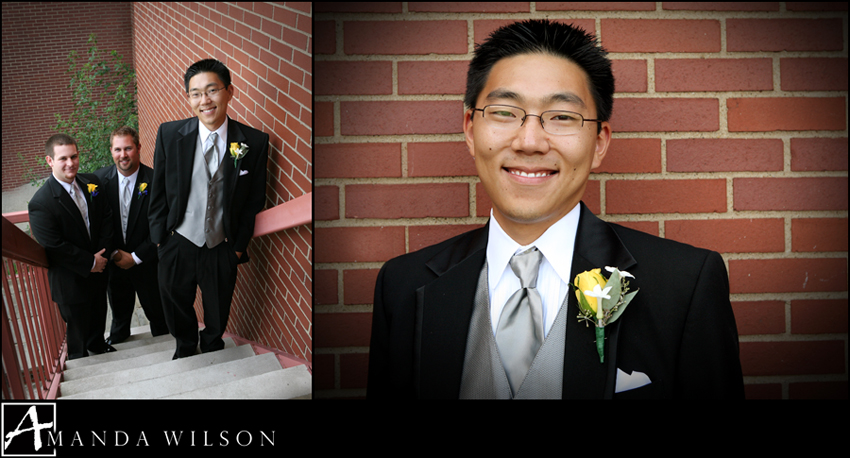 Because of the hot and humid August weather, (and the ever present threat of a pop up thunderstorm), they decided to hold their ceremony in one of Edgewood's banquet rooms that had a wall of windows that looked out over the greens. Gillian's father walked her down the aisle while a string quartet played softly to the crowd.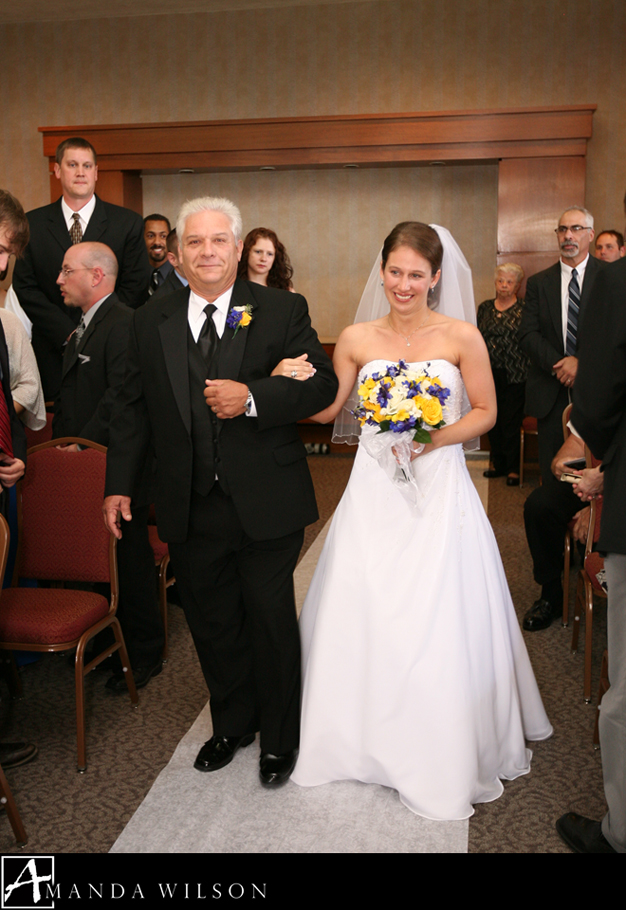 They chose a sunny happy mixture of blues and yellows for their color scheme. Right two images by Anna.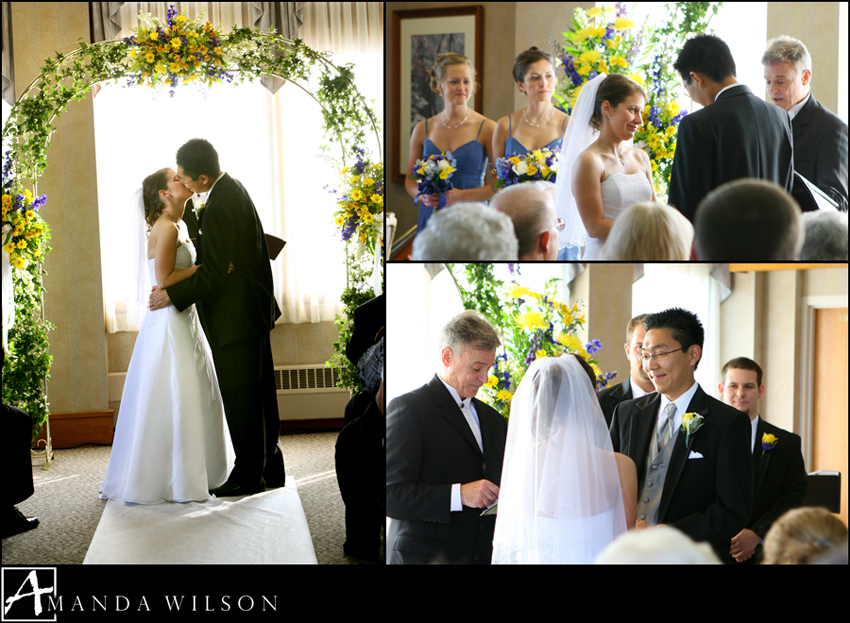 The banquet room at Edgewood is not only gorgeous, it has a positively HUGE dancefloor.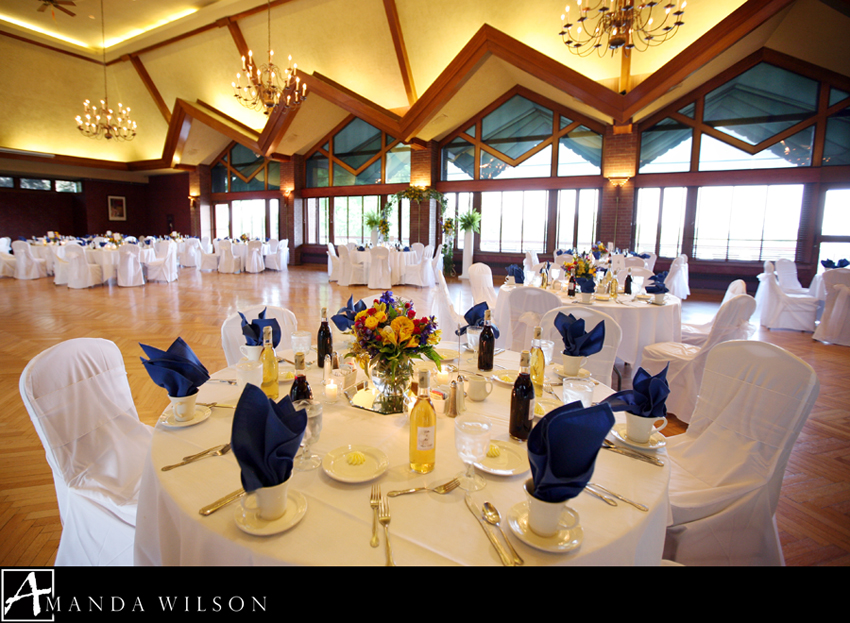 They chose bottles of red and white wine as their favors.
Top right image by Anna.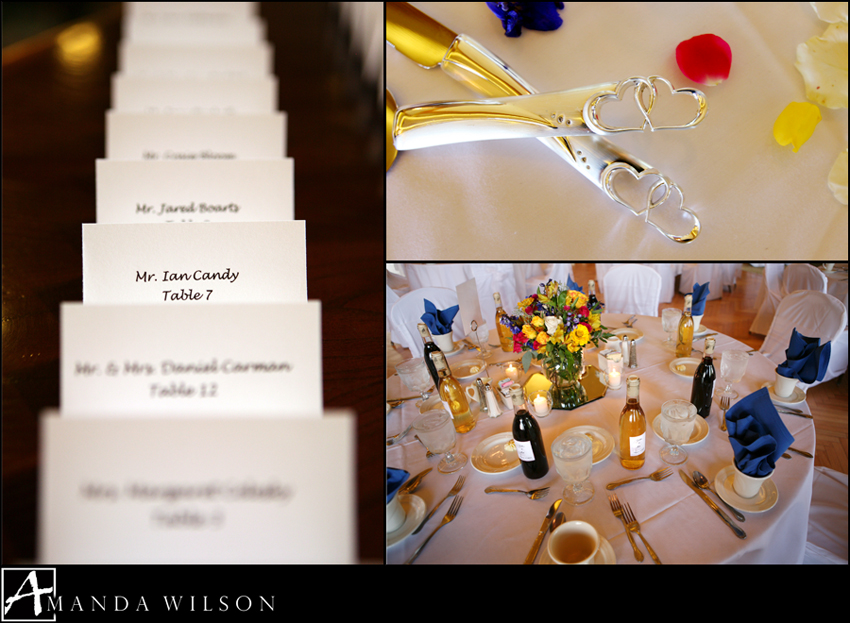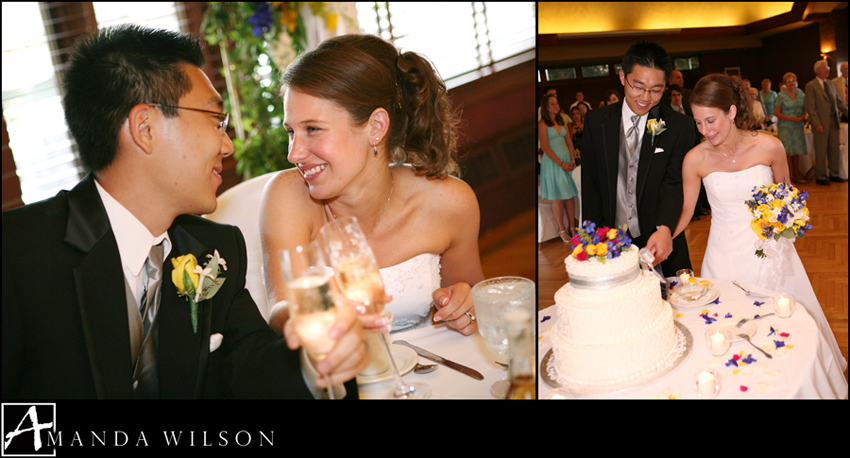 After they had heard the toasts and cut the cake, we snuck the bridal party outside while the rest of the guests were still eating for some fun photos on the golf course. (I love the jumping shot...there's nothing like a classic ;-)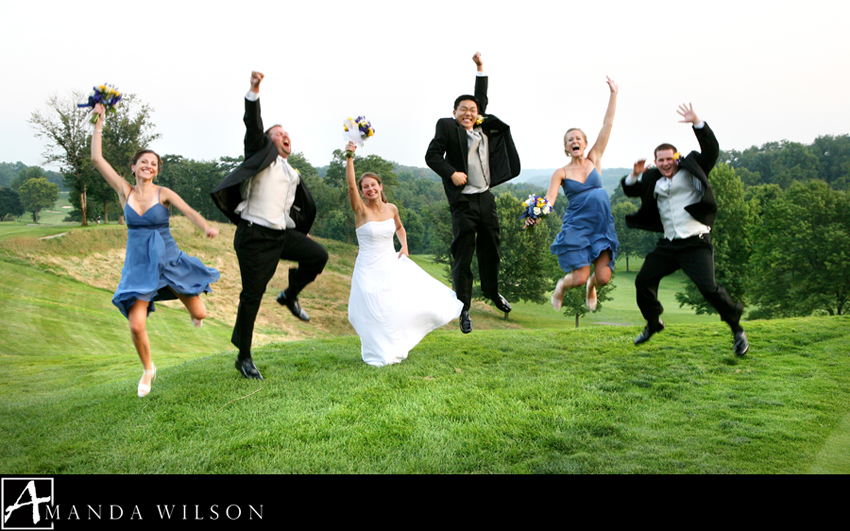 While I was setting up some formals, Anna was hanging back in the distance with the spy lens ;-)
Image by Anna.
Gillian's engagement ring had not only the diamond center stone, but also two deep blue side stones.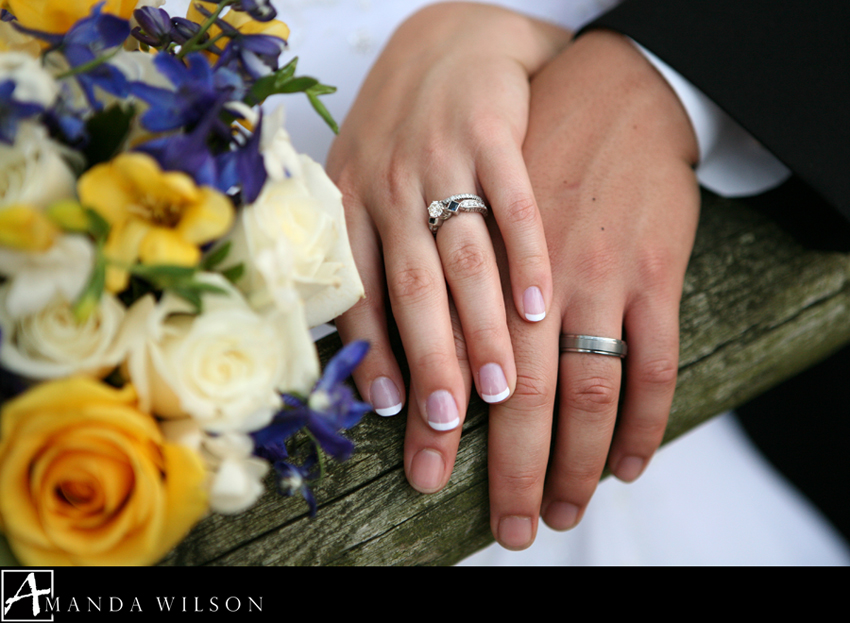 When we were walking from the back of the green around to the side of the club we had to hike up a pretty steep hill - as we crested the hill we realized we had popped up right at the outdoor dining area for the country club's restaurant where regular club patrons were enjoying their dinner. When they saw Mike and Gillian appear over the top of the hill in their wedding attire - all of the customers outside eating dinner stood up and broke into a round of applause for them! Mike and Gillian were touched and Gillian leaned in towards her new husband and whispered " this is the best day ever :-D "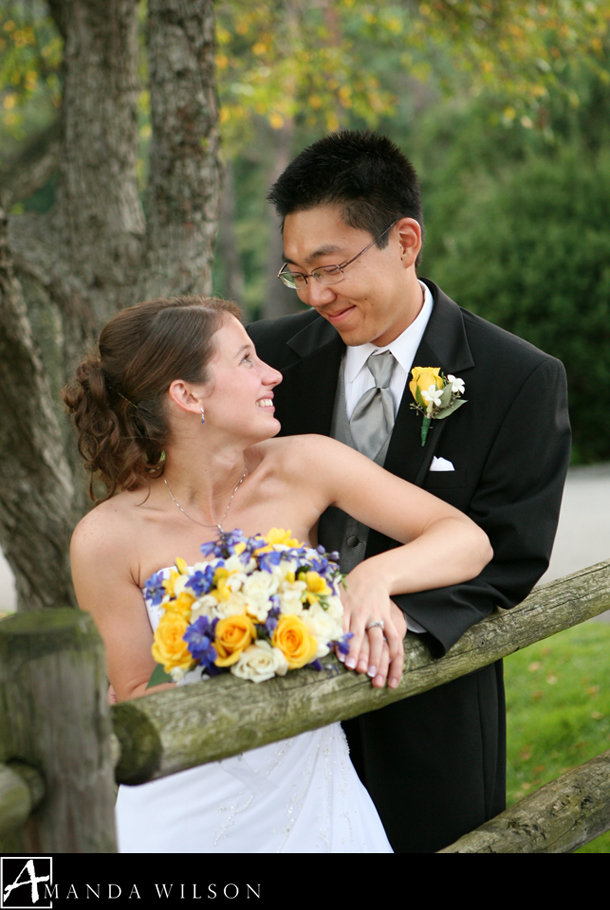 They were very happy :-)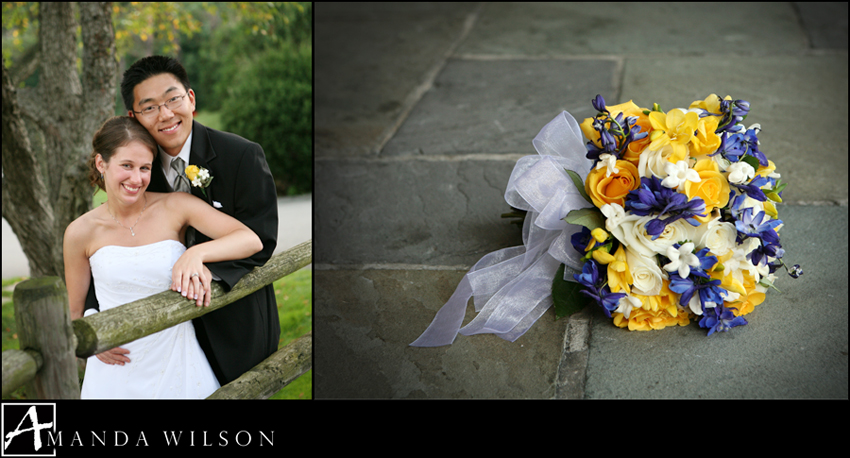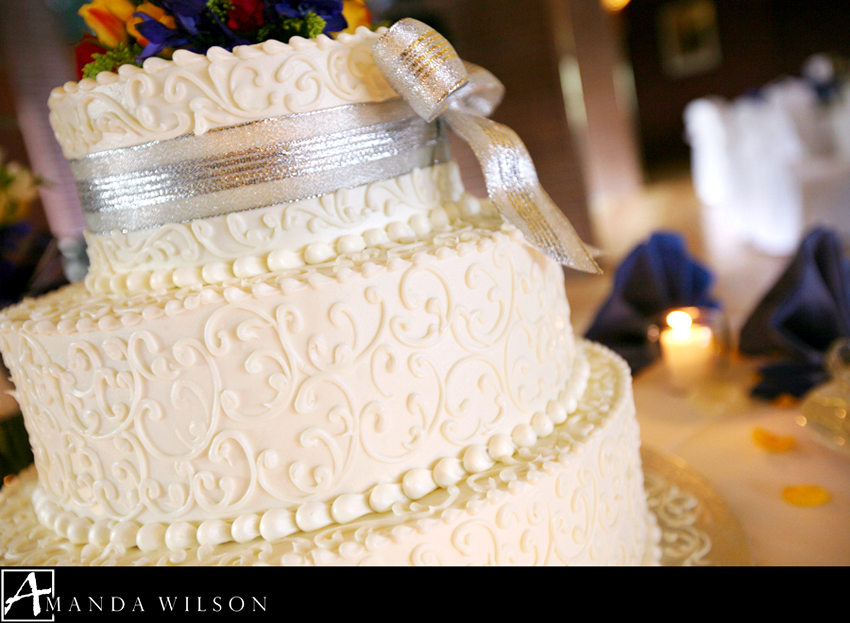 Back inside the reception, it was time for their first dance.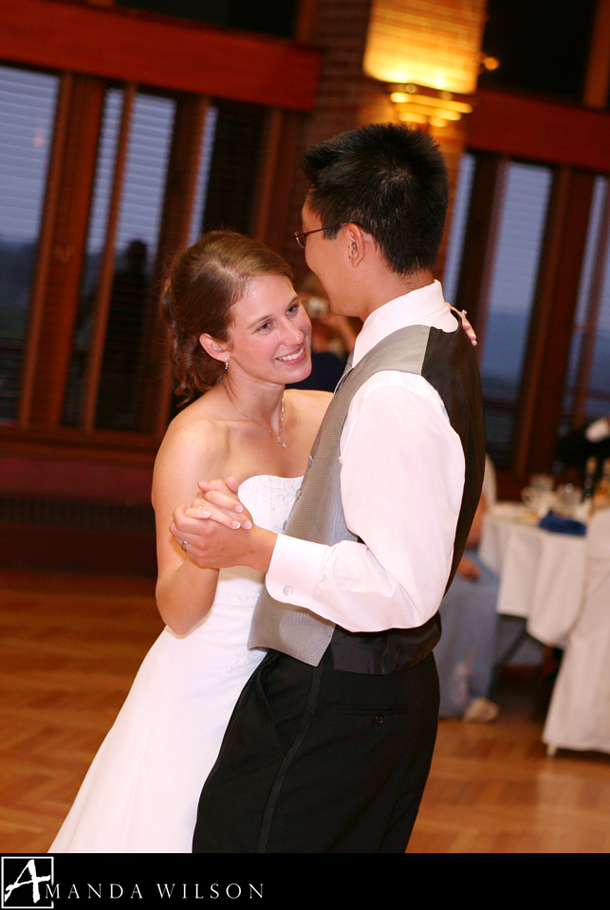 The DJs did a great job of keeping the party kicking. They had props for the YMCA and everyone joined in.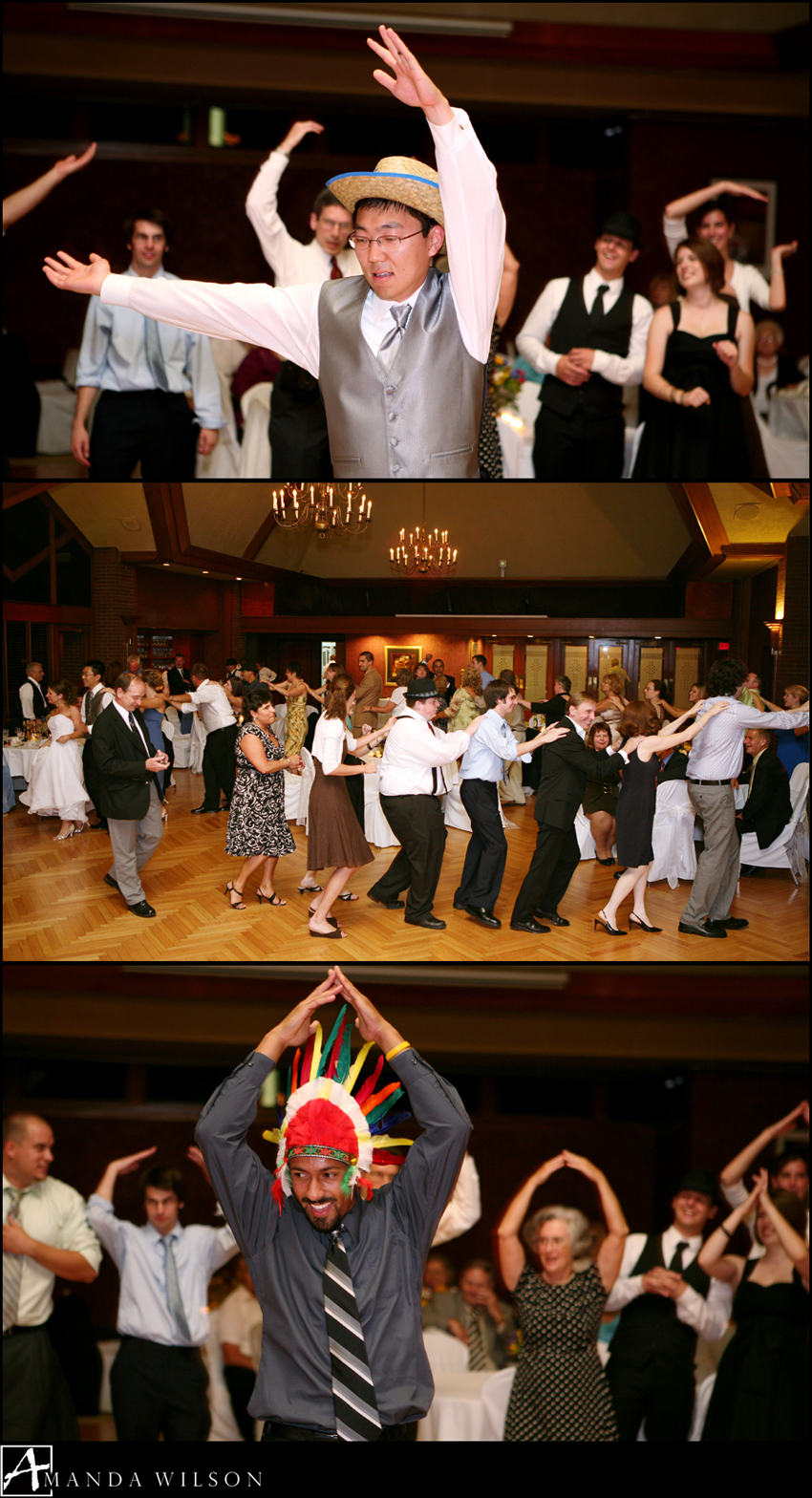 No story of this wedding would be complete without talking about THE OTHER MIKE. Not only was it Mike and Gillian's wedding day, but their best man was also named Mike. This is him. We've known him since high school as well. He was the DJ at all of the seventh and eighth grade dances for years. He was hilarious - all day - he was an excellent best man and new where the groom was at all times. This is just a random group of the OTHER MIKE photos, I could have posted about twenty hysterical faces and crazy stuff - but just suffice it to say there's one in every crowd - and it's usually him ;-)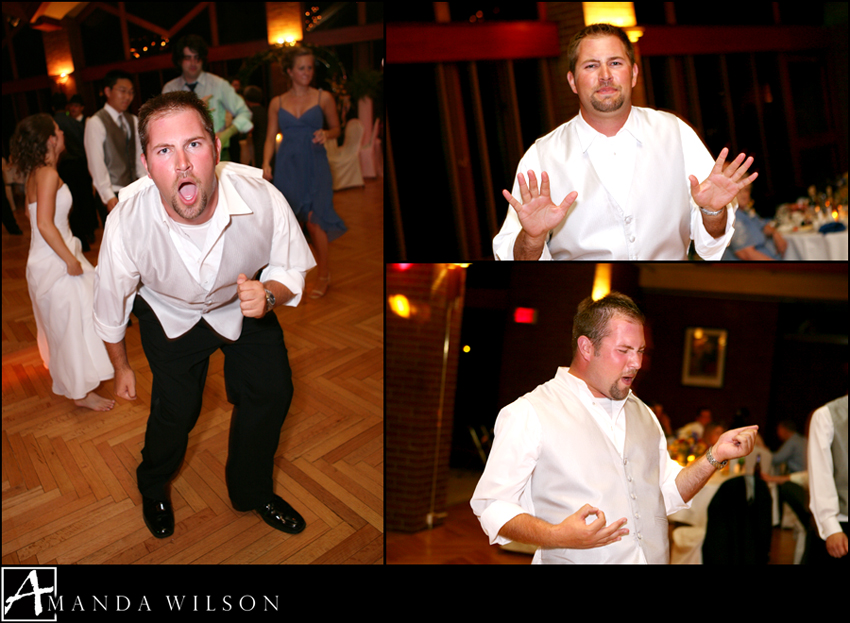 Congratulations Gillian and Mike!! Hope you're having a great year!
---
Ceremony & Reception Site: Edgewood Country Club
Entertainment: Len and Ed Thomas DJs