Heather and Nick are the cutest couple! If you need more proof, check out their engagement session by clicking here . From engagement photos on a train, to the vintage details and family photo collection at their reception, there was so much thought and love put into every aspect of their wedding. At the end of the ceremony when they were pronounced husband and wife, they turned and grinned at each other walking up the church aisle to "Our Song" by Taylor Swift. If you think that's adorable - it was :) But that was later in the day, so let's start this story at the beginning.
It was actually snowing when we arrived at the salon to meet up with the girls. They were almost finished with hair and make up and one of the flower girls, Heather's niece, Kadence, was having a fantastic time with all of the ladies at Fashions A Head in Leechburg. (They are a great bunch of gals there!) After hair, everyone got their make up done and it was time to get to the church!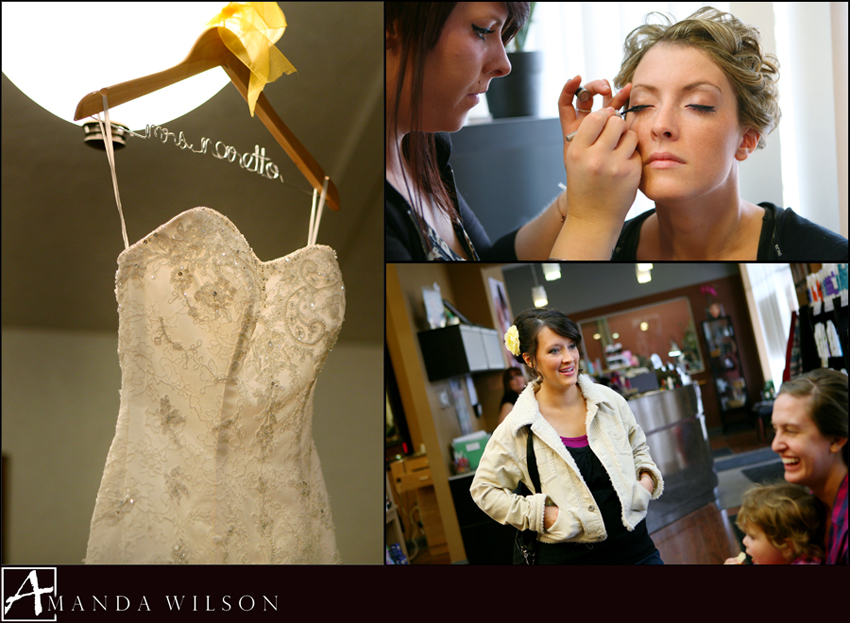 Heather's big sister, Connie went to high school with me and now is Mom to two of the most precious little girls you could ever meet. Lyric woke up from her nap just in time to get dressed up and be the littlest flower girl for her Aunt Heather's big day. Such an important milestone for someone only 7 weeks old :D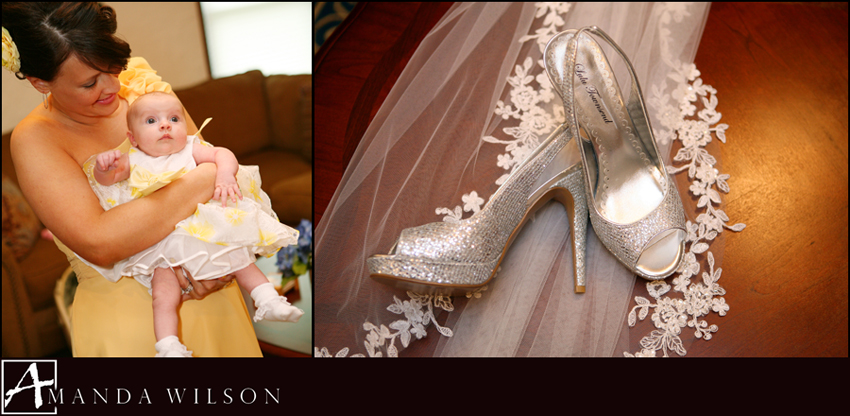 The snow changed to rain that ran down the window while the girls stayed tucked away in the bride's room at the church getting ready. Heather brought this mirror from home for this photo - both her sister and her mom have the same photo with this mirror on their own wedding days.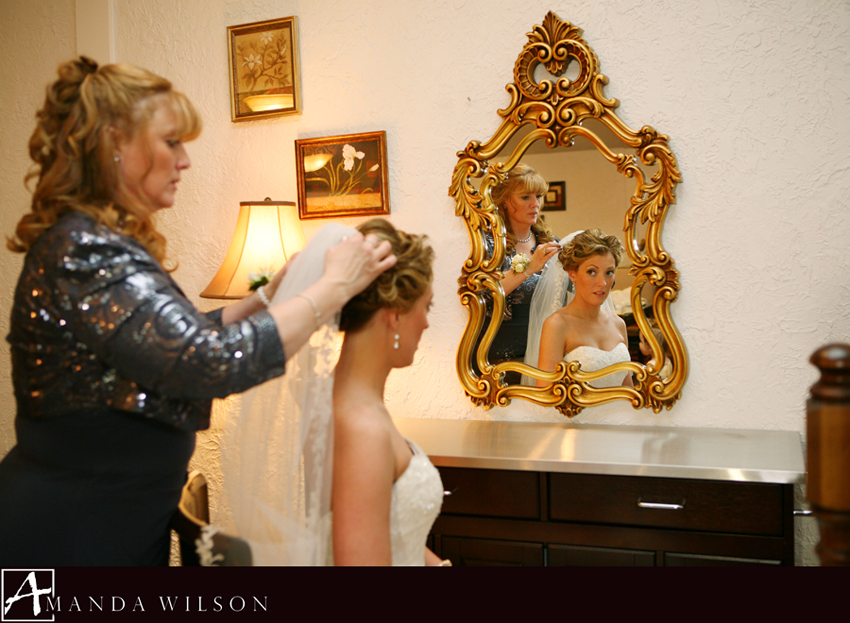 Nick and the groomsmen arrived on the motorcoach between raindrops. They modeled their socks for us.
Right image by Ashley.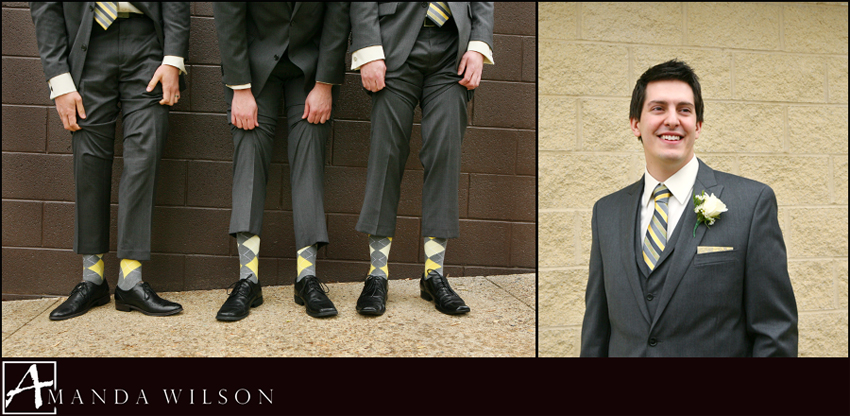 Their ceremony was simple, sweet, and full of joy.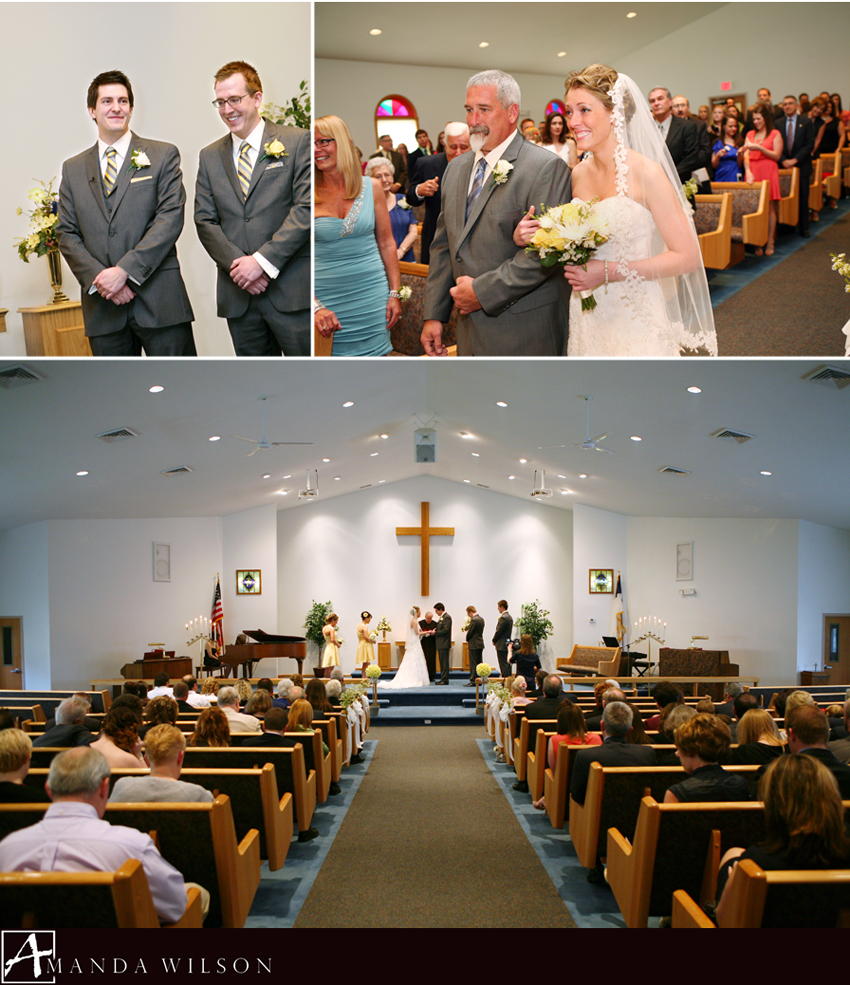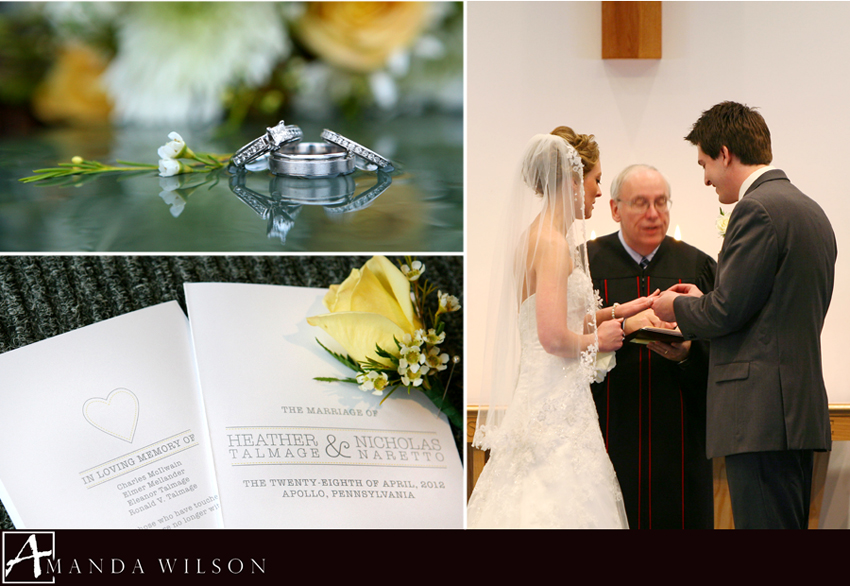 Married !!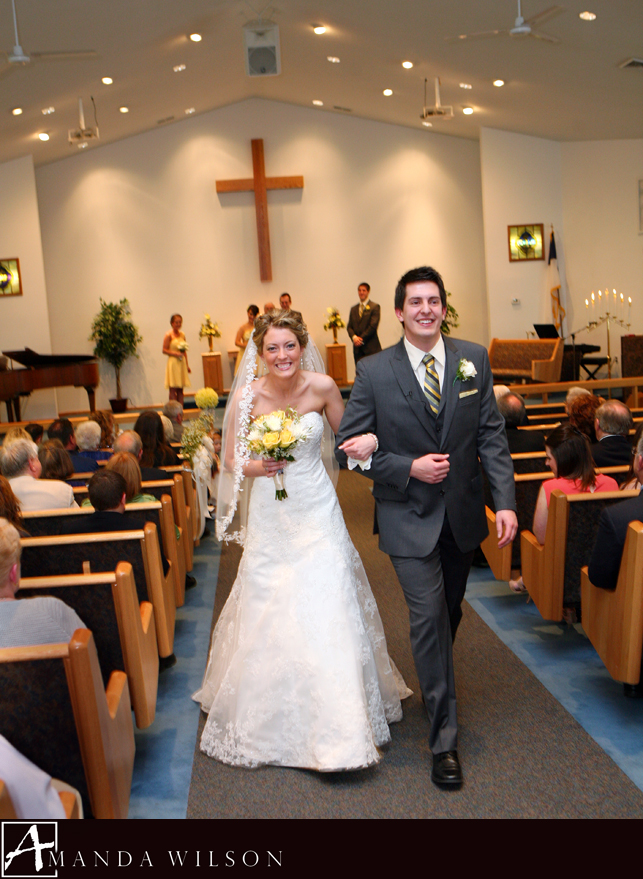 Heather was more than beautiful this day - on her wedding day, she shined :)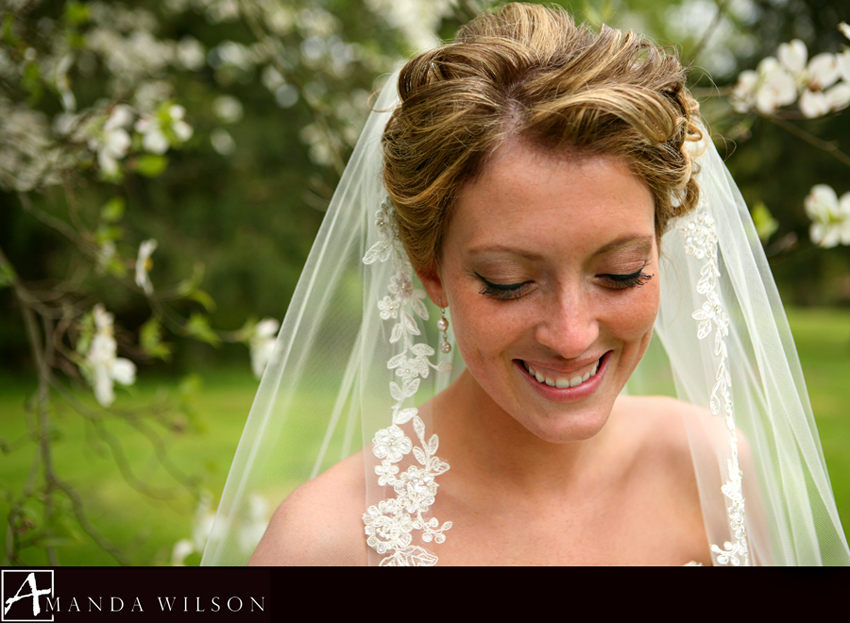 We totally lucked out! After the ceremony, the rain let up enough that we were able to get some outdoor photos with the wedding party who braved the cold and the squishy grass! Big shout out to Amber from aroseproductions.com for her mad video skills and for being so fantastic to work with. (She promised not to film me when at one point I was almost flat on the ground in the muddy grass reaching for just the right angle! She also promised to dub music over top of all of my bad jokes!)
Center right image by Ashley.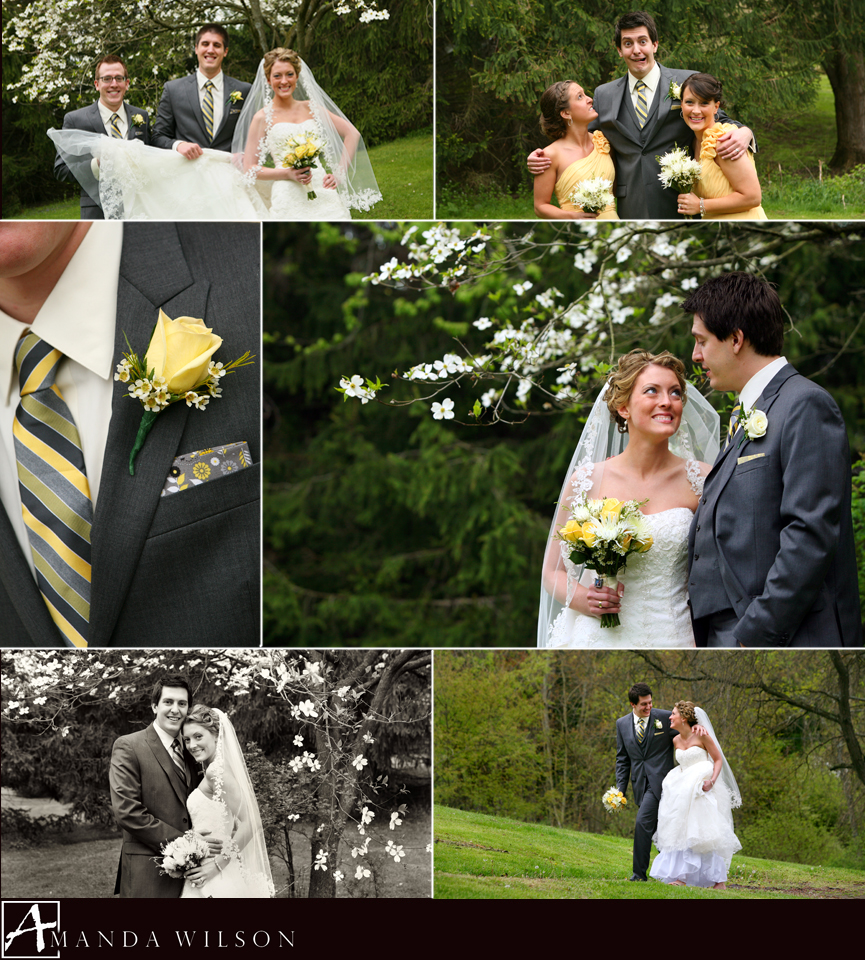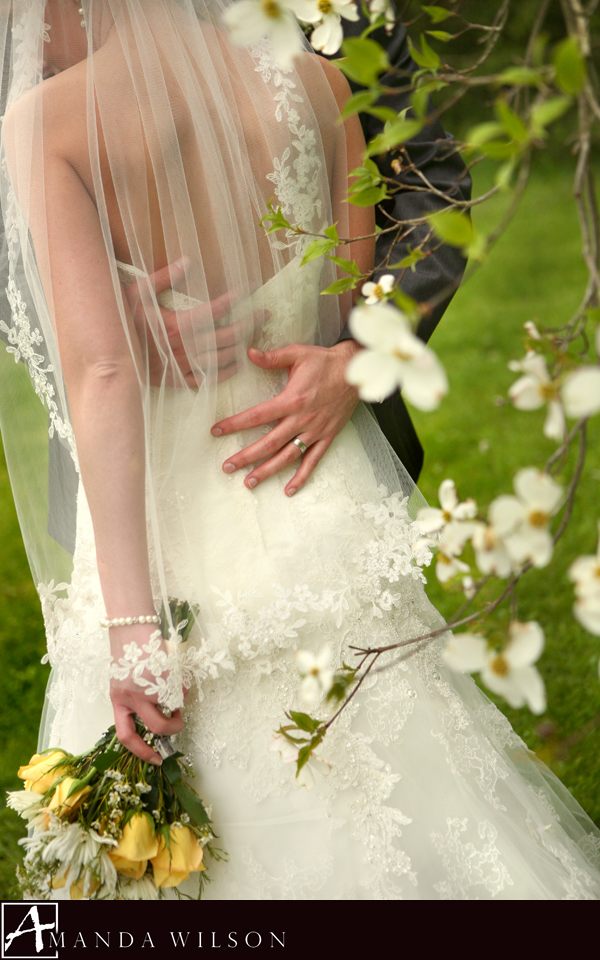 Love this shot Heather picked out from Pinterest. Pinterest is such a great place for wedding planning.
I love the image on the left that Ashley caught when Nick raised his hand to salute Heather while I was switching memory cards. That's Nick's brother, Joe, "stealing a kiss" from Heather through the picture frame.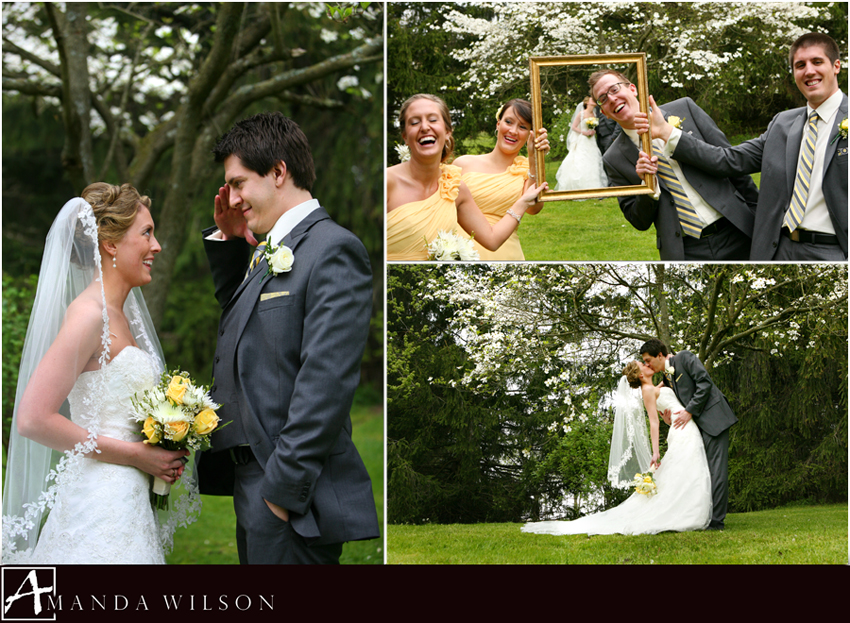 Image by Ashley.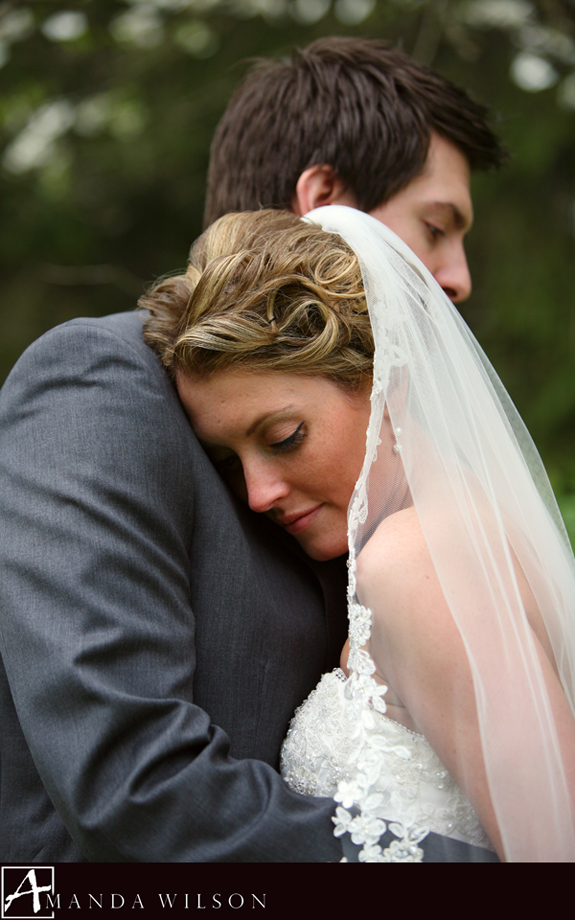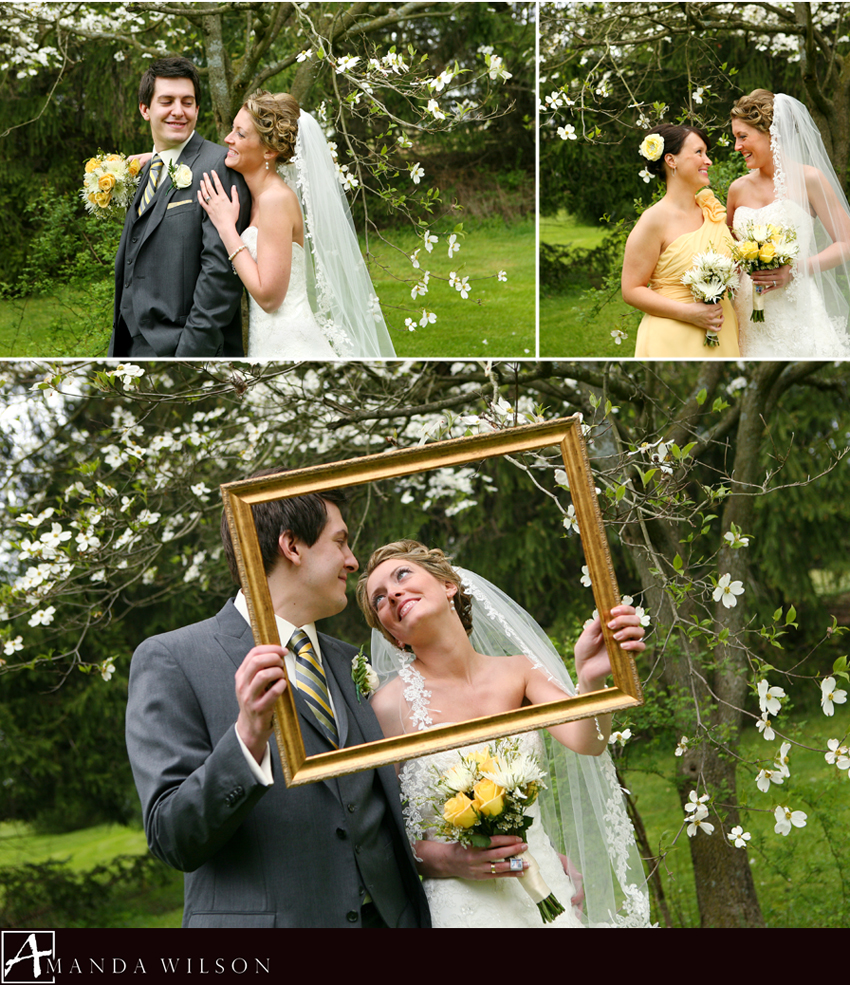 Once we got the bus turned around, it was off to Futules Harmar House in Cheswick for their vintage chic yellow and grey reception. The tables were decorated with blue mason jar centerpieces made with spider mums courtesy of Leechburg Floral. Guests enjoyed smores cupcakes and everyone received a plastic drinking cup with Nick and Heather's monogram which came in handy throughout the evening ;-) I also loved that they used their engagement photos to make a photo guestbook!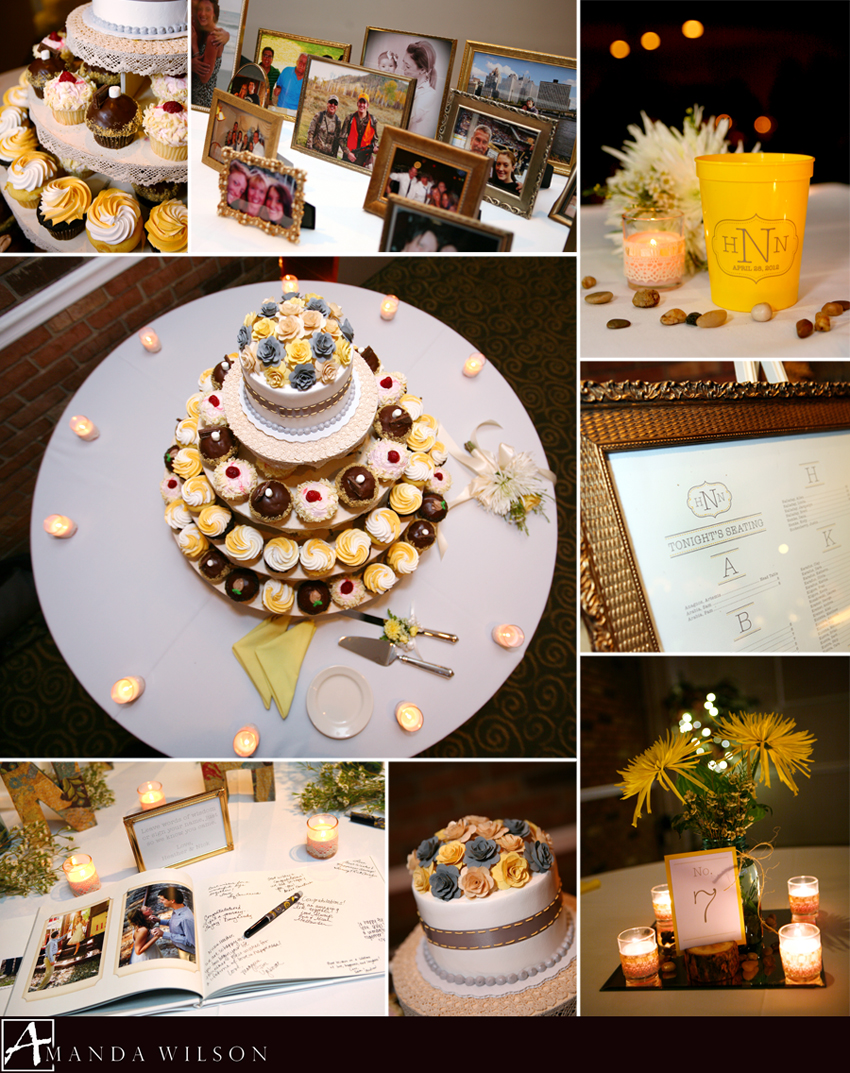 First dance :)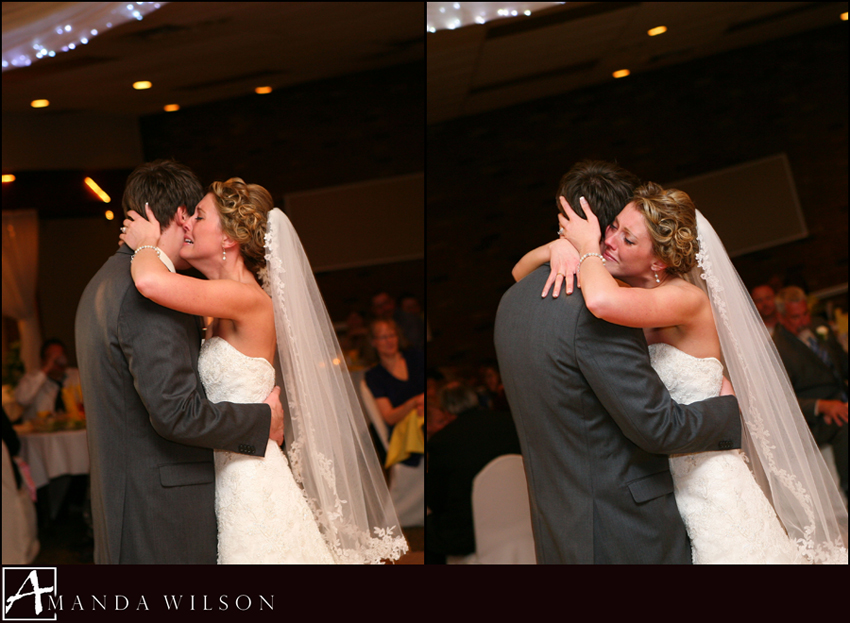 Cookie tables are a tradition in western Pennsylvania (I seriously feel bad for all the underprivileged out-of-staters out there). This was a cookie table of legend. The ladies at Leechburg Floral really outdid themselves this time by bringing in antique suitcases, cigar boxes, trays, tins, baskets, and mason jars to bring together Heather's vision for her themed cookie display. **Vicki - I have no idea how you're ever going to top this but I CAN'T WAIT to see you try!!**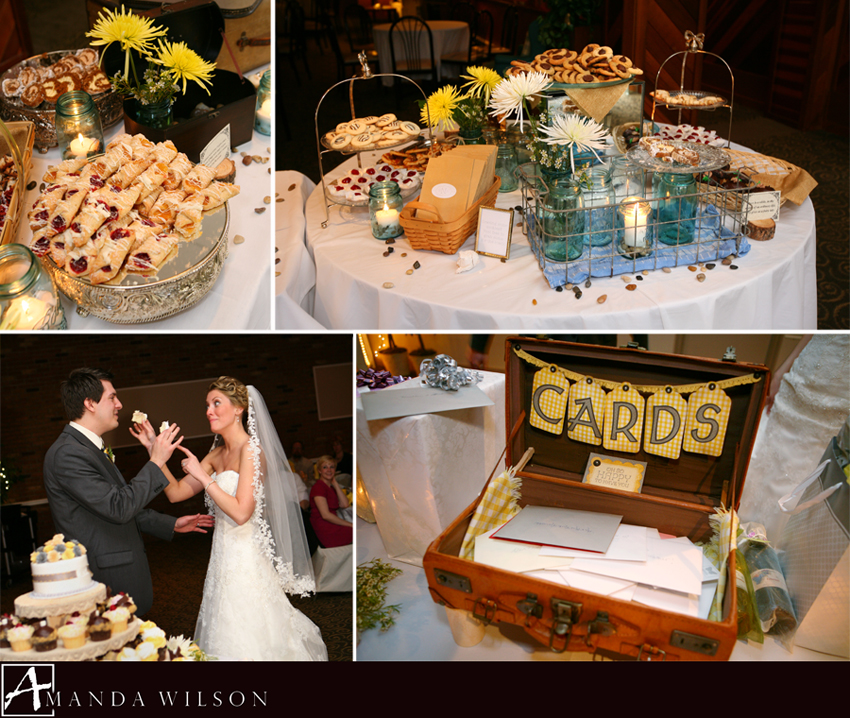 For the wedding, I really wanted to tie in their engagement photos and scouted a spot for us to get some shots on the railroad tracks. Heather and Nick got 1,000 bonus points for hopping in the cars and heading down the street mid-reception for some romantic photos in the rain.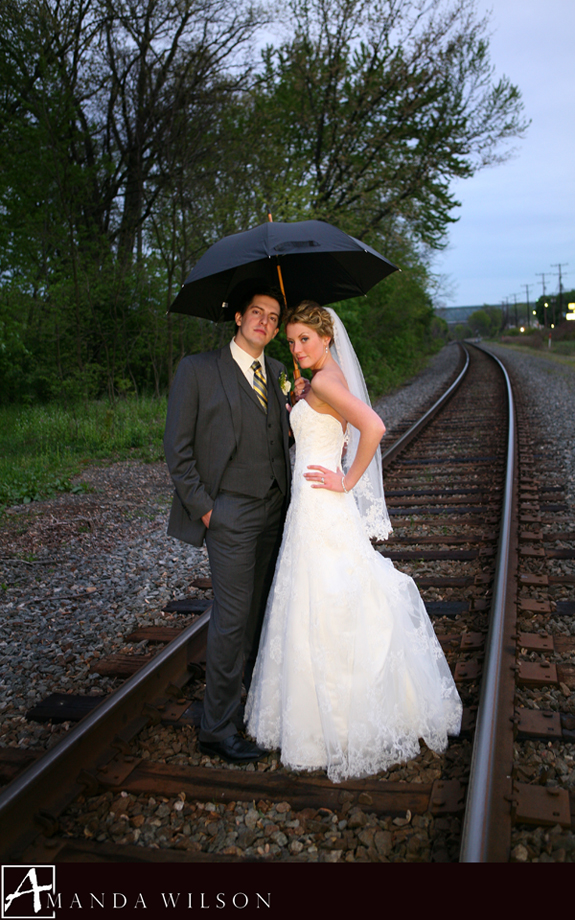 Left image by Ashley.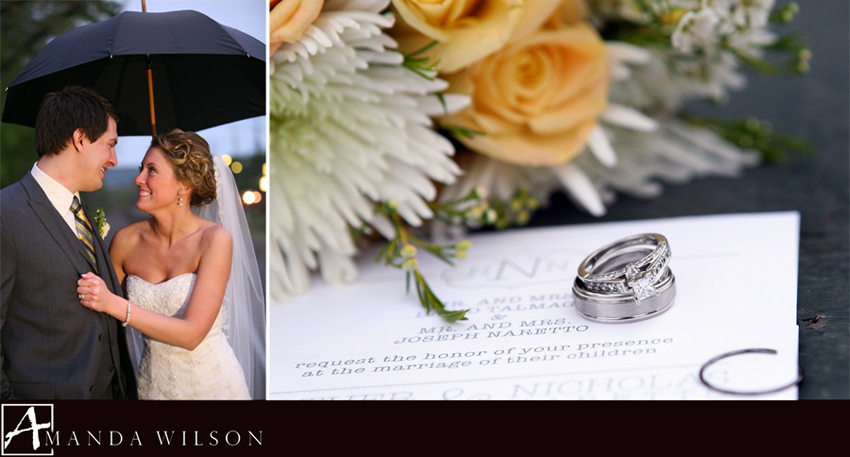 When we returned to the reception, Heather shared an emotional dance with her Dad to Edwin McCain's "Walk With You." The rest of us said silent thank you prayers for auto focus as we blubbered behind our cameras.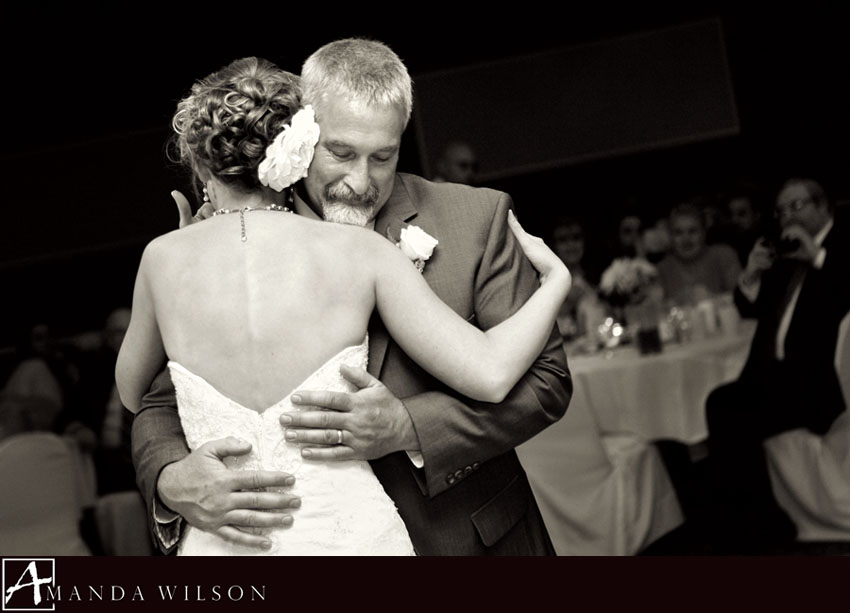 The party really kicked off later on - and I can sum it all up in one word:
THUNDERSTRUCK !!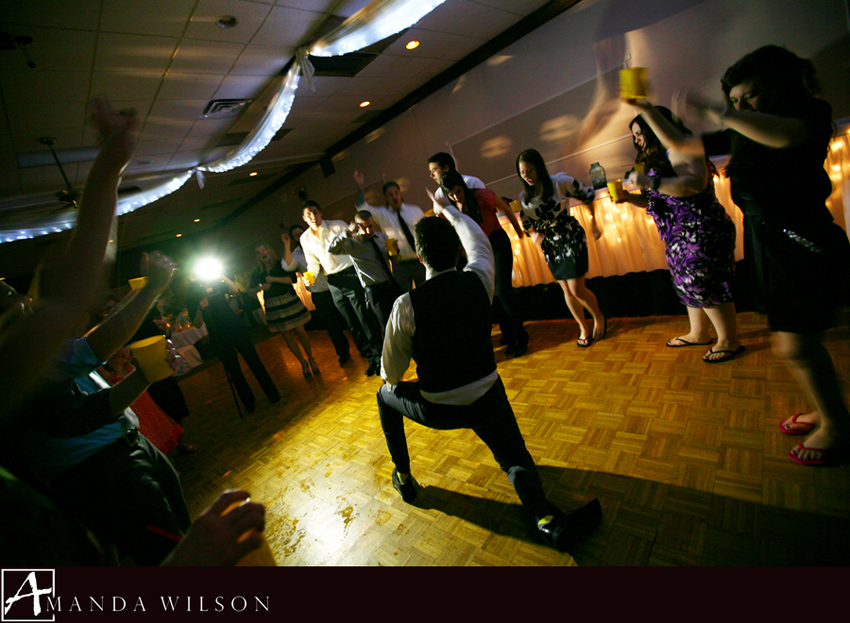 Congratulations Nick and Heather on your wedding, your new house, and all the wonderful memories that are still to come! Thank you for a fantastic start to the wedding season, I could not have asked for a more perfect day!
---
Ceremony location: Apollo Free Methodist Church
Reception Location: Futules Harmar House
Hair and MakeUp: Fashions A Head
Floral Design: Leechburg Floral
Videography: A Rose Productions
Entertainment: Greg McAtee