One of the things I love about this job is that you will never ever ever know everything. Just when you think you've got it figured out - ***Squibblybabblybooo!!*** they invent something new. Every new idea or new piece of equipment is just a doorway to more questions and more discoveries. No one really thought about flying until they started working on the first airplane. No one thought about flying into outer space and walking on the moon until they configured the airplane into a space shuttle. Just imagine where we'll be in the future?
Weeks and weeks ago I went to Mt. Lebanon for a Shoot N Learn workshop with David Burke . Workshops are what creative professionals call it when we all want to get together and talk about stuff, play with stuff, and brainstorm about stuff. And by stuff I mean: aperture, white balance, screen resolution, digital noise, lightpainting, saturation, pixelization, the 40D, the 50D, the 5D, the D3, the 1DMark3, ISO, USO, USA, the histogram, and the handycam, f1.4 to 22, pocket wizards, magic wands, white lightening, and the Becker Blog.
So for the sake of discussion, we'll call it stuff.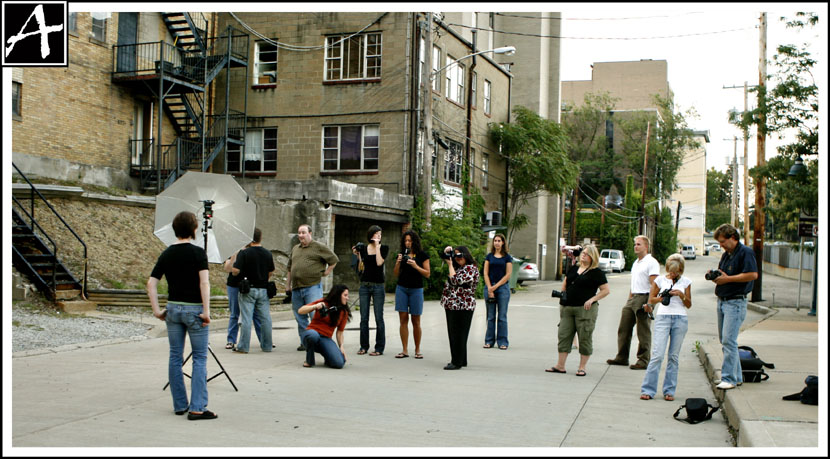 One question I always get asked when I'm out shooting is "how much does your camera cost?" To give you an idea of the expense involved in participating in this business, look at the photo below. The little black 'thing' marked Transceiver that is attached to the top of the camera is roughly the size of an altoids box and costs $188. However, it only works as one of a pair - so that'll be another $188. The camera in the photo was at least $1200. The lens probably around $1400.
If you will shift your eyes up to the photo above you'll see us all out in the alley behind David's sweet new studio. We were checking out the "artsy cement garage" - and by artsy we mean - crumbling, grafitti'd, and sprouting weeds. When you're a photographer you have to learn to see the character in all places and spaces. Resourcefullness is key. :-) Back to the cost of stuff - the umbrella on the stand $25ish, the black thingy in the umbrella on top of the stand $450+ for the flash unit, the stand intself maybe $45 to $75, and the little connecting widget that screws the flash onto the stand: $20+ and that's a pretty modest estimate. That's not even including all the batteries, memory cards, card readers, Gigs of memory, and flocks of RAM it takes to make all that stuff work together.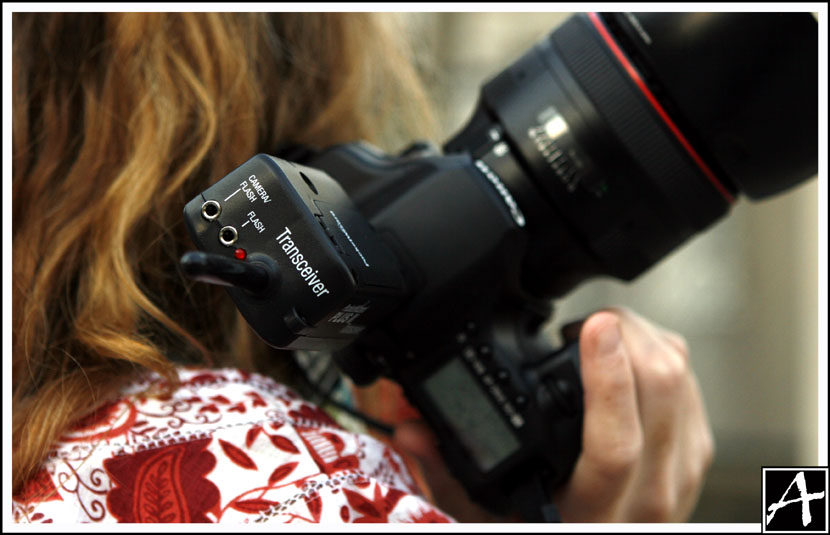 David is an AWESOME dude - I learned some neat time-saving tricks for getting my flash under control.
Check out his website at www.davidburkephoto.com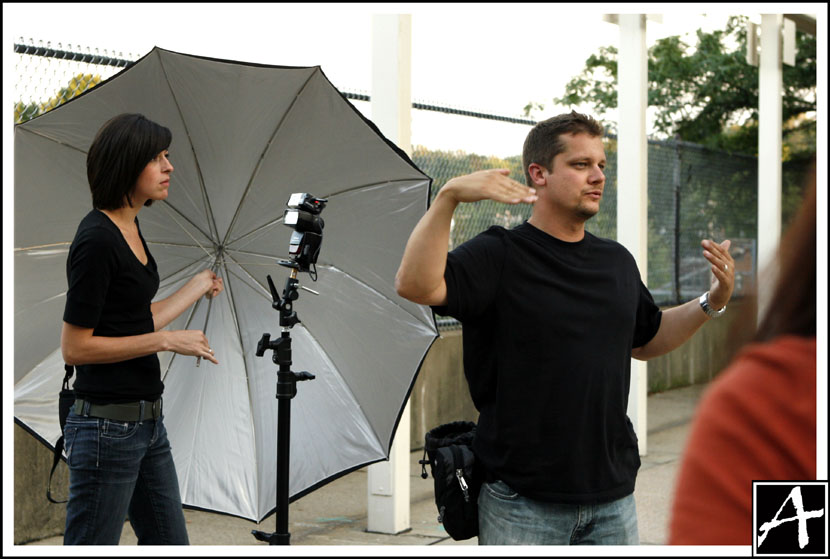 Workshops are also a great way to network and meet new folks. Originally I was stalking around The Knot for their advertising prices and found Heather and loved her work and started blog stalking her. She shot with David at a wedding and talked about him on her blog and so I found his blog and started blog stalking him. Then I went to the last Shoot N Learn before this one and learned information that literally changed my life (do you know everytime you reach for the mouse and click it takes up 3 seconds of your life?). Shortcuts. *MWAH*
At this Shoot N Learn I met Sandy and Peter. Peter thought he was being sly but I felt my photo-spidey-sense kick on.
Here's the first shot: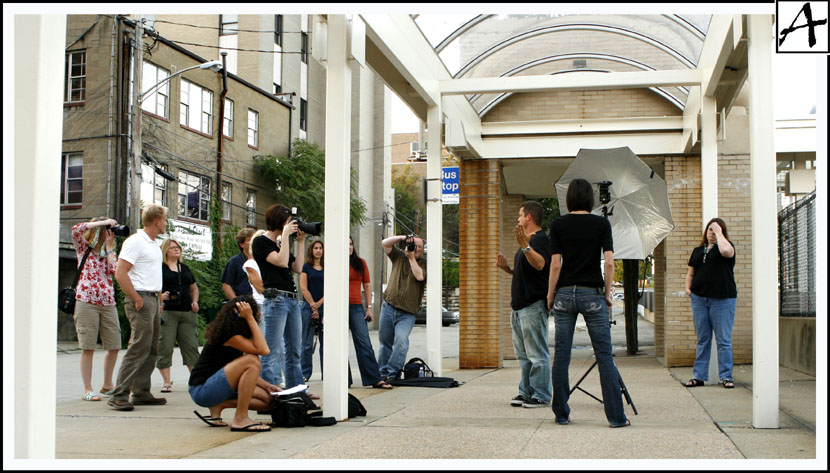 Now lets see it TMZ style: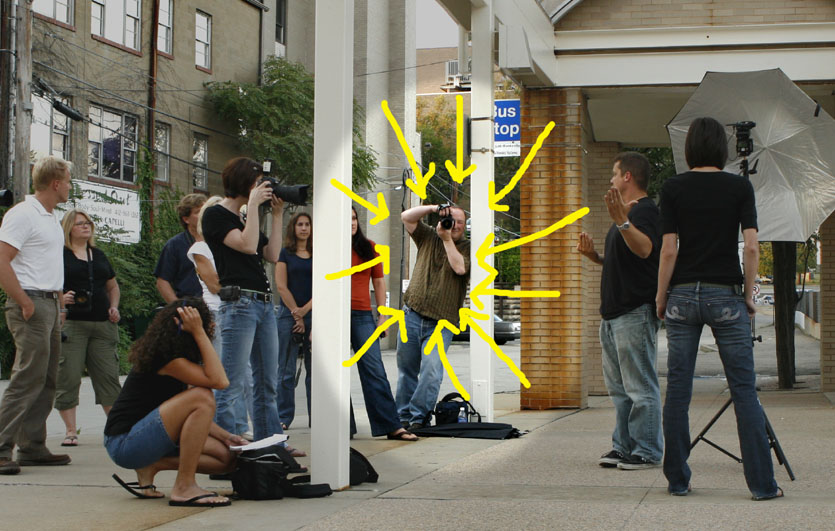 I see you.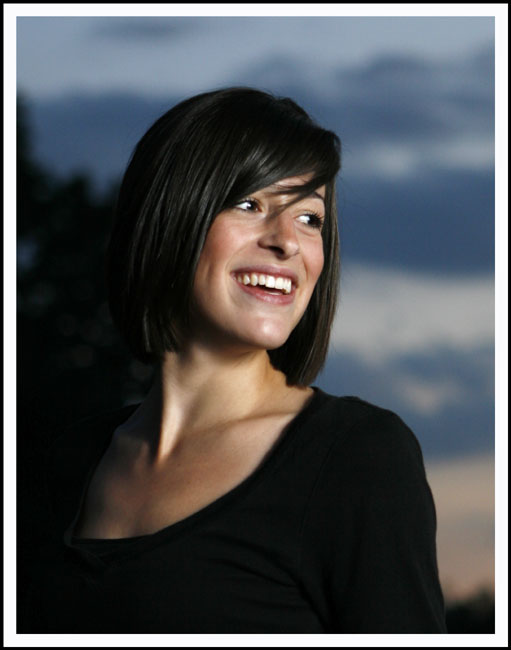 We were experimenting with off-camera flash with diffusers under different lighting conditions. Fun stuff. I like this shot I got! I learned new things, practiced old things, and met some great folks!
Thanks David for hosting another great event!