After photos at the church, the whole wedding party loaded up into a huge RV decorated with " Just Married " signs for the short drive through town to the Indiana Country Club.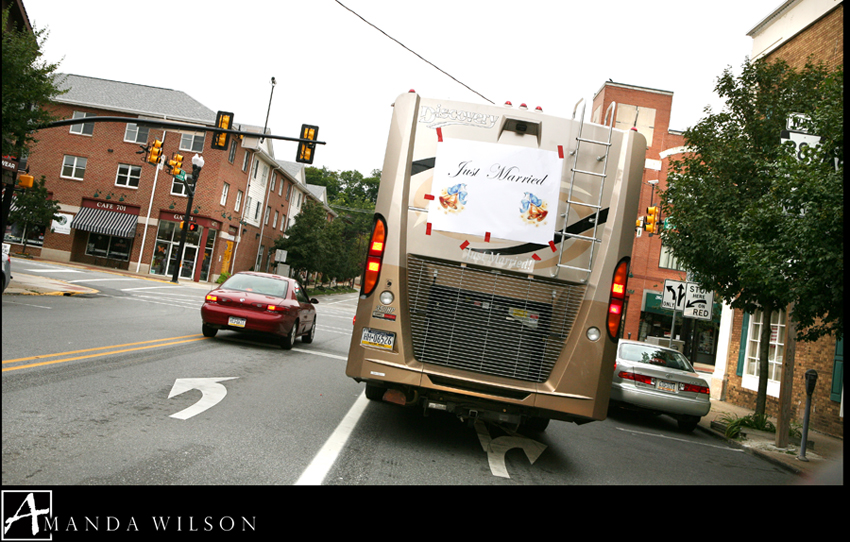 Indiana Country Club was a beautiful venue with plenty of space. The guest list was 300+ but still felt like a hometown gathering of friends and relatives. The tables were decorated with red napkins and centerpieces and their cake was surrounded by rose petals. The grooms cakes featured toy soldiers.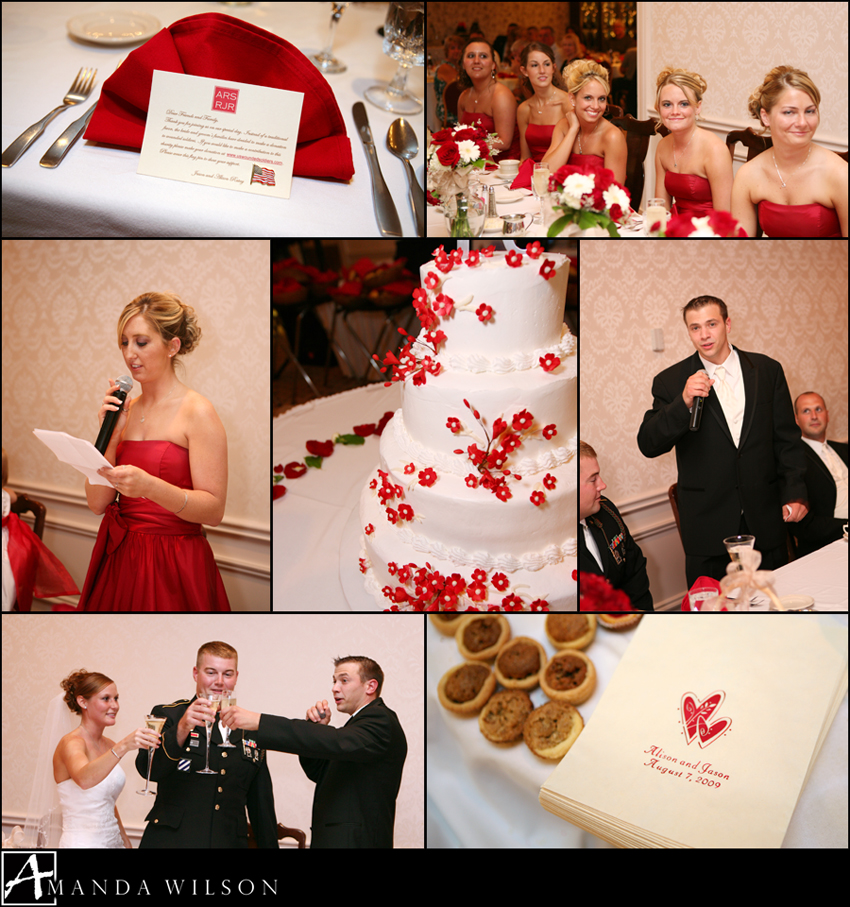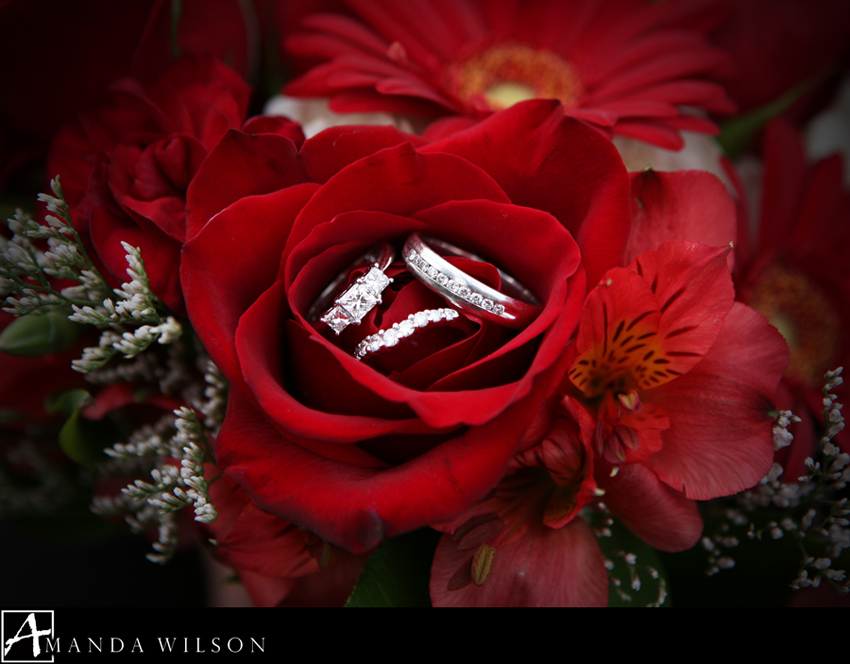 Just before dinner was served, there was barely any daylight left. (Friday weddings are later in the day as the norm.) I was dying to get Alison and Jason out onto the golf course for some alone time, but the manager warned us there was no time and that postponing dinner even a few minutes could be disastrous. Lucky for me - Alison and Jason were serious about pictures and firmly stated they would be outside for photos and dinner would wait a few minutes.
** 100 bonus points to a bride on a mission ** :-)
We spent less than 5 minutes outside for just a couple of photos in the flower bed and the result was this.
Can you say SO WORTH IT??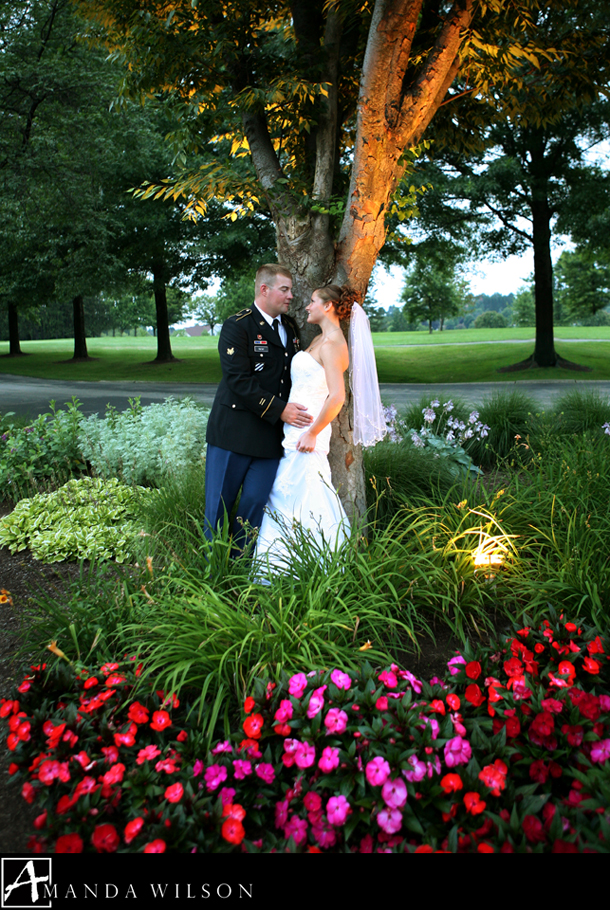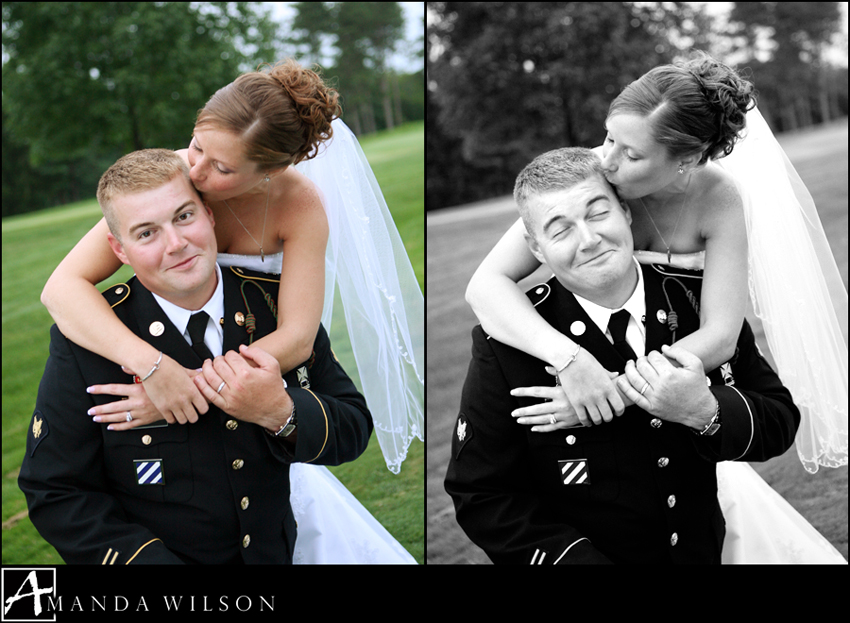 Once we were back inside, dinner went on and it was delicious. Afterwards Jason led Alison to the dance floor and presented her with a single red rose for their first dance as husband and wife.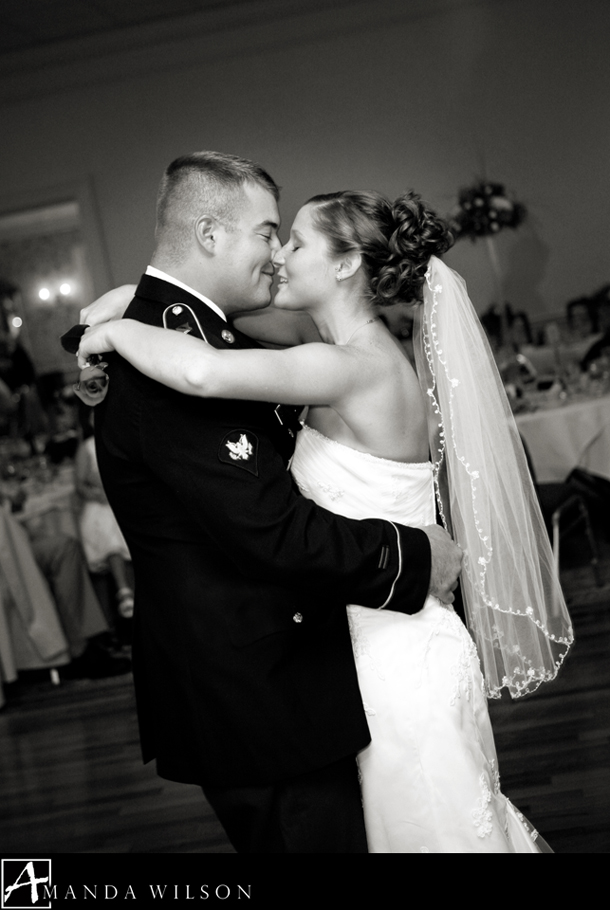 When it was time to cut the cake, we had Alison & Jason's parents stand by for a "photo op" - while the whole crowd was calling for them to smash it on eachother - instead they turned and smashed the cake on their dads!
Awesome action shot by Anna.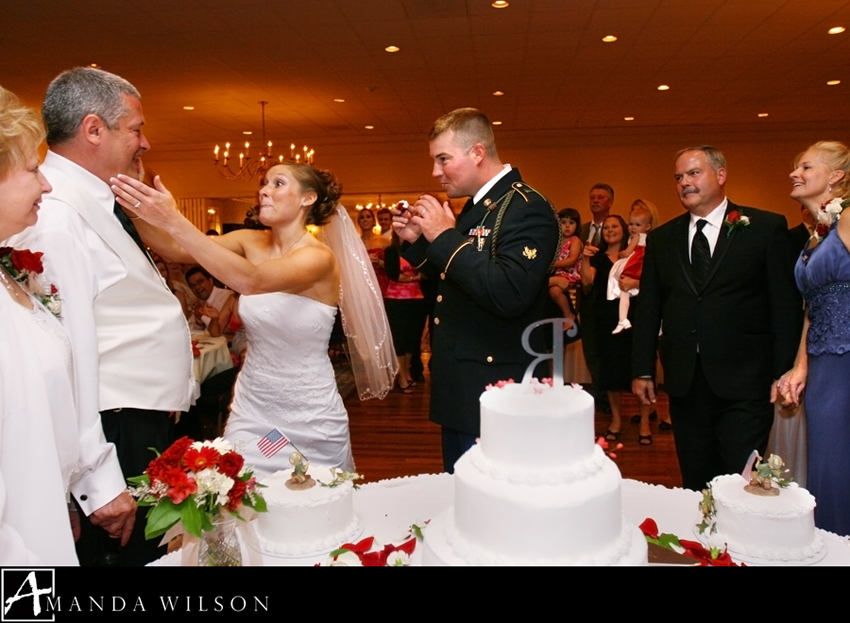 Things calmed down a little for the father-daughter and mother-son dances. Alison and her dad danced to "My Little Girl" by Tim McGraw - it was a tear jerker.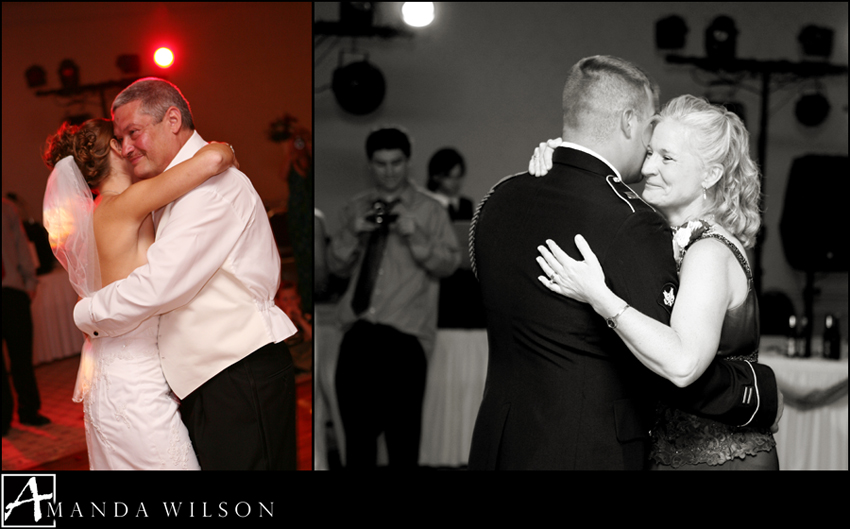 After that, the party really kicked loose. Their DJs were outstanding - almost too good! The dance floor was packed all night long. Jason strapped on his tactical helmet complete with headlamp to retreive Alison's garter and found a Terrible Towel instead!
The money dance went on and on - when Jason tried to get to Alison there was a wall of people blocking him and when he couldn't fight his way through, he got a leg up from his groomsmen who helped him over the top of the pile. When he finally got to her, he scooped her up along with the satin sack of money and carried her out !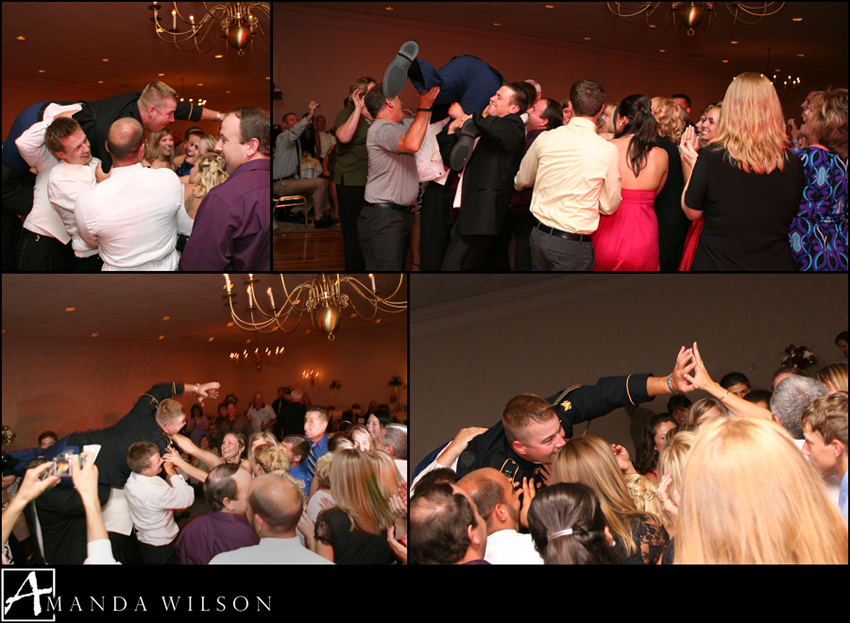 If I had to choose 4 more images to represent this awesome reception, it would be these. Alison's hockey team members from college hoisting her for a photo, some guys wearing hats for the YMCA, the men busting a move to "earn a spot" up front to catch the garter, and two little indian chiefs who were having a ball. :-) Anna and I left this party in the wee hours of the morning and drove home with glow sticks around our neck just in time to get up early and start shooting for the next wedding the following day!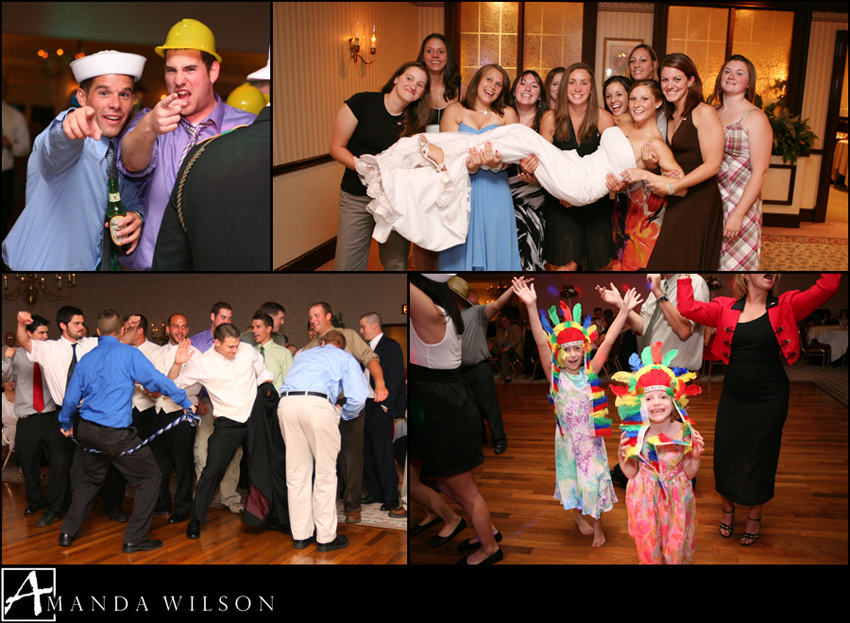 In lieu of favors, the families of the couple made a donation to the wounded warriors fund. They gave out flag pins at each place setting so that guests could wear them to show their support.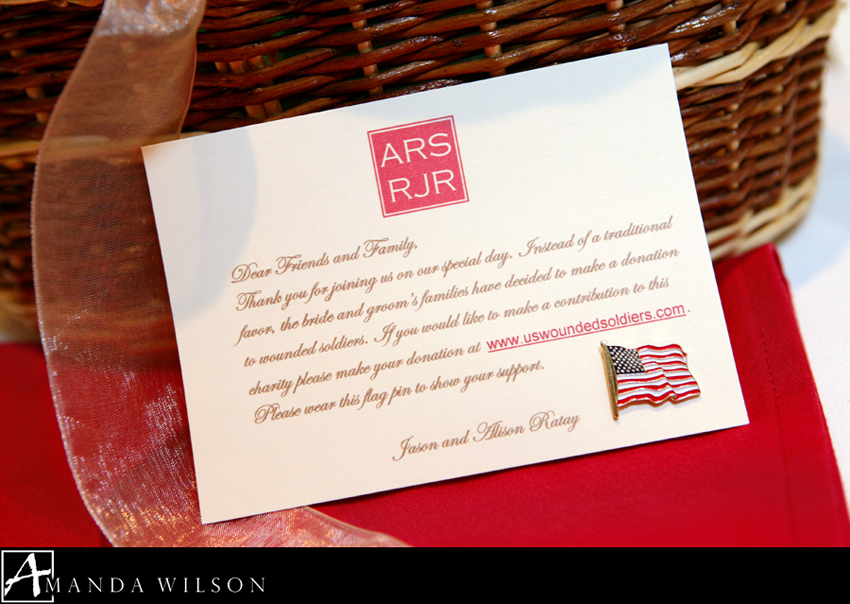 If you would like to make a donation or find out more information about how you can help wounded soldiers, please click HERE. Also, please keep Jason and his new bride in your thoughts and prayers as he has recently been deployed overseas. It's unimaginable, especially at the holidays, to think of being sent away from your family, but also to be newlyweds who will be separated for a long time after only having a few months together. Please pray for Jason's safe return and for all soldiers who are away from home this season.
---
Ceremony: Calvary Presbyterian Church, Indiana PA
Reception: Indiana Country Club
Entertainment: Mixmaster DJ Services