I'm getting so far behind on blogging that I had to catch up on all the good stuff that's already happened so I can get to the part where I can show you the good stuff that's going on now ! Yowza - I wish I could give you sneak peaks from Molly & J at Fallingwater, fireworks on the river, french and indian war cannon's in the woods, summer wildlife, lingrow portraits, Olivia's rockin senior session, Jess & Jaison at Hartwood Acres, Zack v.2010, and Ben & Amy - but I'm just not done yet! And it's too good to skip over anything!
Just keep clicking over here - cause just when you think it's good we're taking it to a whole. nother. level.
Oh snap.
Back to Minda and Brett - when we last left this blog entry, Minda was just pulling up to their ceremony in the white horse drawn carriage. Her two ringbearers enjoying the ride with her - one carried the embroidered monogram pillow with the rings tied to a bow, and the other proudly held a banner that read "Here comes the Bride".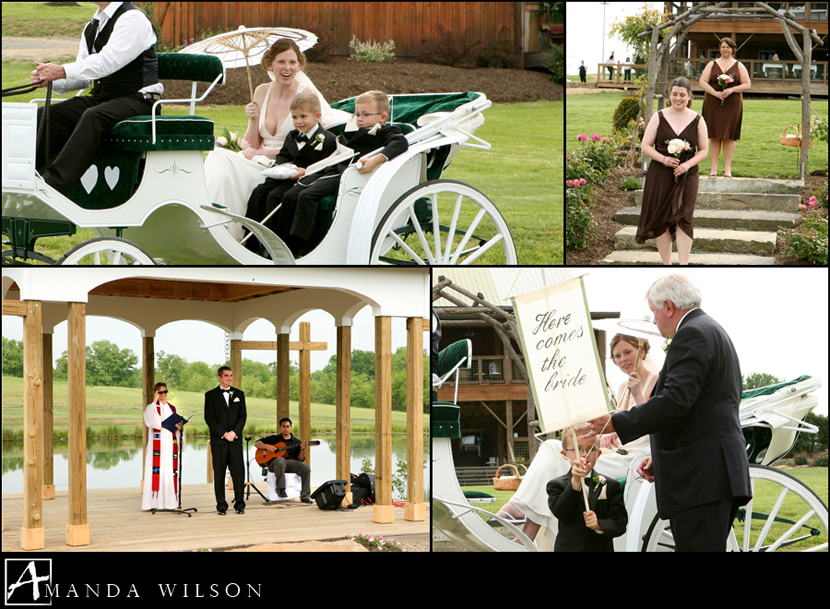 I love this venue.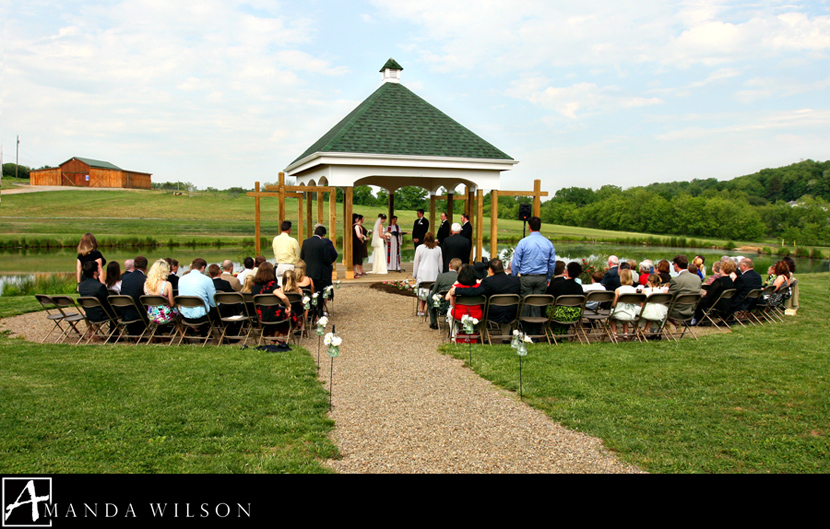 Their ceremony brought me to tears (along with every other person present including the minister). Since Minda works with kids, they used an excerpt from The Velveteen Rabbit as a reading. Basic synopsis - the story is told from the point of view of a stuffed rabbit that lives in a child's nursery and covers a lot of topics about love and growing up and growing old.
Here's a snippet -
(this starts at the point when the Skin Horse and the Rabbit are talking)

The Skin Horse had lived longer in the nursery than any of the others. He was so old and most of the hairs in his tail had been pulled out to string bead necklaces. For nursery magic is very strange and wonderful, and only those playthings that are old and wise and experienced like the Skin Horse understand all about it.

"What is REAL?" asked the Rabbit one day, when they were lying side by side near the nursery fender, before Nana came to tidy the room. "Does it mean having things that buzz inside you and a stick-out handle?"

"Real isn't how you are made," said the Skin Horse. "It's a thing that happens to you. When a child loves you for a long, long time, not just to play with, but REALLY loves you, then you become Real."

"Does it hurt?" asked the Rabbit.

"Sometimes," said the Skin Horse, for he was always truthful. "When you are Real you don't mind being hurt."

"Does it happen all at once, like being wound up," he asked, "or bit by bit?"

"It doesn't happen all at once," said the Skin Horse. "You become. It takes a long time. That's why it doesn't happen often to people who break easily, or have sharp edges, or who have to be carefully kept. Generally, by the time you are Real, most of your hair has been loved off, and your eyes drop out and you get loose in your joints and very shabby. But these things don't matter at all, because once you are Real you can't be ugly, except to people who don't understand."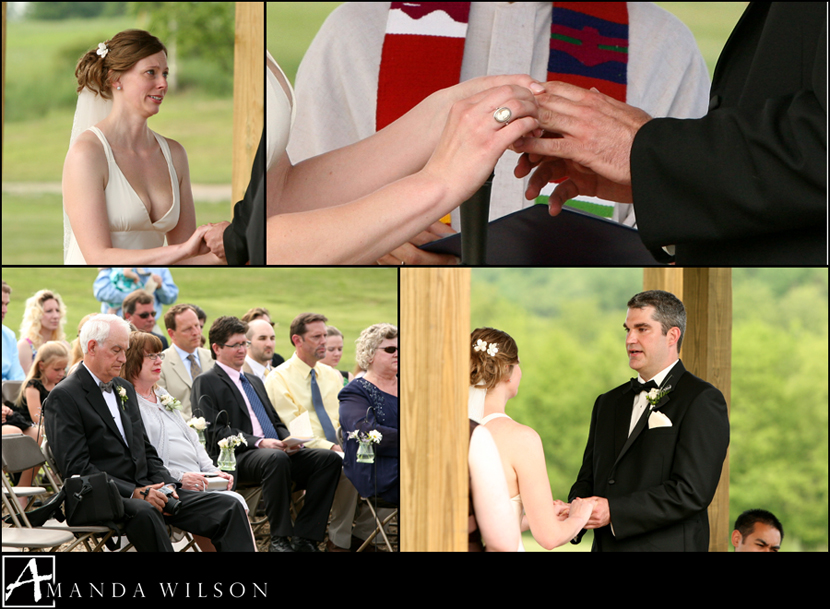 Maybe I'm just an old softy - but it was a beautiful reading. And we all needed a tissue after that.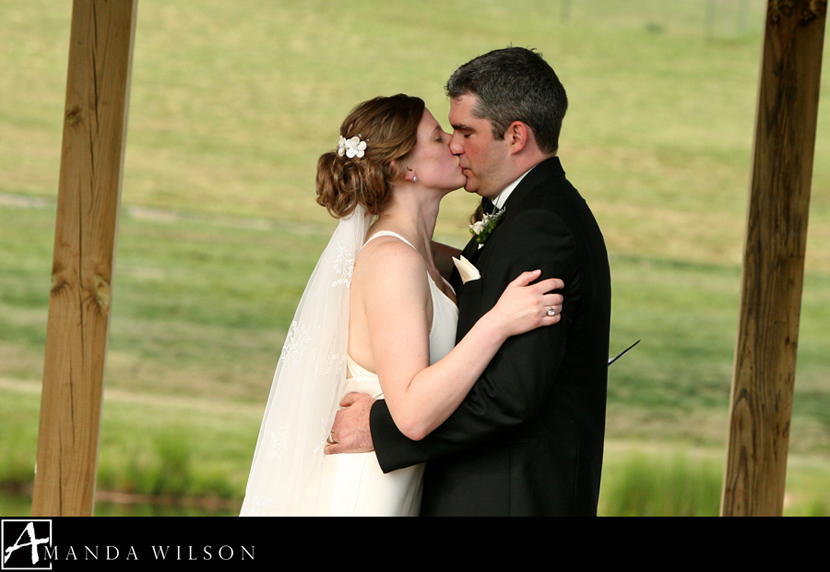 Just married they boogie-ed back up the aisle and into the awaiting carriage for a private ride around the lake.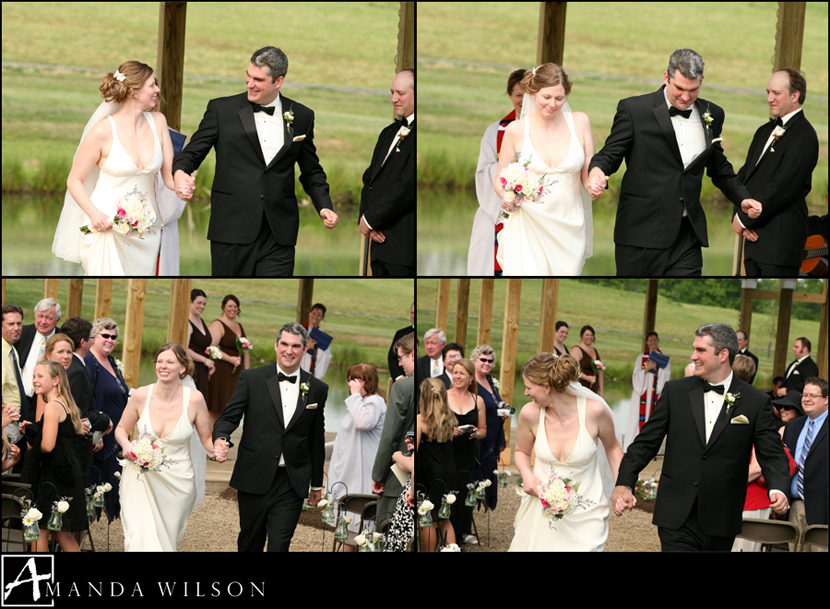 A few fun pictures with some of the kids that Minda has nannied over the years. Images 2, 3, 5, and 6 courtesy of Anna.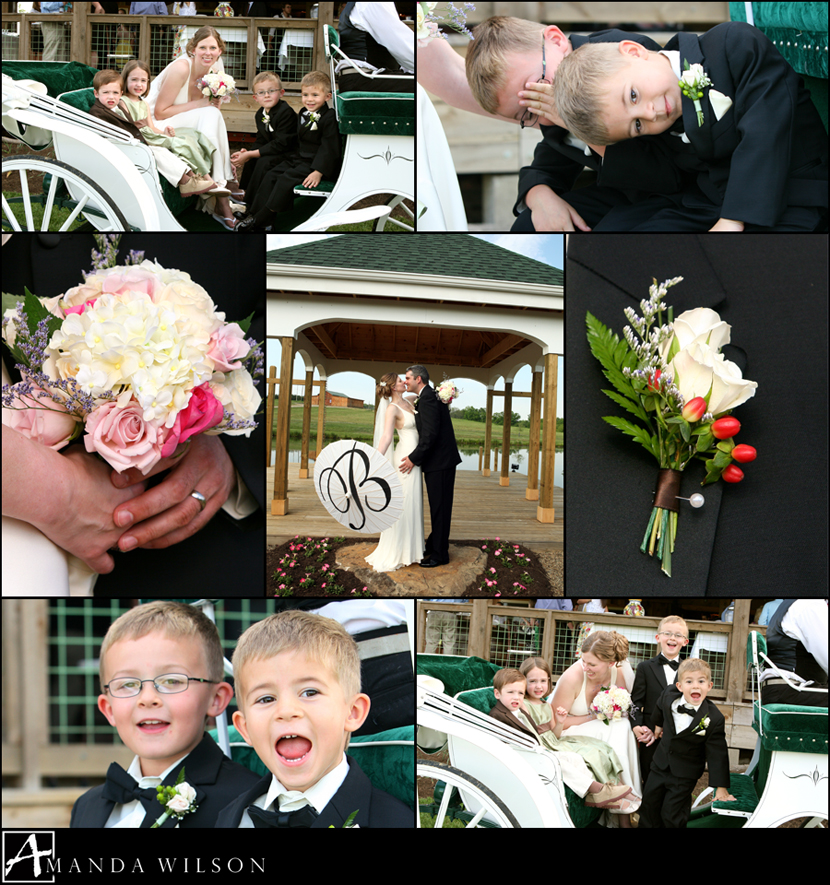 This next group is also courtesy of Anna who had the spy lens while we were doing the formals.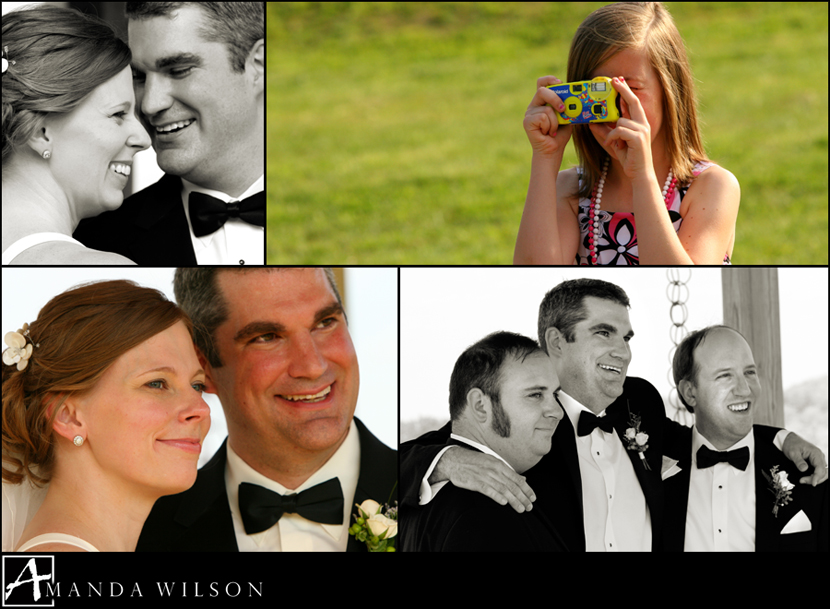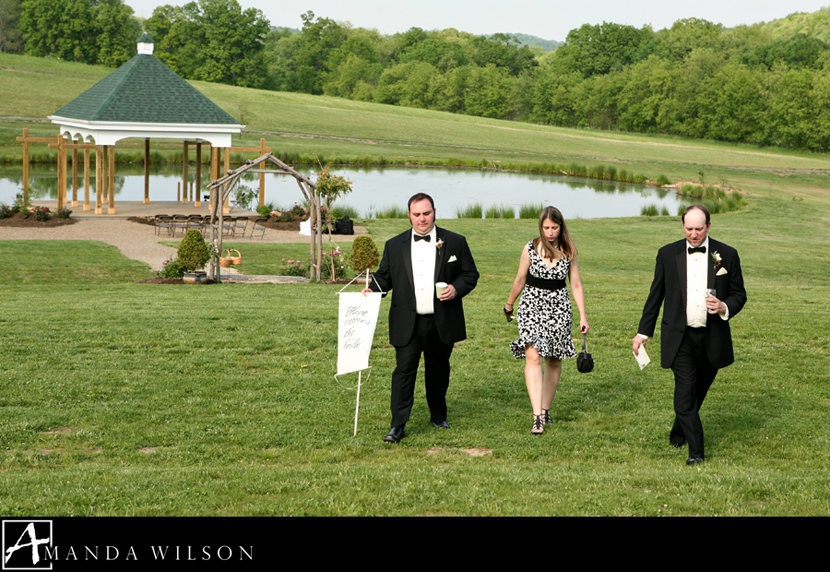 Minda and Brett and their family and friends put so much care into the details of this wedding. Here, they strung a clothesline on the porch of the barn and had blank tags that guests could write messages on and then clothespin to the line. The staff at Lingrow had big glass containers of cold lemonade and ice tea for guests to sip while they visited.
SO FUN! Minda and Brett rented a margarita machine for the wedding! They found these great giant margarita glasses (my mum would call them 'bathtubs' - I have several at home) that they decorated and instead of fruit or umbrellas they floated bride and groom rubber ducks in their drinks as a garnish.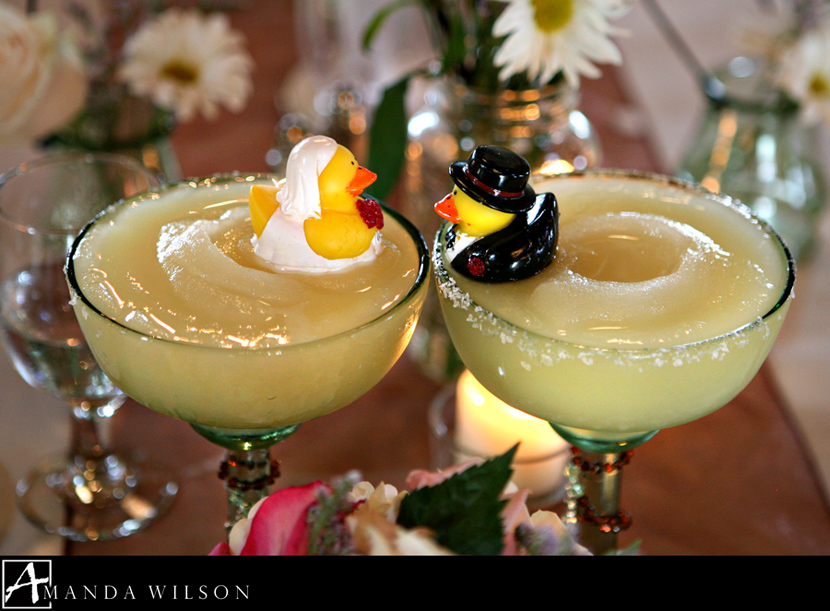 The food was amazing courtesy of Chef and I catering. There was roast turkey and beef, sandwich materials, jumbalaya, steamed vegetables, and a pasta station where you could choose your own noodles, sauce, and toppings and have your own personal combination cooked to perfection right before your eyes. Guests couldn't wait to get to the fancy cupcakes (KeyLime, BananaPeanutButter, Smores, and ChocStrawberry flavor).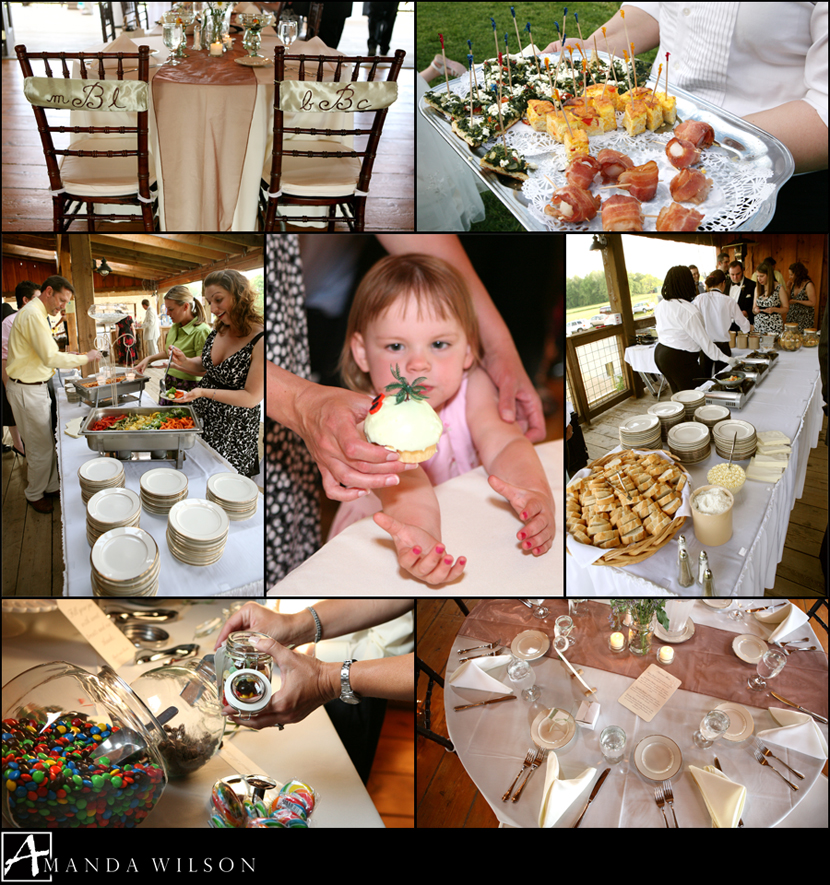 Ice Ice Baby :-) Literally - Anna and I were downstairs melting ice cubes to make special effects for this shot!
The Best Man and Maid of Honor each gave heartfelt toasts.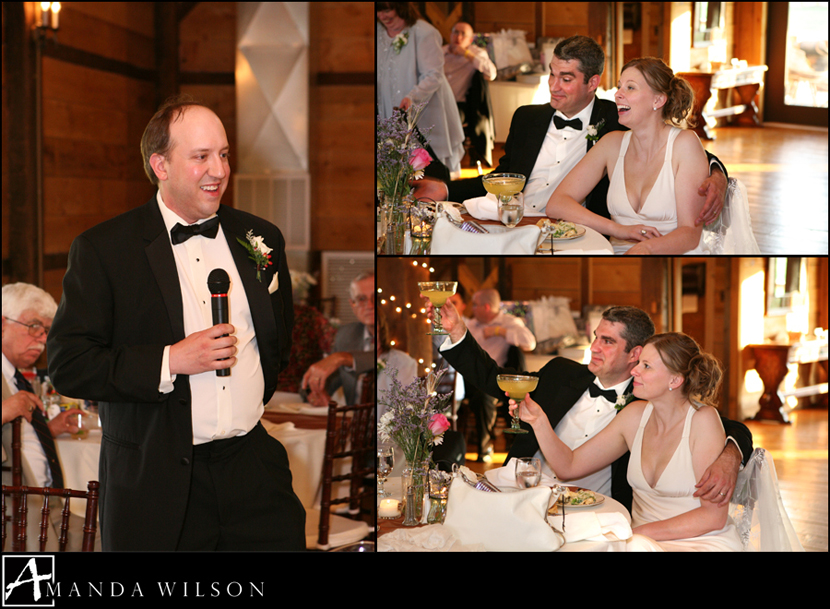 Minda and Brett took dance lessons prior to the wedding and impressed everyone with a very sweet waltz.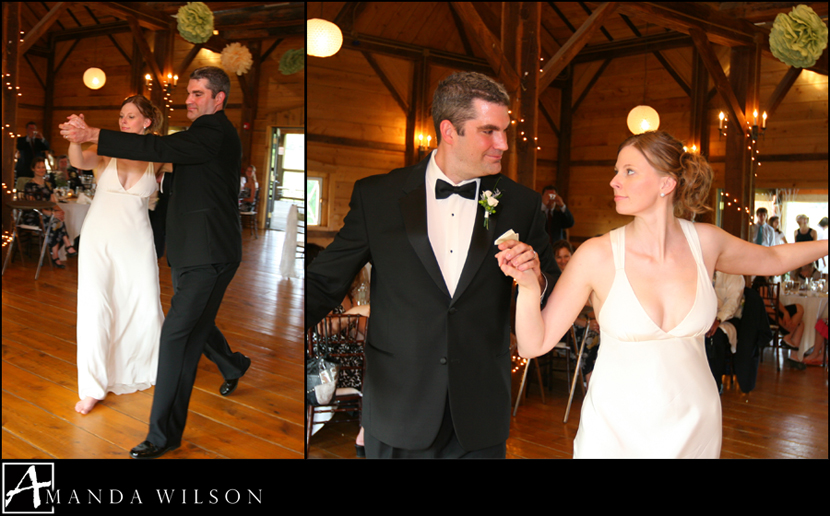 When there was a lull in the evening before the serious partying started, I stole the couple away outside for some private photo time. They each had brought a gift for one another and opened them sitting down at the dock. Minda gave Brett a very nice watch and he had a gorgeous bracelet for her.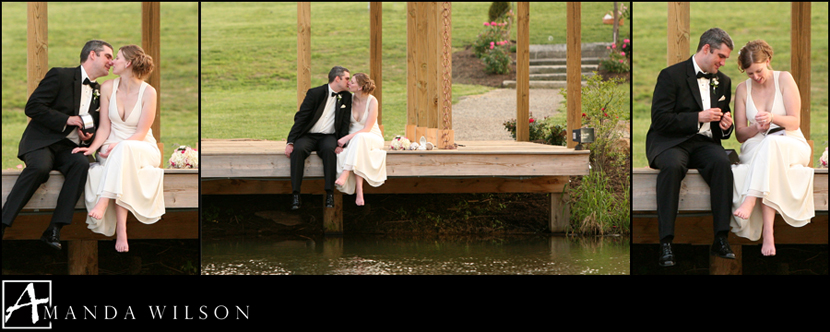 Love Love Loved the parasol...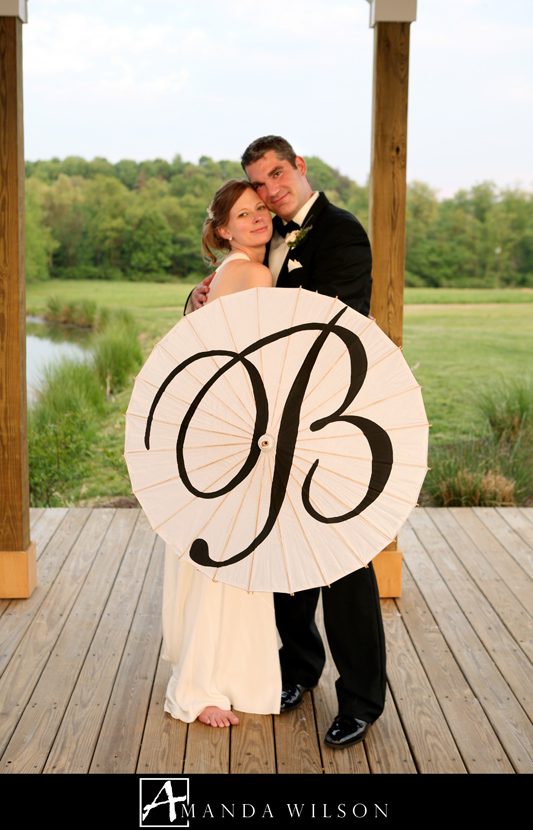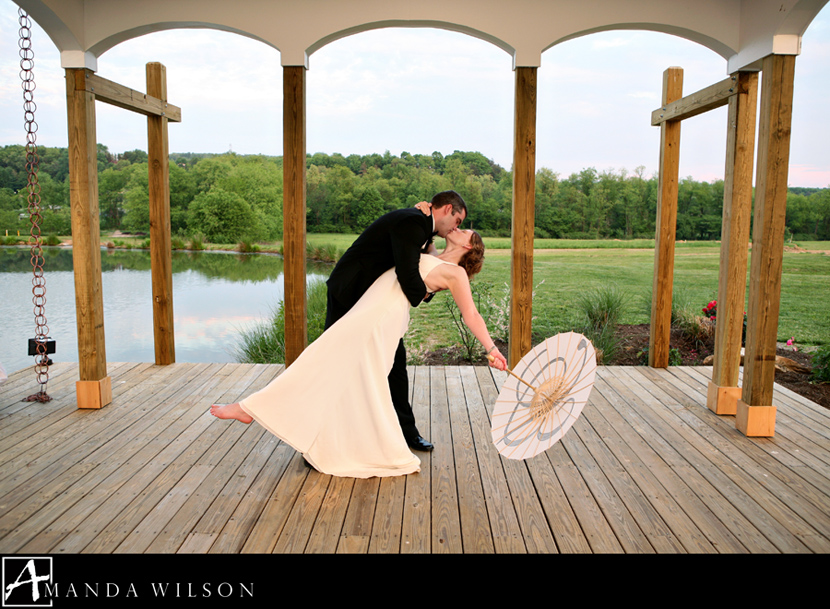 When guests arrived that day they found empty jars with their name and table number on them. That way they could carry their jar to the candy buffet and fill it with their favorite sweets to take home.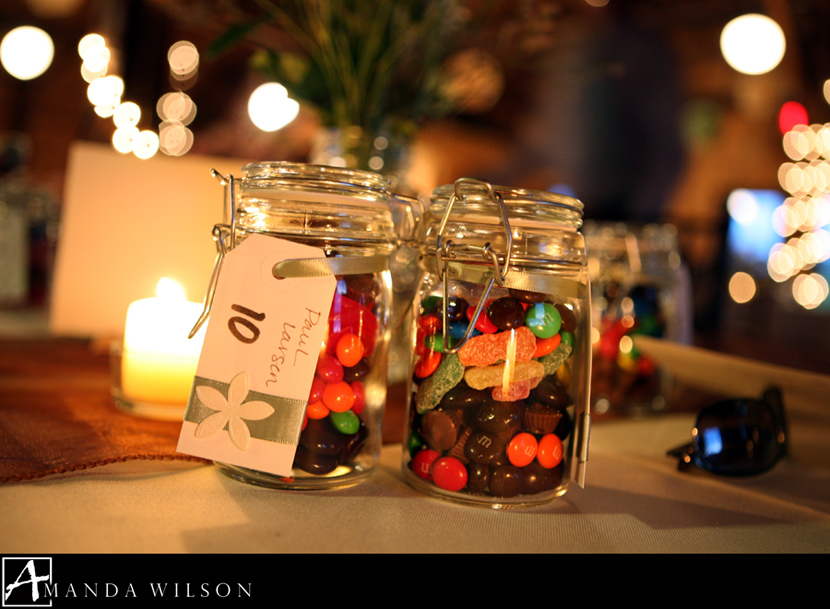 This couple is brilliant - you've figured that out by now, right?
They had a caricature artist come to the reception and draw for the guests as they posed for their portrait. Everybody loved it and tons of people went home with an extra personalized souvenier to remember a crazy fun day!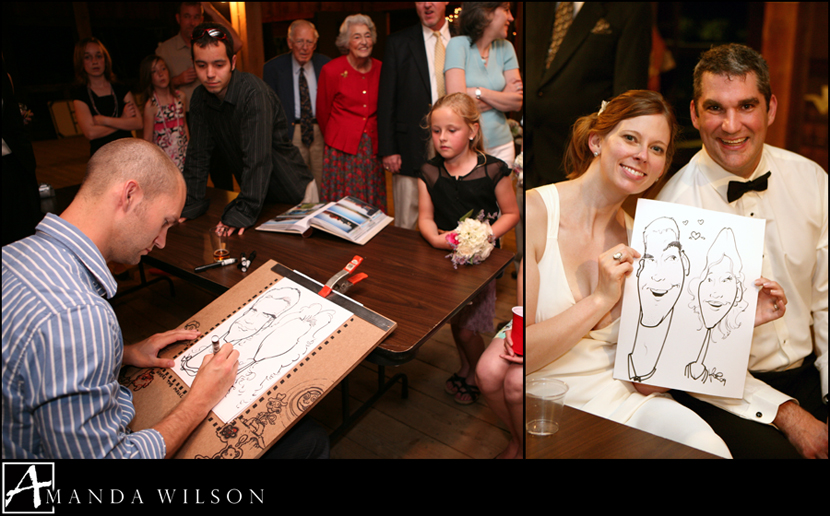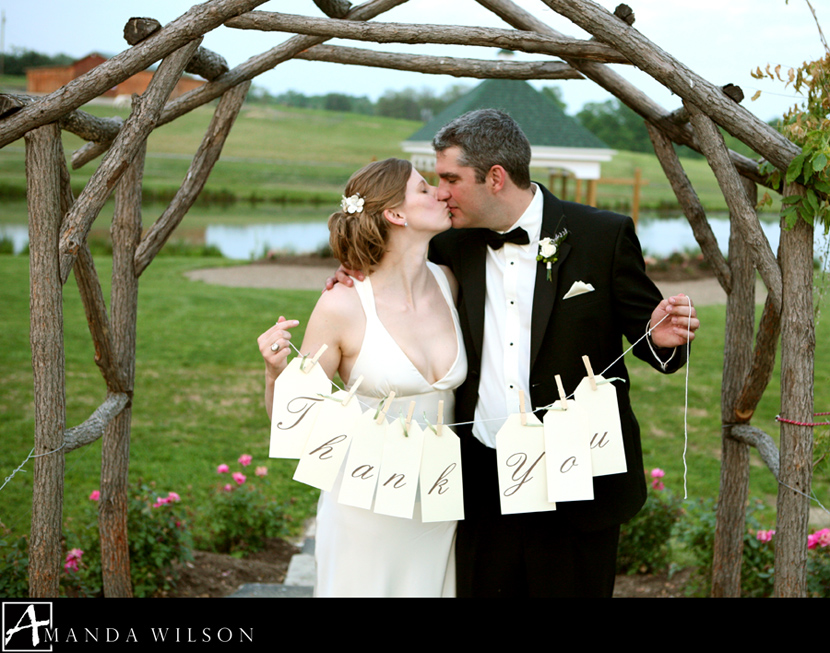 Just before it got dark that night Minda and Brett stepped outside to do a "Thank You Shot" so they could use it for their thank you cards after the wedding. They had crafted a sign made out of tags strung on a line.
Congratulations and thank you both so much for the privilege of having us shoot your wedding!
I can't wait to see pictures from Figi !! (They were honeymooning and swimming with sharks!)
---
Ceremony & Reception Site: Lingrow Farm
Food Services: Chef and I
Salon Experts: Planet Chi