If you are interested in having super heroes at your wedding - read on.
Recently (ok not that recent - but recent for the blogosphere) I had the pleasure of second shooting for a friend and extremely talented colleague for a committment ceremony she had booked for a fabulous couple at Fallingwater. I met Sandy from Red Lotus Photography at a workshop we both attended in Pittsburgh last year and we hit it off right away and have been pals ever since. It's not every day that you find someone that understands your artistic OCD and really "gets it" when you're struggling to describe WHY you do things the way you do. She second shot for me for Kara & Tom's wedding last year and was a lifesaver. So when she called me for a weekend I already had two weddings booked for to see if I wanted to come hang out and lend a hand - all she had to say was "Fallingwater" and I was SO THERE.
I mean, it's not everyday you get the opportunity to shoot in a such a unique and fantastic location. Photographers are weird like that about locations and backgrounds. If you asked us if we wanted to shoot a gorgeous bride in a manicured lawn or in a swamp - we'd pick the swamp every time. It's hard to explain.
I have to tell you that I LOVE to second shoot. Why? Because it's all the fun of shooting a wedding without all the pressure of being in charge. I had a lot more time to see and do and work with different angles that I never have time for when I'm focused on getting all the formals and the family shots done right. For instance - I met up with Sandy and her lovely assistant Amy at the farmhouse next to The Barn at Fallingwater where the guys and girls were getting ready. While Sandy and Amy were concentrating on the girls - I got to spend time with the guys getting ready. Normally there's never time for all that - but with a dynamic duo you can accomplish amazing things.
J and Molly's brother got dressed in a spare room of the farmhouse with the guys.
It was screeching hot and incredibly humid that day.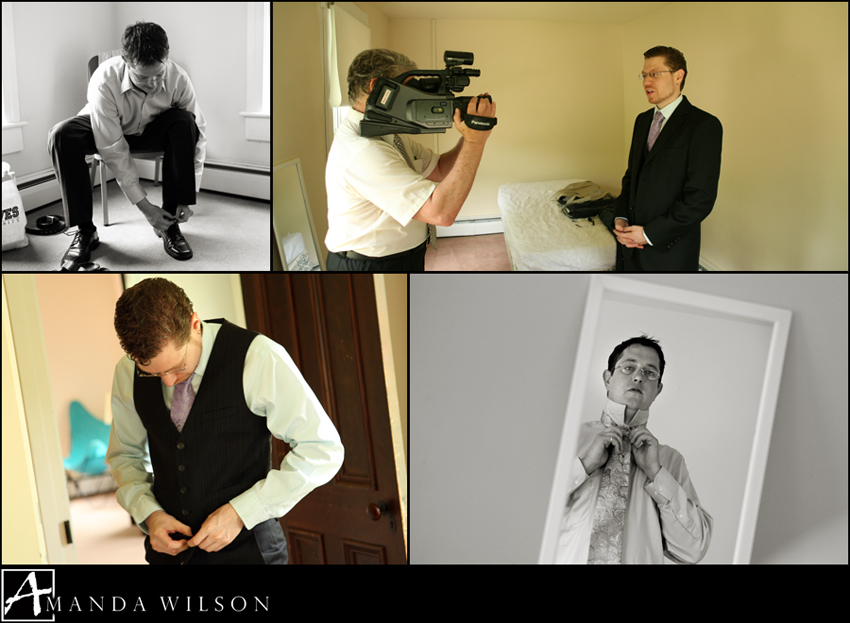 .
Molly's brother works with his tie. Molly wore a beautiful light blue gown that swayed through the grasses as she walked, and a fresh orchid in her hair.
The couple decided to see each other before the ceremony for a few photos in front of the farmhouse and to get a jump on family portraits before it got too oppressively hot outside.
Their ceremony site was absolutely stunning located behind the barn in the woods under a cathedral trees. Guests sat on hay bales covered in rustic burlap sacks and the couple stood under an archway made of branches and adorned with more fresh orchids, lilies, and a hummingbird feeder.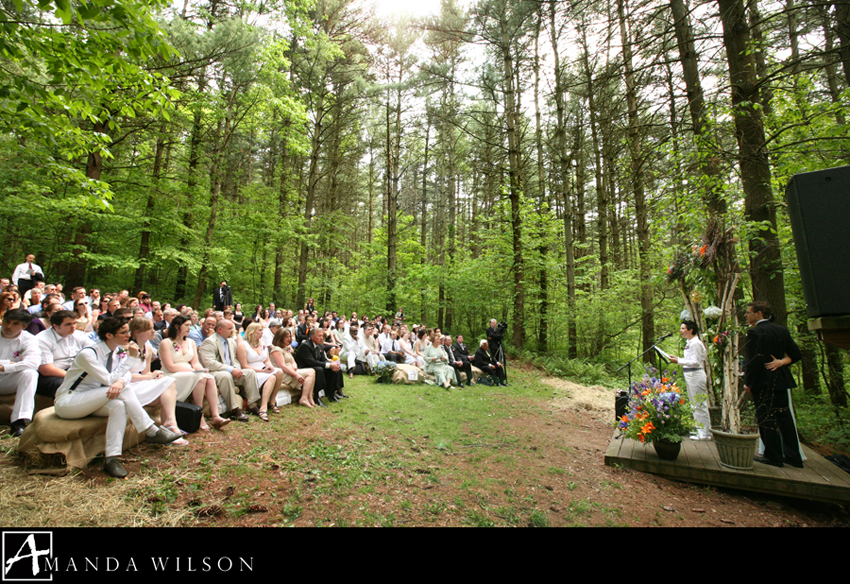 Several friends and relatives gave personal testimonials about Molly and J when they were kids; their life, their love, their likes and differences, the night they met, and campfires on the beach. Together they all told the two true stories of two kids who grew up and from this day on would tell their tale on the same pages of the same chapter in the same book.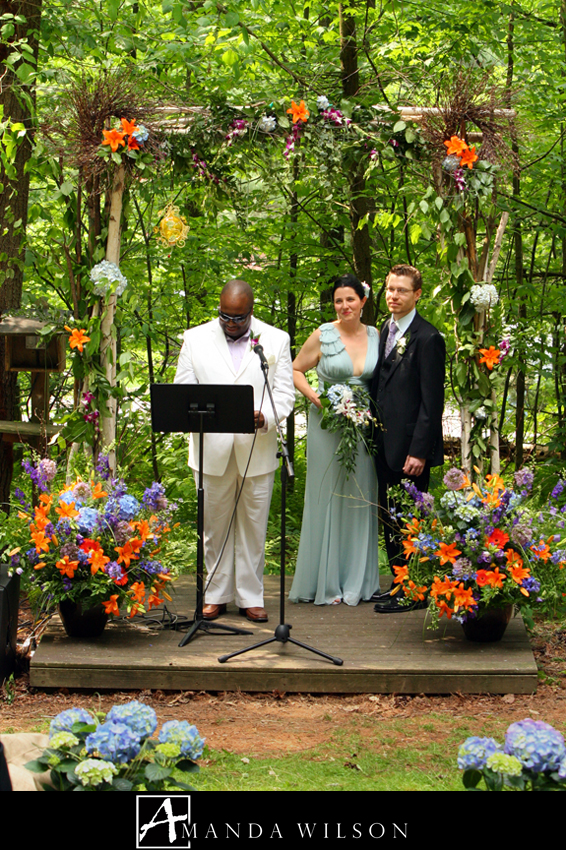 Truly everything was personal and special. Guests who arrived in dress shoes not expecting the short hike in the woods were greeted at the edge of the trees with colorful flip flops to wear to the ceremony. Molly's close friend is a composer who wrote music that was performed by an instrumental trio of more friends while they made their entrance. Molly and J laughed and cried many times, exhanged vows and rings, and walked up the center aisle towards a long and celebrated journey of their life together.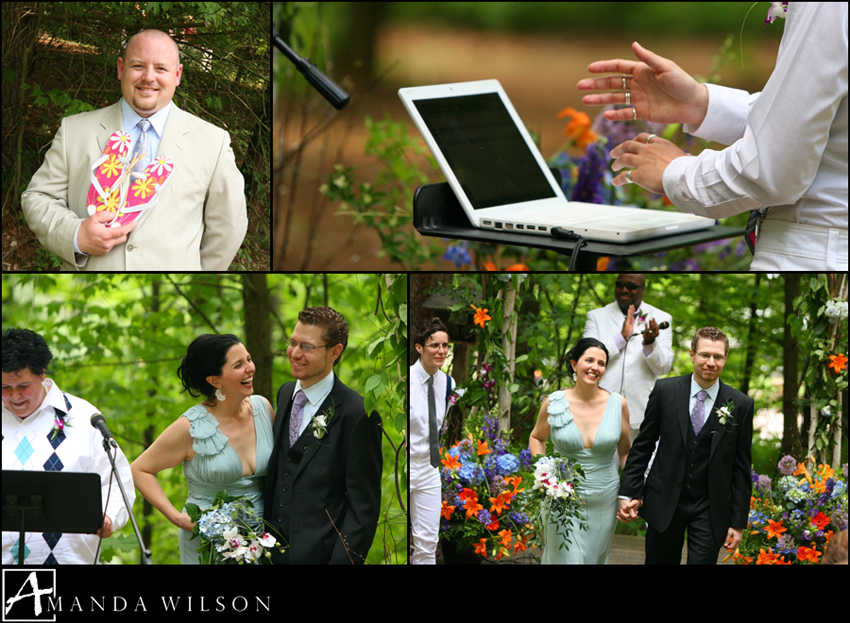 I should point out that by this time the sky had clouded a little and the wind was picking up. It started sprinkling and fearing a total wash out might be upon us we rushed over to the Frank Loyd Wright house for some photos before dinner.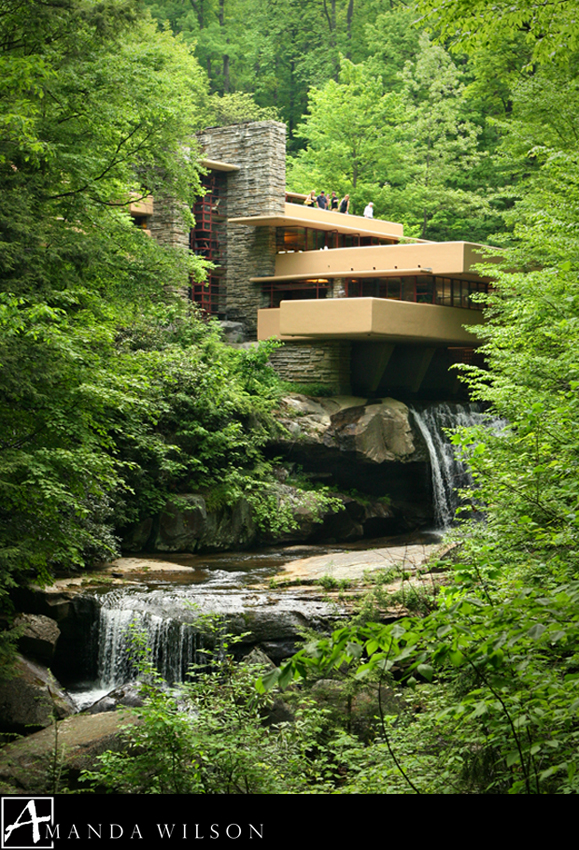 Now this is the real beauty of being a second shooter. When Sandy and Amy had to get everyone organized for all the formal shots with their family members - I got to go shoot the food for cocktail hour ;-)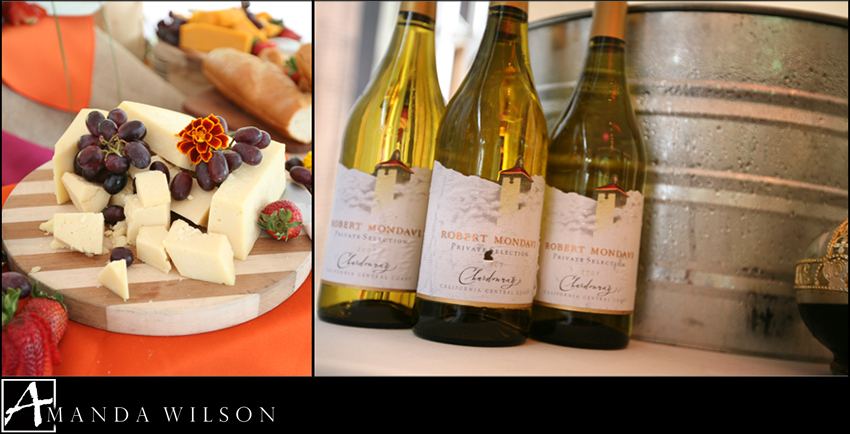 The Barn at Fallingwater is an extremely unique and green structure. It's rustic, but also contemporary. The perfect fit for this hip environmentally concious couple.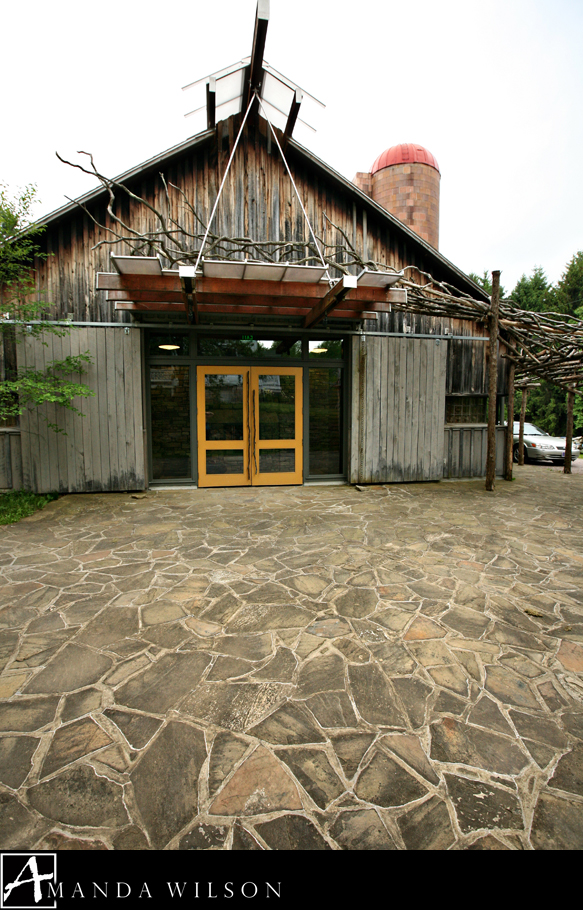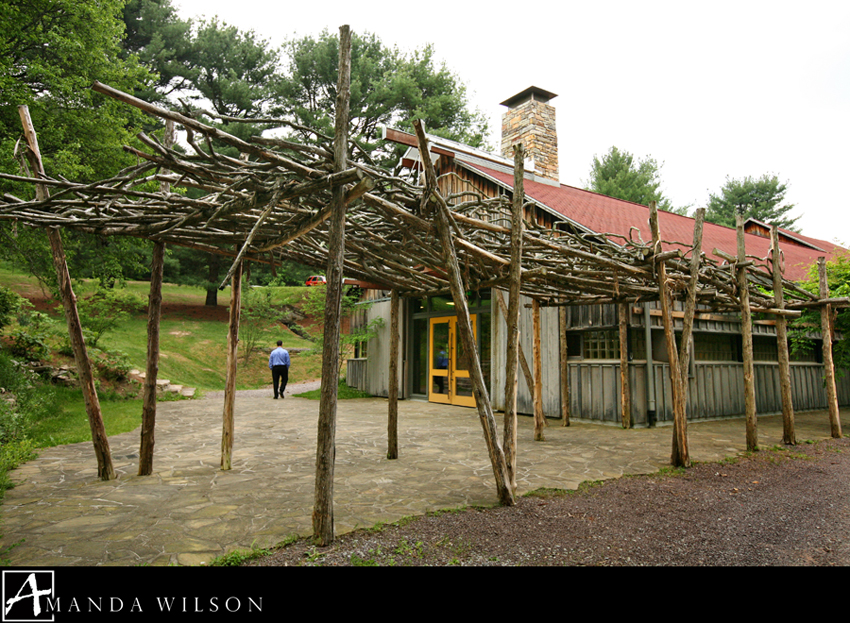 In case the printing on this top left photo is too small to read on your screen it says, "During the construction process (of the barn), 81% of the construction debris was recycled. The barn floor started life as a maple gymnasium floor at a convent in Pittsburgh." Fields of Heather did an outstanding job adding fresh flowers to all of the decor.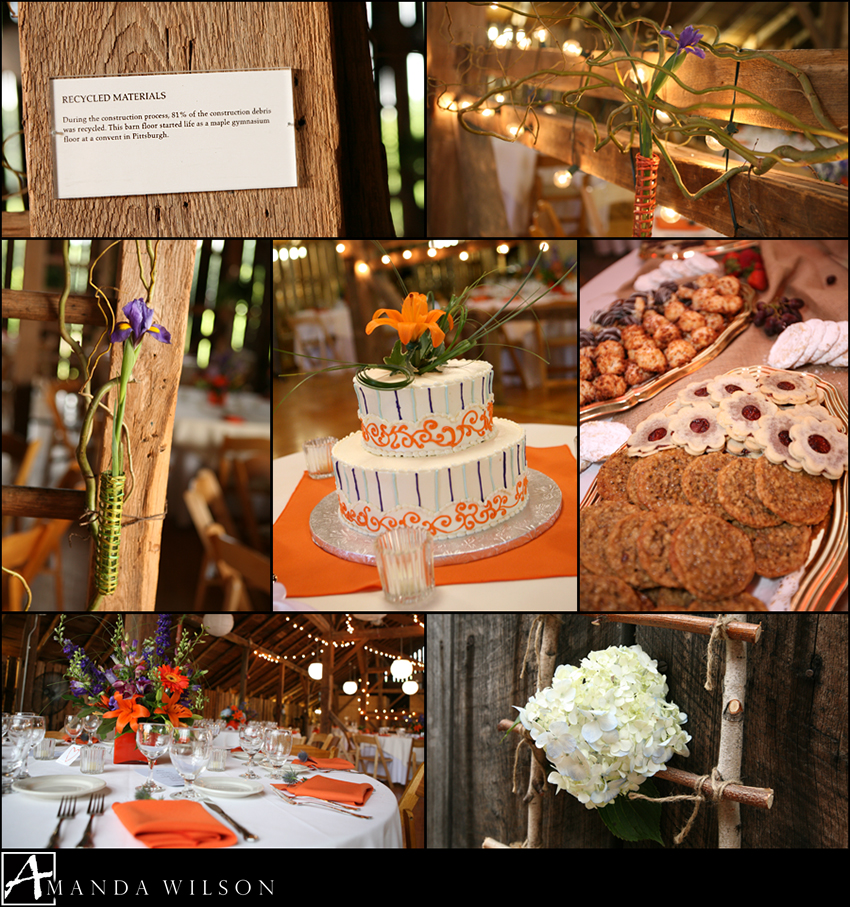 After dinner and before the party really started, Sandy stole the couple away to a field of soft waving grasses behind the farmhouse for a little romance. You can see more of her amazing drool-worthy work by clicking HERE.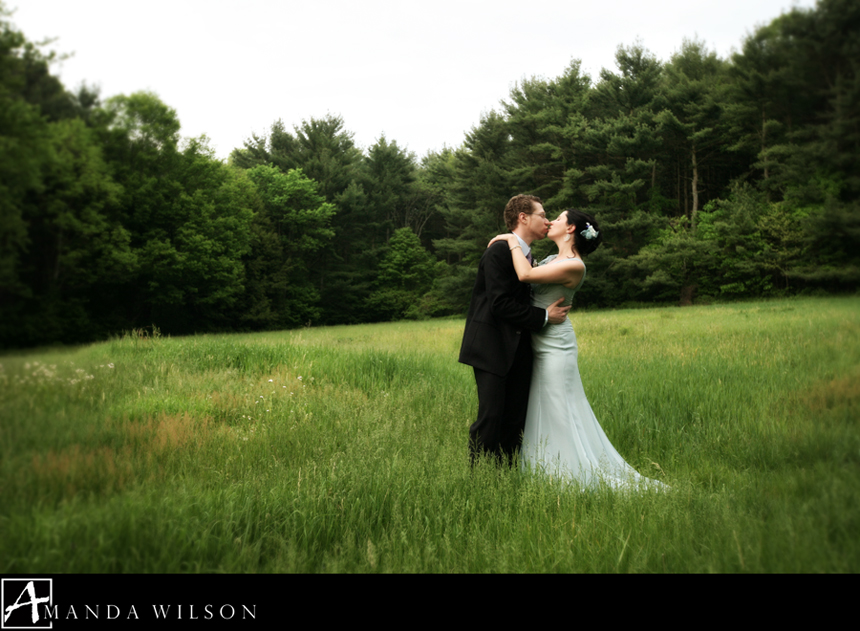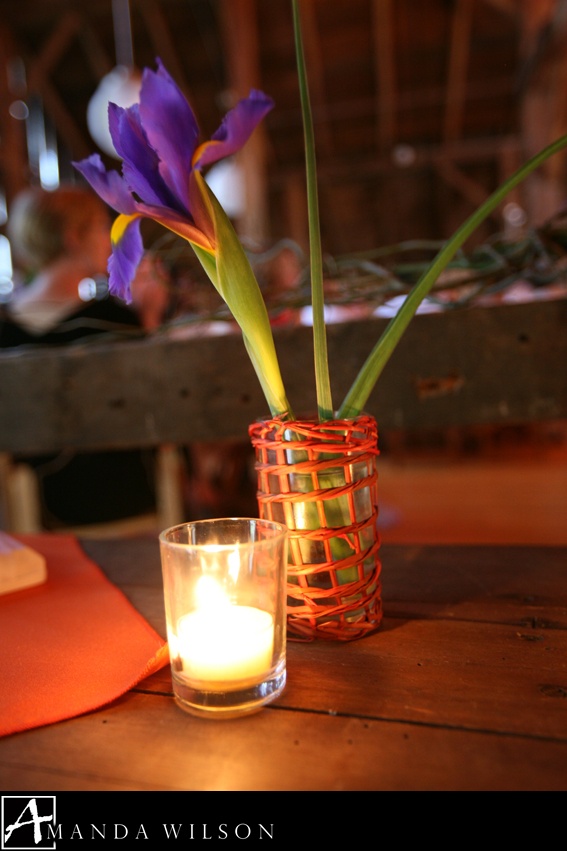 When it was time to dance, Molly and J brought out their sequined hats and strutted their stuff to Billy Jean. Once all the guests got out on the dance floor the party stretched a long long time into the night.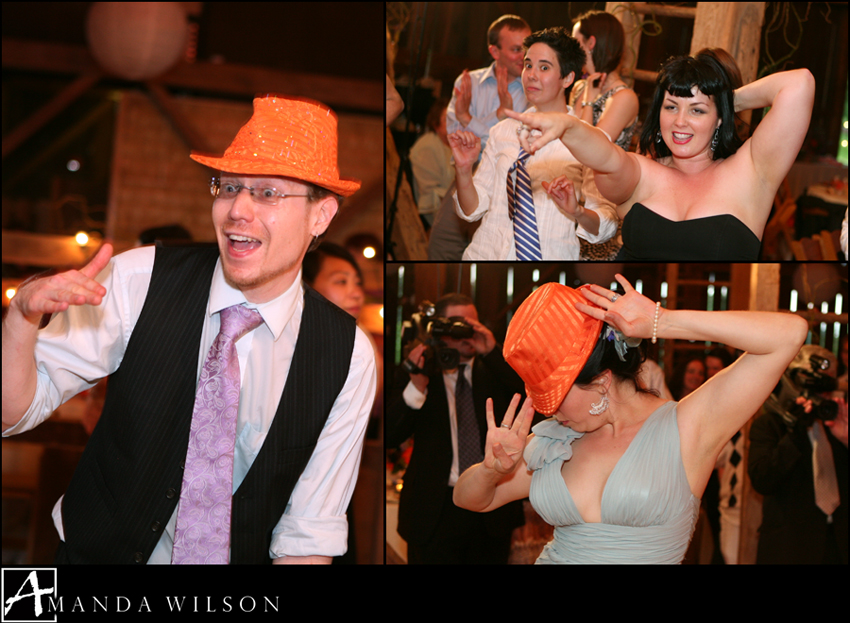 To see more photos from both myself and the fabulous Sandy Yetter, check out her blog at Red Lotus Photography. I could seriously get into this teaming up with other professionals as a super hero team. I wish that we both had enough blog space to show you all of the photos. It's been so hard to pick what to share!
Congratulations to Molly and J - I wish you many years of sand between your toes.
Thanks for taking me along for the ride, Sandy ;-)
---
Ceremony & Reception Location: The Barn at Fallingwater
Fantastic Food & Drink: Bart's Catering
Bakery: Vanilla Pastry Studio