I hope these were worth the wait!! Here's the rest of Amy & Ben's day :-)
The sun was high overhead as the bridesmaids helped Amy out of the limo and ushered her up the steps into the bride room in the church.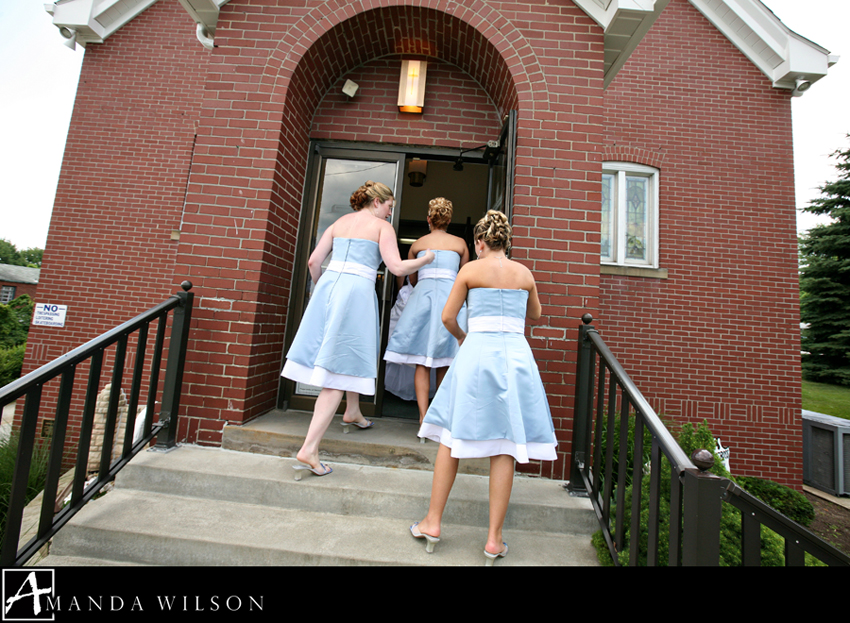 The flower girl was peeking out of the curtains into the sanctuary - very mischievious ;-)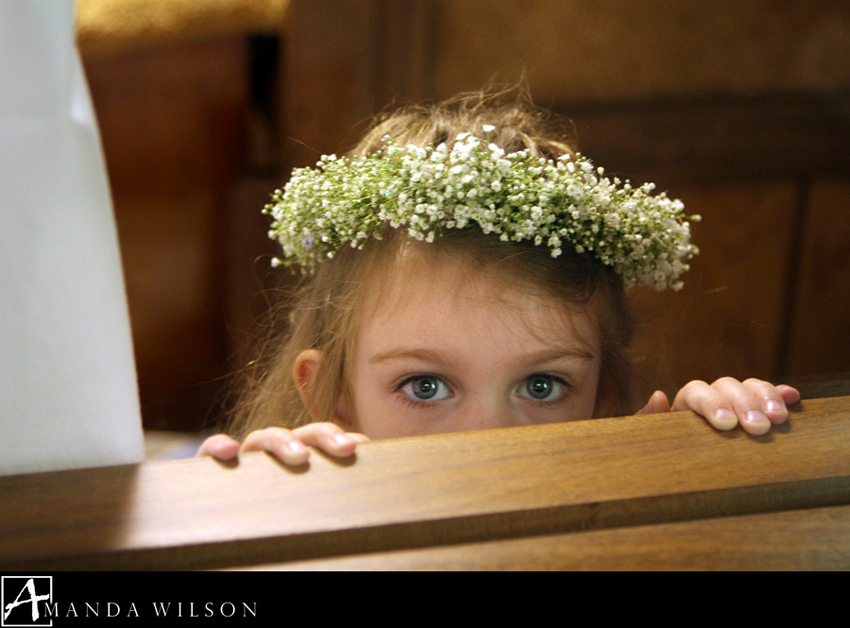 The church was gorgeous with lots of natural light streaming in through the high windows. Musicians played live music as guests were escorted to their seats.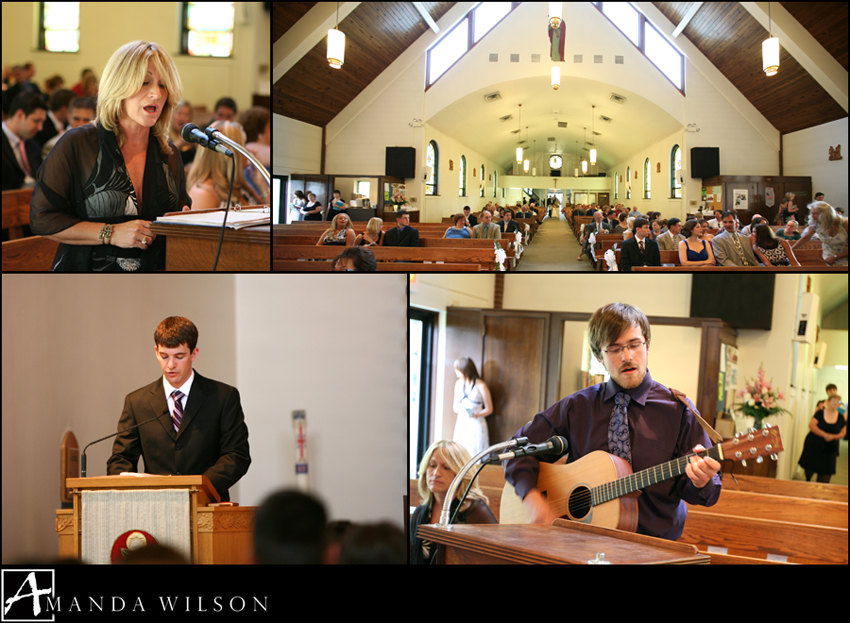 Remember I told you that Ben was feeling a little anxious for this moment - he couldn't wait to see her :-) When she appeared at the back of the aisle with her Dad and made her way to the altar, I turned to see Ben holding back tears. It was one of the best groom reactions I've seen :-) Sometimes you can't hold that much happy in !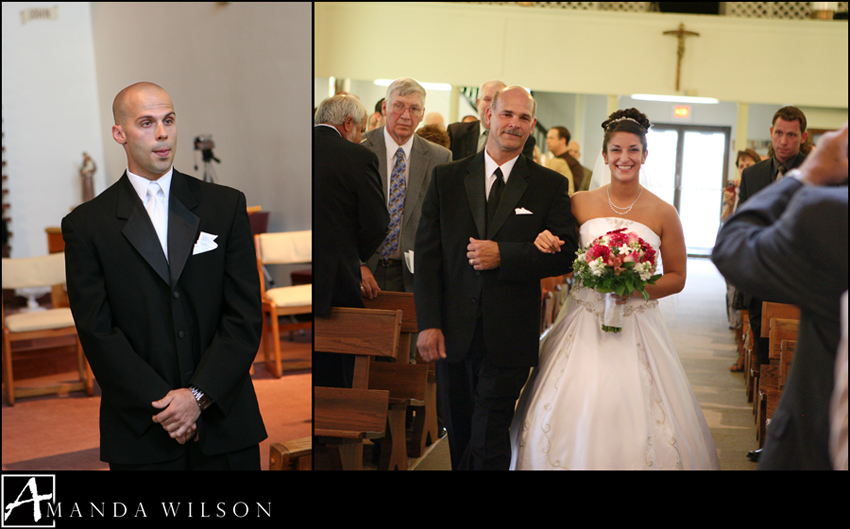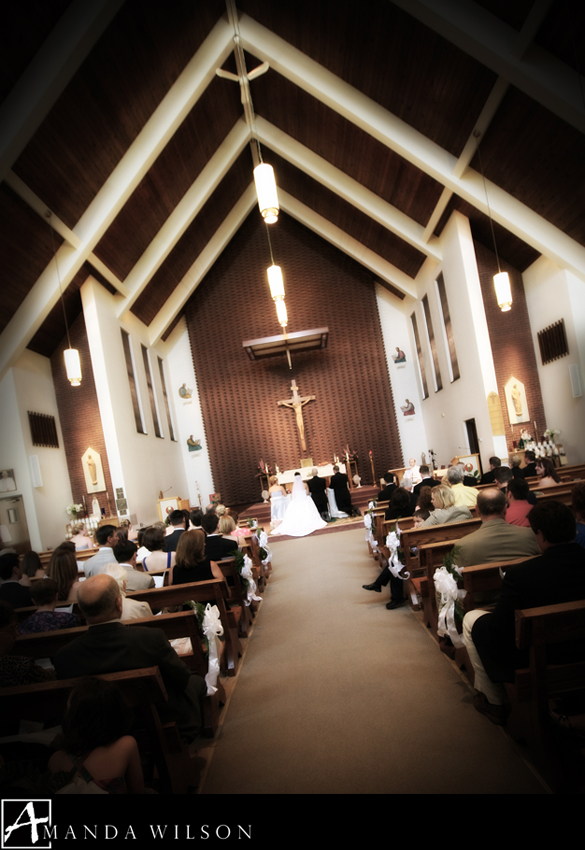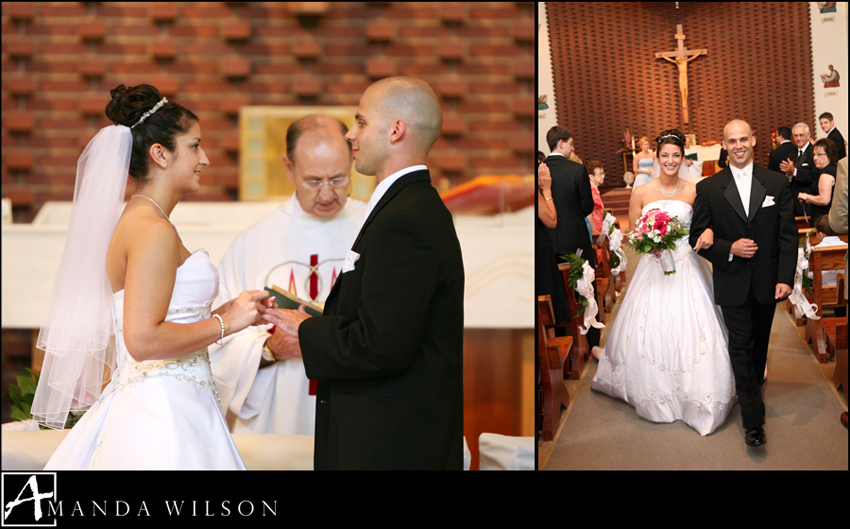 After some photos at the church we took the limo to Twin Lakes for a few shots by the lake. The sun was hot and very bright so we tried to be quick!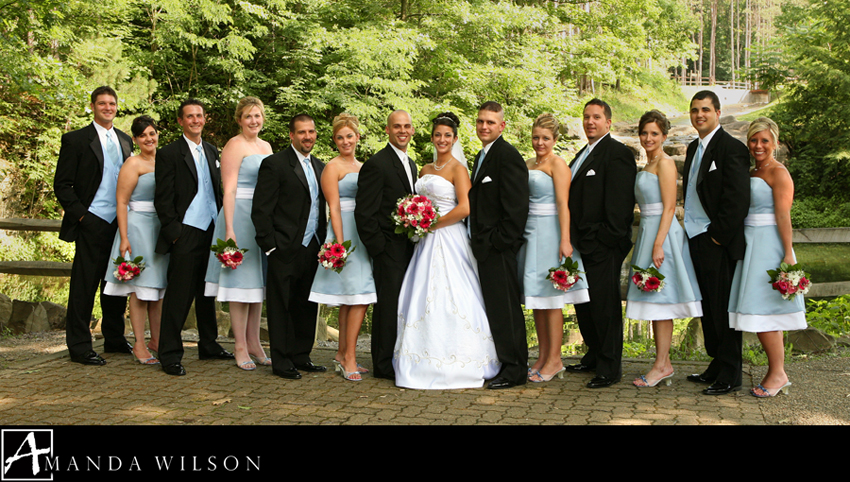 It never fails, someone always wants to hoist someone! I don't ever bring it up as a suggestion because not every bride or groom really wants to be picked up for fear of falling - but it never fails. Someone in the crowd shouts "You should pick him/her up!!" And there they go again :-D
But when it's all in good fun it always makes for hysterical pictures!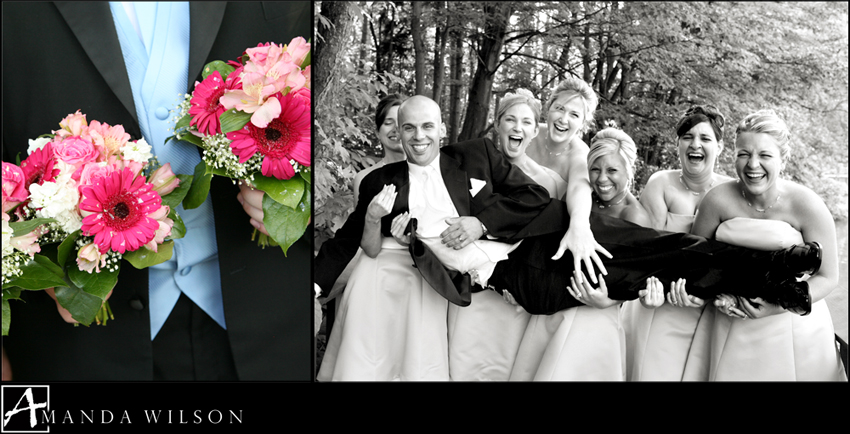 After some time at Twin Lakes, we moved on to the reception at the Four Points Sheraton in Greensburg. Some details of the evening - floating candle centerpieces, and a cake that filled the whole room with a delicious sweet smell. Later when they cut this cake it was the most moist sweet delicate - mmmm - I could have eaten 3 pieces.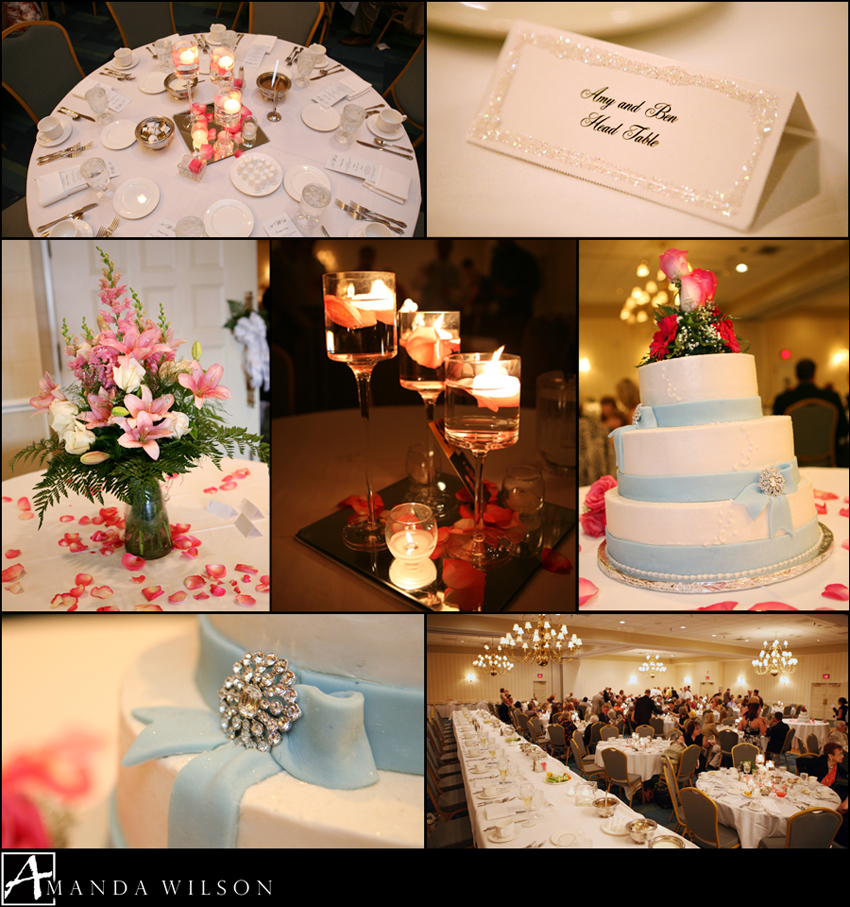 The rings - I know the flower shot is an old stand by but sometimes I think simple is best. Ben custom designed Amy's engagement ring with light blue accent stones since it was her favorite color.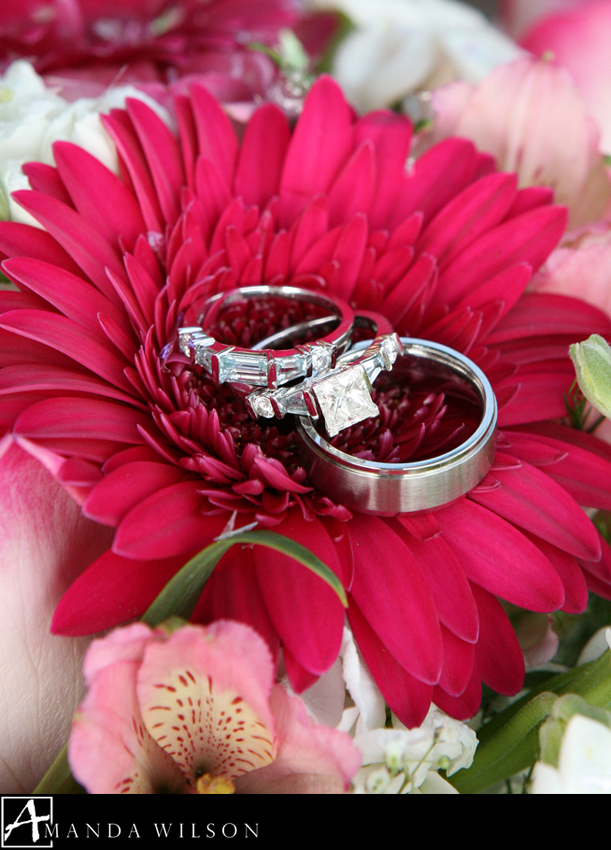 So there's a story behind this next set of images. Remember how I mentioned I ended up in the doctor's office after this wedding? Well this is why - I had scoped out this field next to the hotel in advance and it looked like a great spot for some sneaky romantic shots during dinner. Amy and Ben were SO AWESOME and earned at least 300 photo bonus points for being willing to tramp out into this field of flowers and grasses just as the sun was setting through the trees.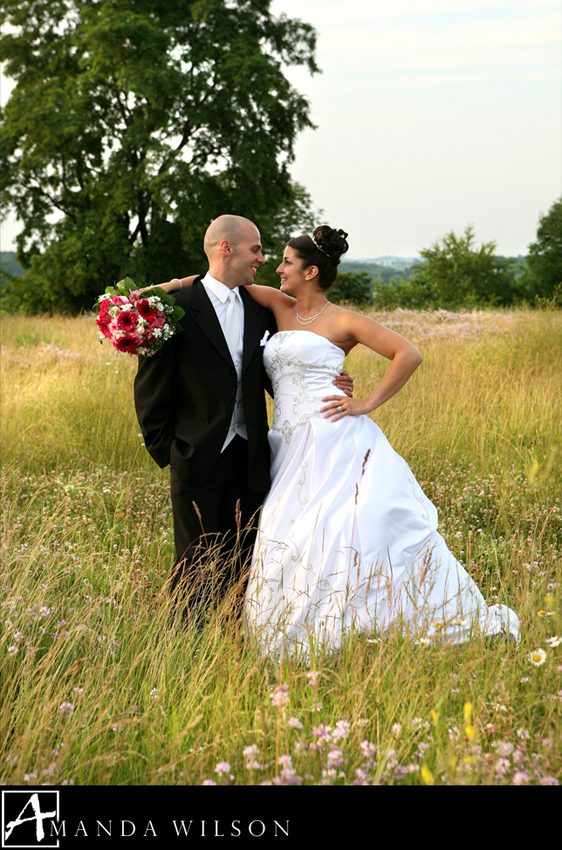 Then for even more points - they agreed to sit down among the flowers - Ben fell in a hole and ended up feet in the air but they were great sports about it. They were so happy that day and having fun.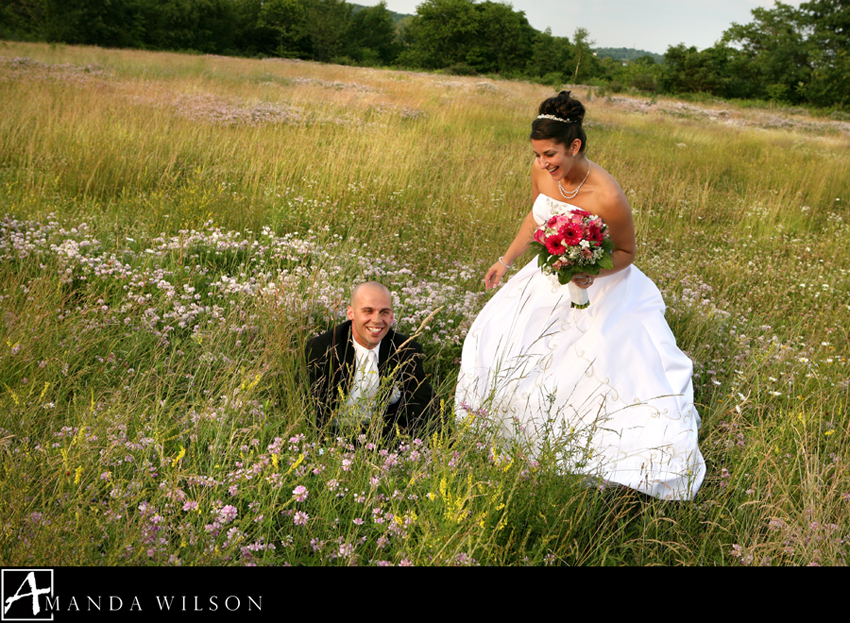 I love this image - and that's why it was worth it when just a few moments later my left eye started to feel itchy and painful and raw. But I paid no attention because I was trying to work the sun angle and capture all this romance!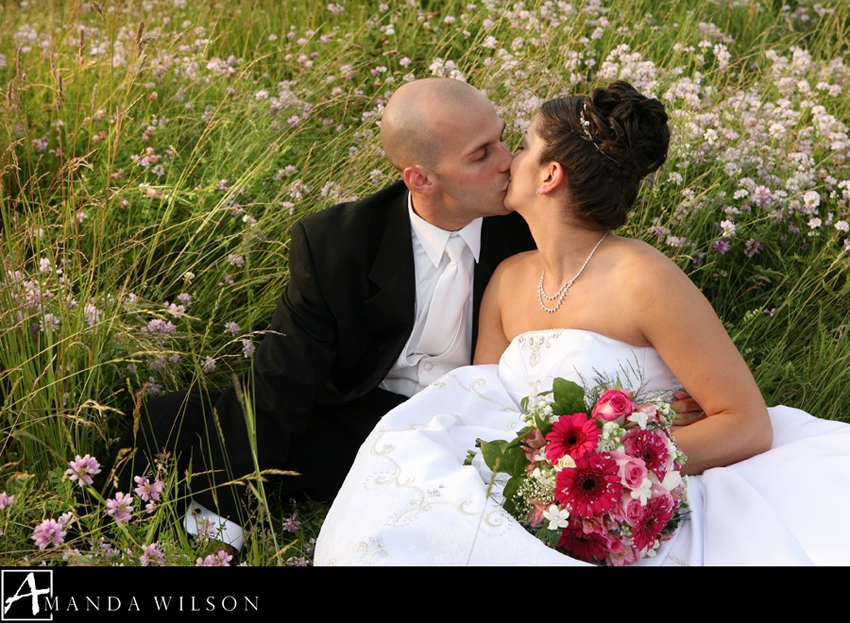 Ben in the field - left image by the talented Anna.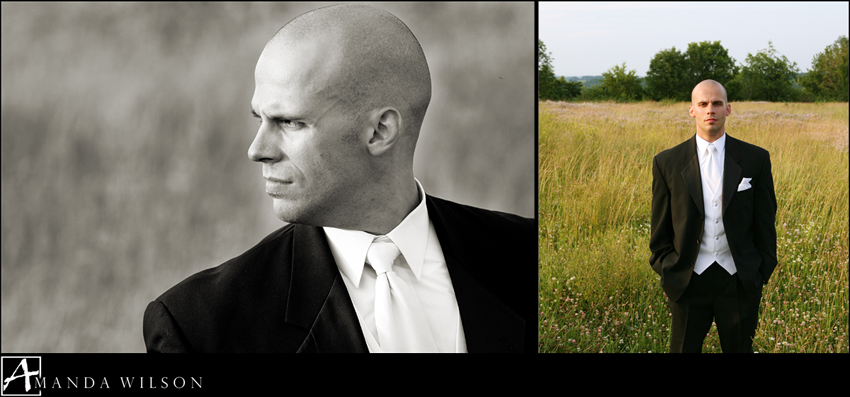 Back inside it was time for the first dance and Amy & Ben were amazing with a choreographed song.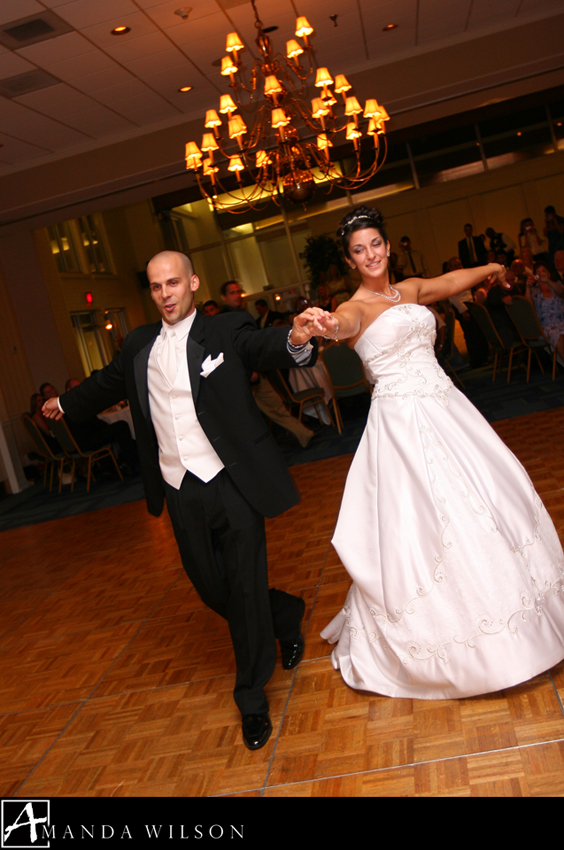 This couple has moves ! Left image by Anna.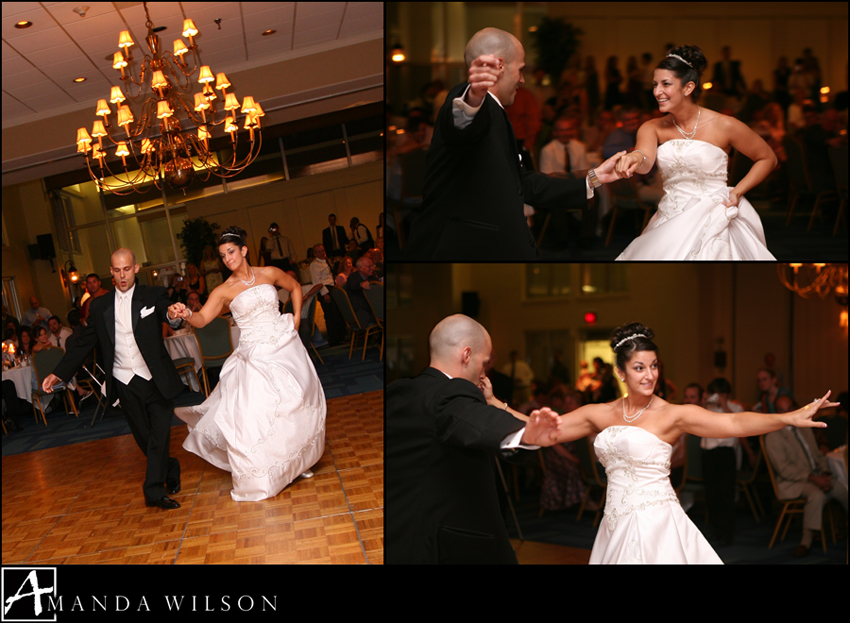 The dance floor was packed most of the night. We were having a blast watching everyone out there. My eye however was starting to swell and hurt more and was watering.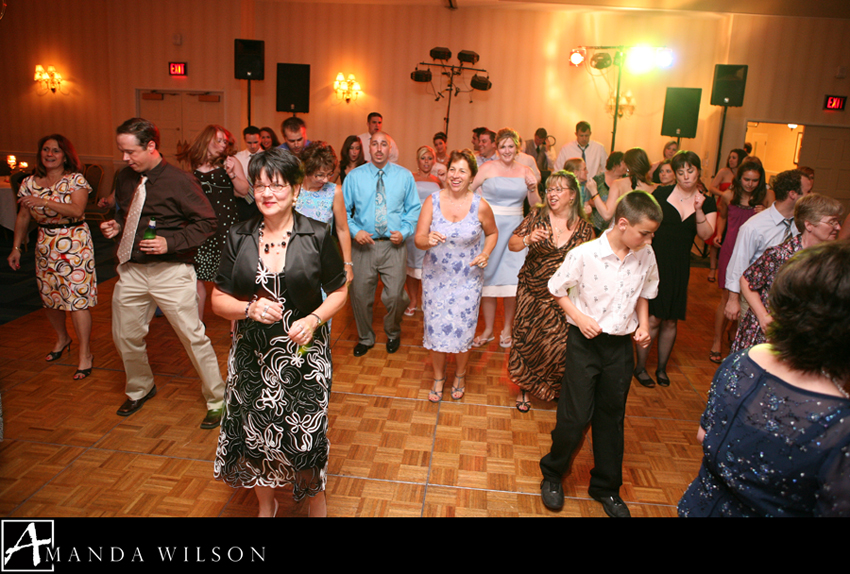 This guy right here is what makes this job even better.
He was moving to a groove only he could hear and didn't need any dance partner to slow him down.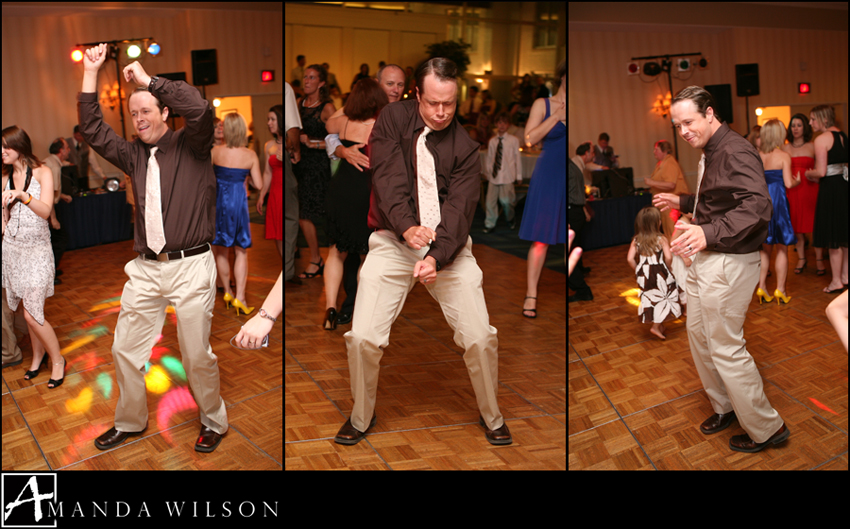 When Anna and I left it was almost midnight and the party was going strong! I drove home with my left eye closed. The next morning I thought I had pulled an eye muscle - I had a stabbing pain and couldn't wear my contacts. I added up that in the wedding double header I'd taken over 5,000 shots in 48 hours and probably had squinted through the viewfinder twice as much. It was logical that I might have like - broke my eye.
I decided to try the wait-and-see method of treatment. Three days later it was still swelled and killing me and I finally broke down and went to the optometrist. Fearing the worst I sat there kicking the bottom of the chair because I couldn't actually kick myself for injuring my most important tool of all. Luckily it wasn't permanent. In fact - it was an allergy. Apparently while I was out there wading around in that field and commando crawling through the grasses I got into something that I was allergic to (I was previously unaware that I was allergic to anything environmental) and then proceeded to RUB IT DIRECTLY IN MY EYE. Smaaaaarrrtt..... So no contact lenses, and no picture taking for a whole week. A whole bottle of prescription drops later, the swelling finally subsided.
I was so glad when Amy and Ben got back from their honeymoon to hear that they were unaffected by the trip to the field and I hadn't sent them to St. Lucia with temporary blindness. Whew!!
They were SO GREAT :-) I can't wait for their after session!
---
Reception: Four Points Sheraton, Greensburg PA
Florist: Brides and Butterflies, Adamsburg PA
Entertainment: Flipside DJs (John Wiggins)
Cake: Can-Do Creations (Pam Haines) BEST CAKE I EVER TASTED!!!!