It was very cold and rainy last October 17th when Donna and Mike tied the knot at Lingrow Farm. With the weather being seasonably chilly and light drizzle falling, everyone had already rehearsed the indoor plan the night before. The upper deck of the barn at Lingrow is closed in with clear vinyl in the winter months and they have large space heaters that keep guests toasty whether they are there just for dinner or if you choose to host your ceremony on the porch!
I had a triple threat dream team with me that day including Anna Laero (now Salyers!) and Sandy Yetter - we were sooo covering the whole day from every possible angle. We found Donna and the ladies in the carriage house and Donna was so excited that she had already put her dress on even before we arrived! She was multitasking with a cell phone in each hand!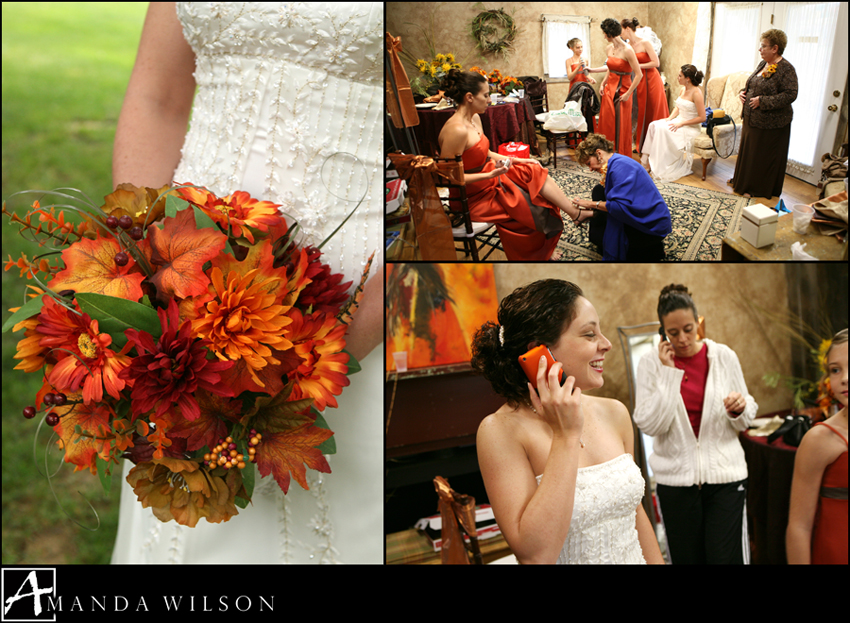 We took advantage of a rare moment of no rain to get the girls outside before the ceremony for a few quick shots - they were doing a pretty good job of pretending they weren't cold!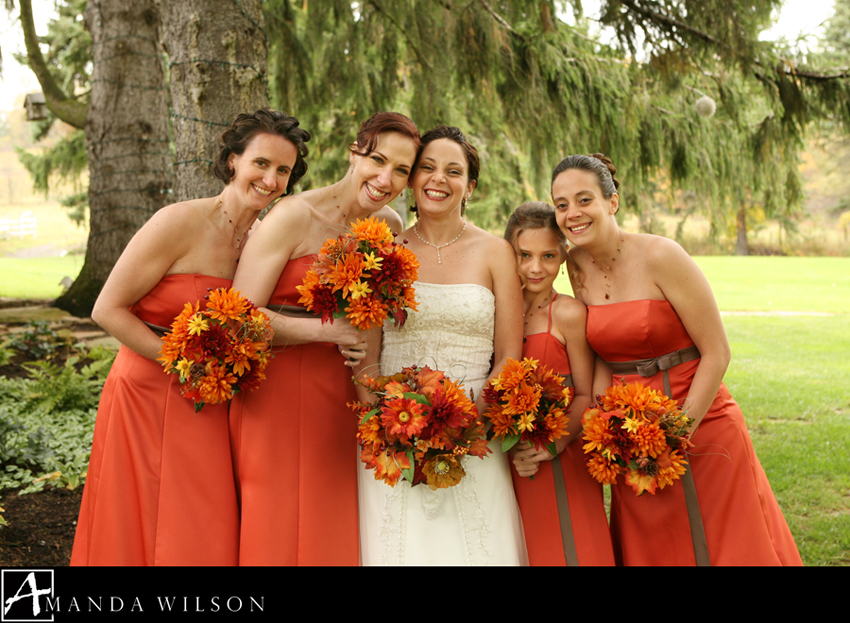 All too soon, the guests had all arrived and it was time to start! Donna's Dad walked her up the stairs and through the double doors while Mike waited for her with a big smile at the end of the aisle.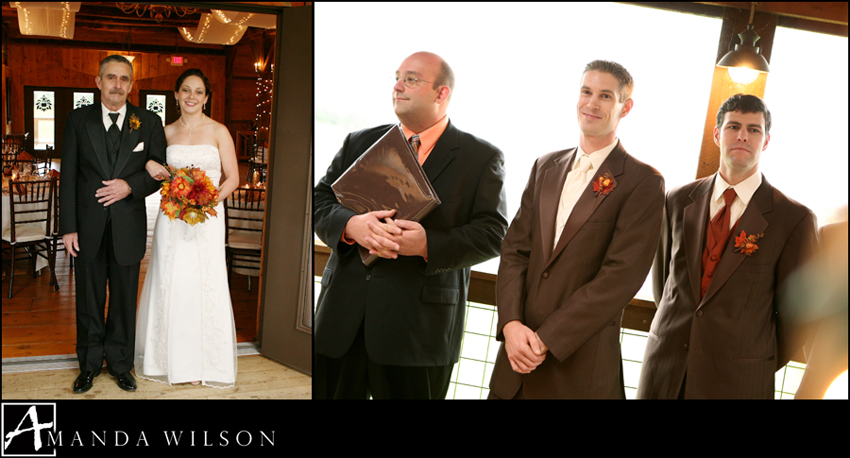 There was a hysterical moment during the ceremony - everything was going smoothly - guests were snuggled together in their seats, the lighting was soft and warm, the couple recited beautiful vows and made lifelong promises to each other. Everything was going smoothly - and then when Donna and Mike went to present their mother's each with a rose, one of Donna's totally haute high heels got wedged in a crack betweek the floorboards of the barn. And she was stuck. She tried to keep her composure and wiggle it loose, but it wouldn't budge. Mike's Dad, being an excellent new father-in-law, knelt down to help her. Now everyone was watching. After a few minutes of strained effort, even he couldn't get her shoe to come loose. Then Donna broke down into giggles and everyone in the audience joined in with laughter. Mike's Dad unbuckled her shoe so she could step out of it and then he proceeded to pull on the shoe with all of his might. And it still wouldn't move. By now everyone was in hysterics. Finally with a great heave the shoe came loose, and off balance he toppled over nearly backwards. That was it, the tension in the room was totally broken and when everyone finally composed themselves they were all wearing a huge grin. Mr. Ward replaced Donna's shoe on her foot and they finished the ceremony. It made for a great memory and a great laugh :-D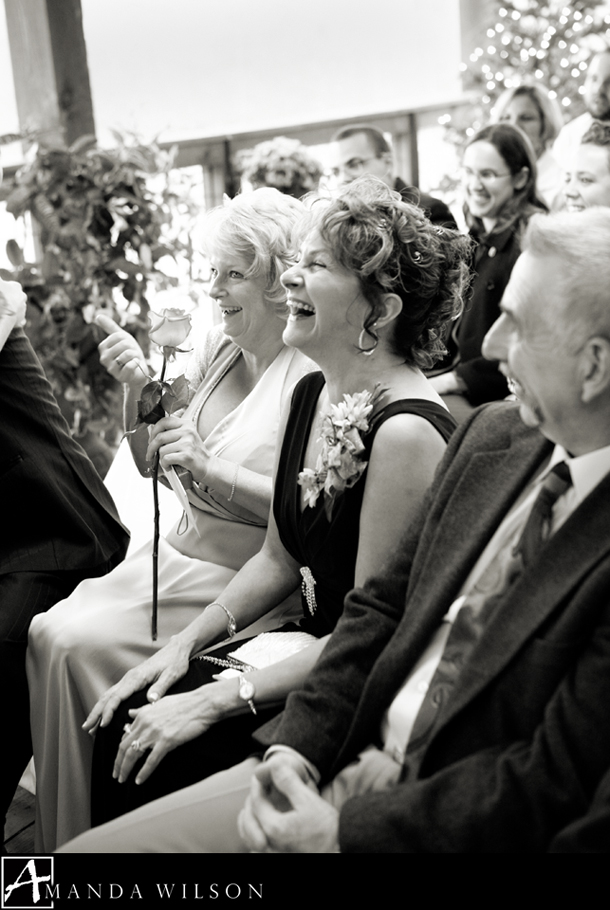 They went on to exchange rings and light a unity candle.
Top right image by Anna. Left top and left bottom images by Sandy.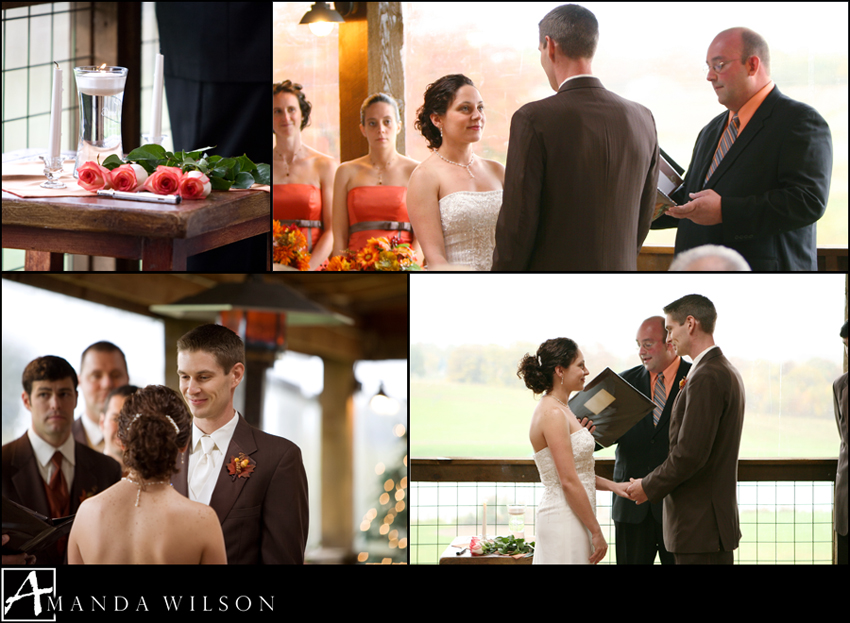 Ring shot on a maple leaf.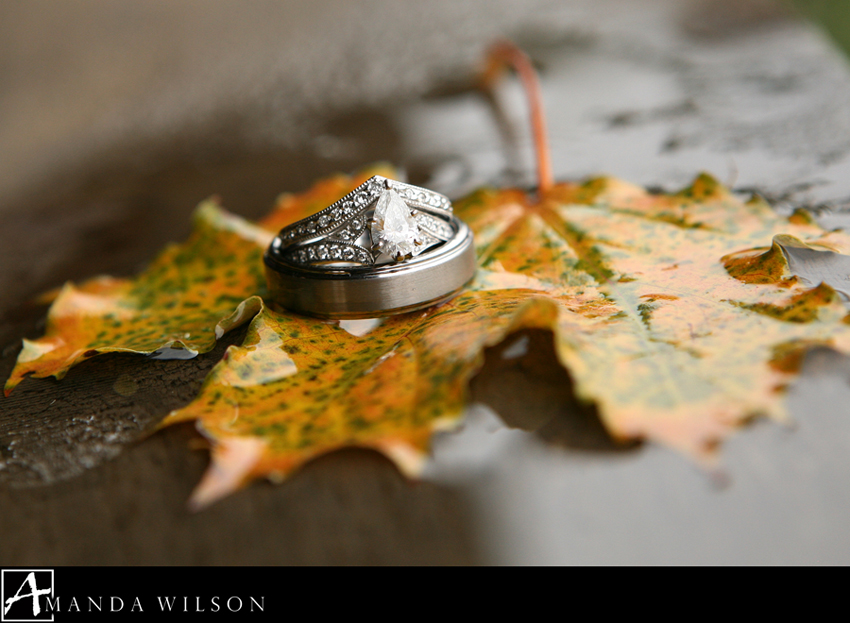 The families and wedding party braved the freezing temperature to duck out for some photos by the lake. Anna caught some great candid moments while I ran through the list of family formals. We loved their acorn boutonnieres.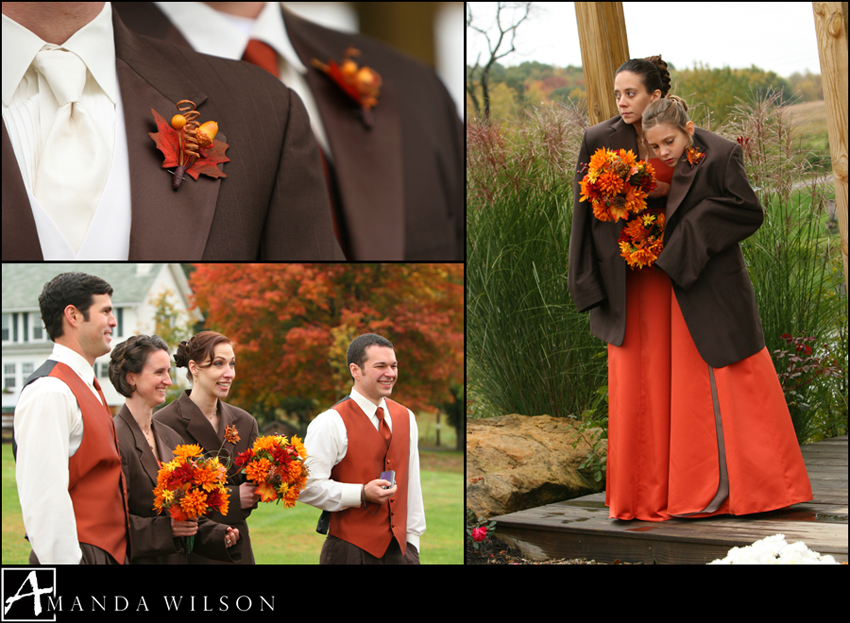 Group shots on the deck - the smiles are bigger when they are standing next to the heaters!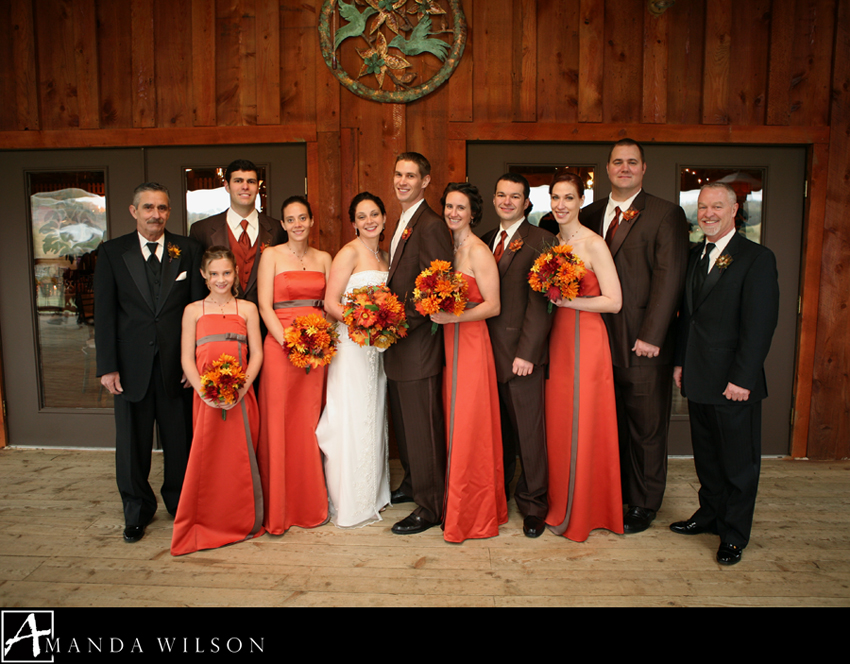 The barn sparkled and glowed with pumpkin colored silk napkins and silver jack-o-lantern centerpieces.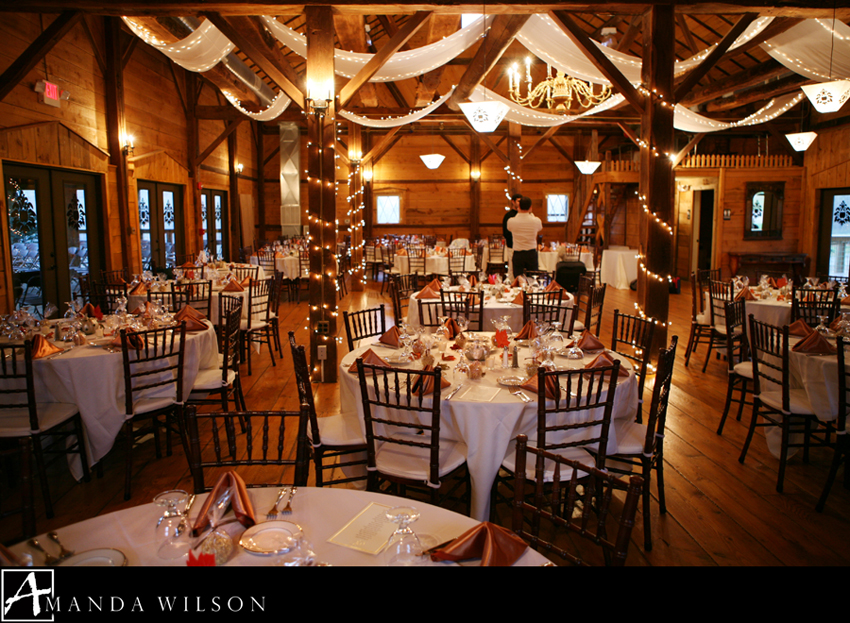 Now I have to talk about the food. You all know my deep deep love of food :-) Donna and Mike asked The SpringHouse market to cater their wedding dinner and it was so.perfect. They had Thanksgiving dinner. Roasted turkey and sweet ham, mashed potatoes, stuffing, gravy, vegetables, and all different kinds of pies. But the best part that really sent me off the food-love deep end was that SpringHouse market is not only a caterer and a farmers market, but also a dairy. They make and bottle their own chocolate milk! They had big metal washtubs filled with ice, sweet chocolate milk in resealable bottles, and straws. HEAVEN :-) Everyone has cookies at their wedding but no one ever remembered the milk until now! Please look closely at their cake topper, it will set the tone and prepare for things to come later in this post.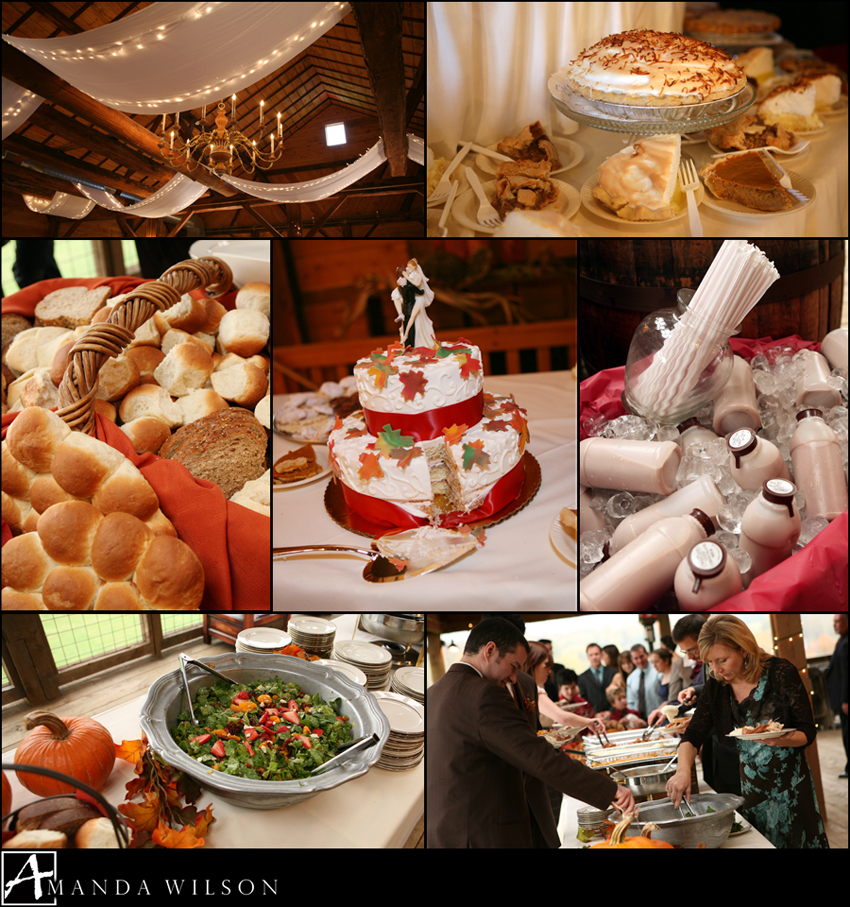 After dinner it was time for a classy first dance :-) Donna and Mike also decided to put a little spin on the hold "everyone keep clinking your glasses until they kiss" routine. At each place setting was a card explaining that all the glass clinking in the world would do no good, that if you wanted to see a good newlywed kiss - you and your table had to all stand up and sing a song together that contained the word 'love'. This worked so well and was so fun that Anna used the same concept for her wedding last month! Center image by Anna.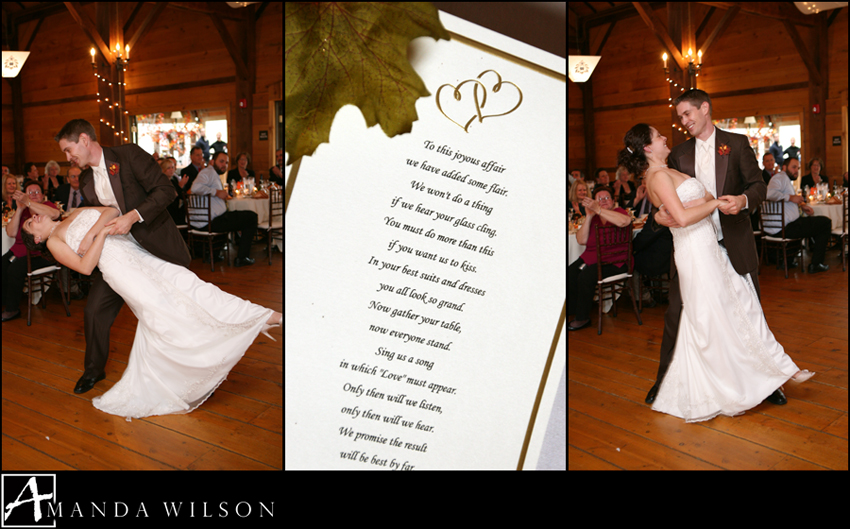 They cut the cake and answered the age old question, to smash or not to smash? They chose to smash in front of a cheering crowd. Top right image by Anna.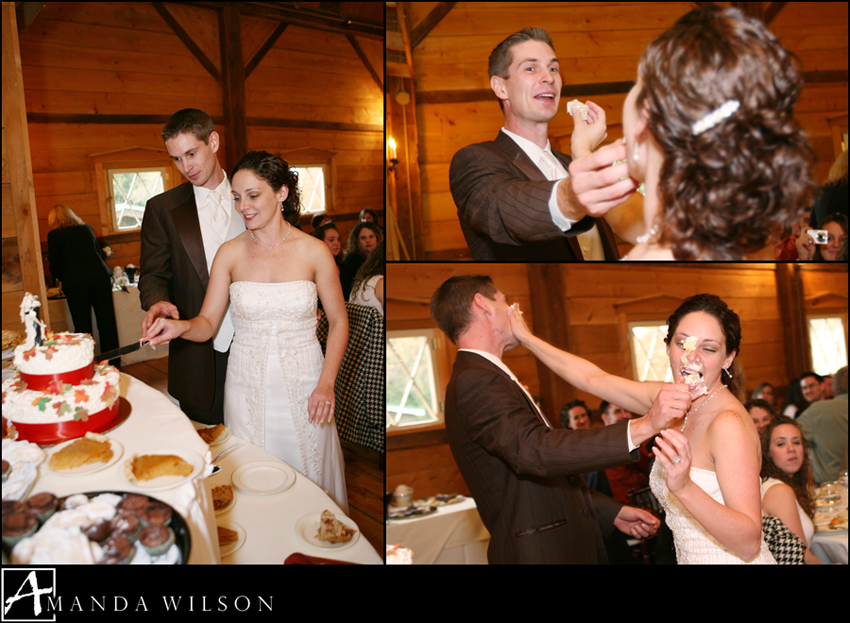 **** WARNING **** THE FOLLOWING IMAGES MAY BE TOO HOT TO HANDLE !
Ok, you were warned. I just hope you can handle the passion.

Since it was still raining and there's only so much you can do for photos under an umbrella, we explored the front porch of the farmhouse where Donna and Mike were brave enough to work the camera resulting in this shot that I LOVE.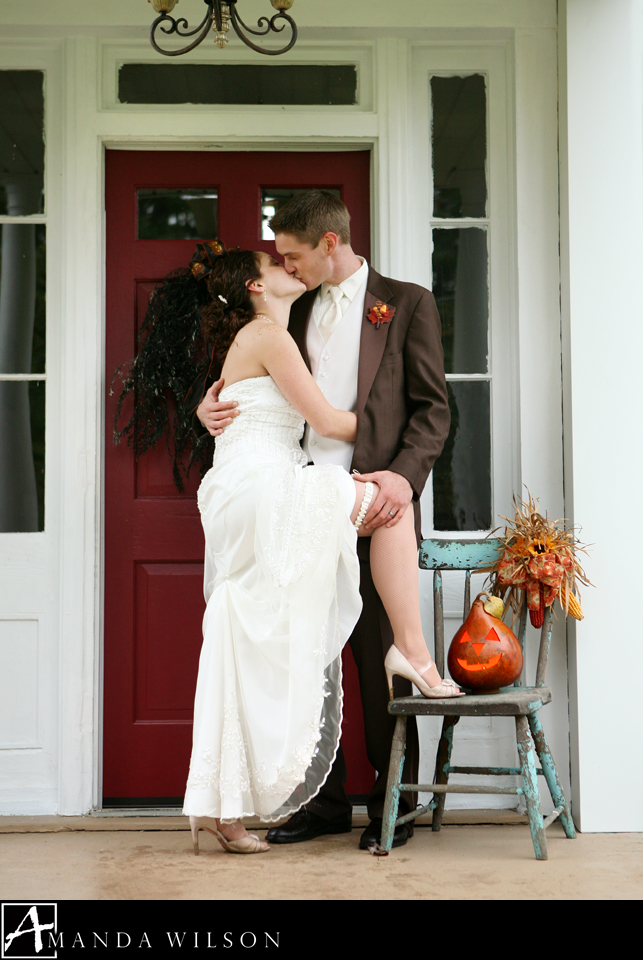 Meanwhile Sandy was capturing this KILLER detail shot!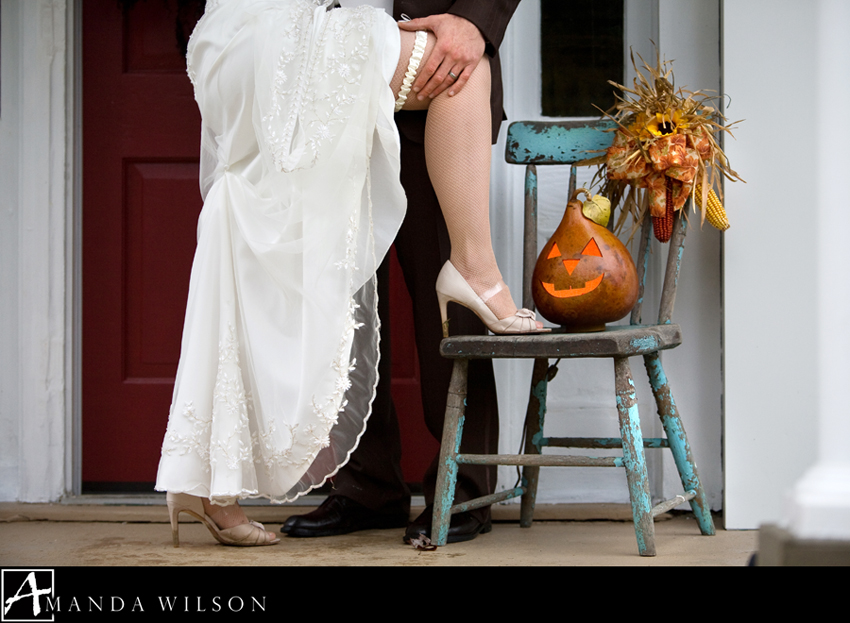 Hiding out under the overhang on the carriage house. The leaves were so pretty, they were just so far away!!
Top right image by Sandy.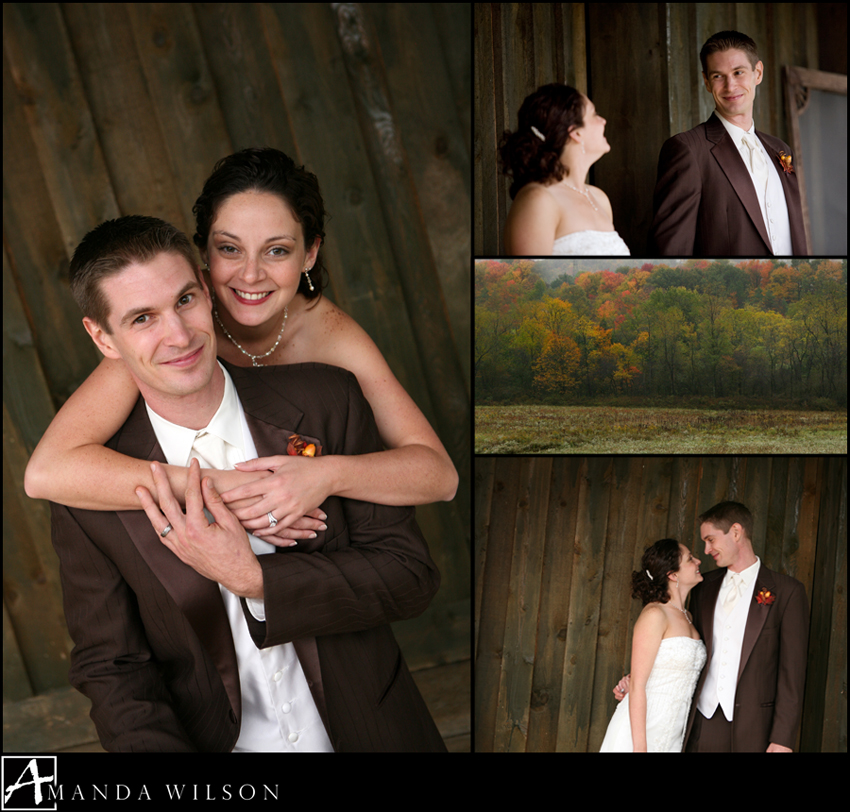 The light was growing dim so we headed back to the barn for dancing. Doesn't it look like the perfect evening to snuggle inside and eat turkey dinner? It was.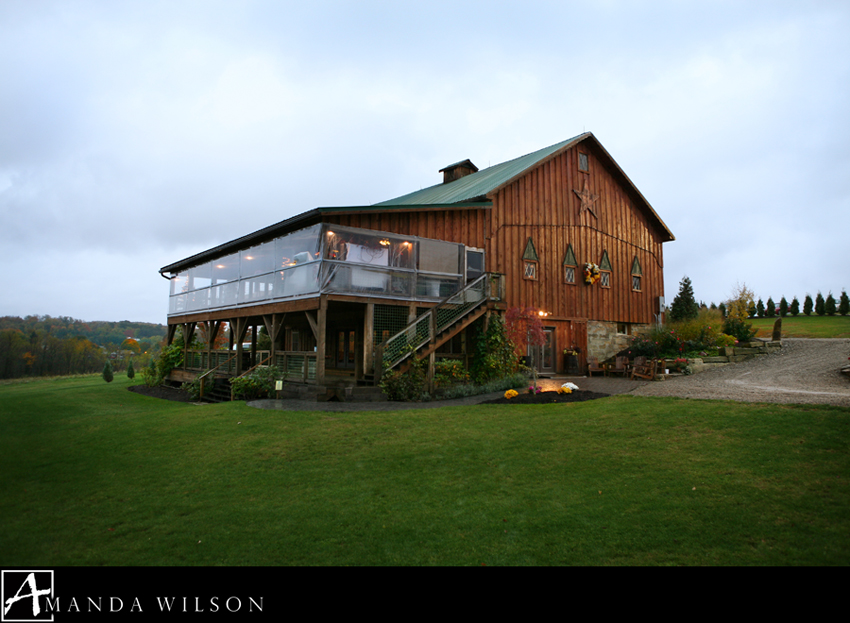 *** WARNING AGAIN ***
Remember when I said to look closely at the cake topper? Well before the night was over Donna and Mike wanted to attempt to reenact the cake topper scene as well as have it in the photo. It came out perfect, no photoshop necessary!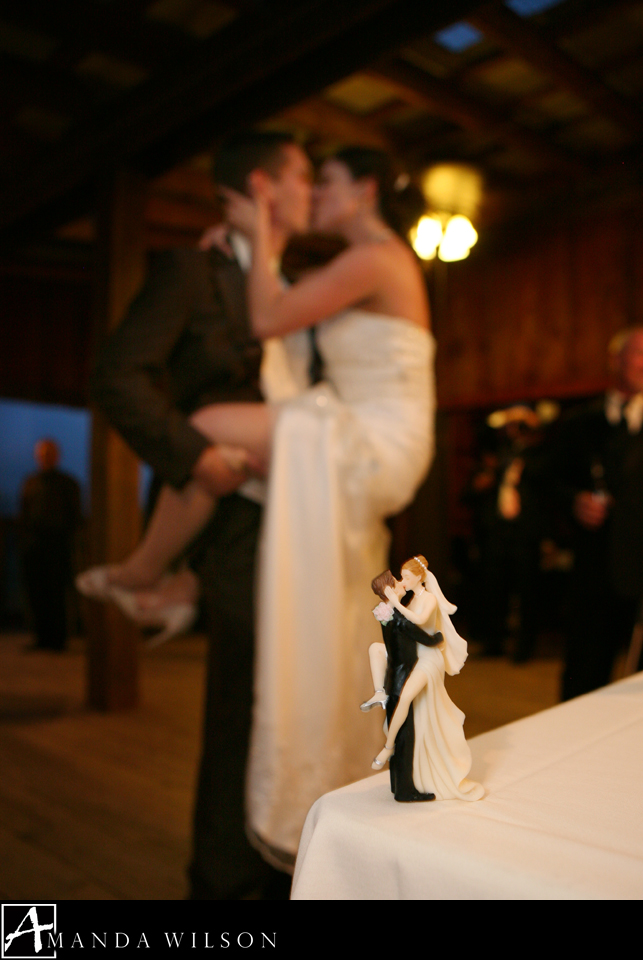 All the seriousness aside and back to outrageous fun - Donna's single lady friends showed off a stunning display of grace and athleticism during the throwing of the bouquet! Image by Anna.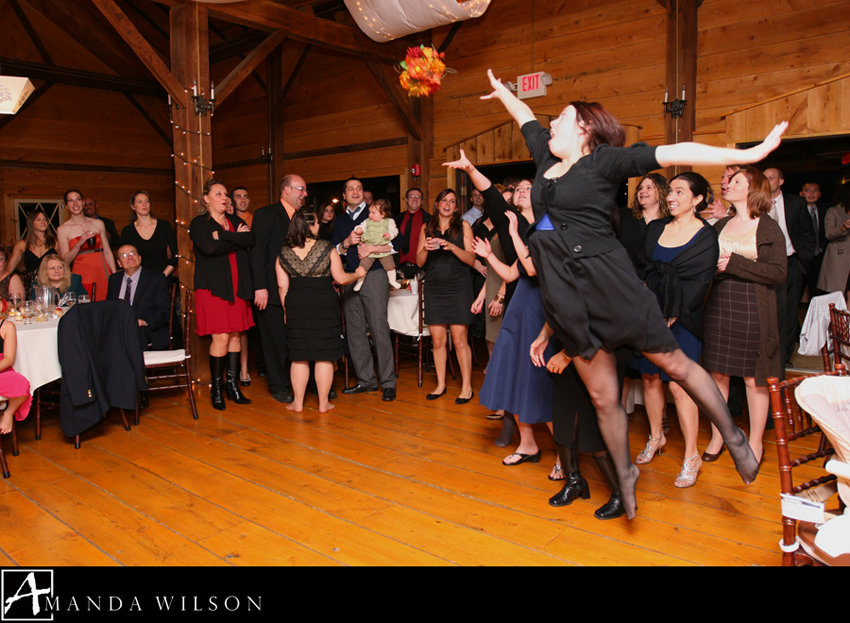 It was all dancing from there. Don't you just love it when "that guy" comes to a wedding? He's a different guy everytime, but he's "that guy". I love that guy :-)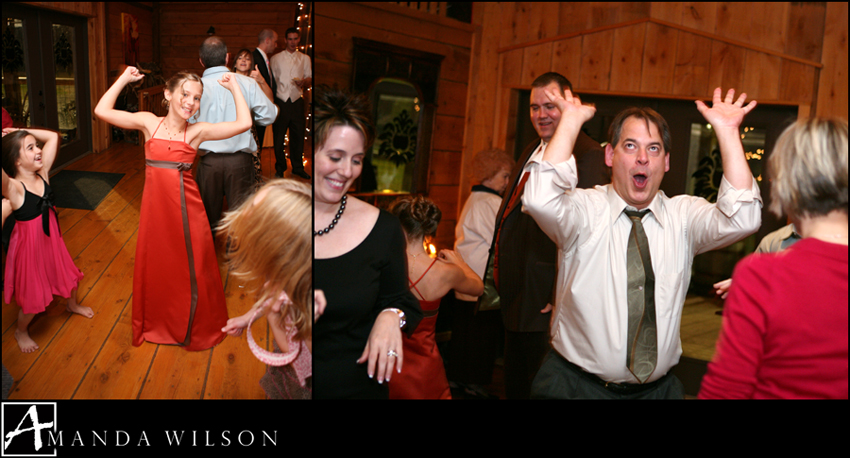 Congratulations on your one year anniversary!!! Hope you're loving every minute :-D

---
Ceremony & Reception Venue: Lingrow Farm
Catering Services: The SpringHouse Catering, Eighty-Four, PA