Almost finished digging out from the SNOWPOCALYPSE. I thought I would be able to wrap up Megan and Jon's wedding in one post - but it looks like it will take one more after this. **Note** if anyone feels like I'm posting too many images and would just like me to get on with it already - let me know!
The ceremony & reception venue, the picturesque Stonehenge Lodge in Stahlstown, PA. Image by Sean.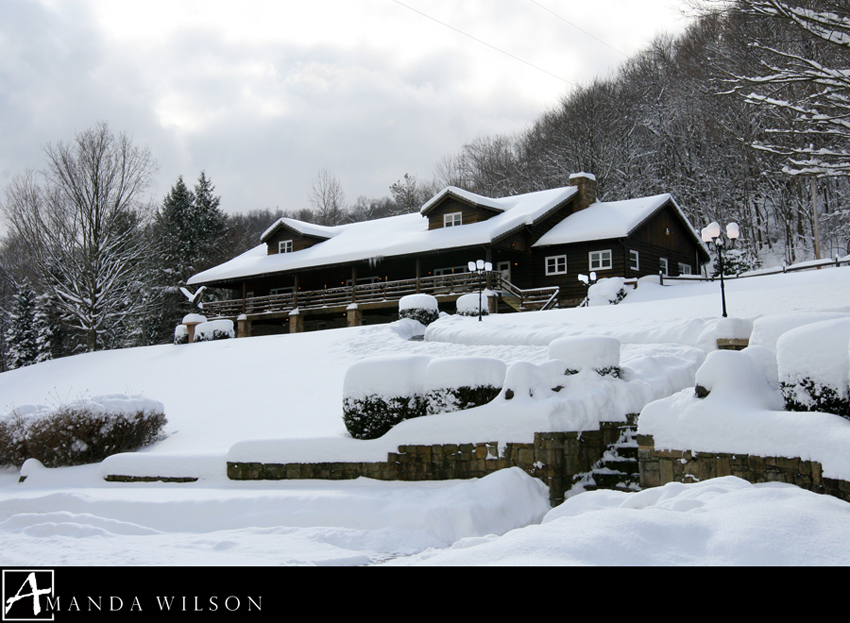 There's a story here - originally before the snow fell - the plan was to have the ceremony in a heated outdoor tent where guests could enjoy the scenery and then make a smooth transition to the reception in the lodge. However - as with many weddings - there's always something. Just a few days before the wedding the tent rental company called Megan to say that they would be unable to bring them a tent. They cited "inclement weather" as their reason. Now if I were a tent company and I had a problem with "inclement weather" - you would think that I would not book a January wedding in a ski resort area if I couldn't handle the snow. (Just my vendor opinion - I hate to see any of my brides disappointed by ANY vendor.)
To add to the challenges - the day before the wedding - the limo company called Megan to tell her that they would be unable to provide the transportation to the wedding due to "inclement weather". Sean said "they make hummer limos - why didn't the limo company just bump them up to one of them pro-bono? It's the least they could have done." I agree.
So with no tent and no transportation - the ceremony was moved indoors which meant all of the reception tables had to be stripped of their chairs and pushed against the walls. The chairs were then lined up for guests to sit in front of the great stone fireplace for the ceremony. Without the limo, Jon's brother shuttled the girls in their gowns back and forth between Foggy Mountain and Stonehenge. (There's something women like about a pick up man ;-)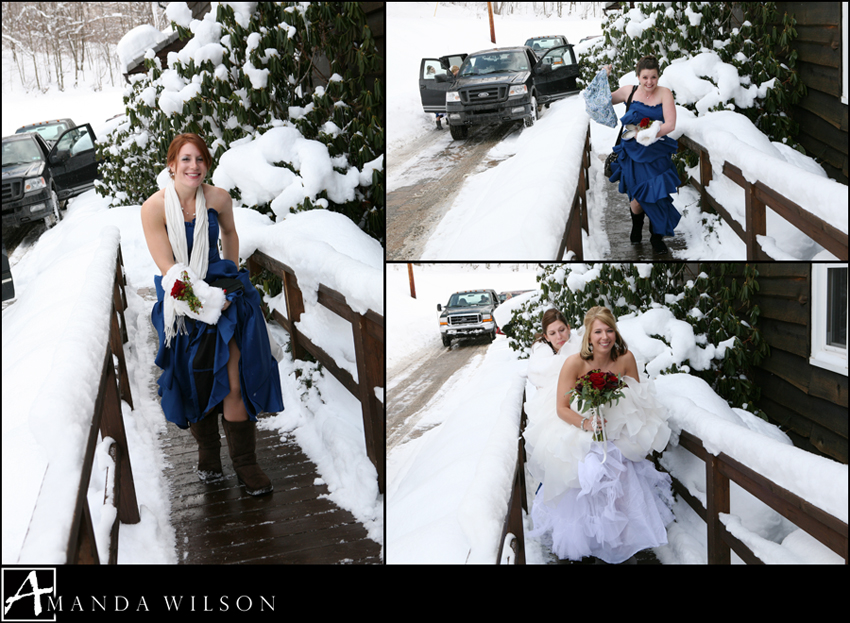 Like I said before - I thought the deep snow (while it was problematic) also made the whole event a little more magical.
Right image by Sean.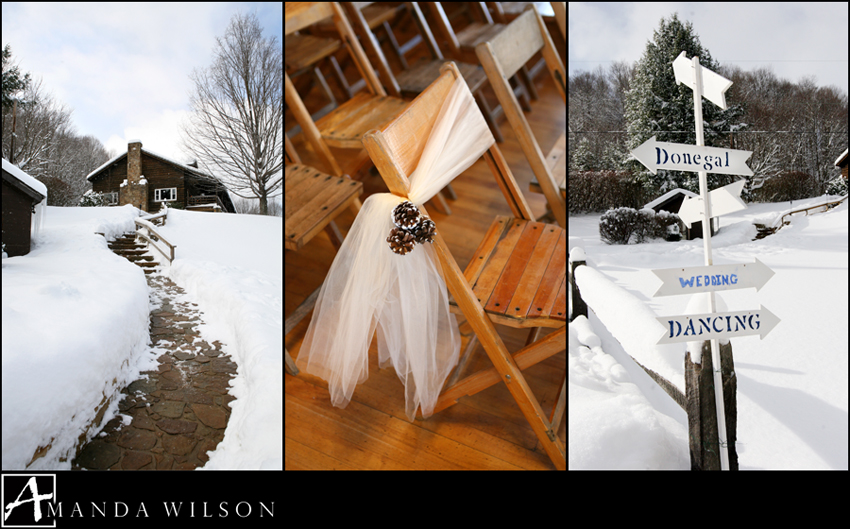 Megan was absolutely stunning.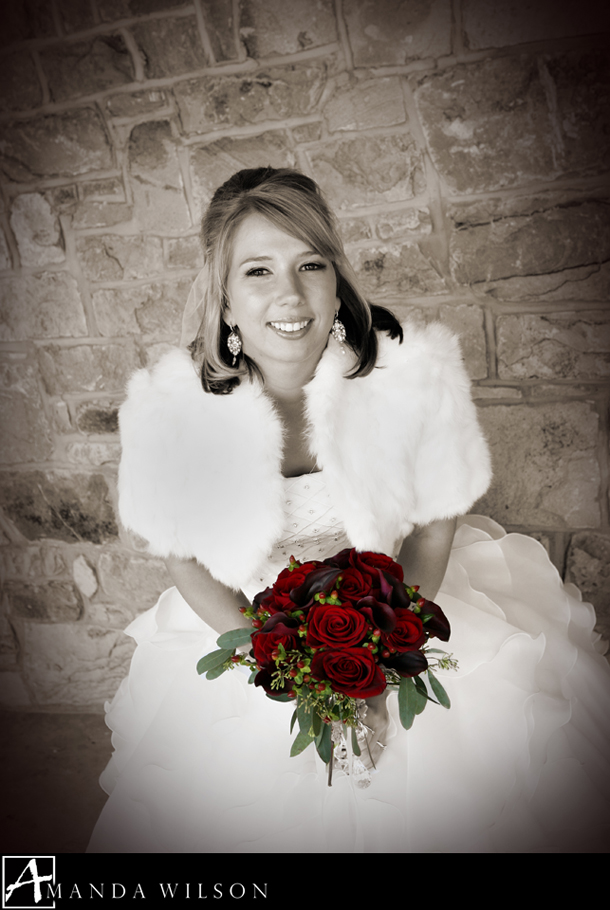 The ladies carried fur muffs with a single red rose and a few crystals attached. They also sported Ugg boots under their gowns which they intended to swap out for heels once we were done with outside pictures - but ultimately they proved warmer and more comfortable and since you couldn't see them under their dresses, they wore them all day! (I sported a pair of hunter green knee-high felt-packs. I needed function more than style that day!) Bottom image by Sean.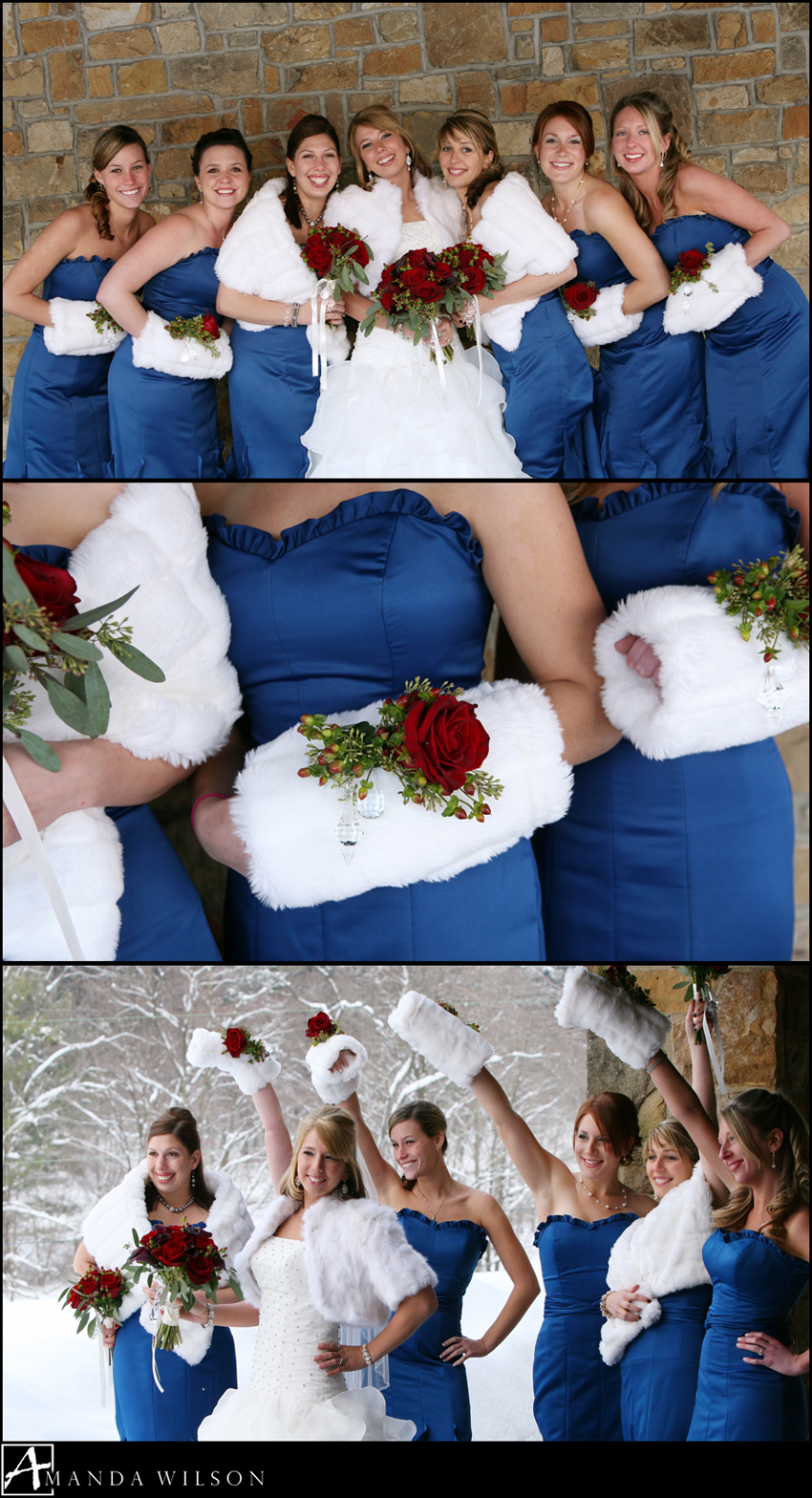 Instead of the traditional pocket square, the men wore black chenille scarves with their tuxes.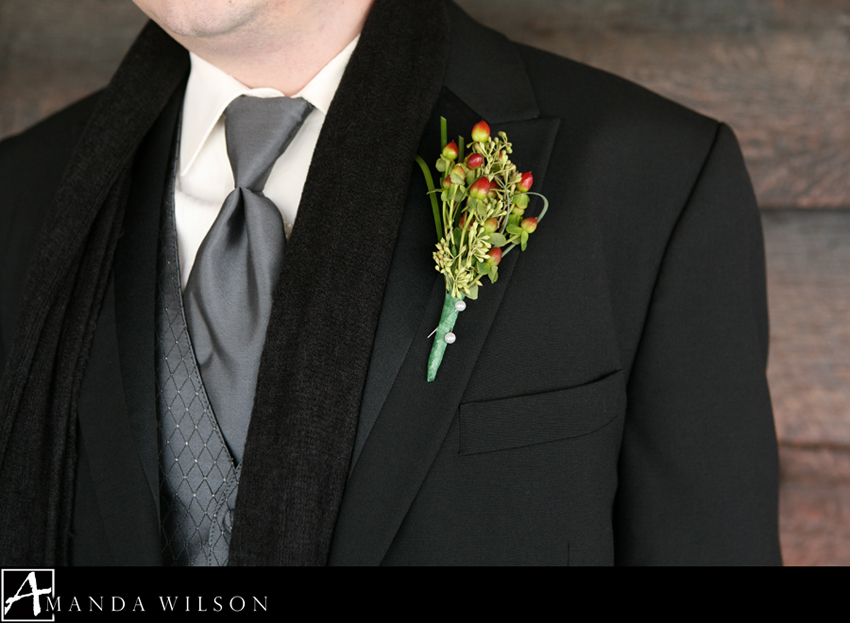 The guys could not keep a straight face when it was time for photos - probably because we were freezing!
Right image by Sean.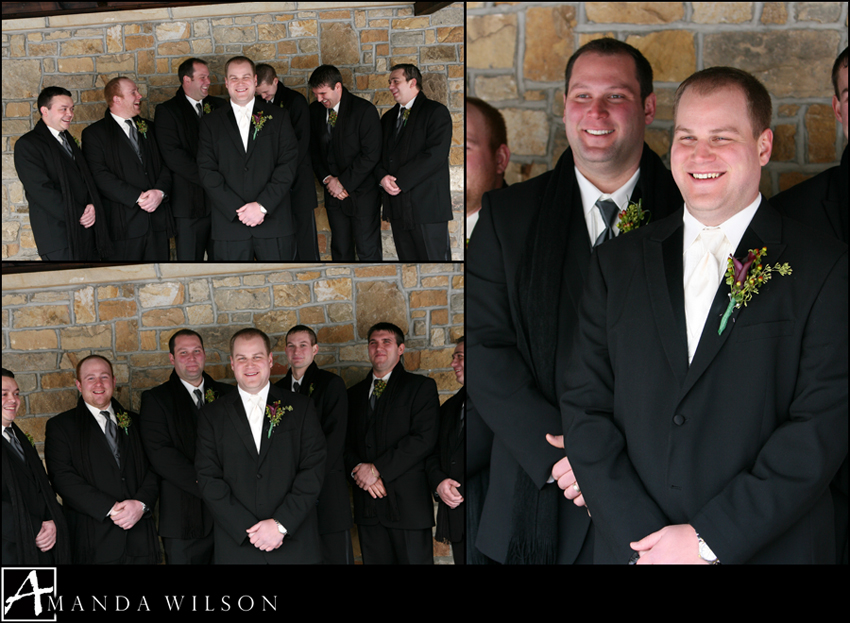 I know I'm posting a ton of pictures here, but I wanted you to see what this wedding party was up against just getting from point A to point B for photos! There were paths in places, but the snow was almost up to my waist everywhere else with temperatures in the 20s. Left and bottom images by Sean.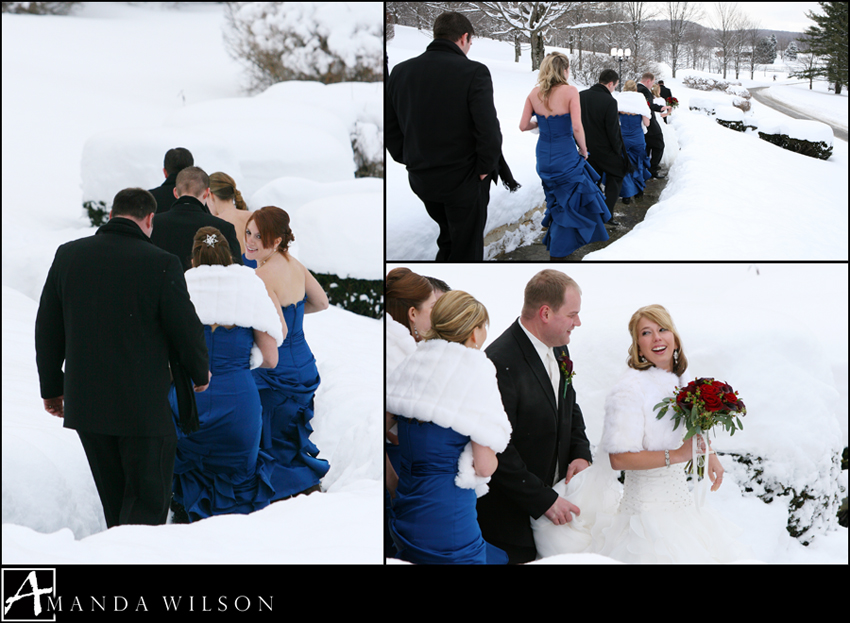 I have never seen a wedding rock a theme the way that this group did - their winter wonderland could not have been more perfect. Since the tent idea got scrapped - they built a fire in the stone fireplace and stood in front of it for their ceremony. Guests were given paper cones of artificial 'snow' to shower the bride and groom.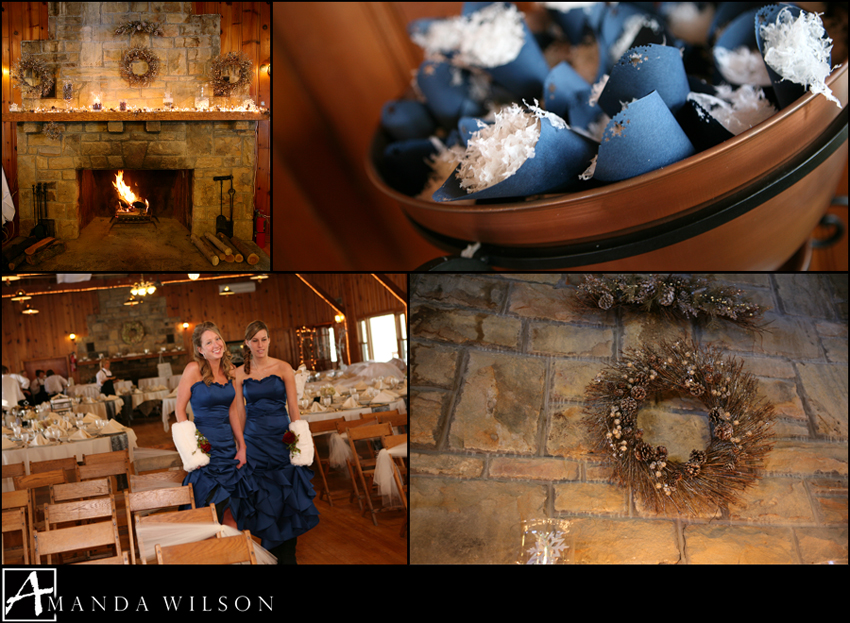 When the guests had arrived and made it safely inside, it was time for Megan to come down the aisle with her mother and grandfather at her side.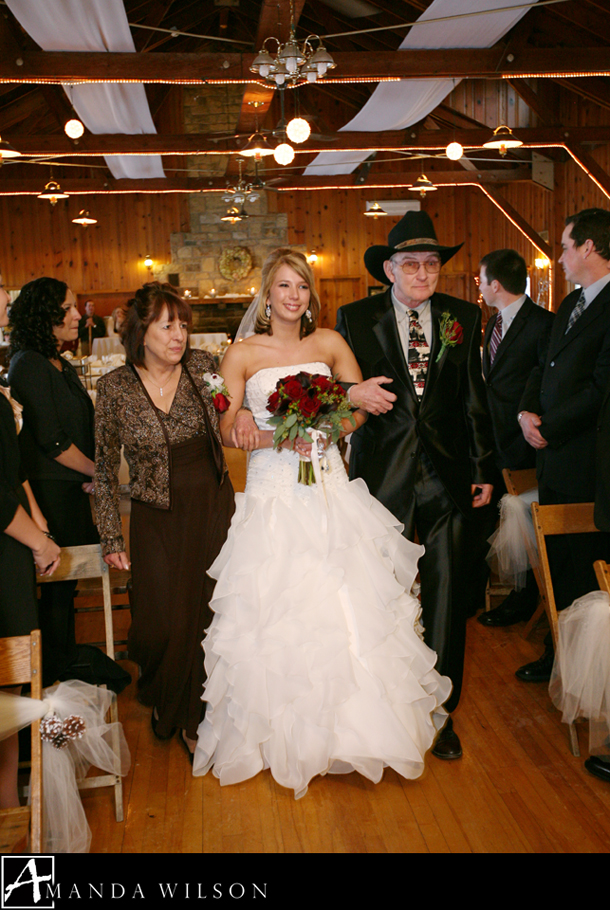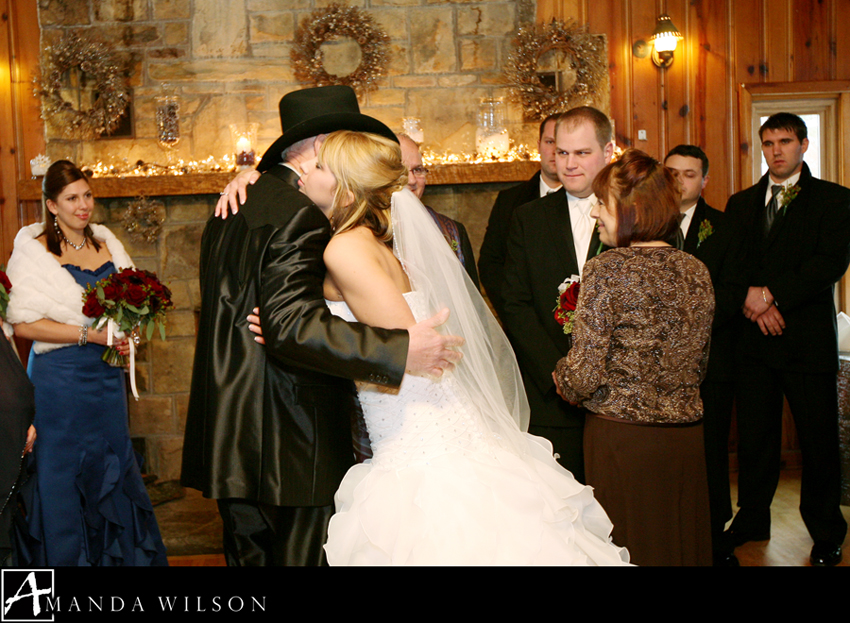 A friend of the couple sang beautifully and brought us all to tears - the whole ceremony was lit by candles and the cool tones of the sun dimming over the snow outside. It might not have been the tent they had hoped for - and things were a little snug - but it made the atmosphere much more intimate and special.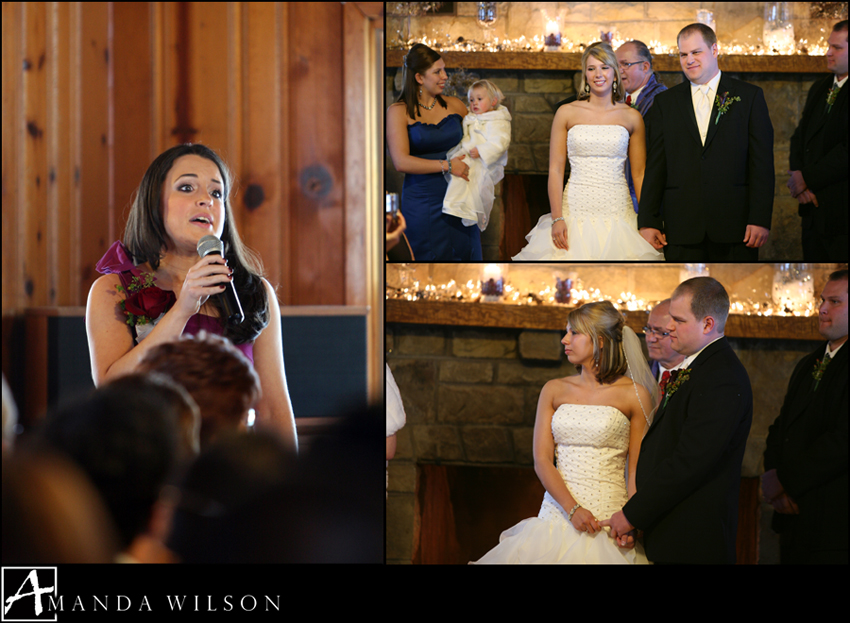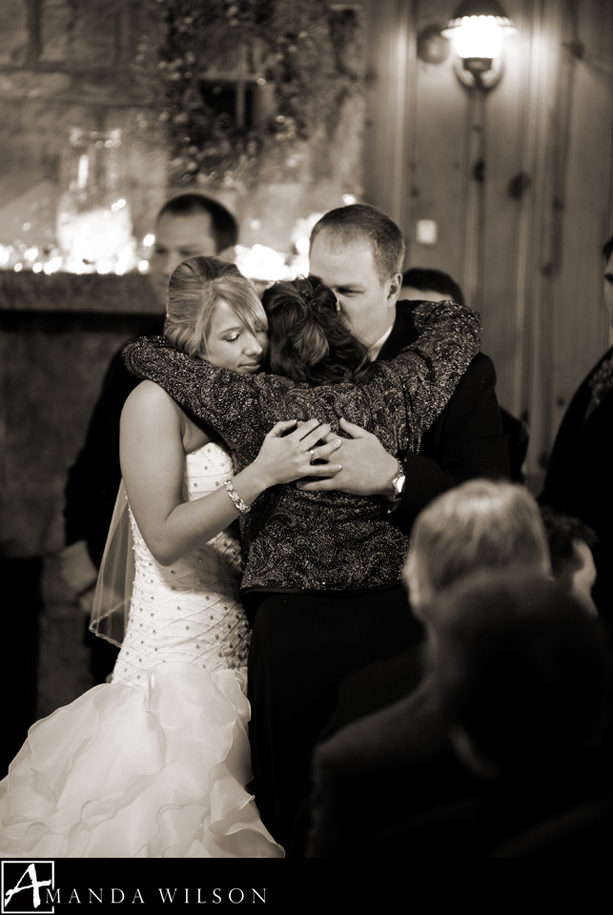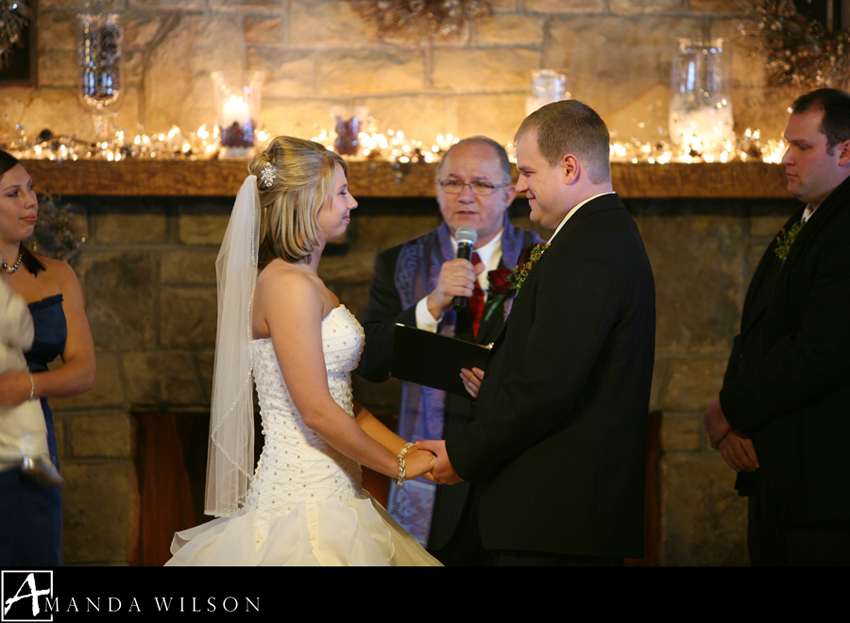 How much do you love the candles on the mantle - can't get enough!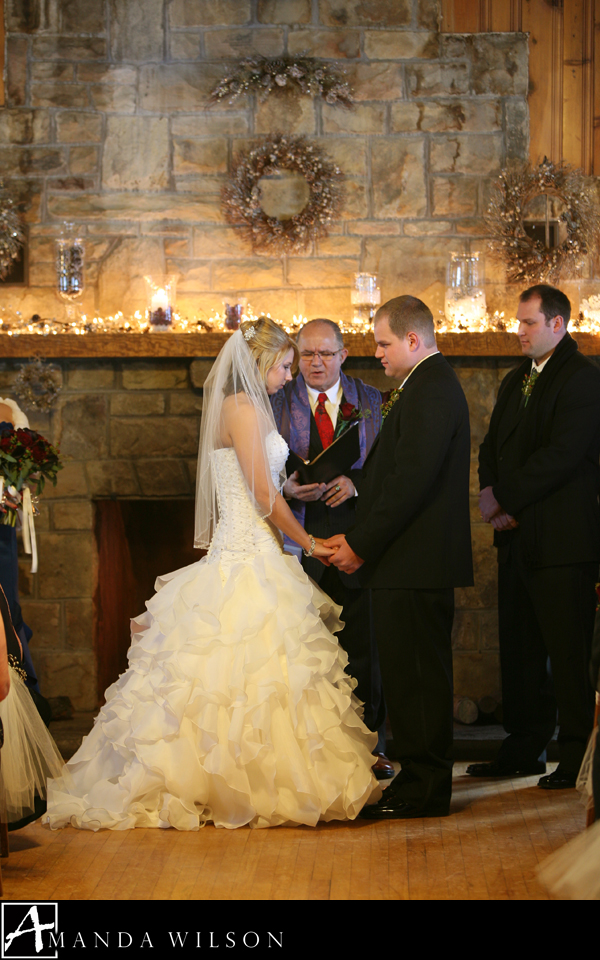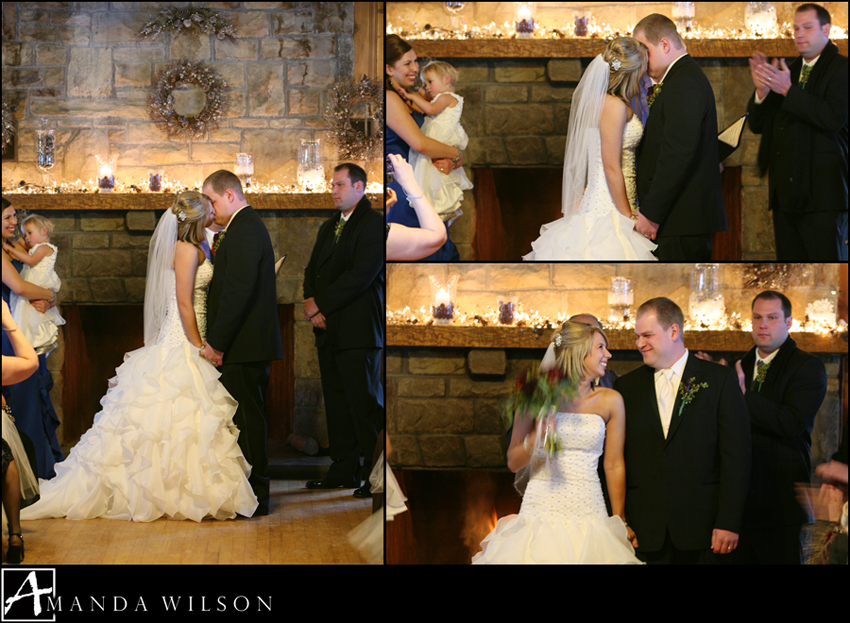 When they were pronounced the new Mr. & Mrs. everyone clapped and cheered and you could see they were SO happy :-)
I promise - only one more post after this then we'll talk about the Snowpocalypse - and then we'll go back to sunny weather pictures. I still have 10 more weddings to blog from 2009!