I'm so excited to finally post these! Back in October my friend Sandy called to say she was shooting a wedding at Phipps Conservatory and wanted to know if I'd like to come along. Of course I said yes - how do you say no to a beautiful couple in a gorgeous setting and spending the day working with (and carrying on high ;-) with a good friend?
Sad to say it was not a pleasant sunny day, instead it was grey, chilly, and raining steadily when I pulled up to Phipps and met Sandy by the front door. Poor Bradley was out in the rain under and umbrella waiting for his bride to arrive. I thought in light of the rain that we'd move photos inside to the beautiful gardens that were under a roof and discovered that when you have your wedding at Phipps you are not allowed to be inside the building for any reason until fifteen minutes before your ceremony. Even if you are standing outside in the pouring rain in your wedding dress, they will not let you in.
I didn't think that was very neighborly. But we resolved to make the best of it.
Sandy stayed with Bradley at the front entrance and I went around the side to meet Jenny. I grabbed just a couple quick shots after she got out of the car. I loved her veil.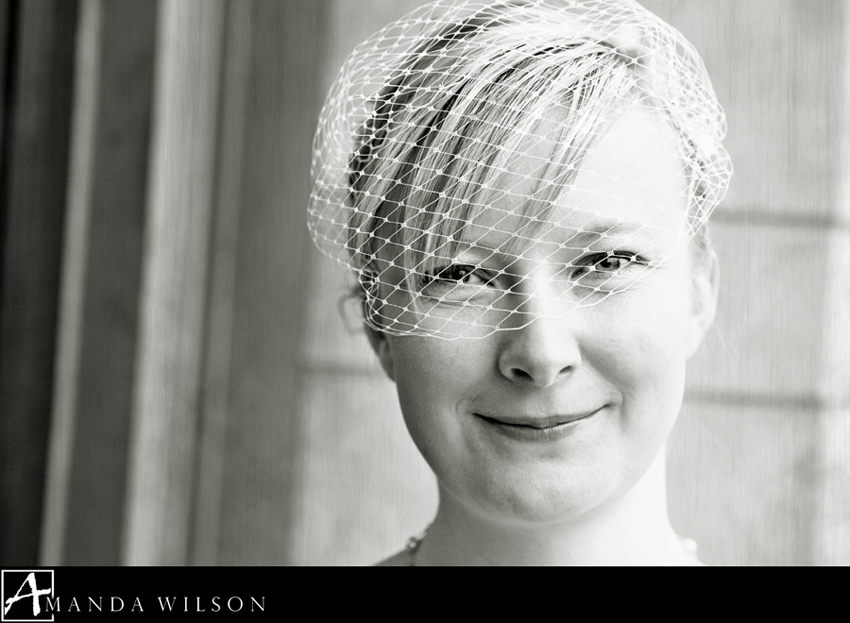 Hiding out under the only overhang we could find - luckily makes for good photos!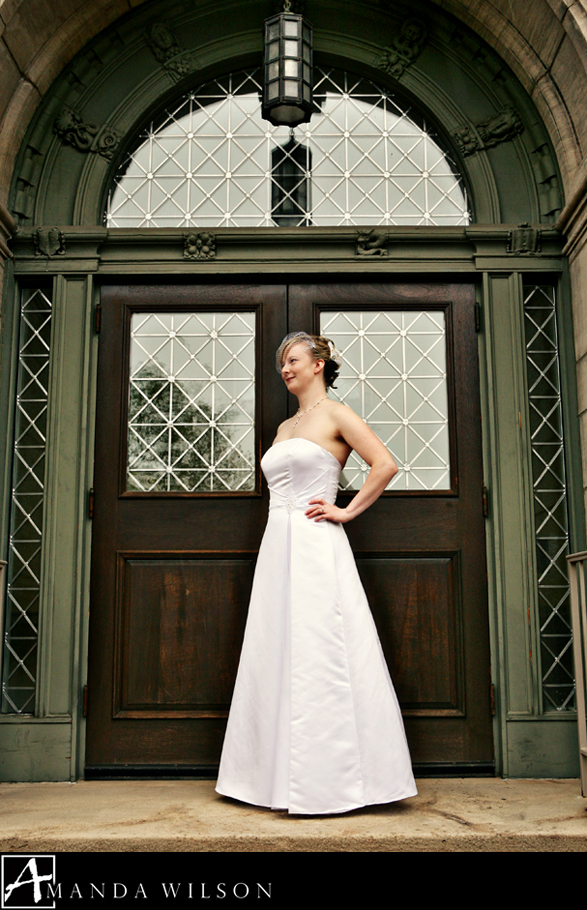 Once we had regrouped, I walked with Jenny to the top of the stairs where she and Bradley had decided to do a First Look and see eachother before the ceremony. I LOVE IT when couples do this :-) Sean and I plan on doing it too when we get married. I stood at the top shooting Bradley while Sandy stood at the bottom shooting Jenny and then when their umbrellas met Sandy had the better angle ;-) Darn that rain. To see more photos of the big moment check out Sandy's Blog.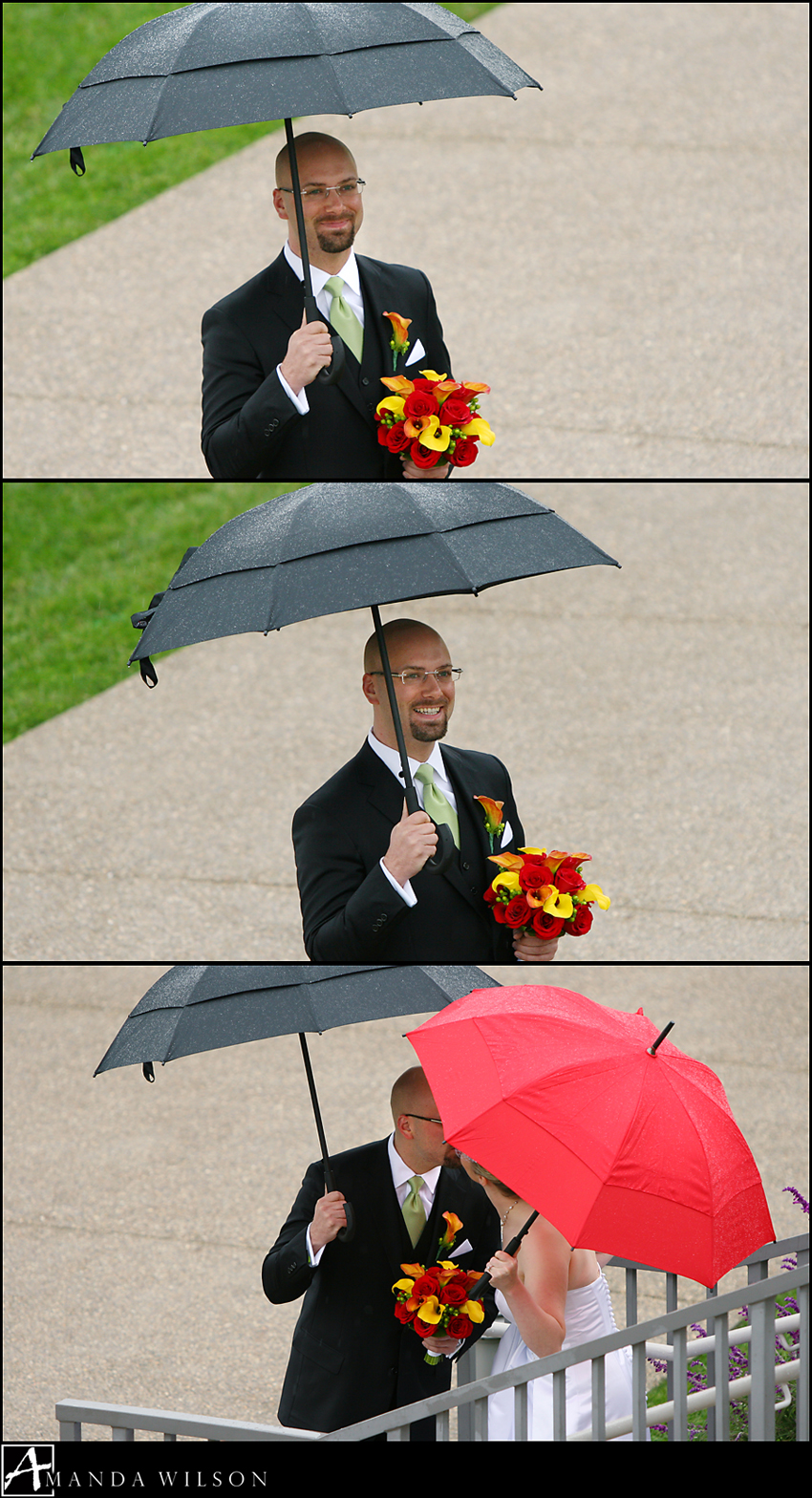 We spent some time outside (since Phipps wouldn't let us in) shooting some bride & groom photos in the rain.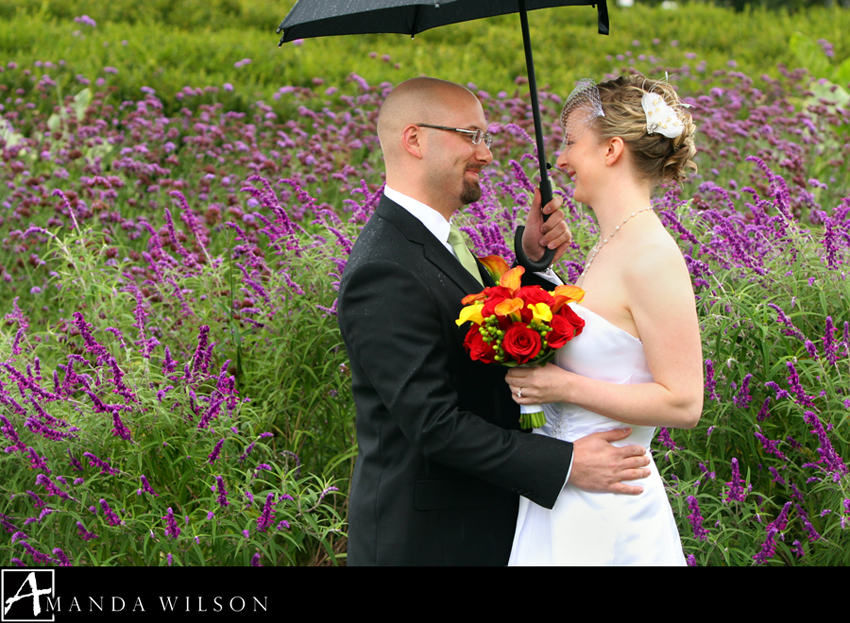 Can you see the raindrops? :-)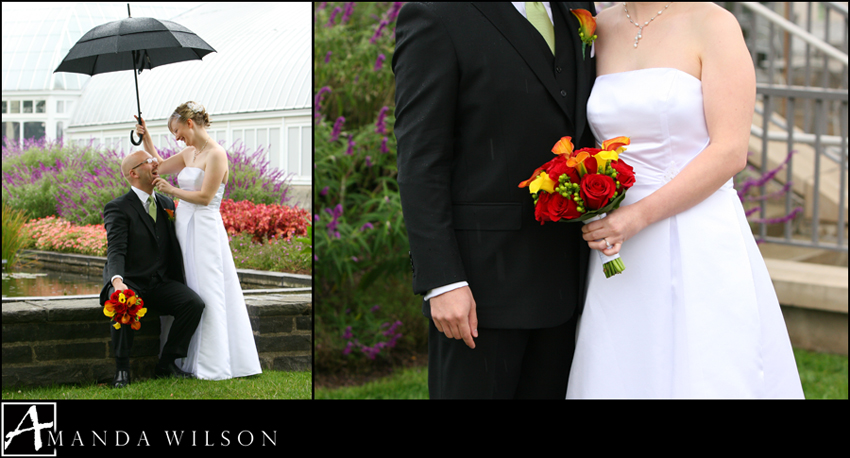 Since they had planned in lots of photo time before the ceremony and agreed to do a First Look, we had lots of options for photos and decided to explore across the street where the trail goes through Panther Hollow Bridge. I know I say it all the time but they had the magic formula: Lots of time for photos + trust in your photographer(s) = AMAZING images. I didn't even mind the rain.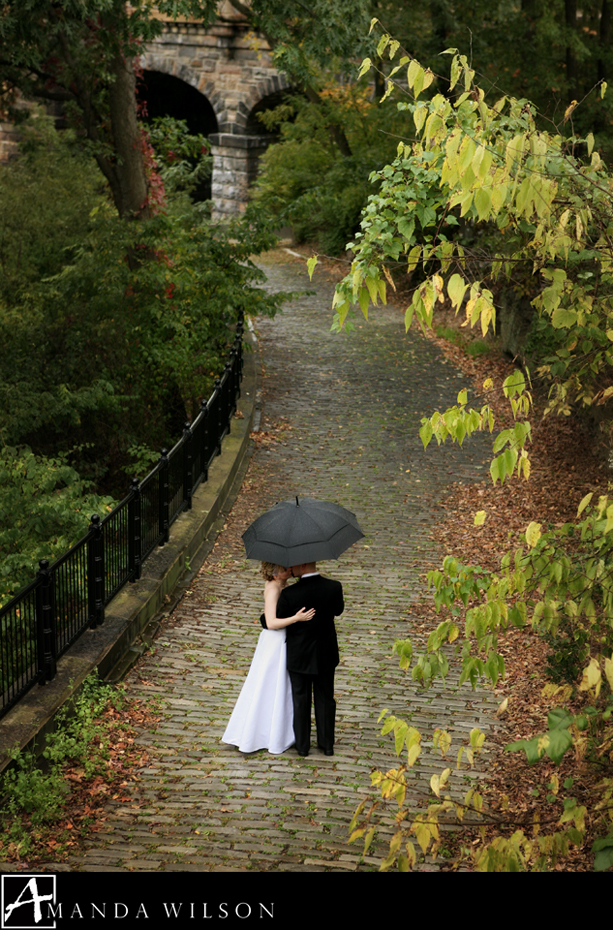 With the rain picking up again, we hid out underneath the arched bridge and Jenny was working it with the grafitti. I hope with enough time on the ellyptical that one day I can have legs this hot! Her garter was exquisite.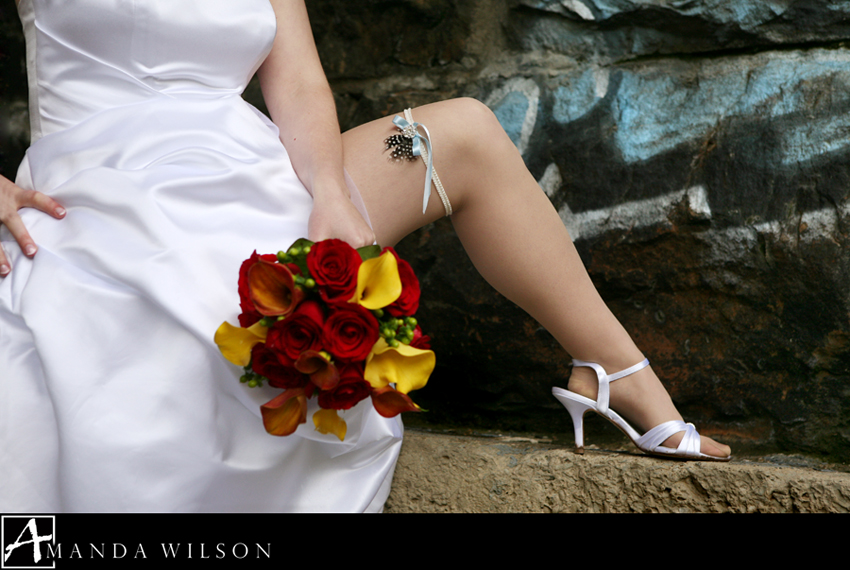 Love this one too.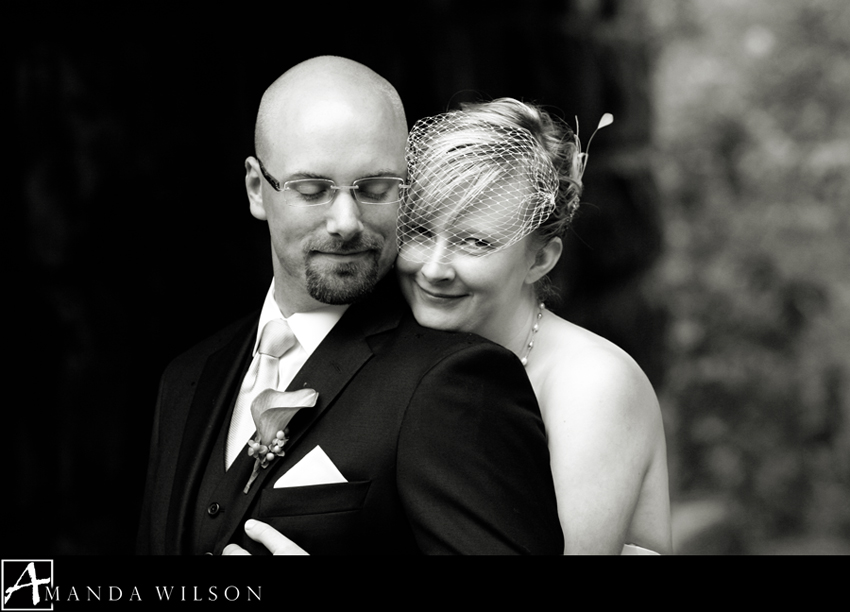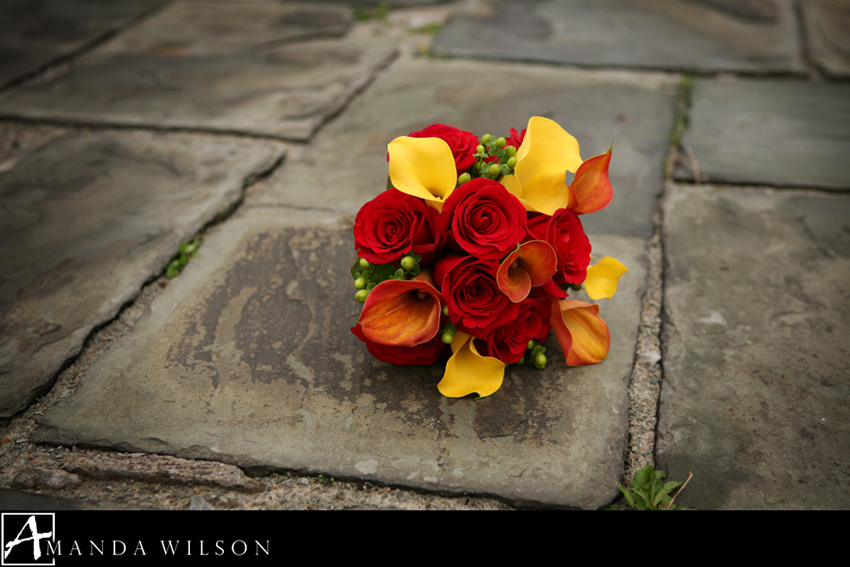 Since the ceremony time was approaching we were finally going to be allowed inside!
We headed back up the path towards Phipps. So romantic.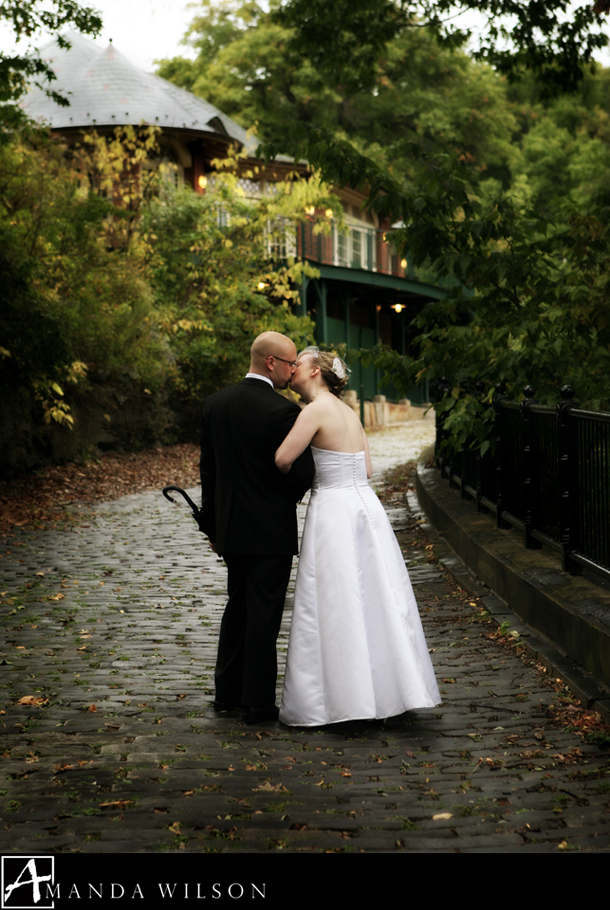 The Broderie Room was beautiful - a bright and colorful contrast of pinks and bright greens and purples. Very different from the fall colors outside. Live musicians played while guests were seated. That's the ringbearer in the top left. He had the sweetest little grin.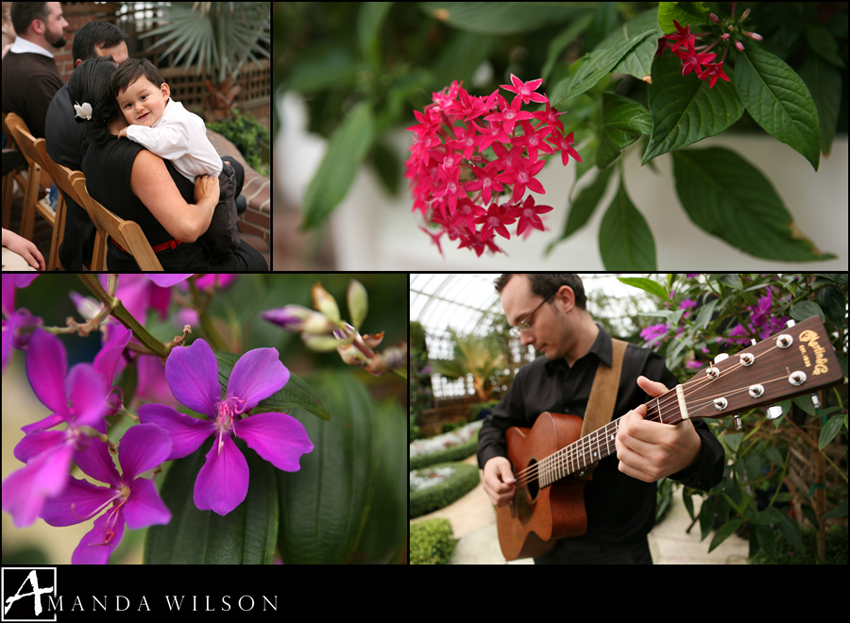 Their ceremony was intimate with about 25 guests in attendance. They exchanged rings at the bottom of the steps. Sandy is out there hiding in the garden - she is like a ninja - you will never spot her. I crouched behind the wishing well and we communicated with silent eyelash signals when to silently duck out of eachother's shots.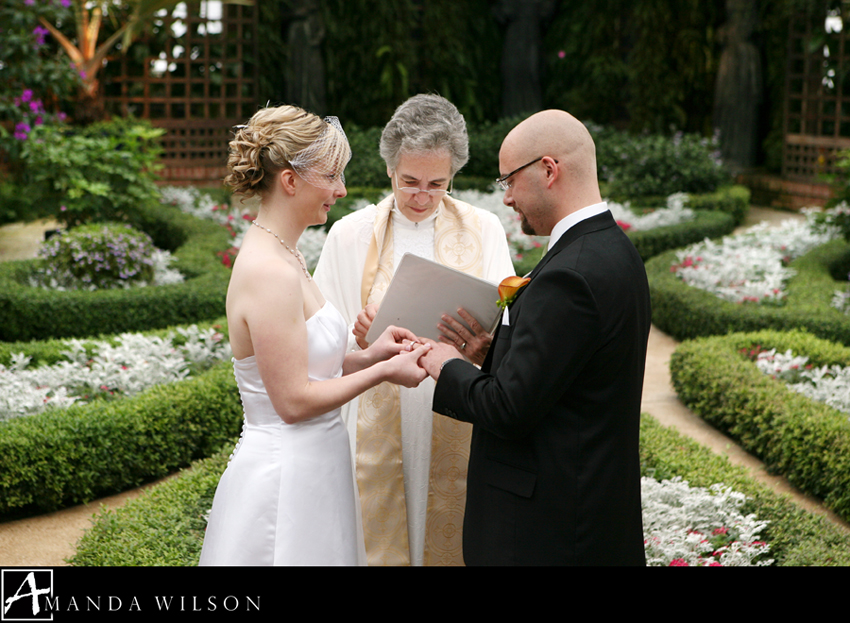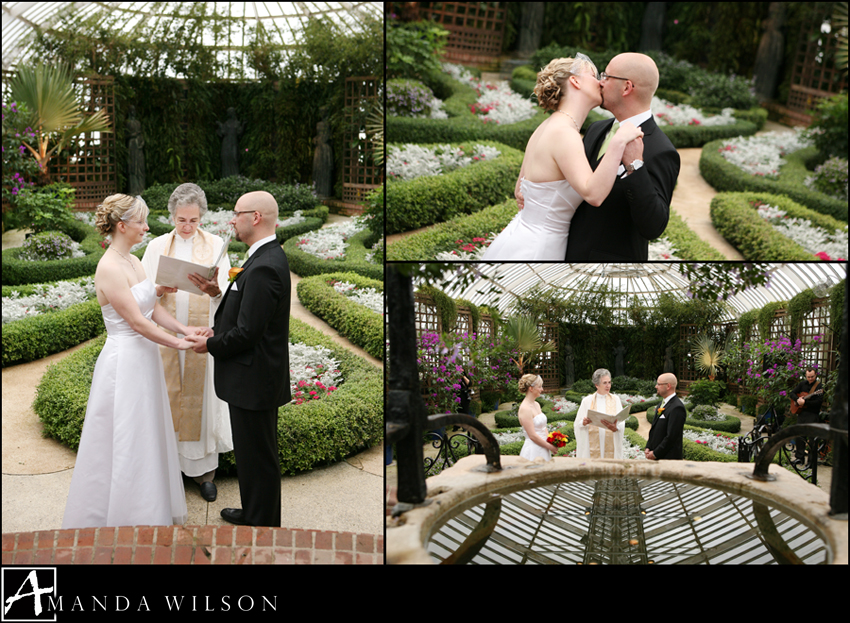 Just a few details from Phipps. There was a glass exhibit on display at the time.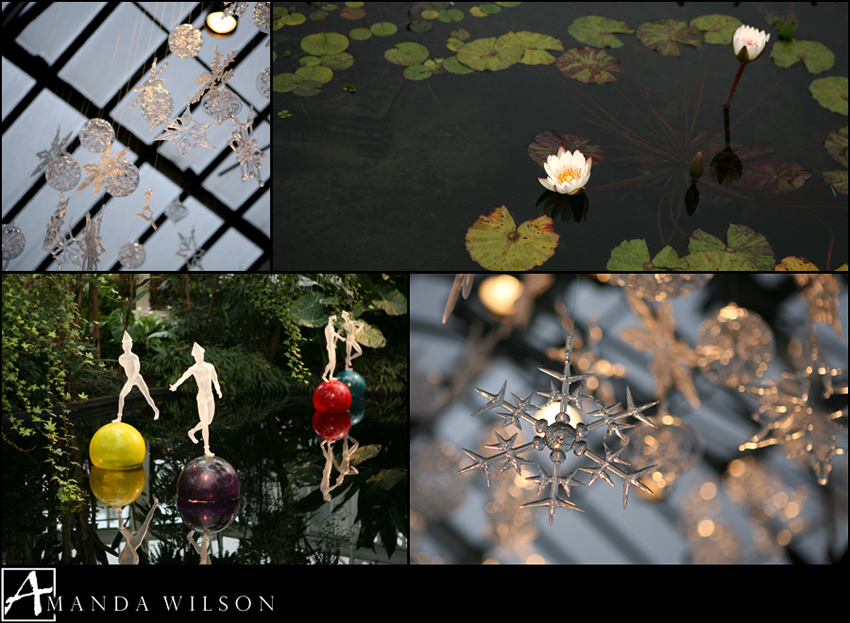 Just a simple water color-esque ring shot. It reminds me of the rainy day.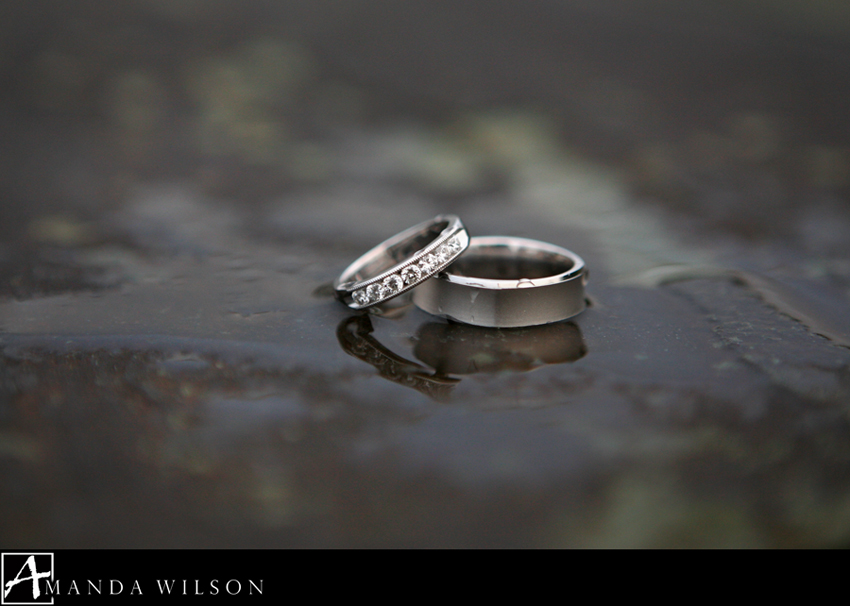 After the ceremony we headed over to Regent Square to Legume. A place of outrageous delight. If you love food - I mean not like it a lot, but LOVE food - you need to get off the computer right now and start looking up this restaurant for dinner this week. I nearly injured myself by overeating their delicious meal.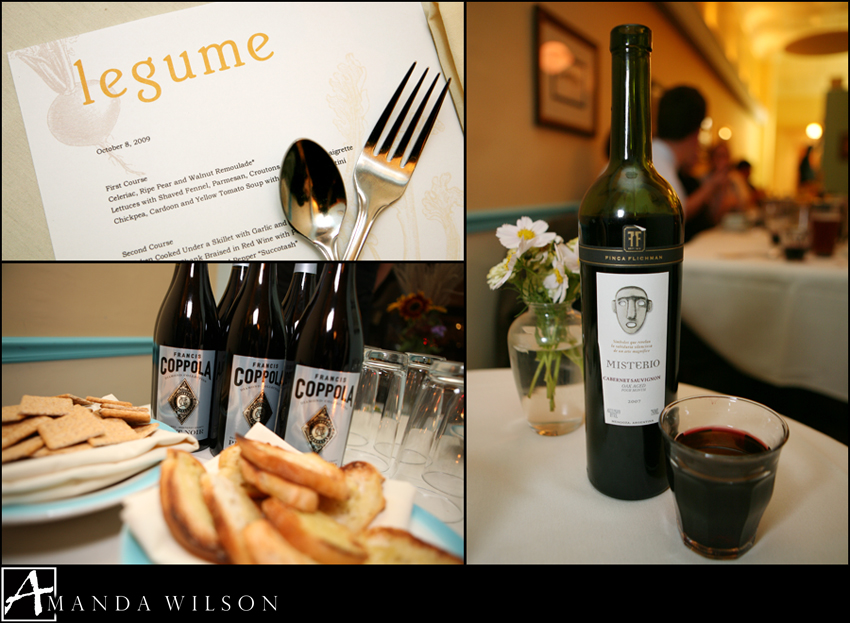 The tables were decorated with small birdhouses for placecards and favors and they had a wishing tree where guests could answer prompted questions that had been written on the leaves.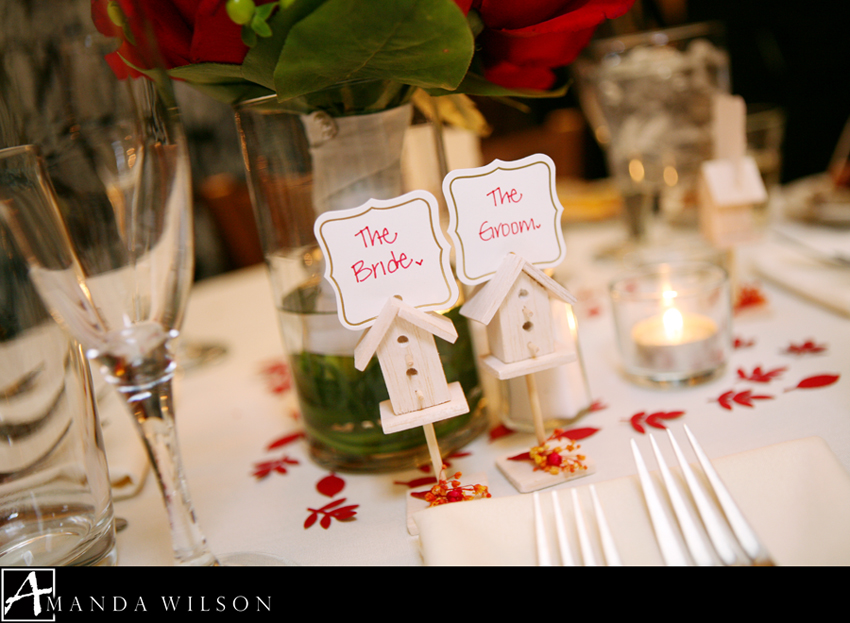 Legume was clean and bright and homey and smelled delicious. Everyone was content to eat, drink, and be married.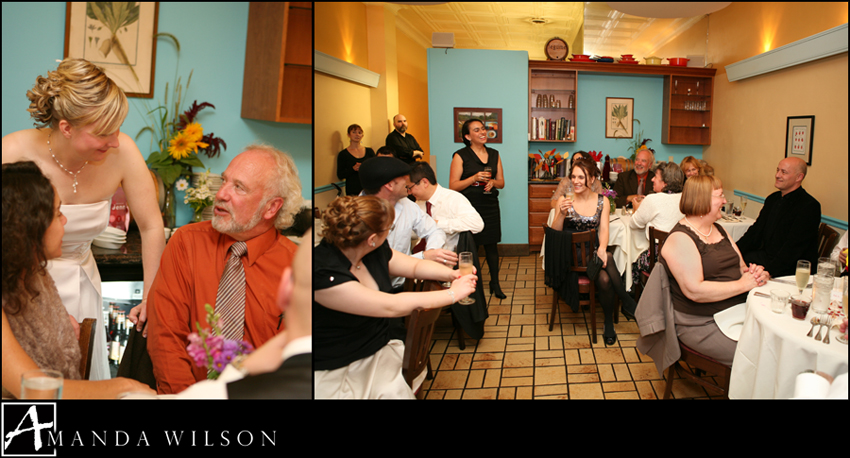 And now I will tell you about the meal that was nearly the end of me. Food so scrumptious. MMMmm. The way that Legume works: each day the menu is different and is not chosen until that day based upon what fresh organic ingredients are available that morning. It's freshness you see, smell, and taste. Guests could choose one first course, I had celeriac with pears and walnuts. I had never had celeriac before and it was delicious. It made you think of a root vegetable cooked till slightly soft with a cool sweet sauce, pears, and candied walnuts on top for a little crunch.
Then the main course - I picked chicken cooked under a skillet. It came out resting comfortably on a bed of mashed potatoes with no fewer than 7 cloves of delicious garlic scattered around and under it. Even the parsley seemed to be reclining on top saying - you know I look divine. After the fruits and cheeses and breads for appetizer followed by the celeriac I was at my normal level of fullness. But this was the best (and biggest) chicken I'd ever encountered. The thought of leaving any of it behind seemed sacreligous. So I unhinged my jaw like a python and proceeded to eat almost the entire chicken and all of the mashed potatoes and few of the brussel sprouts. Then we circled the room shooting more photos.
Dessert was coming. You got to pick from three options just like the other courses. Molten choc cake, lemon and raspberry panna cotta, or apple crisp. I was on to them by now - they chose exceptional ingredients and took simple recipes and made them profound. I was beyond stuffed. But I chose the apple crisp because I wanted to see what the Legume version of apple crisp would be. O. Lord. You can ask Sandy, when it arrived I actually got a little tear in my eye. Tart, sweet, with crunchy oatmeal cinnamonybrownsugary goodness with real fresh whipped cream on top. I was far past stuffed and took a few bites. By this time feeling good was well on its way to feeling uncomfortable. And I did feel like the python that eats the antelope and then wanders around for a week with that huge bulge in its belly. I ate just over half of it and then my stomach informed me to stop immediately or there would be consequences.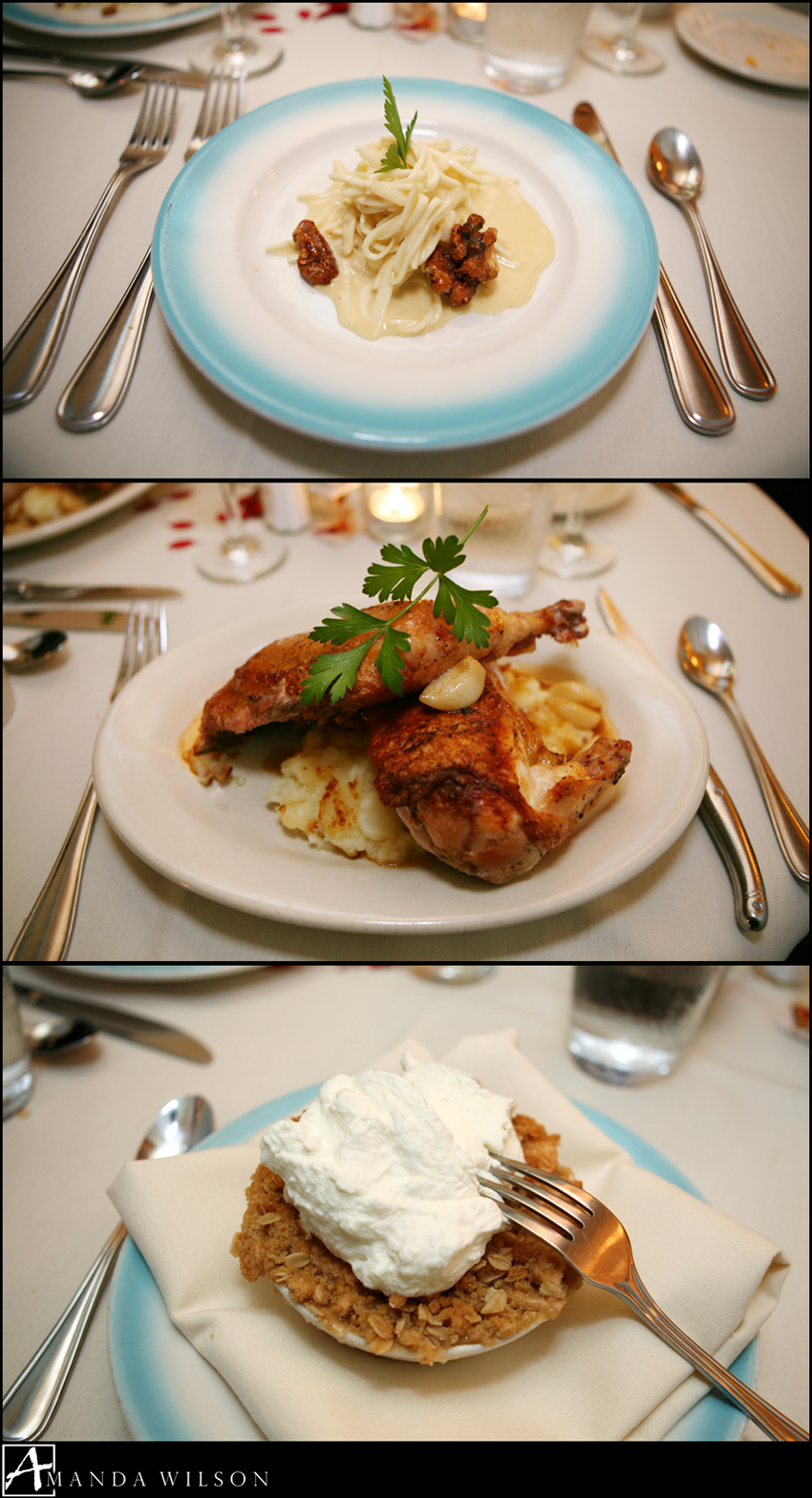 Then the server came by and asked if I would like a box. My eyes went wide. A BOX? YOU CAN GET A BOX? You never get the option to box up and take home food from a reception. That's exactly why I ate so much because I couldn't imagine such special and perfect food going to waste! HAD I KNOWN I COULD GET A BOX - I would not have attempted to eat AN ENTIRE CHICKEN. But ohhhh it was good.
Jenny and Bradley chose a special panna cotta for their wedding "cake" and cut it together.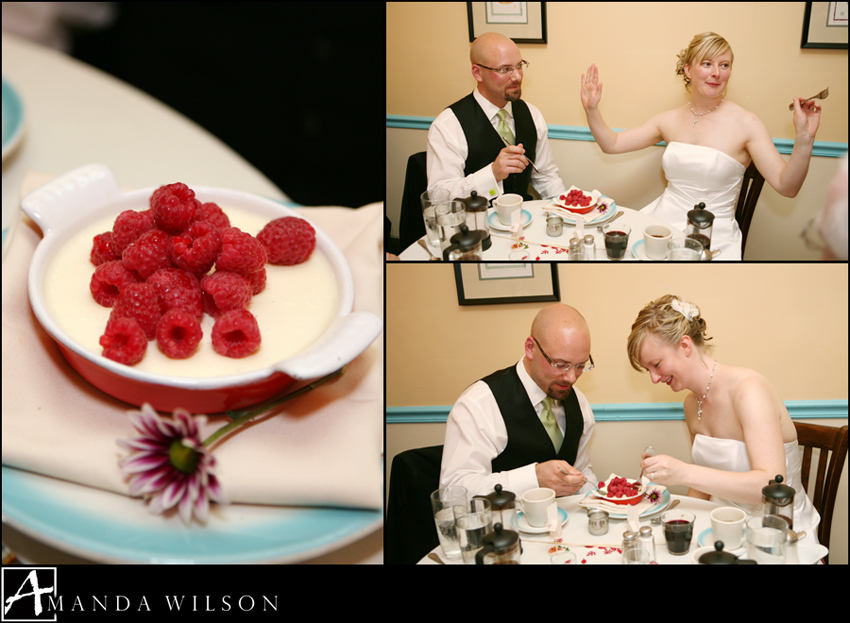 By the end of the night I was ready to go - (and desperately needed some air since all that food was probably compressing my lungs.) We left them at the restaurant after which they were going out dancing!
Congratulations Jenny & Bradley! I hope you've been enjoying lots of wedded bliss!!
---
Ceremony: Phipps Conservatory and Botanical Gardens
Reception: Legume Bistro