After the first week of April was so warm - it was back to reality for Mary & Jim's wedding on April 9th. We decided to call it a "traditional" spring wedding ;-) The temperature was in the 30s and 40s with blustery winds, clouds, and even a snow flurry!! I met up with the girls at Mary's grandmother's house in Springdale just a few blocks from the church.
They were inside getting ready and keeping warm! Mary's dress was classically elegant and she had the most amazing veil - it even had it's own bustle - I've never seen one like it in all my weddings!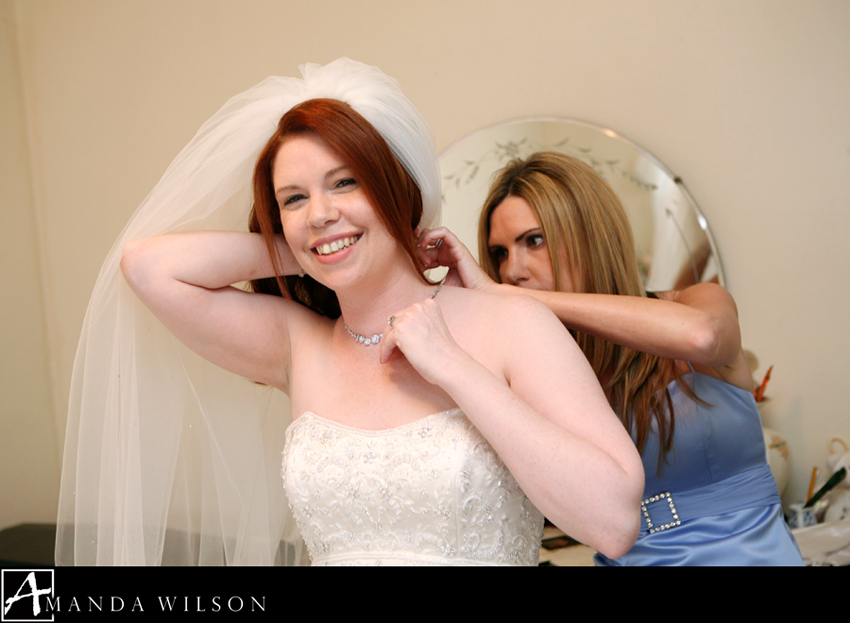 When everyone was ready, the limo picked the girls up and saved them the cold walk down the block in heels. The guys were already at the church. I love this candid 'backstage' moment with Mary, her sisters and their Dad captured by the talented Sandy Yetter **dynamic duo alert** who was my shooting partner for the day!
I'm so lucky to have outstanding clients and amazing friends!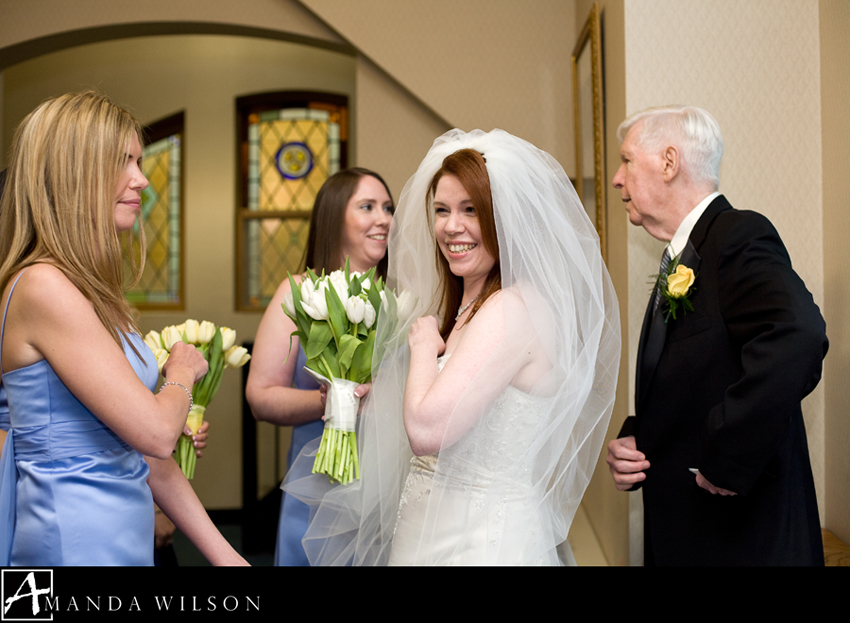 I took the guys aside for a few formals before the ceremony. Jim was a little anxious but happy :-)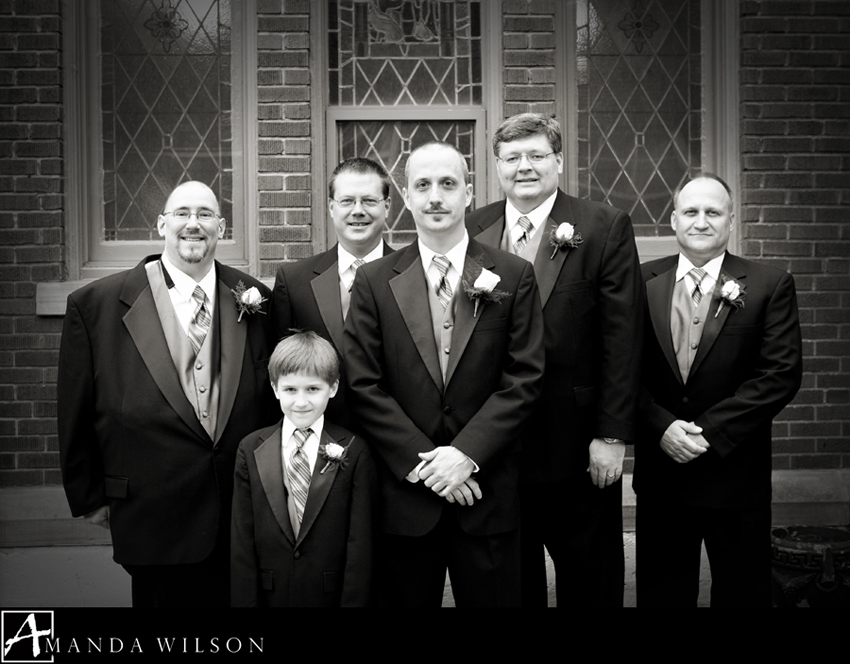 Live musicians played while guests filed to their seats and one of their groomsmen performed a vocal piece during the ceremony. Top left and bottom right images by Sandy.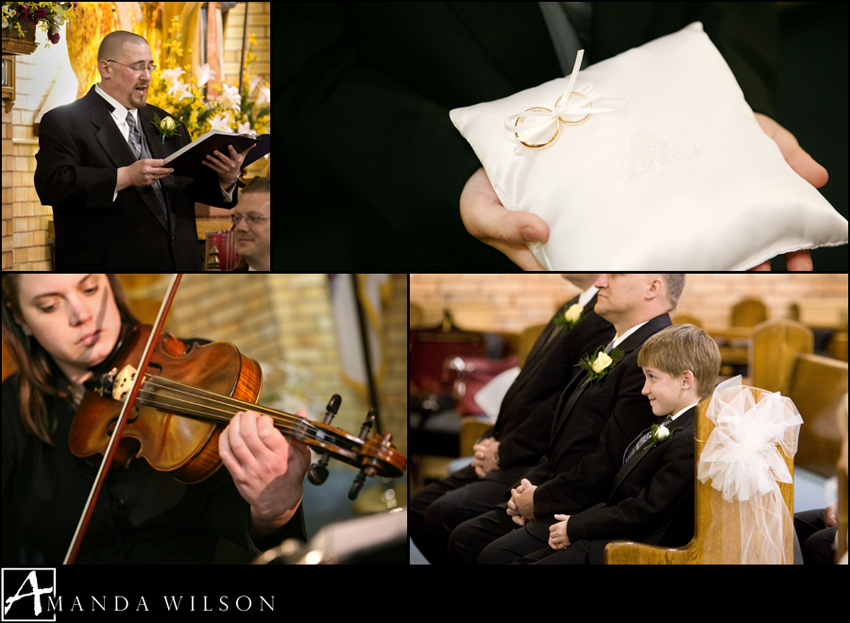 Mary sharing a last moment with her Dad before he walked her down the aisle.
Image by Sandy.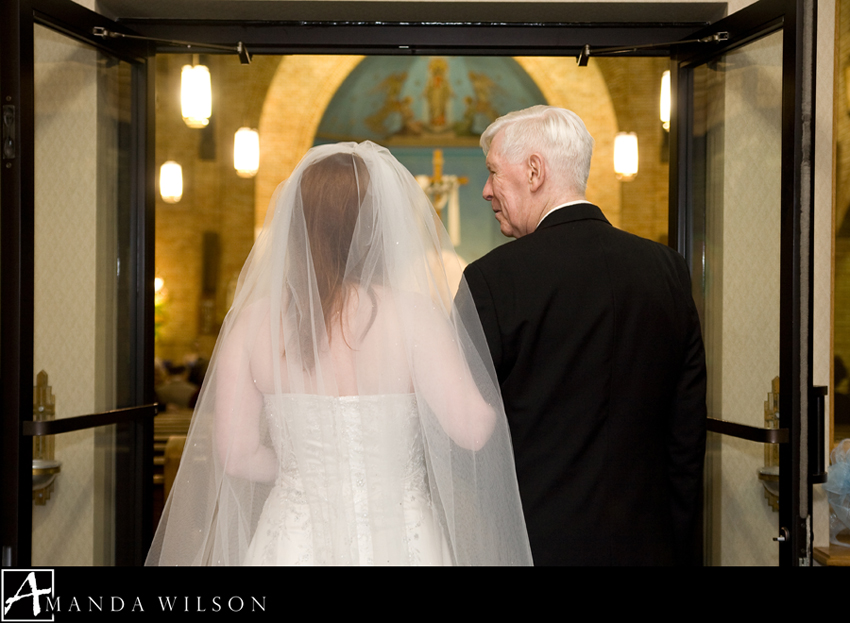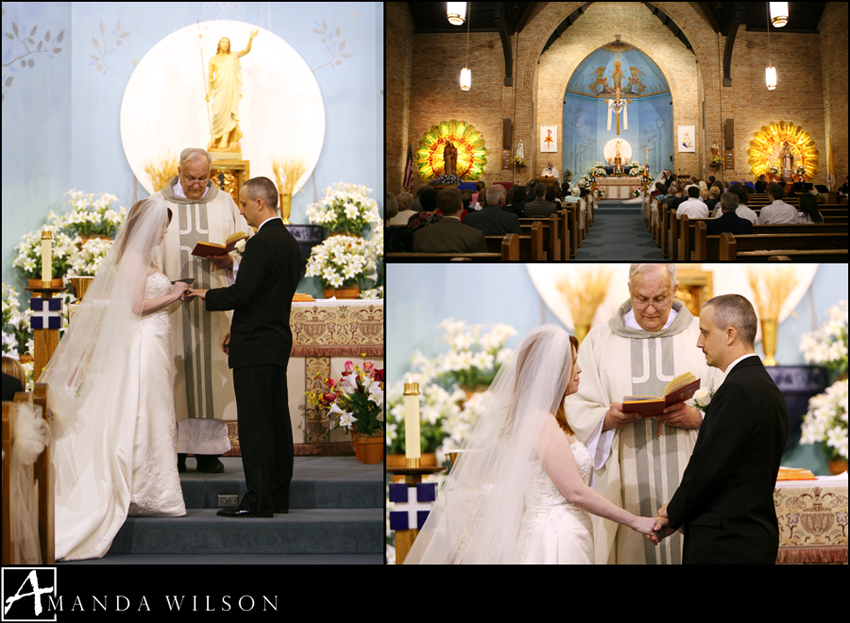 Just married!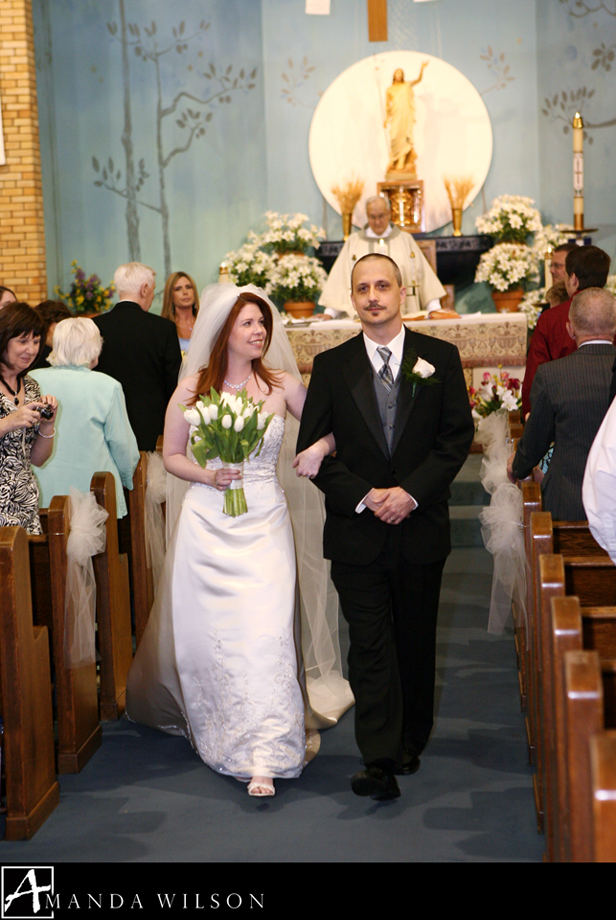 Instead of bubbles or throwing flower petals for their recessional - guests were given small silver bells to ring when the couple emerged from the church.
Image by Sandy.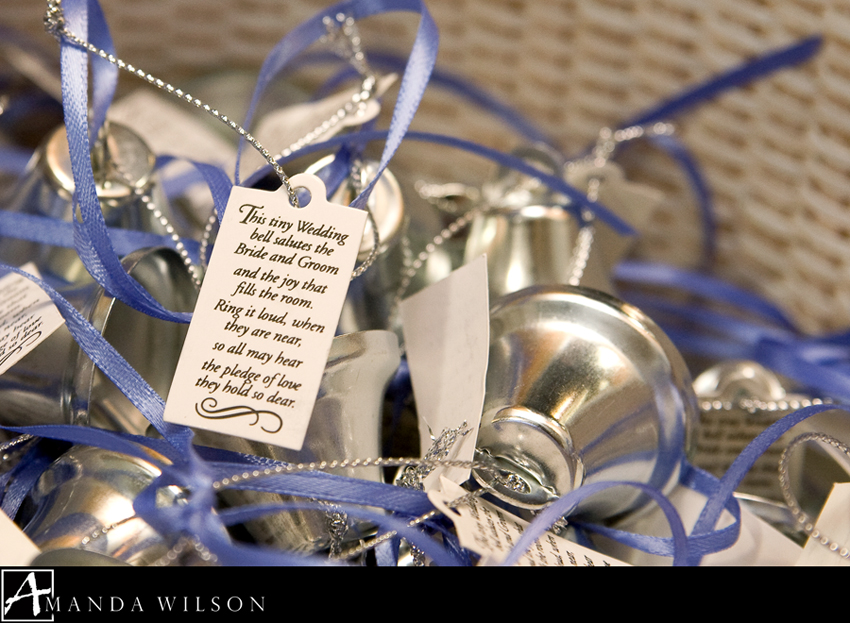 Tons of little silver bells tinkled cheerfully in the cold air as Mary and Jim stepped out!
Middle shot by Sandy from across the street with the spy lens!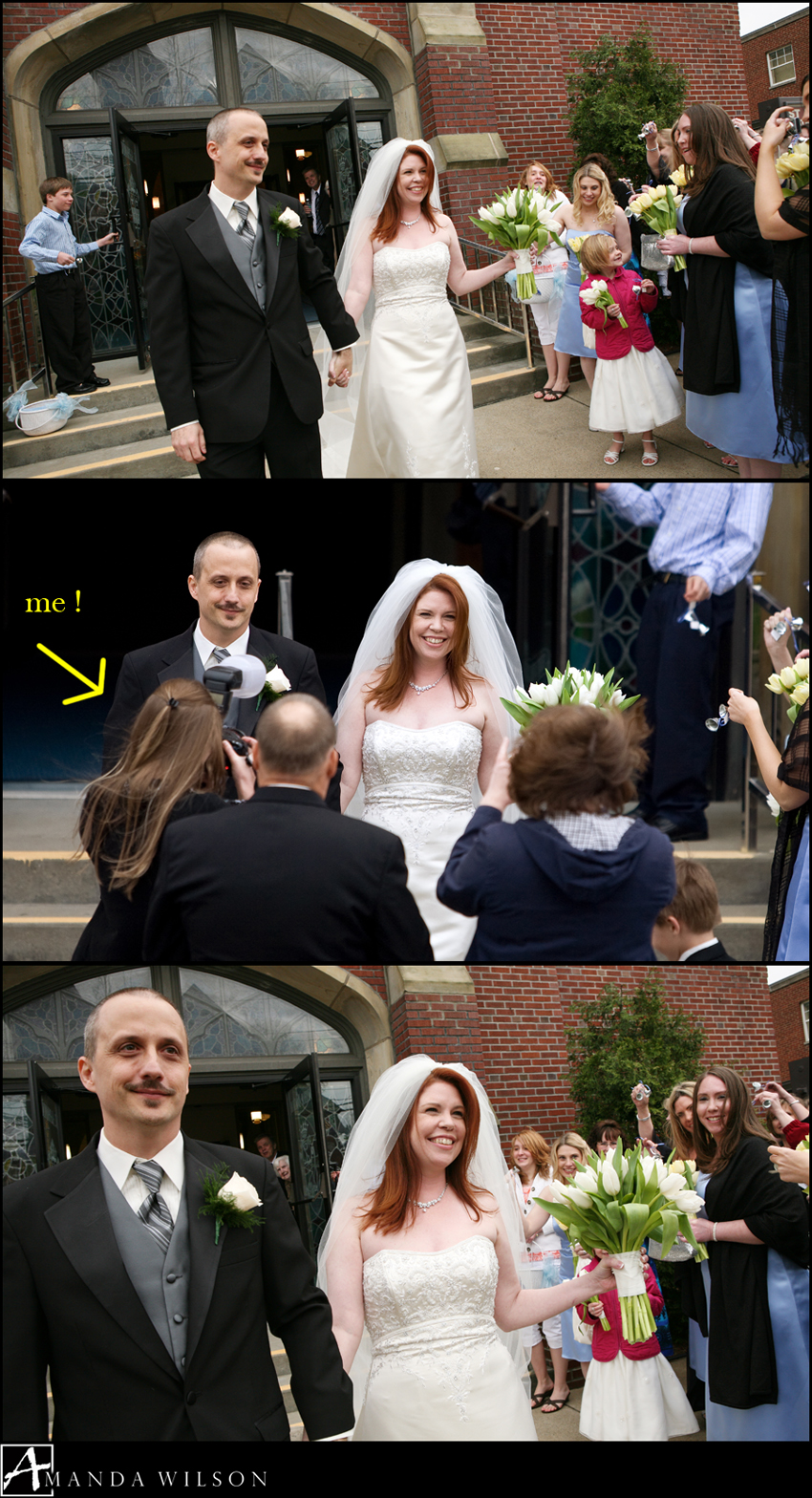 After a short limo ride, we arrived at Brackenridge Country Club in the middle of a snow shower!! We took a ten minute break while we waited for the weather to clear. At one point you could not see across the golf course for all the snowflakes.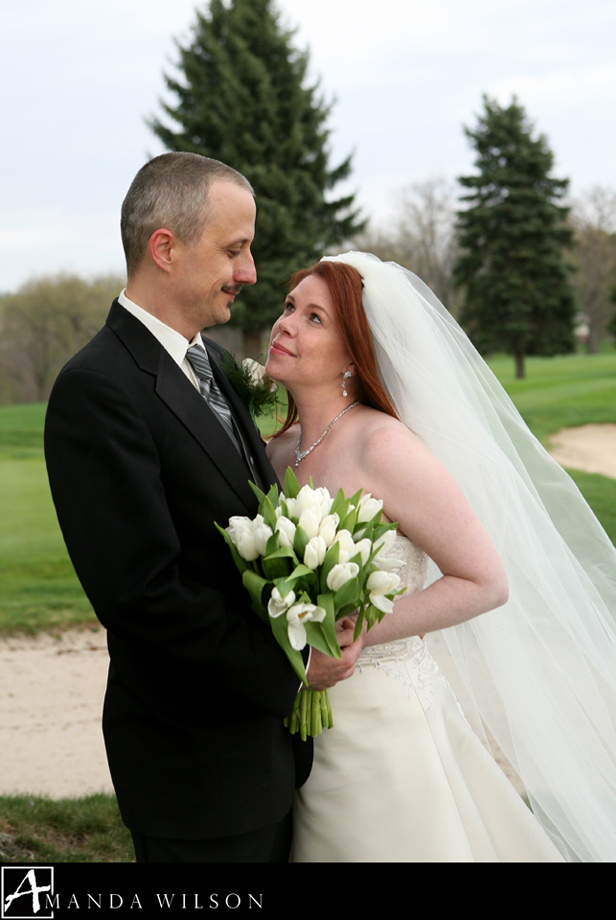 When we did make it out for photos it was very very cold and very windy! We decided to hurry up with pictures and let the wedding party get back inside where it was warm!
Bottom left image by Sandy.
Far left image by Sandy.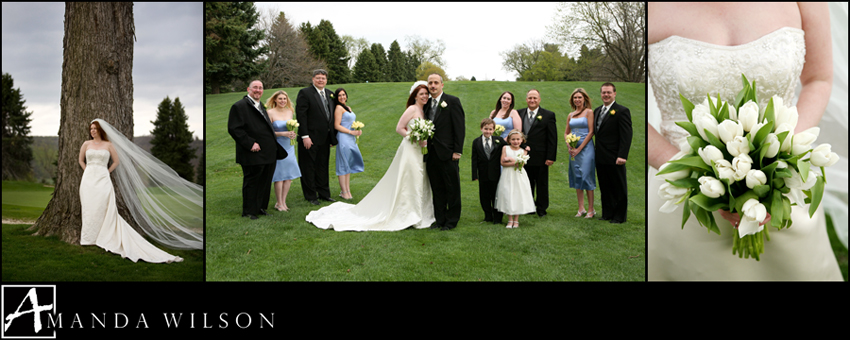 I love everything about this image - the mood - the clouds - the veil. Mary, I can't help but smile when I see you!
Image by Sandy.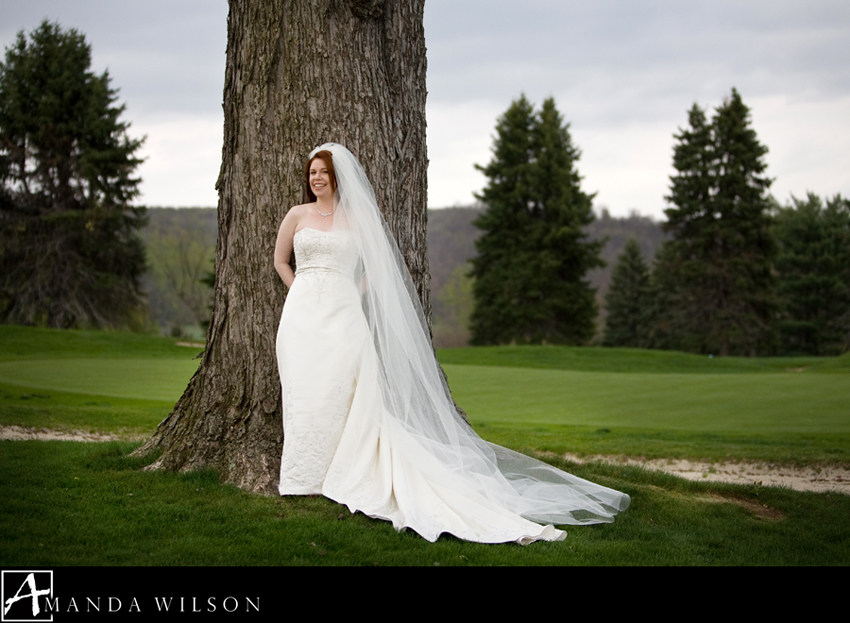 Huddling for warmth!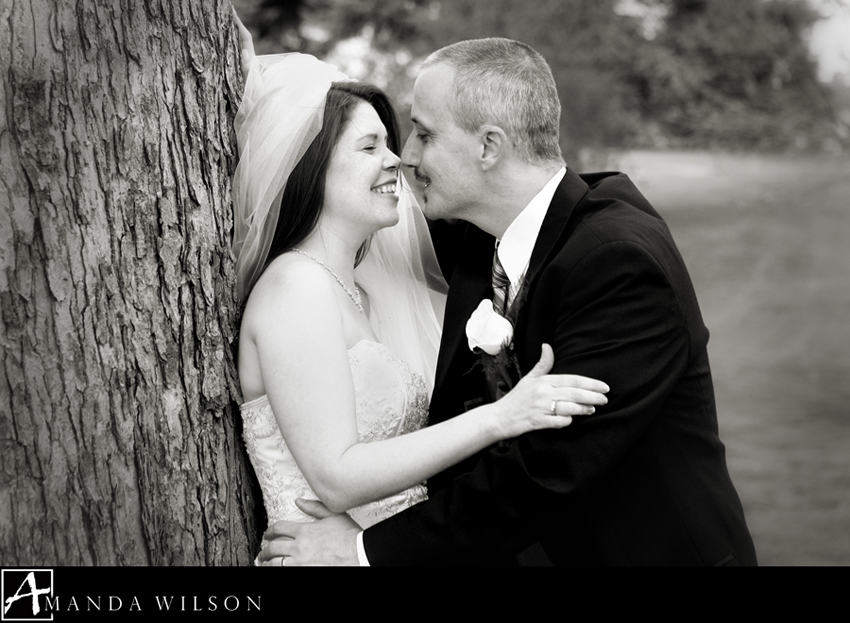 If you look very closely in the top photo you can actually see the snowflakes! Mary's veil was threatening to become a sail and so we had to have Jim hold it down so she didn't fly away!
Top and middle images by Sandy.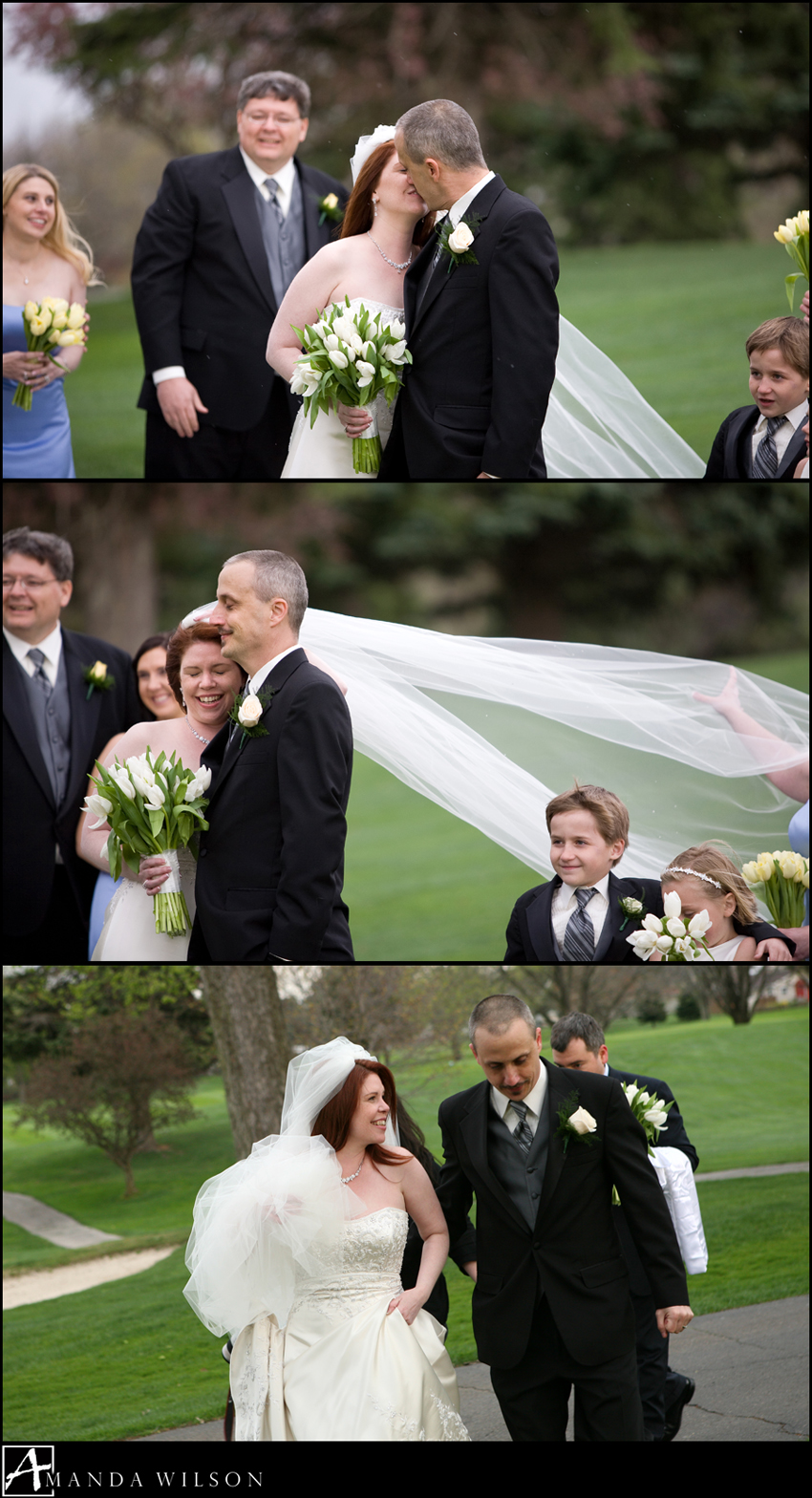 Some details of the country club - love this venue! And I loved the tulips they chose for their bouquets and centerpieces. The whole room sparkled with candles and crystal. Middle image by Sandy.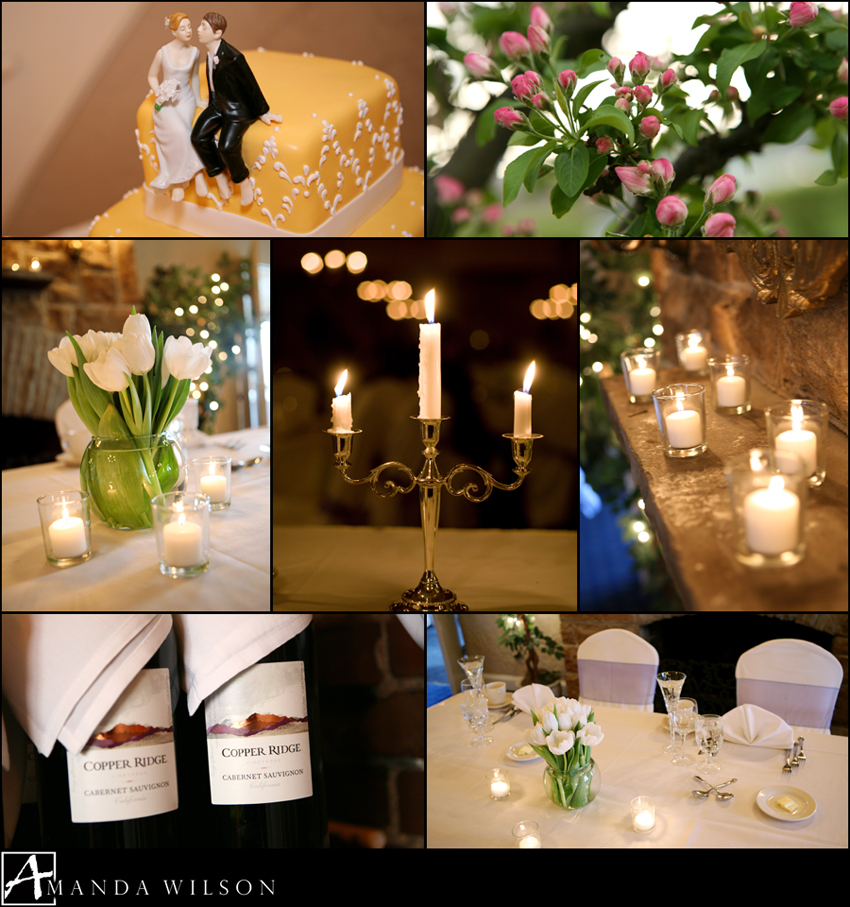 Just before Mary and Jim were announced - we encountered the Great Dress Bustle Debacle! It took several ladies and several minutes to try to decode the green, pink, numbered? threads that looped under the train of Mary's dress and were all meant to knit together just so and create a stylish french bustle. Well - even I was under the dress for about ten minutes and we did the absolute best we could - and then we used a safety pin..... After all - there was dining and dancing to get to!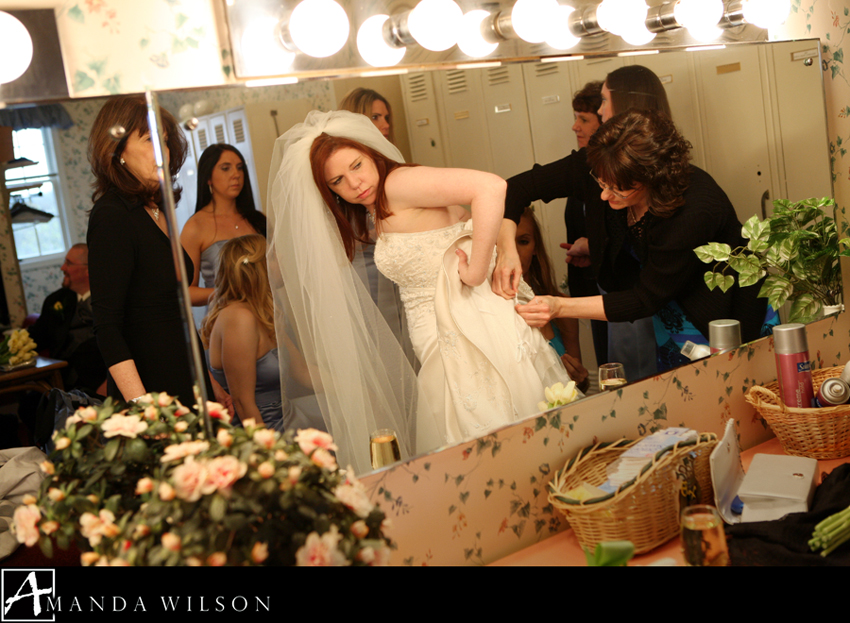 Out on the floor for their first dance as husband and wife - see even the veil had it's own bustle!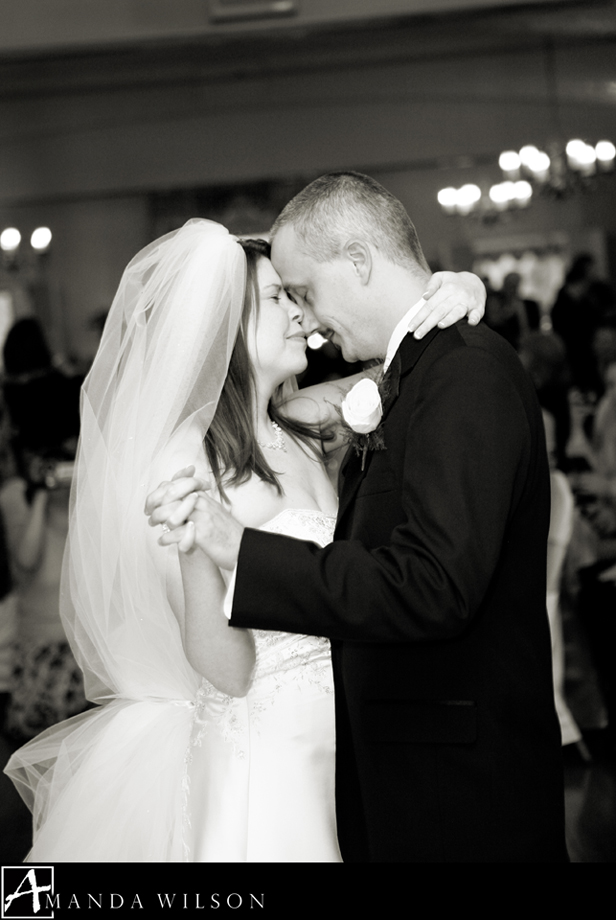 Love the romantic sparkle - image by Sandy.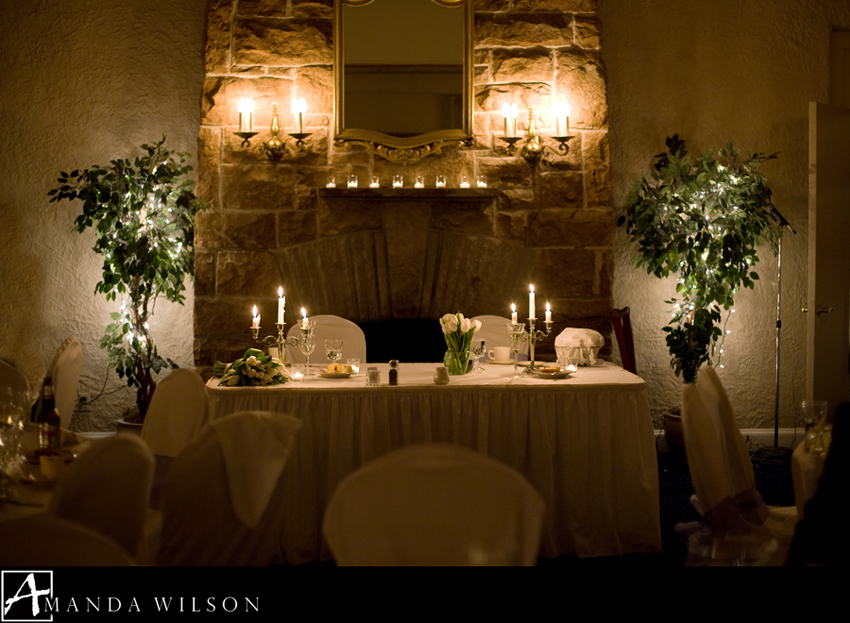 Mary dancing with her father - top image by sandy.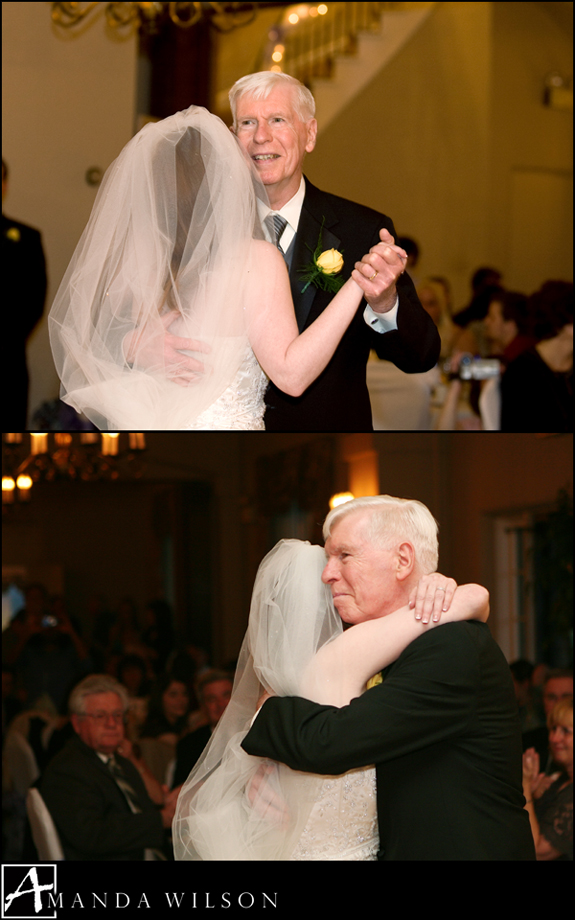 Jim dancing with his mom - images by Sandy.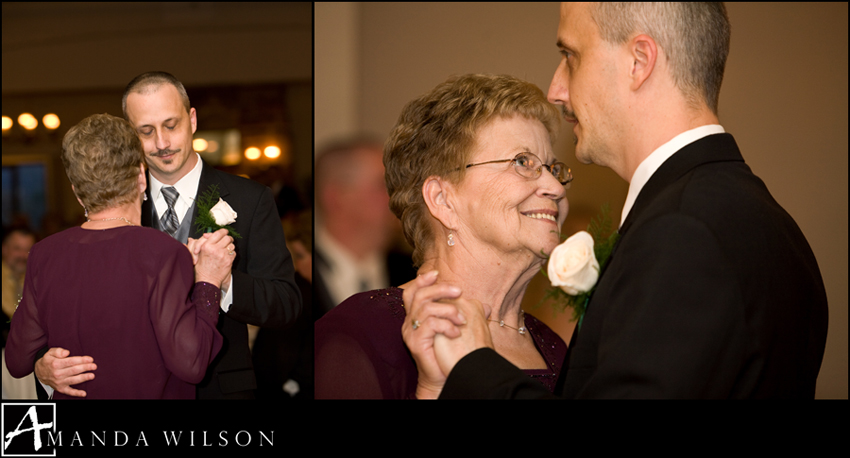 I love this picture of the ring bearer dancing with his mom. Tears in my eyes I thought how cool would it be if years from now when this little boy gets married - this photo was displayed or used in a slideshow at his wedding with his mom for their mother/son dance. Truly the power of pictures to make our memories last.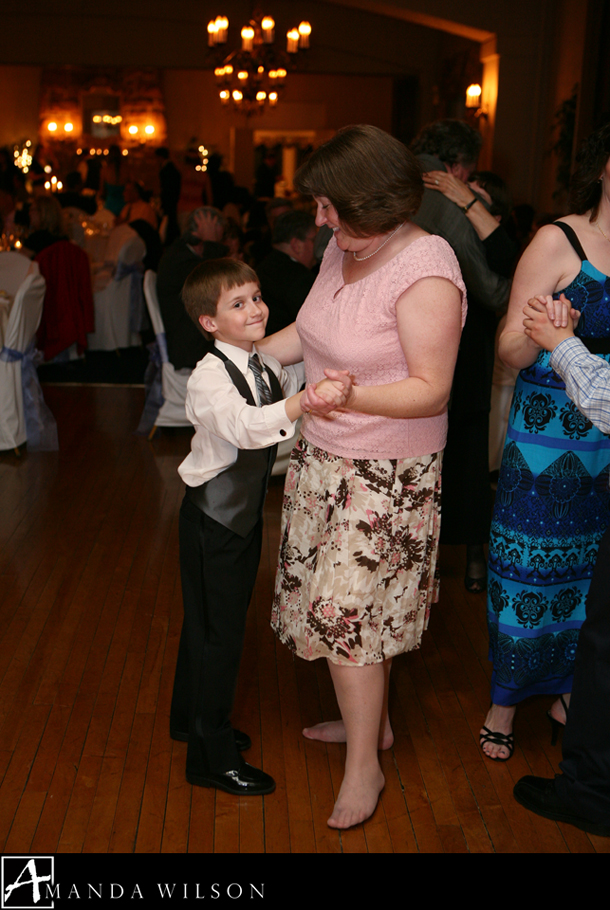 One last shot of the coworkers group!! I hope this is on the office wall!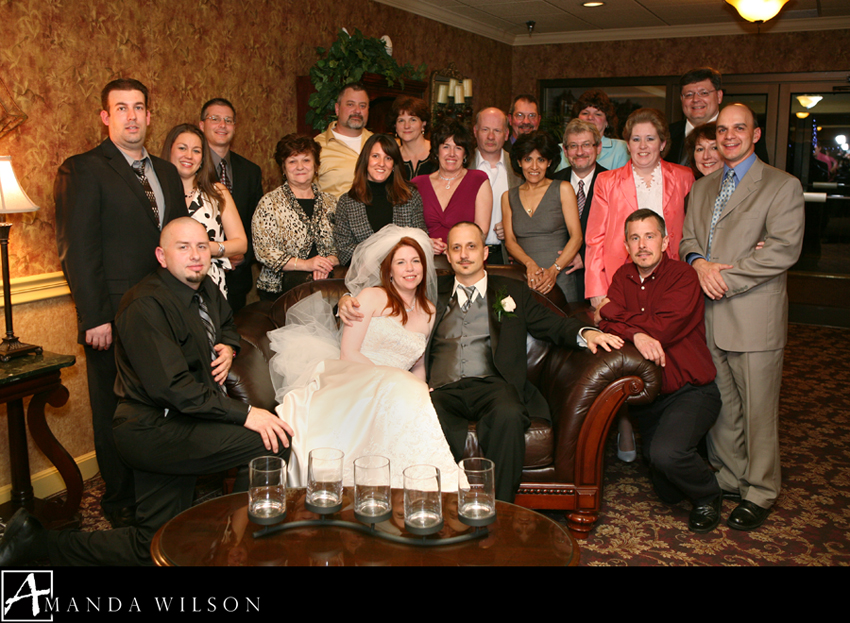 We survived the snow and wind and it was a beautiful day!!
Definitely a great wedding :-)
---
Ceremony: St. Alphonsus Church, Springdale
Reception: Brackenridge Country Club
Entertainment: DJ Rockin John