It's a new month and that means a new calendar photo. This one I shot on our Easter weekend camping trip last year (see HERE ) . Sean and I were just complaining last week that we can't wait for warmer weather to get the camping gear out. When it starts raining and it smells like spring it always makes us think of the first camp out of the year. The thunderstorms we had last night were a wake up call that the snow is finally coming to an end.
I shot this photo just after sunrise on what would turn out to be a perfect day. When you spend the night out in a tent, you go to sleep at dark and you wake up when the first bird chirps which is usually before the sun peers over the horizon. The wind changes as the rays of the sun start to warm the dome of the tent and filter through the screening. No beeping clocks, no phone alarms, nobody stomping to the kitchen to get ready for work - you wake up naturally and it's unlike anything else. You actually wake up in a GOOD mood ! On this particular morning I woke up in a GREAT mood! I unzipped the tent and climbed out into the sunshine. You didn't even need a jacket it was so unseasonably warm. I shook the tent to knock the dew off and wake up Sean.
I told him I wanted to go hiking. Immediately :-)
And bless that man o mine - he just smiled and said Ok. So we hiked to the foot of Cucumber falls - I think I was still wearing my PJ pants and probably flip flops. *I do not condone wearing flip flops into the woods under any circumstances*. Sean stood on the trail while I climbed down into the stream and hopped rock to rock out to the middle.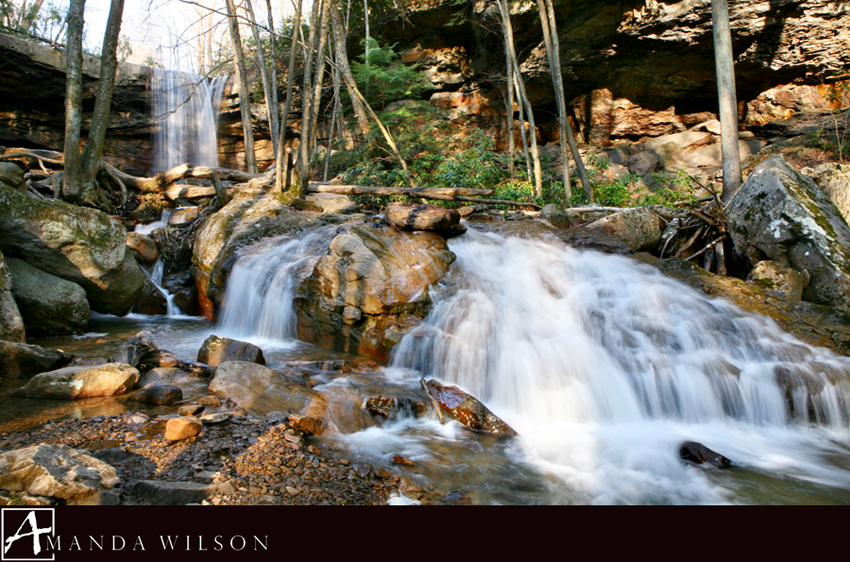 I spent the next 30 minutes shooting the early spring morning sun as it quietly danced across the water. Every couple minutes I would look up to see if Sean had lost his patience with me yet (frequently I derail our purposes with spontaneous photo episodes without regard to daylight, danger, or meal times). He would just be standing up there with an amused look and I would point and gesture at the rocks and the sunlight and grin like I'd just discovered a colony of leprechauns.
The lighting was so good, it made the water look like you could just stick your tongue out and lick it.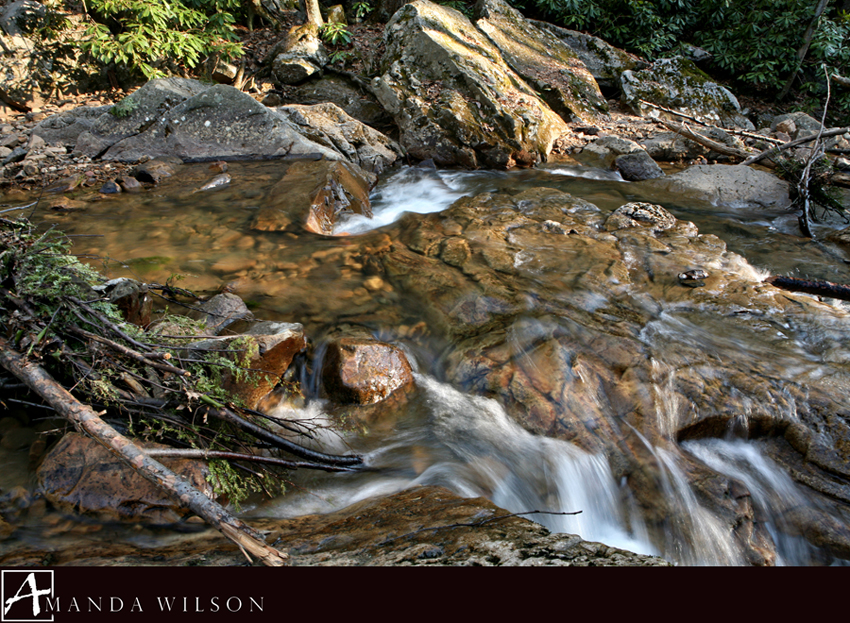 When the sun was too high in the trees and my feet were completely numb in the cold water, we headed back to camp.
Grateful for before-breakfast hikes, and that man o mine ;-)