Since we are getting down the wire for wedding season, I wanted to share another great story from last year! Derek and Kim were married last August at Fieldstone Barn near Saxonburg, Pa. Derek and Sean have been friends since high school and so I was thrilled when Kim called to say that Derek proposed and they needed a wedding photographer!
Their location was perfect for a summer wedding complete with glowing sunset and string lights (two of my favs!).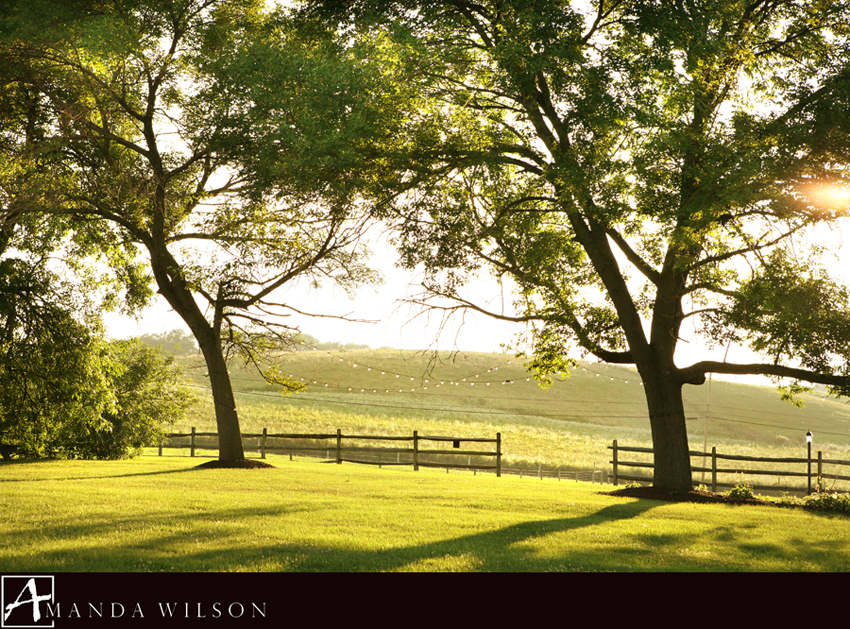 After a great rehearsal the night before, they split into two groups. The girls who were getting pampered at The Salon at Saxonburg, and the guys who set up 'man camp' out at the farmhouse. For the girls, it was a relaxing morning of mamosas and laughter while the stylists at the salon prepped everyone's hair. That's Kim on the right :-) (I highly recommend the Salon at Saxonburg. They offer everything from hair and nails to massage and spa services. Excellent, excellent folks.)
Located on main street in Saxonburg, the salon is the perfect spot to get ready!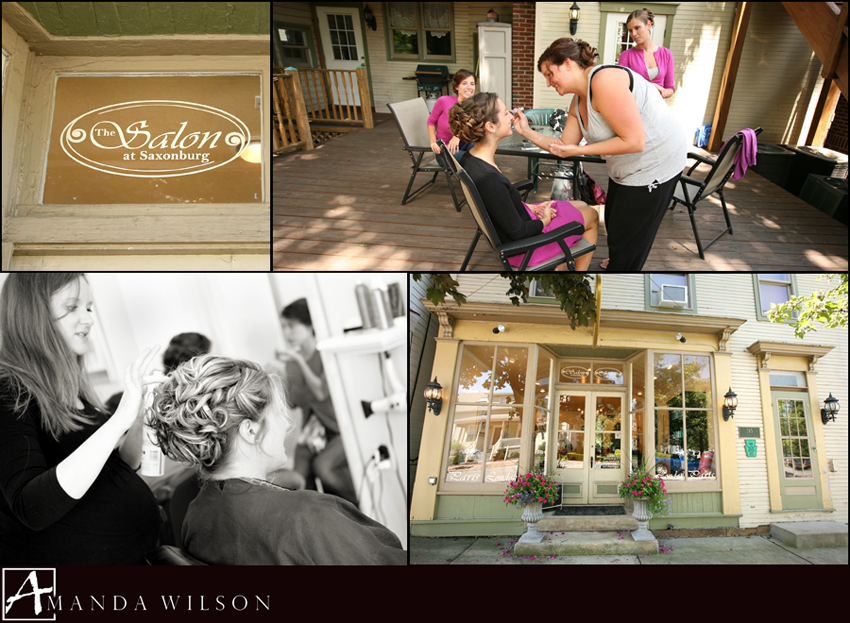 A quick group photo before I headed out to the farm house to check on the guys.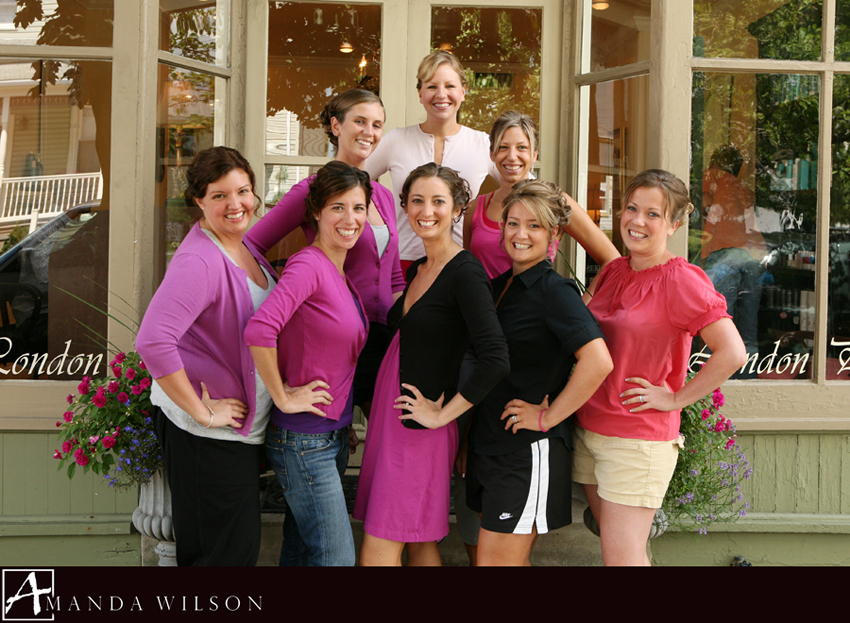 This is Kim's flower girl and the adorable tutu and pomander she had for the day :-)
Left image by Anna.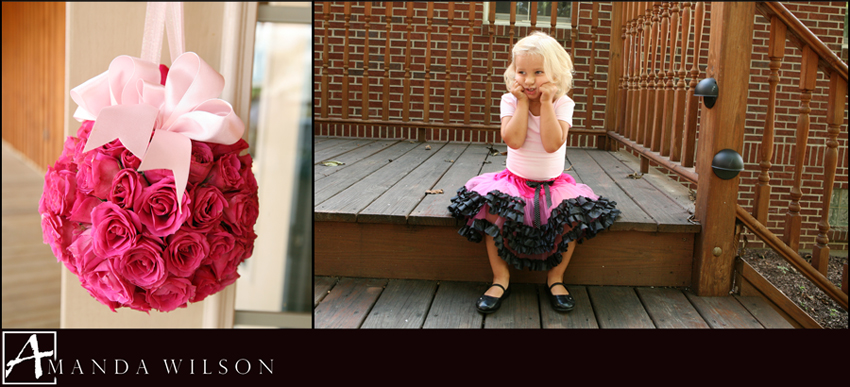 The scenery out at the farm is a gorgeous backdrop for photos. (The critters are friendly, too!)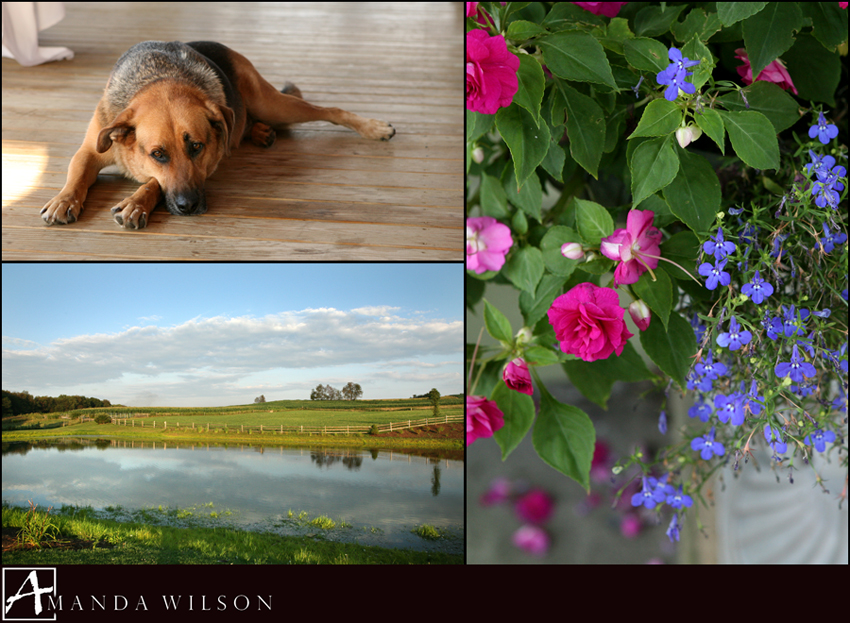 When I arrived at the farmhouse I found the guys in the midst of a serious cornhole tournament. For those of you out-of-towners, cornhole is a game we play by tossing bean bags through a hole in a board. Like the old school Toss-Across game. And of course we keep score. And there are usually beverages involved.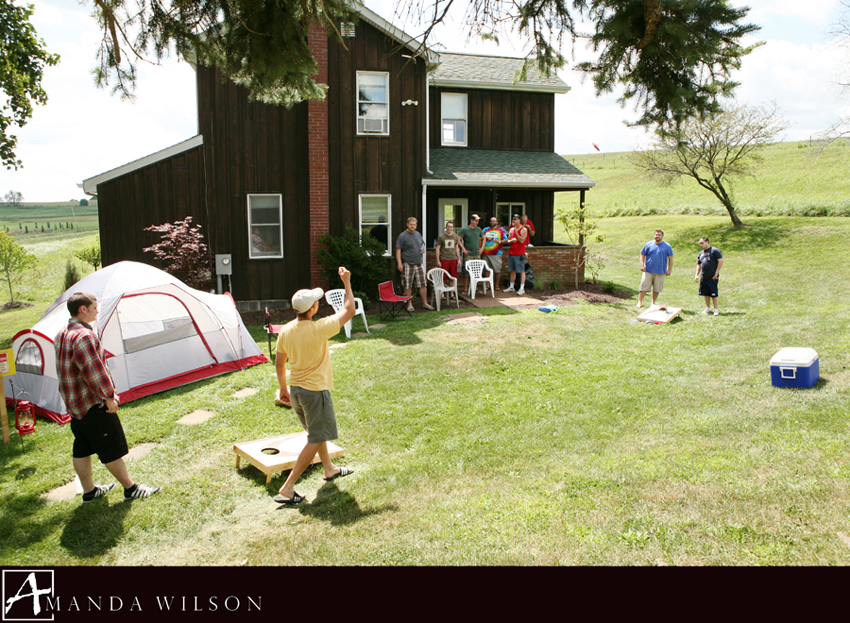 Having spent the night, the guys had their tents all set up.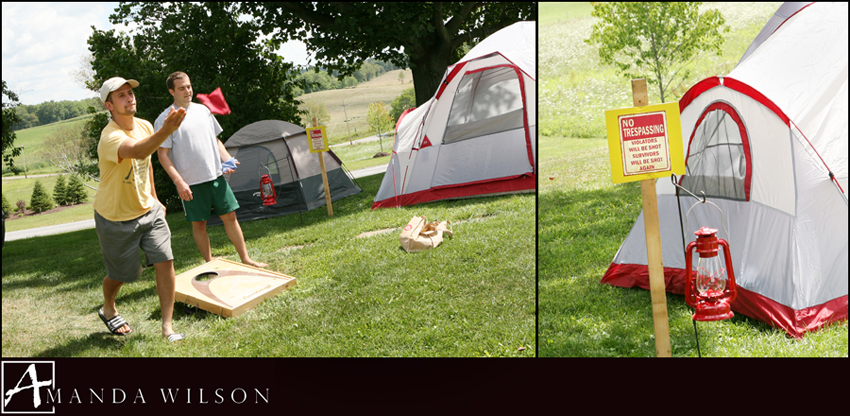 Fieldstone is a newest facility at Armstrong Farms with heat and air conditioning and handicap accessible parking.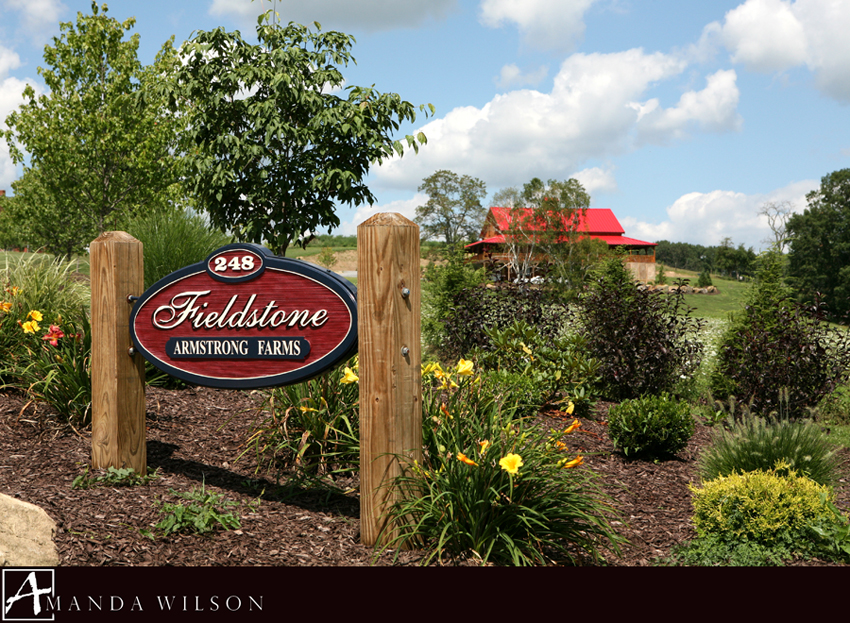 Derek just before the ceremony - loved the pink coxcomb flowers in his boutonierre.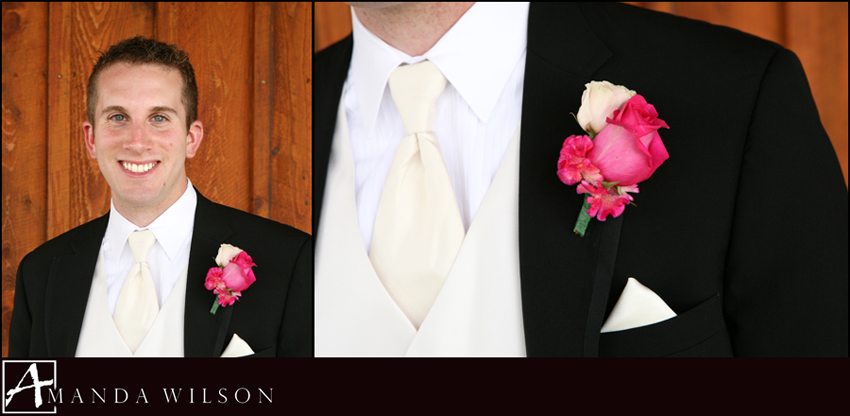 Kim slipped into her dress in the upstairs room of the loft. She gave each of her bridesmaids a beautiful pear necklace to wear with their dresses. Bottom right image by Anna.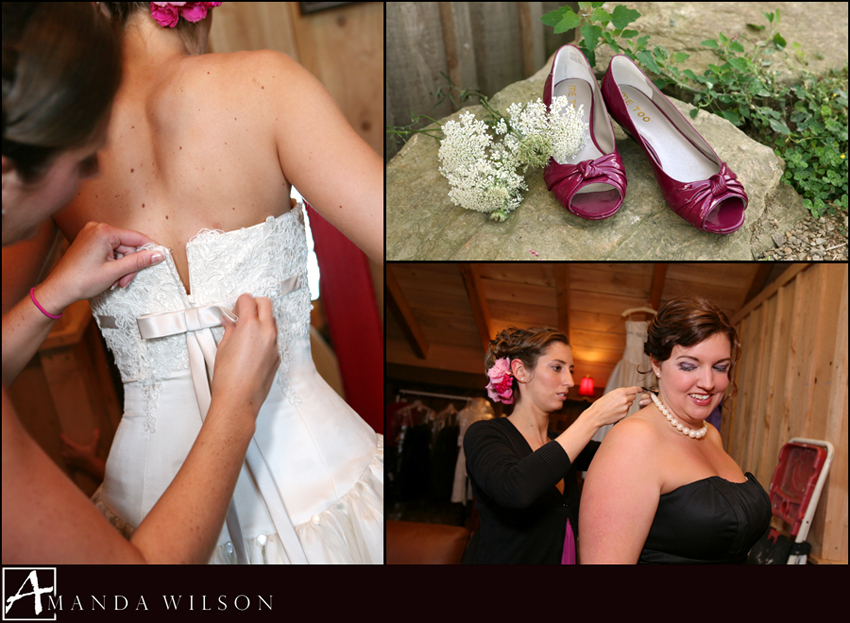 Kim's dress was really exquisite with embroidered details and a ribbon closure in the back. Right image by Anna.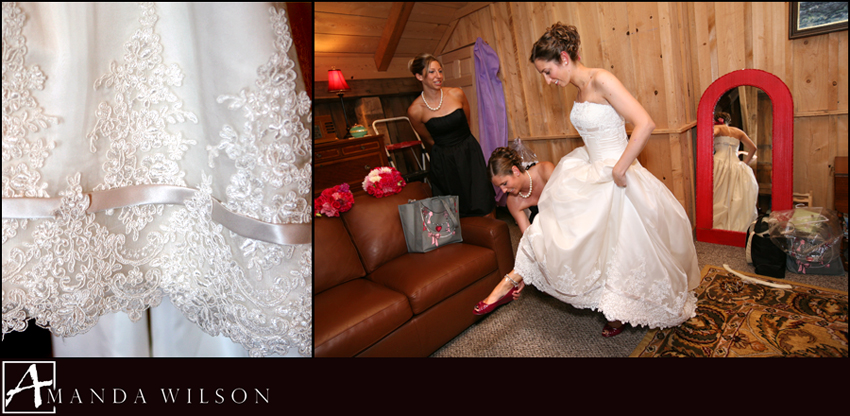 Derek seeing Kim for the first time as she comes down the aisle. They crafted their own program fans with the pink and black wedding colors.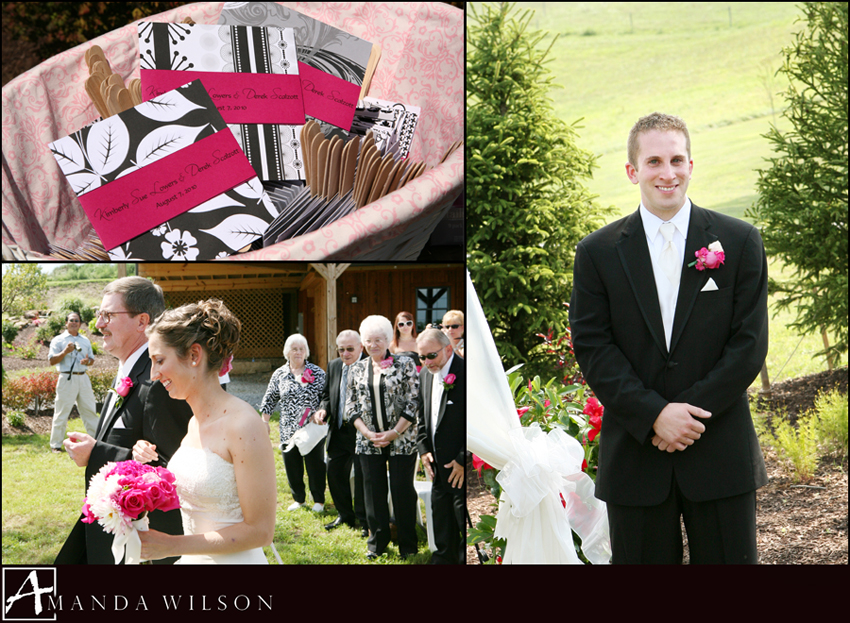 Their ceremony on the lawn under the big tree.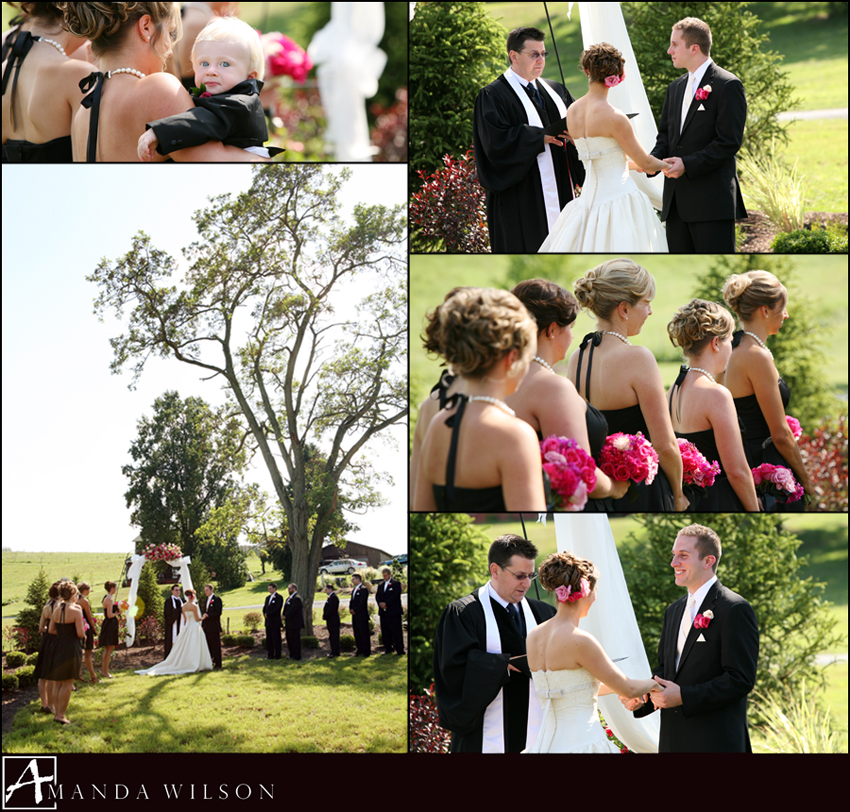 You can tell at the moment they are announced as Mr. & Mrs. Scalzott - soo happy :-)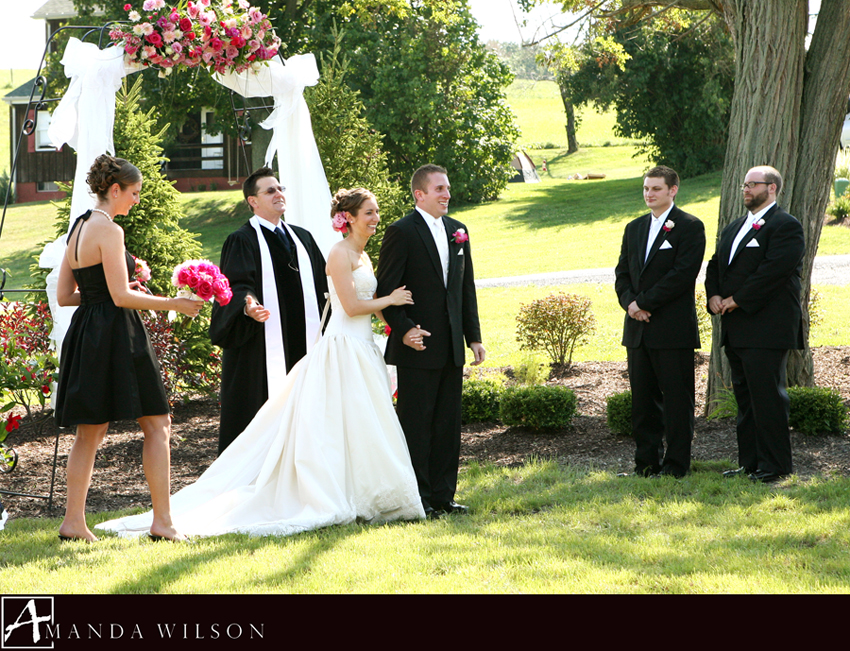 A few portraits outside.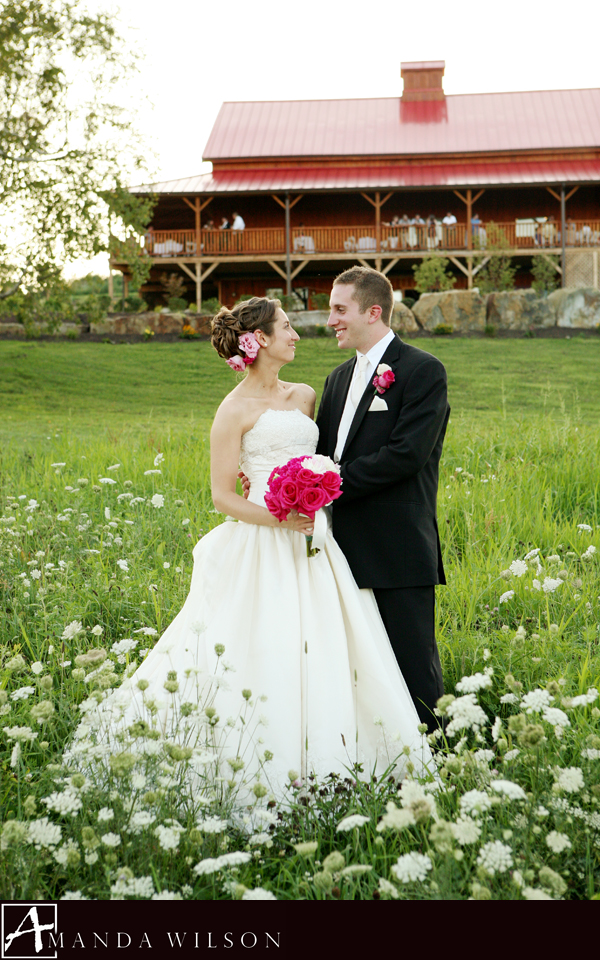 I love this one - that's Anna on the left crouching almost hidden in the grass shooting with her resulting image on the right.
You have to be willing to get adventurous to get good photos!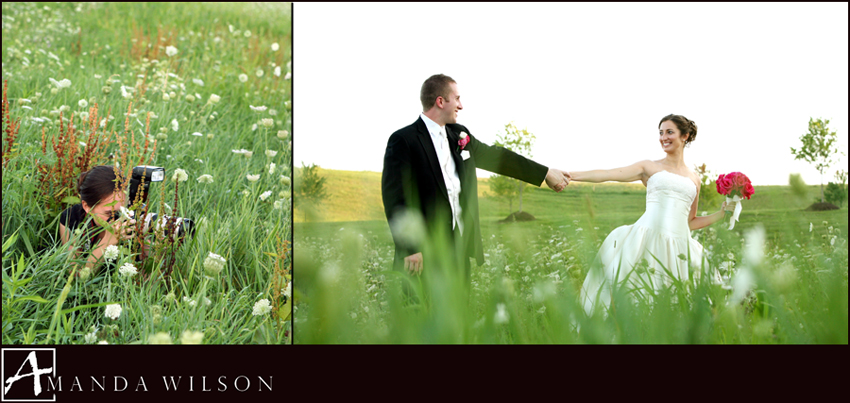 One my favorites :-)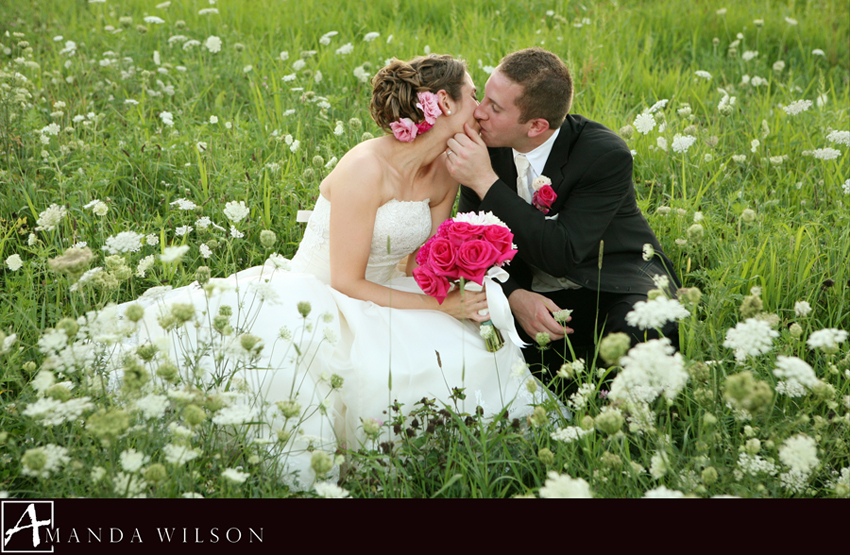 The lower level of the barn was set up for dinner. Going along with their music theme, each table was assigned with an artist; Ray Charles, Dean Martin, etc.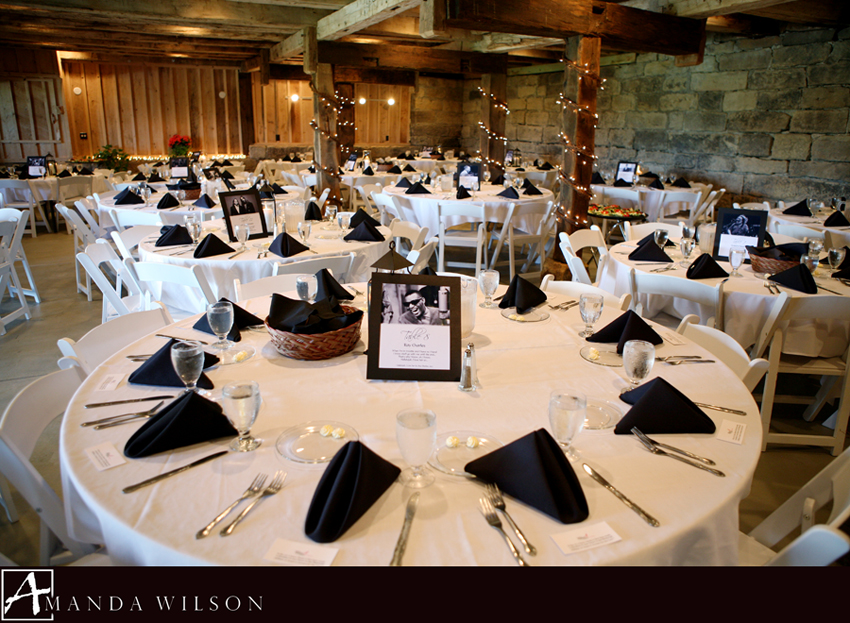 Yummy details!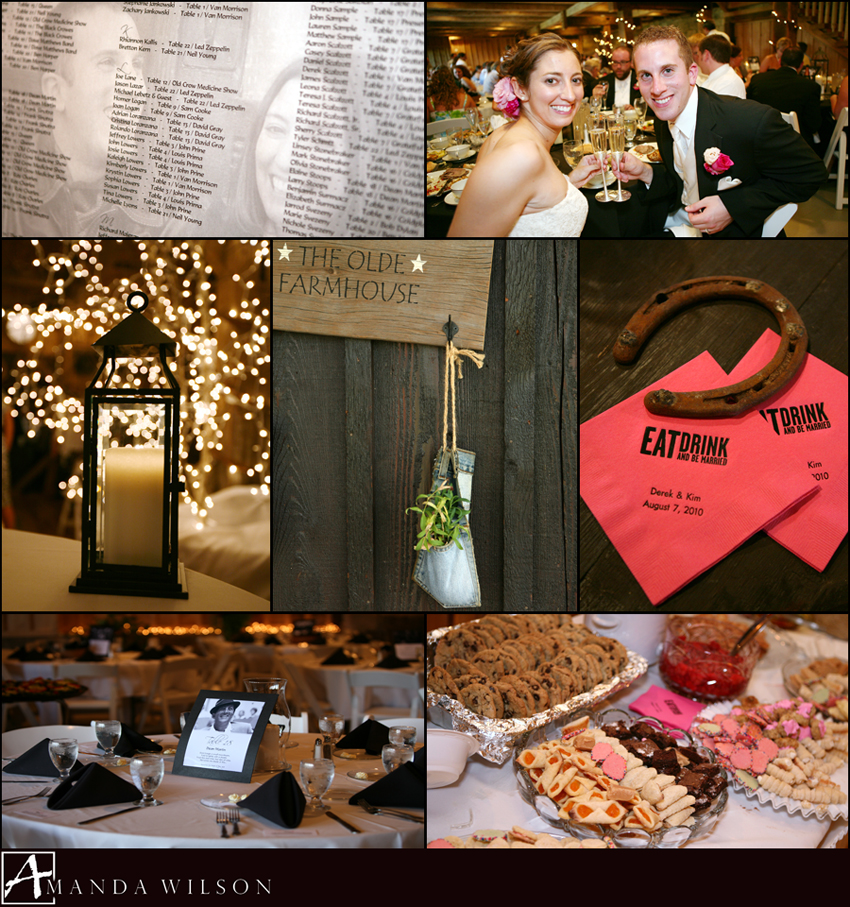 I've been sitting on this shot for a whole year now. It started as a "what would be the wildest ring shot you can think of " conversation with my friend and fellow photog, Sandy Yetter - and just a few weeks after that conversation I was presented with the right set of circumstances in the right environment. I can't tell you how I did this shot (because a rockstar magician never reveals her ways) but I can tell you that #1 no photoshop was used #2 that is a REAL lily pad in a real pond and #3 their rings were never in any danger. I always take the trust my clients place in me very seriously.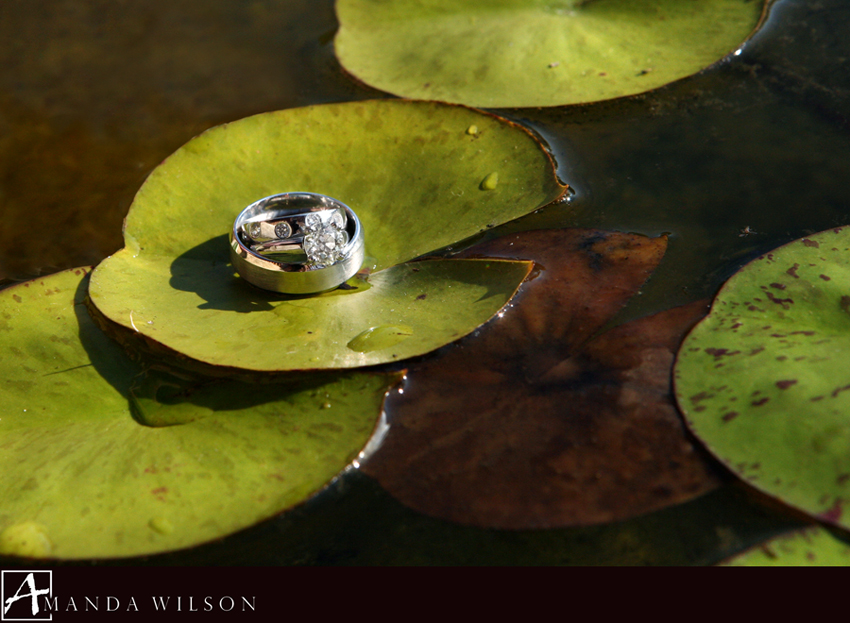 After dinner we did one of my favorite things to do at a wedding, sneak the couple out to a nearby location for additonal relaxed photos. This image is a great shot by Anna.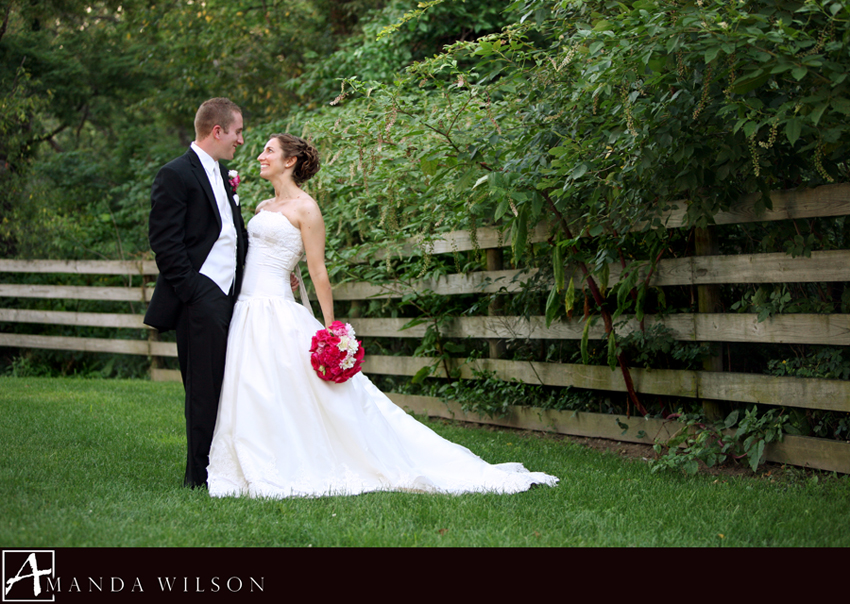 A few romantic black and whites.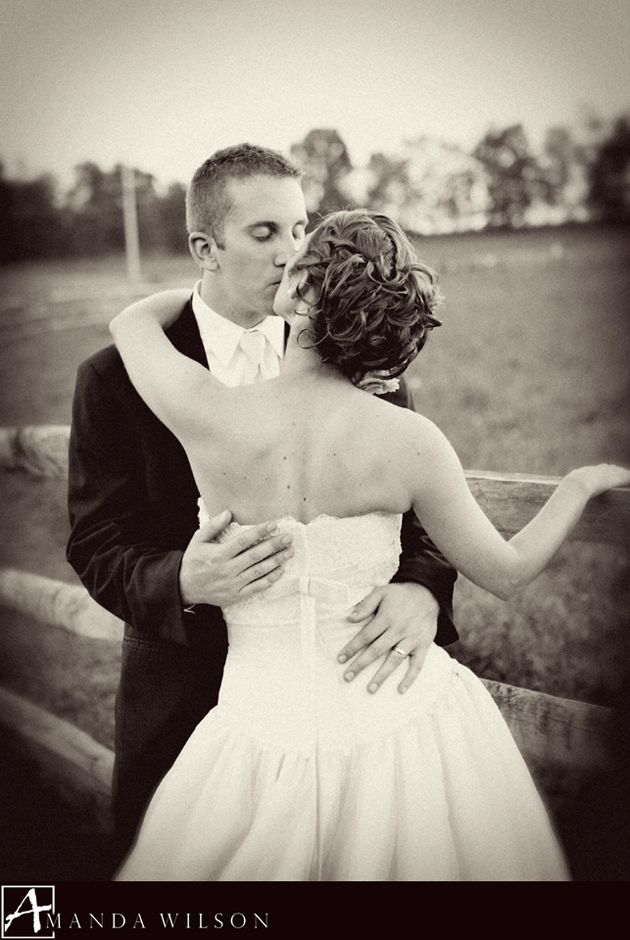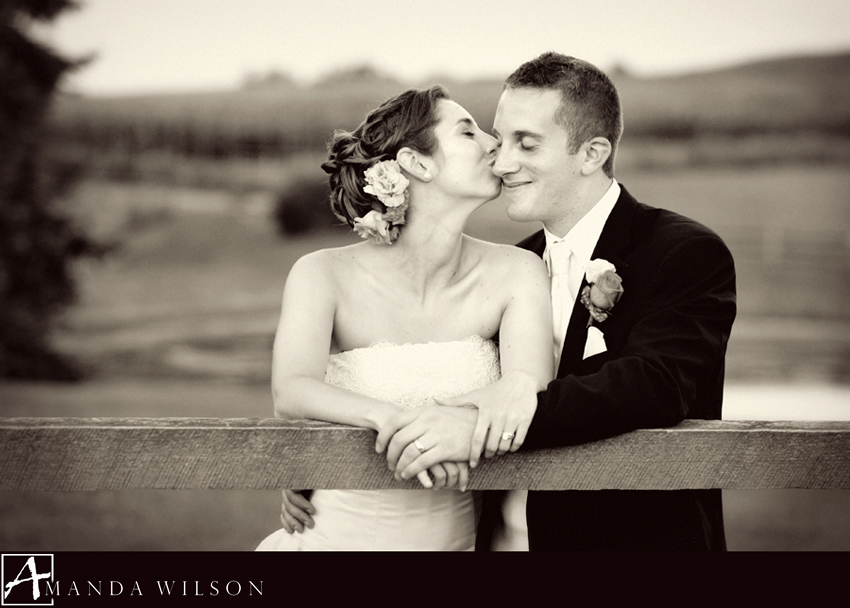 Right before we headed back to the barn I was toying with that string of lights and snapped this - one of my favorite shots of last year ! If only we could have found a way to plug in those lights!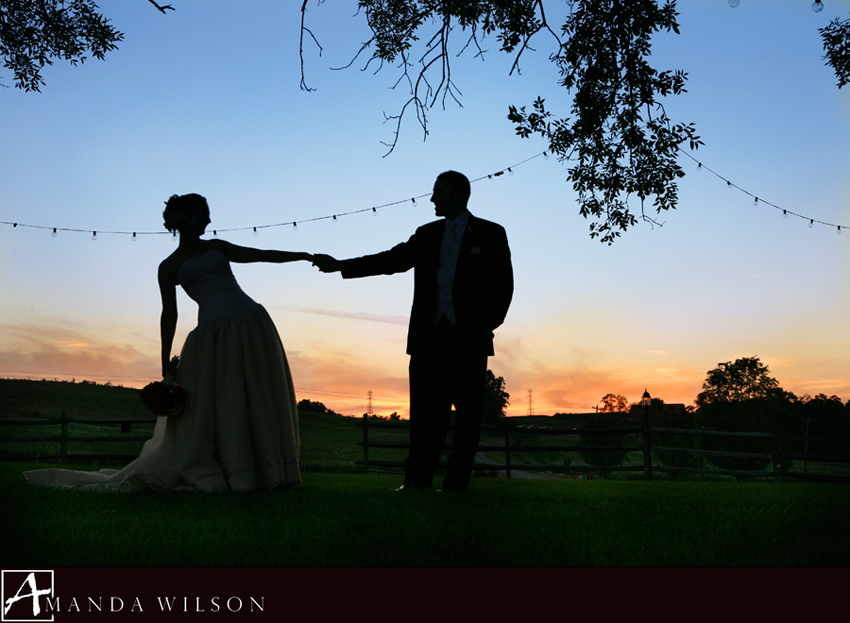 Meanwhile back at the barn guests were mingling and ready to kick off the party!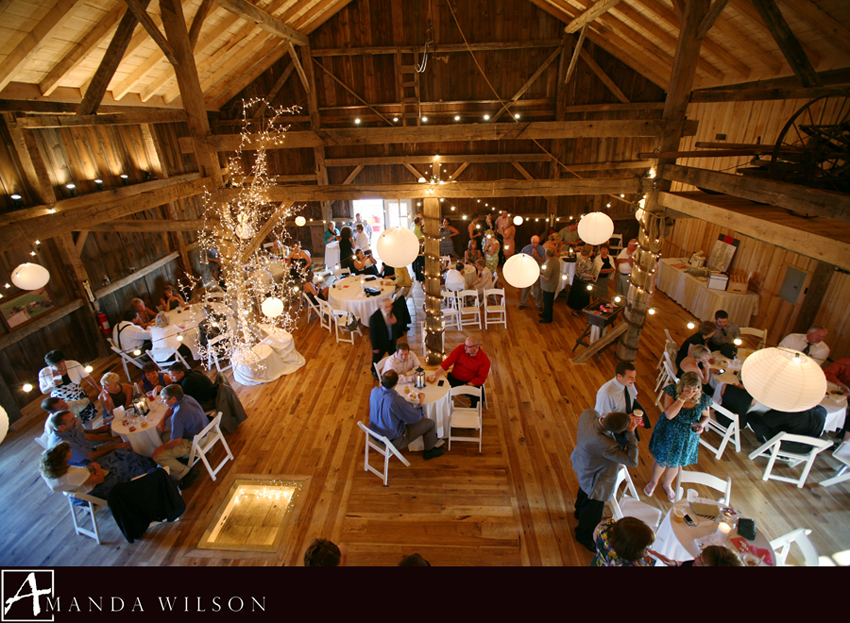 Derek and Kim danced their first dance to Crazy Love by Van Morrison. Kim also had ' Crazy Love' engraved inside Derek's wedding band.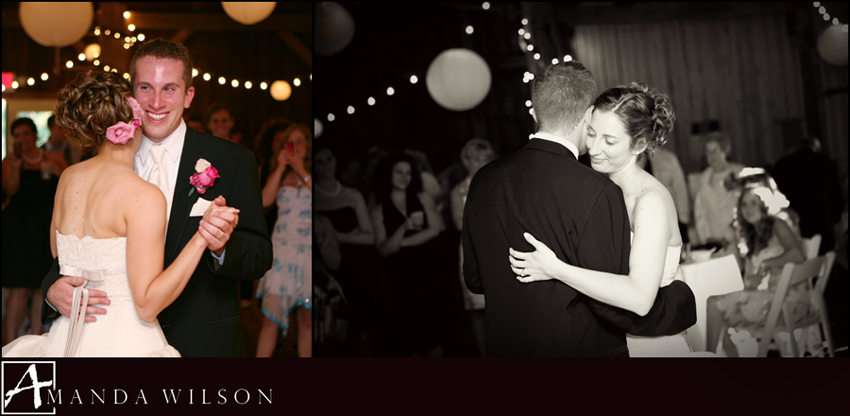 Instead of cake, they had an ice cream bar and made themselves a wedding sundae to share!
These two images by Anna.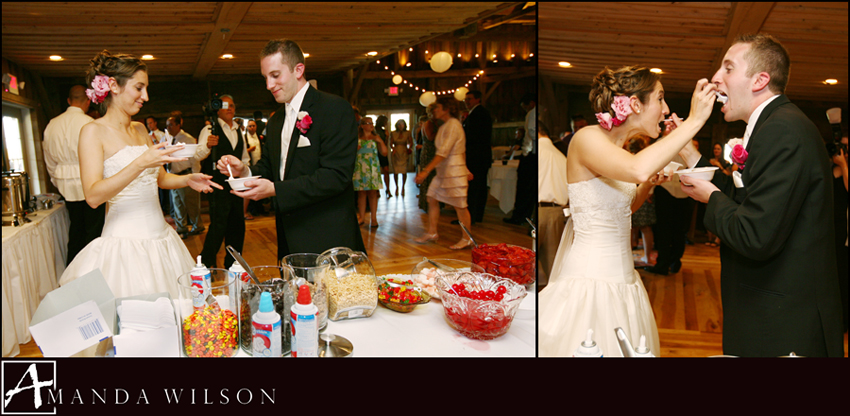 This is Eric, he'll be the best man at our wedding in 2 weeks!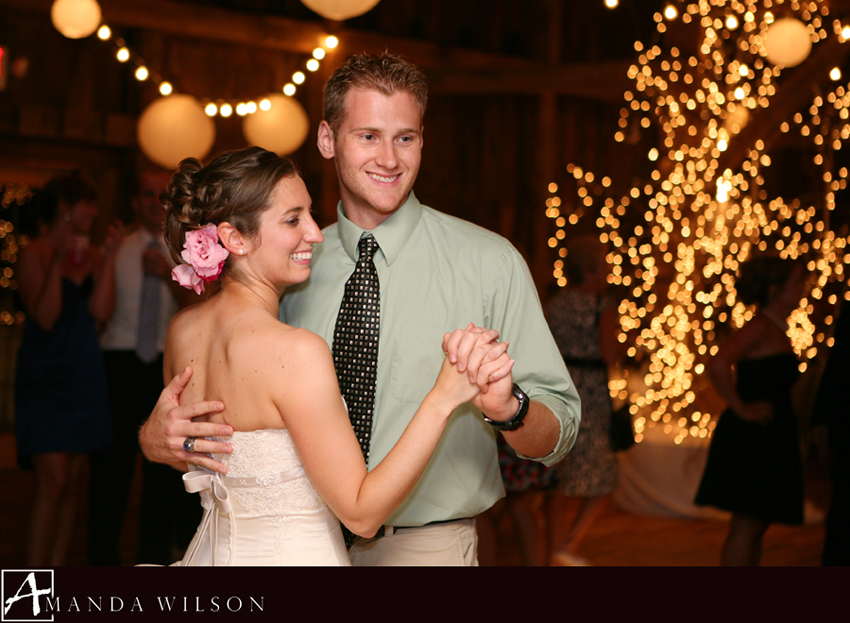 Everyone had a fabulous time, to me there's nothing better than a barn party out in a field with good people, good food, and good music. Check out the bottom left photo - he's going for the "that guy" award ;-)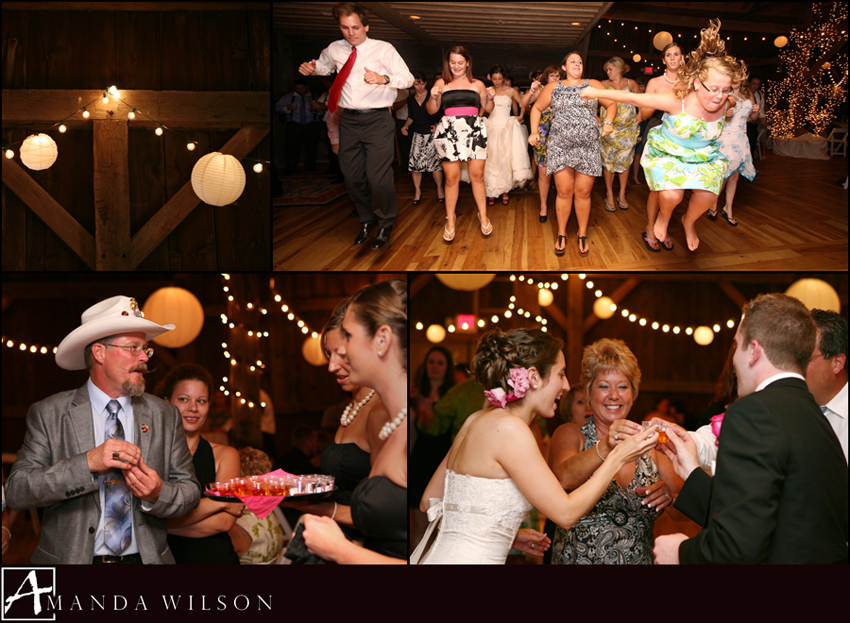 Fieldstone barn has a square cut out protected by plexiglass where you can see through to the old barnwood floor before it was refurbished and the dancefloor installed. Such a cool reminder that something old and run down can be brought back to a new life as a space to be filled with so much joy.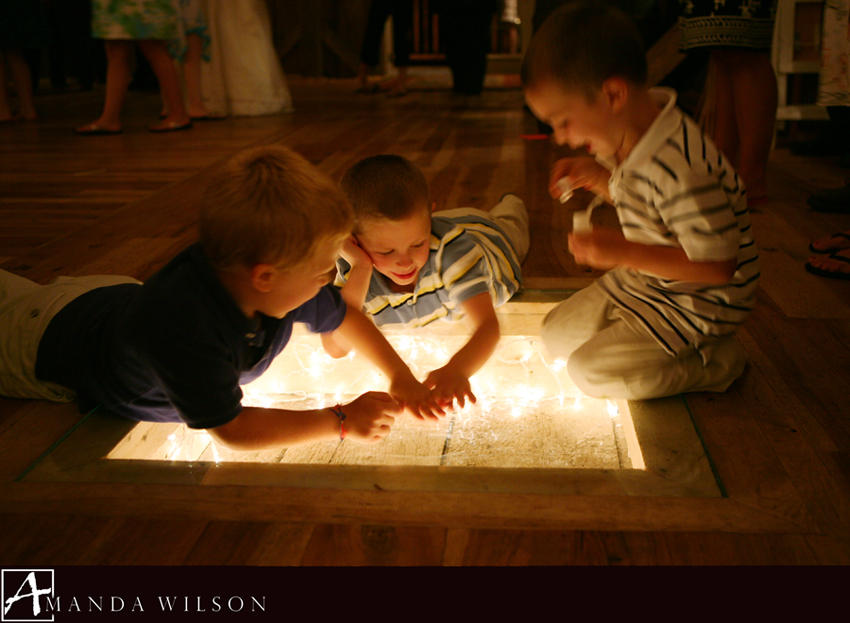 Happy one year Derek and Kim! I can't wait to see you guys !
---
Ceremony & Reception Location: Armstrong Farms - Fieldstone Barn

Stylist Services: Salon at Saxonburg