One year ago this weekend Deanna and Wayne stood on the back porch of Valley Country Club in Towson, Maryland, exchanged rings, and promised to love each other through good times and bad. I remember the weather was a lot like it is today, hot and sunny with the chance of sudden storms. We arrived before the wedding party and could to scope out the grounds and the unique interior of this beautiful venue!
Right image by Anna.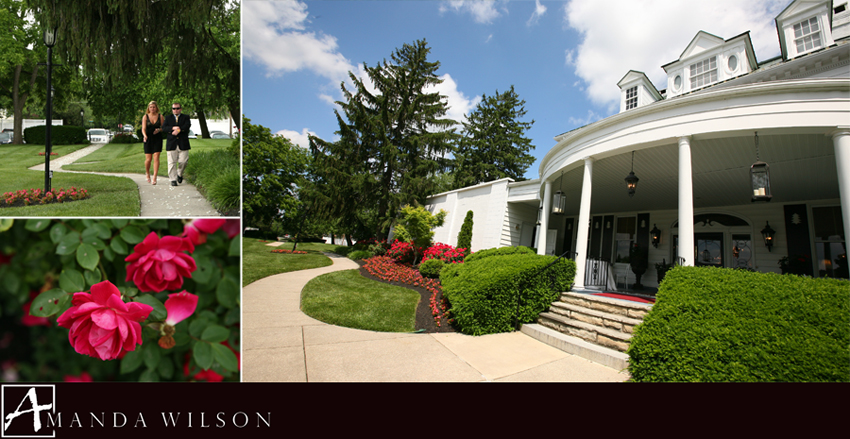 Deanna and the girls arrived shortly and her mom and sister helped her into her dress.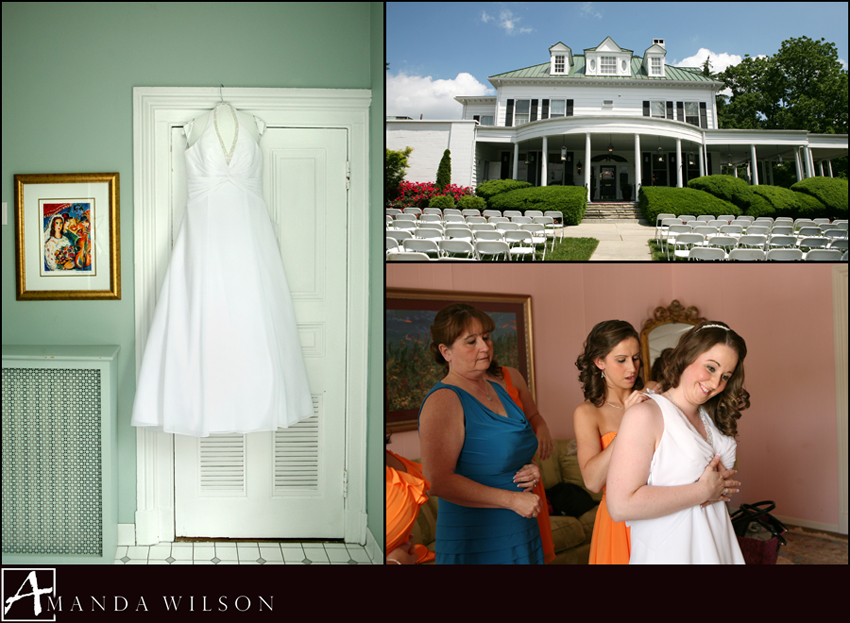 Image by Anna.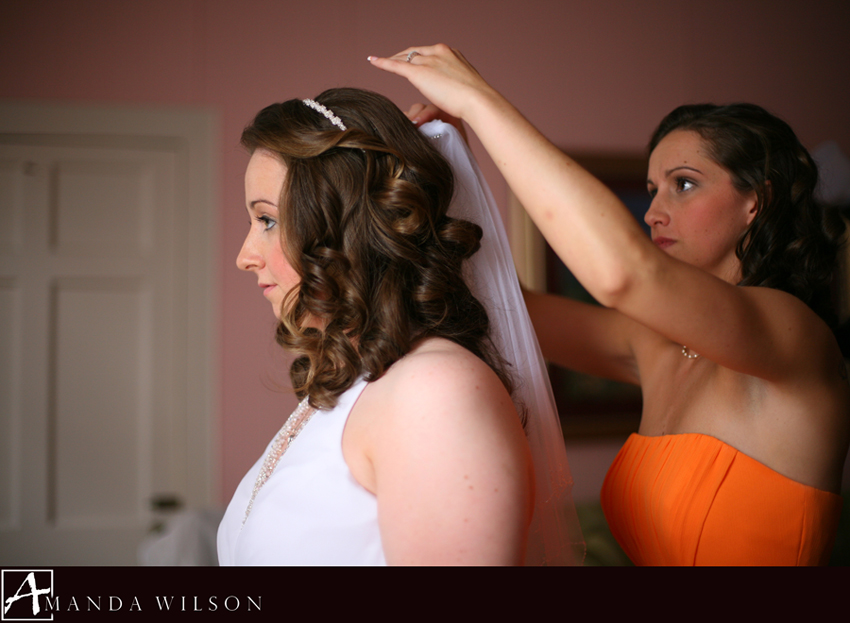 Smiling summer bride :)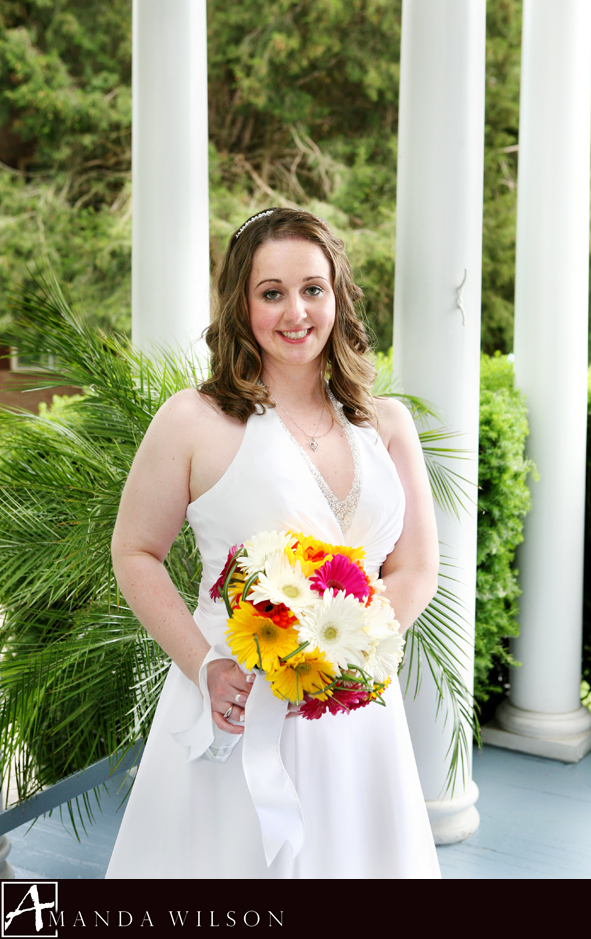 The ceremony was to take place on the steps of the huge southern style porch with the guests watching from the lawn. Just as they were about to start, dark grey clouds rolled in and everyone got out their umbrellas. Sadly, Deanna's Dad had passed away and was not able to walk her down the aisle. To honor his memory, and as a way of keeping him close to her heart, Deanna chose to wear her father's shoes as her brother took her arm and escorted her to the ceremony. It was a beautiful gesture, and in a way her Dad did walk with her that day. Her own silver glittering wedding shoes waited for her at the end of the aisle, and when her brother gave her away, Wayne knelt down and placed her heels on her feet before leading her up the stairs.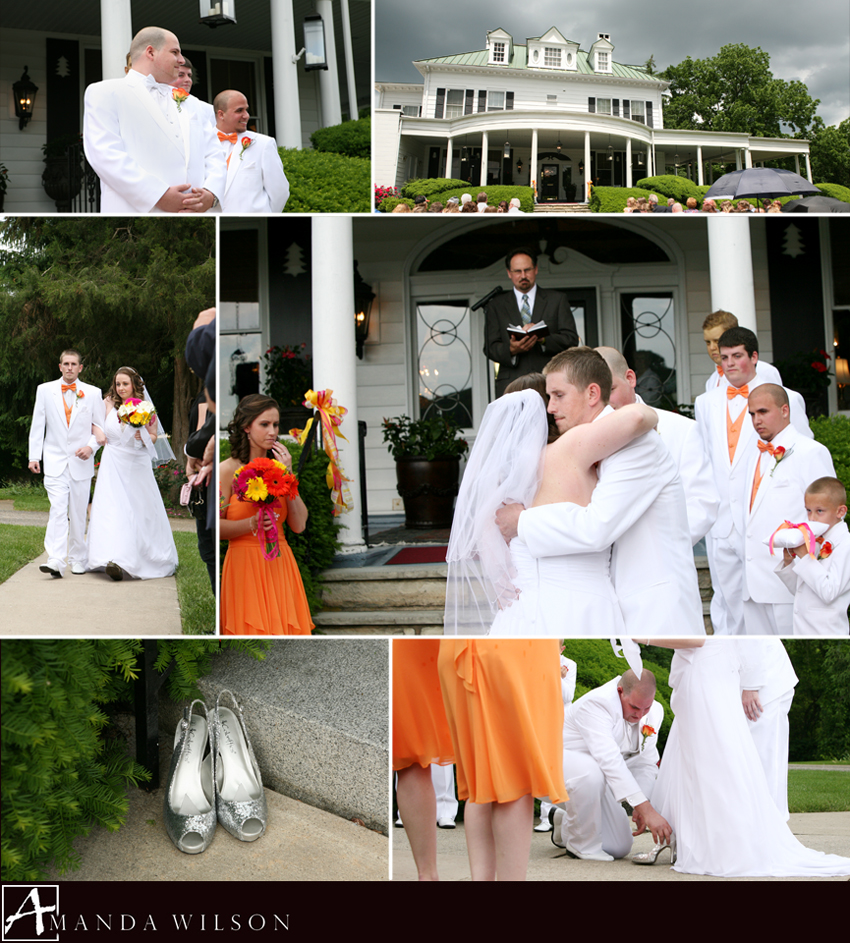 At one point during the ceremony, it began to rain BIG drops and we took cover under a patio umbrella and a pine tree at the back of the aisle. The officiant jokingly asked the audience if everyone was ok and then continued :D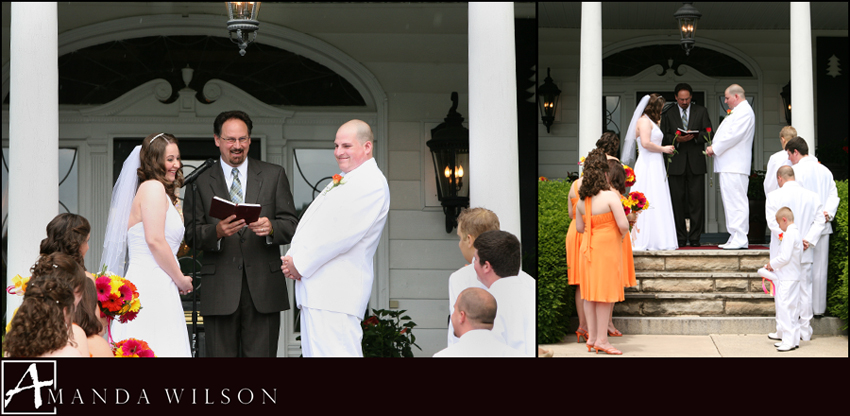 The rain cleared up as quickly as it began and we got some shots of the new husband and wife in the roses.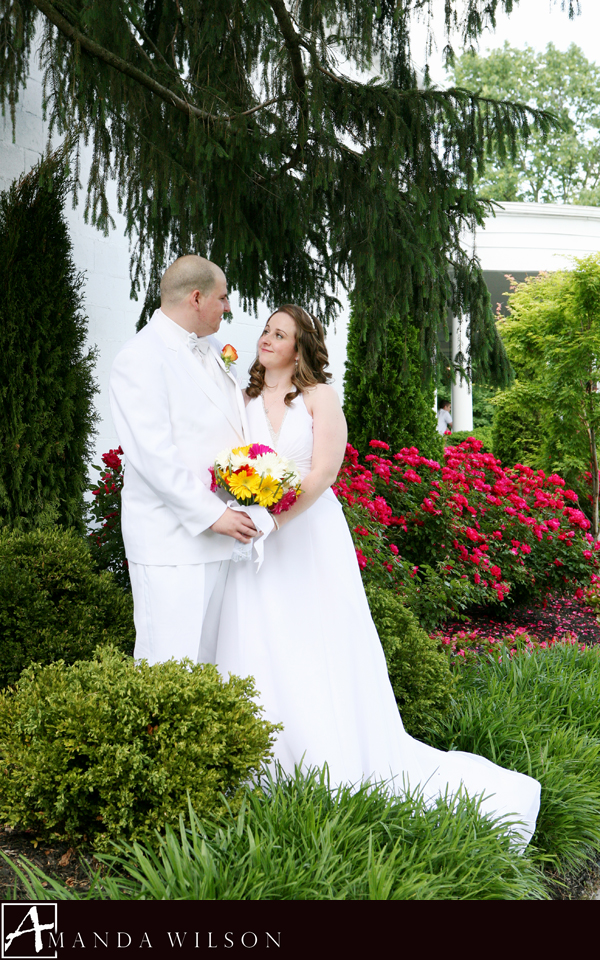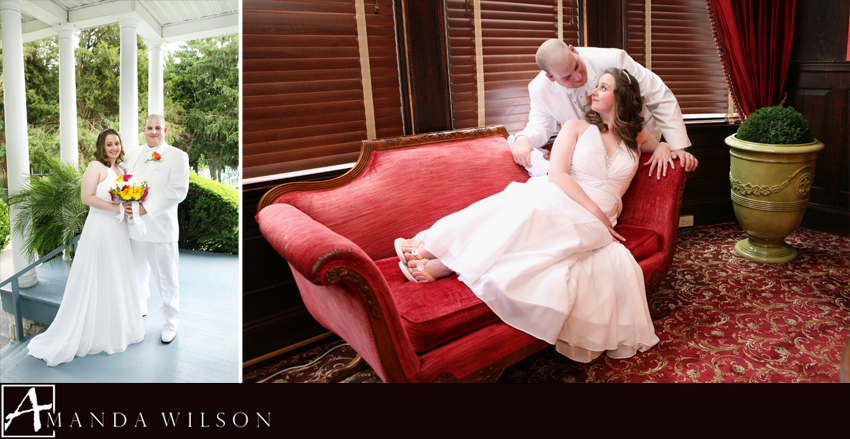 Image by Anna.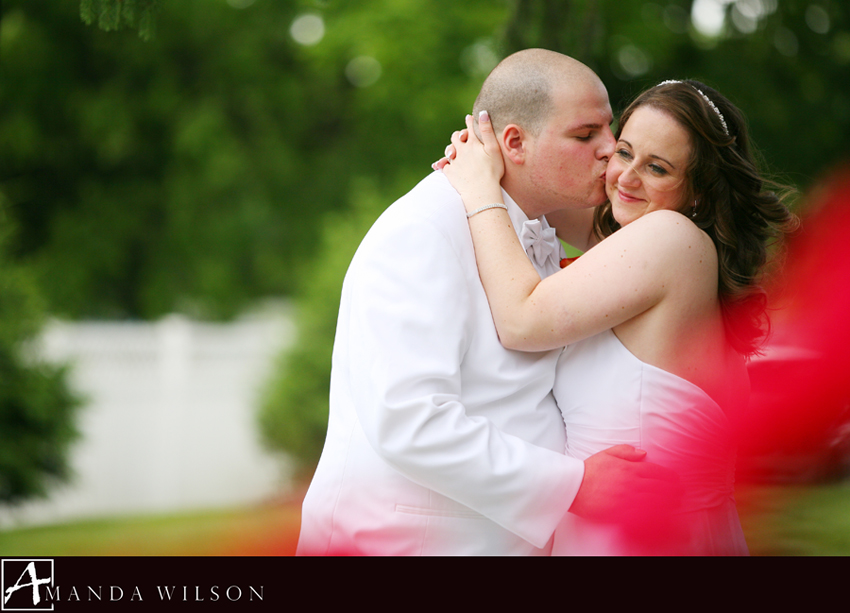 The staircase at Valley Country Club was gorgeous!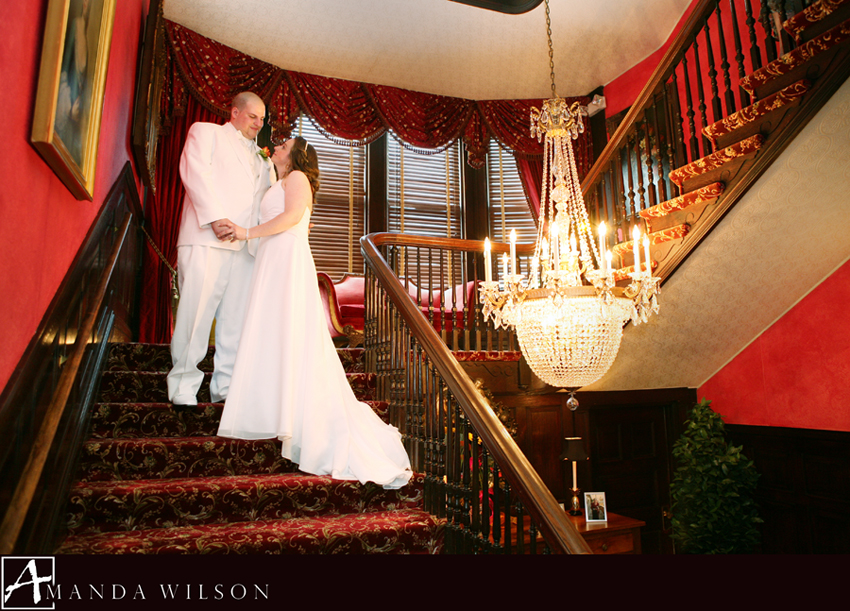 Their reception was a mix of southern charm and playful brightly colored details.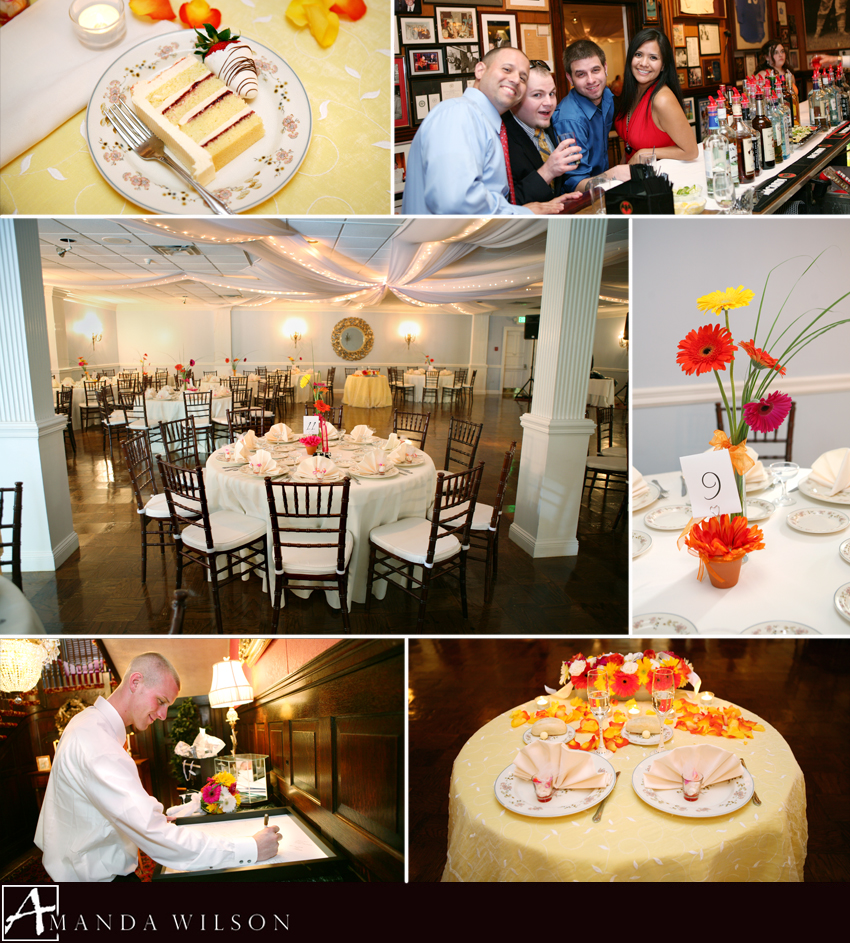 Things got crowded when they cut the cake!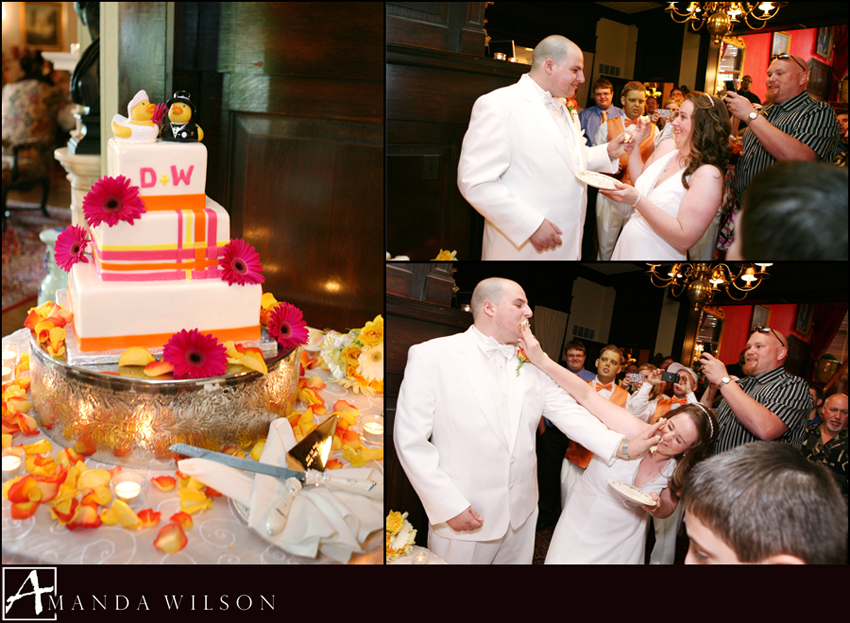 Deanna tossed her bouquet over the railing from the landing of the stairs!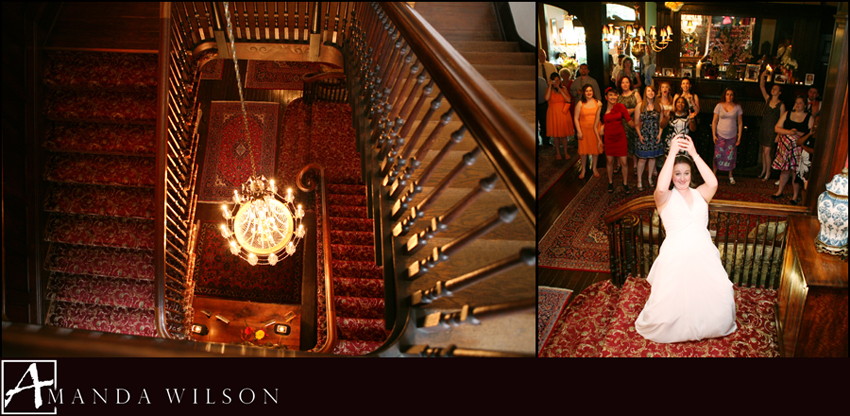 Right image by Anna.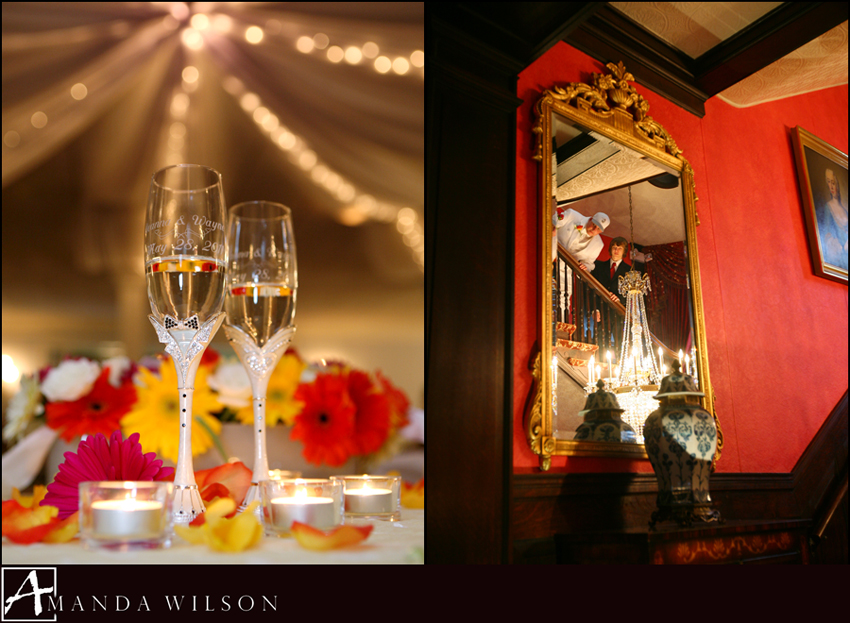 A year goes by so fast! Here's to many more happy celebrations!
---
Ceremony & Reception Location: Valley Country Club
There's something about the way the light hits on a warm evening in the summer. It's timeless, taking us back to fishing trips, and days at the beach, ice tea on a porch swing, and summer concerts. Photographers quietly refer to this as "magic light" and we are always searching for it. The hour between sunset and dusk is where it lives, (or very rarely when the sun comes out underneath dark storm clouds), when it touches the ground - it makes things glow. Like magic.
Jenna and Josh just so happened to have such a night for their engagement photos at Blue Spruce Park in Indiana County, Pa. I actually got lost on the way there. The bridge was out on the route my gps wanted me to take, so I ended up on what seemed like a 30 mile detour through the farmland surrounding chambersville and creekside, Pa. It was the best back road detour I've been on in a long long time. Miles of gravel roads through green pasture land passing farmhouses along the way. Around another bend, Stern's Soft Serve ice cream in Creekside! Finally, I reached the park where Jenna and Josh were waiting :)

They are such a great couple! We wandered through the park laughing and enjoying the great weather. You can tell that secretly they are crazy about each other in a tell-our-friends-we're-too-busy-to-go-out-and-stay-home-and-watch-movies-together-instead kind of way. The kind of love you only find when you've found your best friend.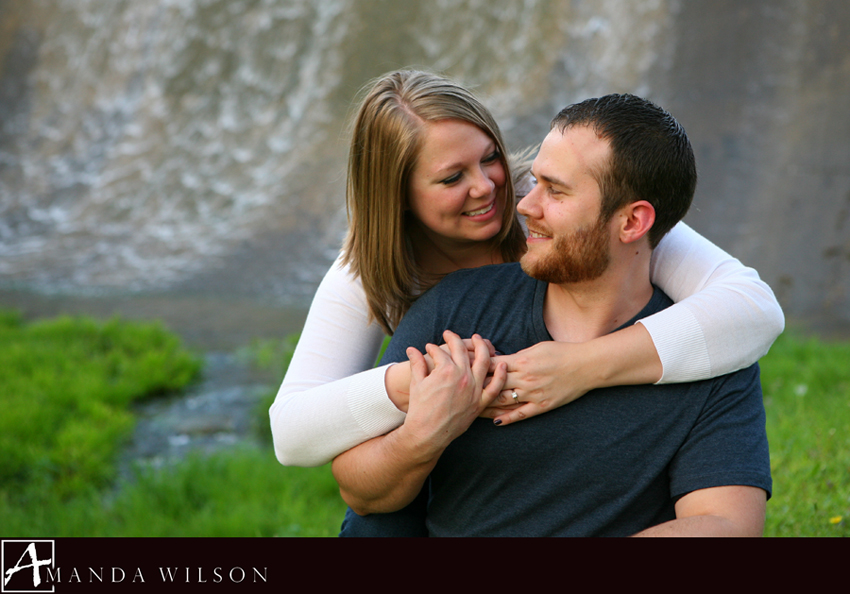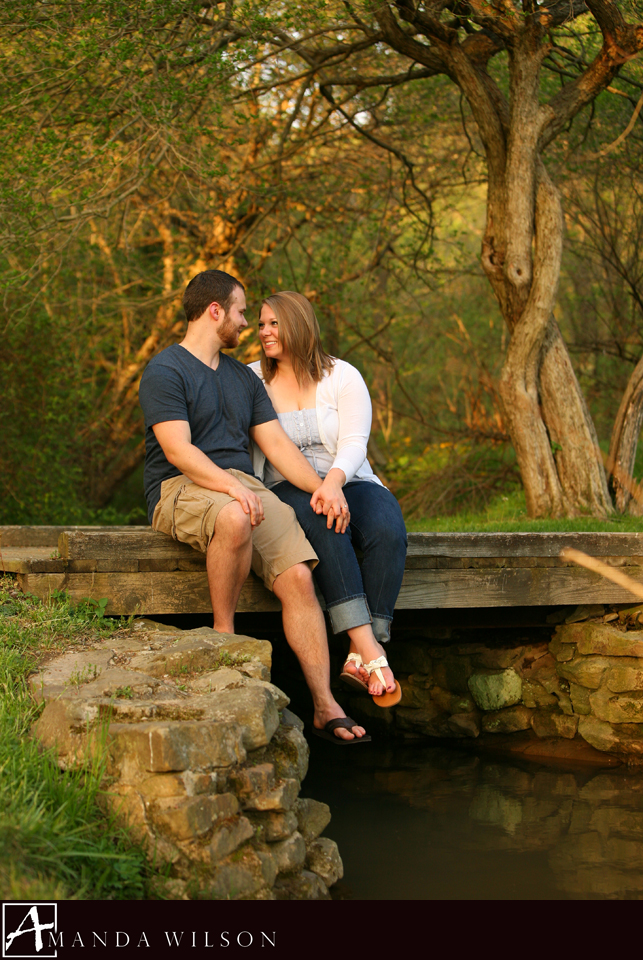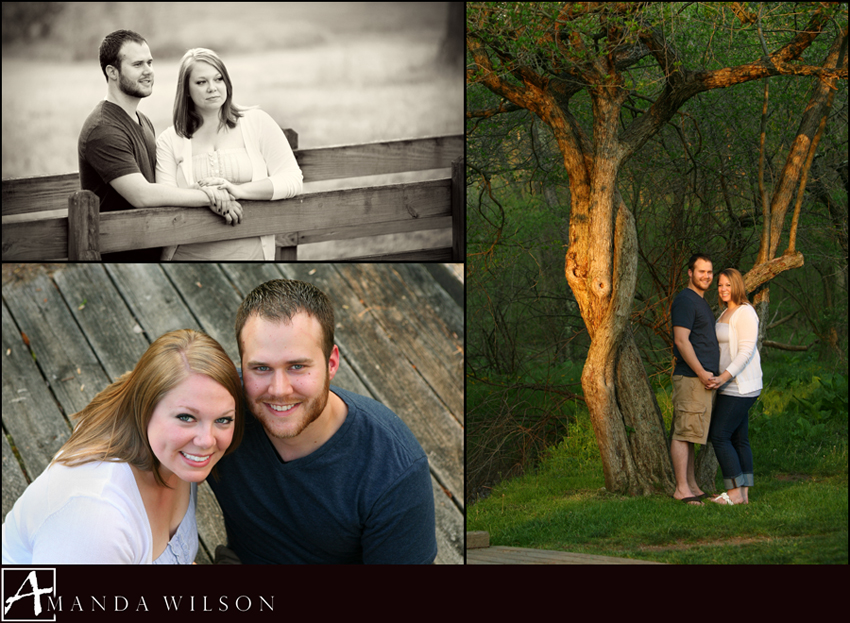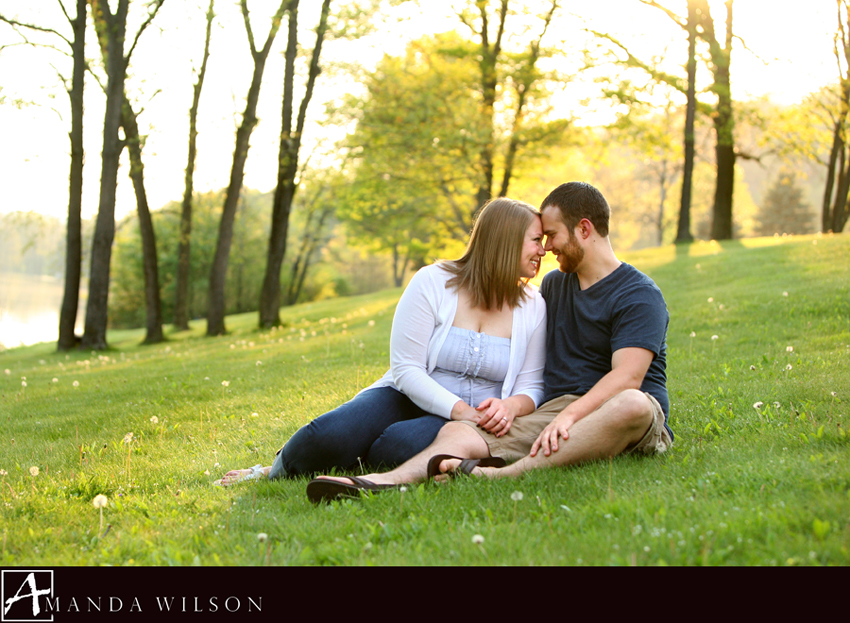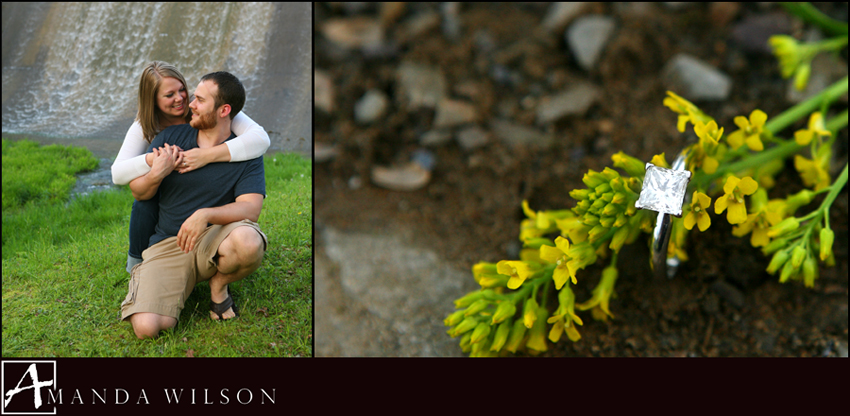 They're tying the knot in June this year and I can't wait to be there !!
I hope the summer sun shines with just as much magic on that evening as it did for this one :D
If you folllow the blog, you'll recognize the Briley family ! In 2009, I was privileged to photograph Minda and Brett's wedding at Lingrow farm, then last year we took some photos to comemorate the next step in the journey of this little family as they awaited the birth of their first baby. A few weeks later their daughter, Reidun, was born. Since then we've hung out in their backyard in the summer, been to a pumpkin pach in the fall, and now exploring the jungle!
If you're suffering from the winter/spring rainy day blues, the best place to experience summer all year long in pittsburgh is Phipps Conservatory! It was Reidun's first visit and she loved it! There are lots of activities for kids in the discovery garden.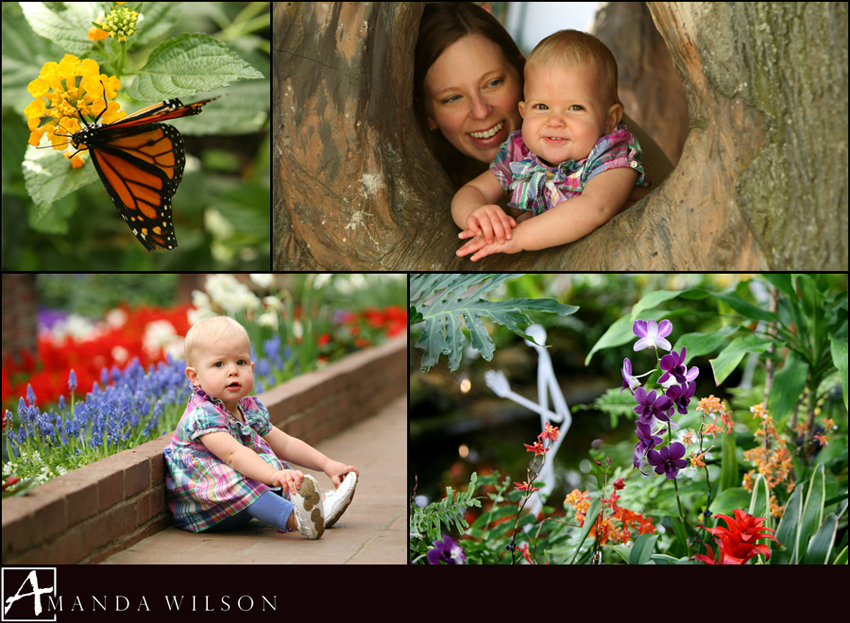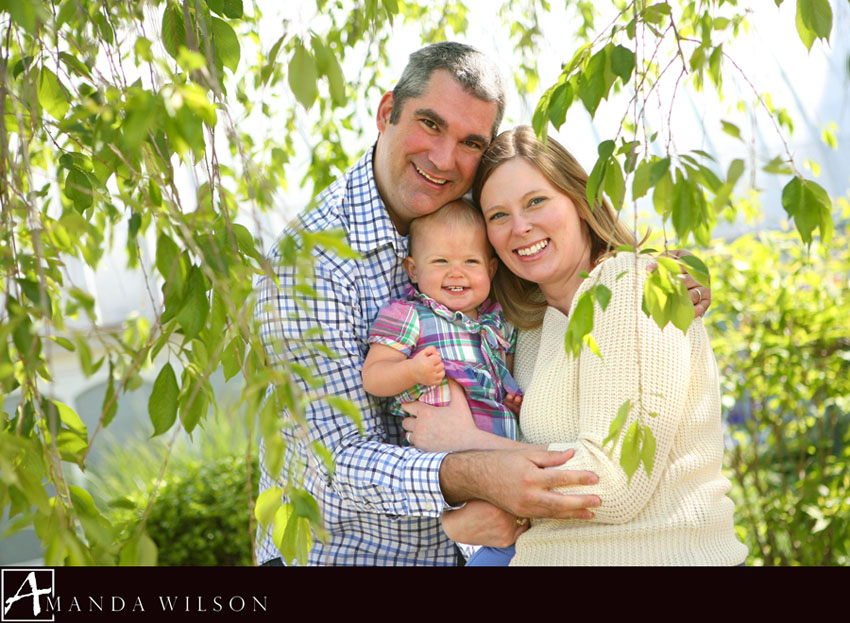 After pressing all of the buttons for the water fountains, we needed a goldfish break :)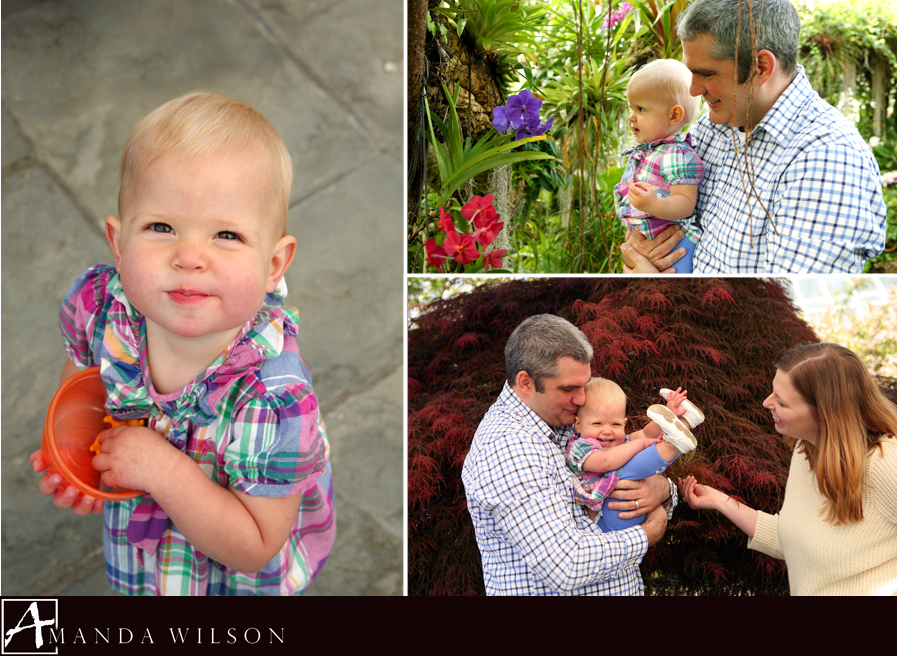 Everyone had a great time exploring the orchid room, watching butterflies hatch and flutter around, and 'grocery shopping' at the kids' farmer's market!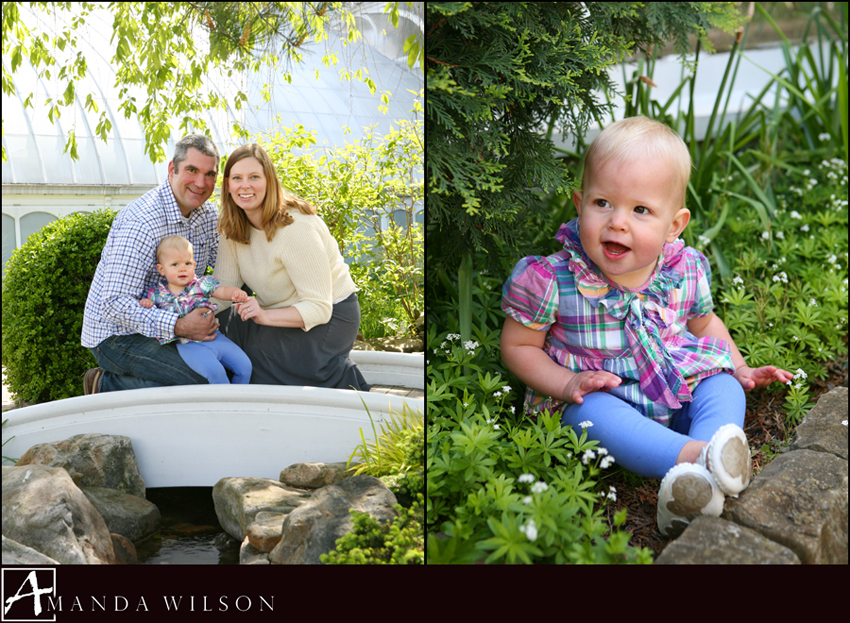 It was a pleasure as always to hang around with the Briley's :D I can't wait to do it again!
(**Special thanks to Brett's mom who provided phone support!! **)
Happy Mother's Day everyone!!
Heather and Nick are the cutest couple! If you need more proof, check out their engagement session by clicking here . From engagement photos on a train, to the vintage details and family photo collection at their reception, there was so much thought and love put into every aspect of their wedding. At the end of the ceremony when they were pronounced husband and wife, they turned and grinned at each other walking up the church aisle to "Our Song" by Taylor Swift. If you think that's adorable - it was :) But that was later in the day, so let's start this story at the beginning.
It was actually snowing when we arrived at the salon to meet up with the girls. They were almost finished with hair and make up and one of the flower girls, Heather's niece, Kadence, was having a fantastic time with all of the ladies at Fashions A Head in Leechburg. (They are a great bunch of gals there!) After hair, everyone got their make up done and it was time to get to the church!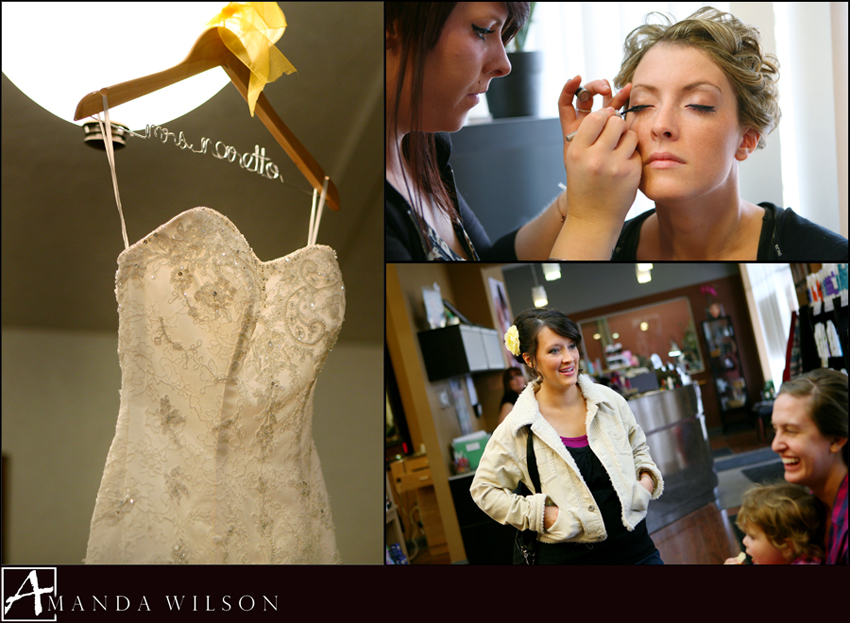 Heather's big sister, Connie went to high school with me and now is Mom to two of the most precious little girls you could ever meet. Lyric woke up from her nap just in time to get dressed up and be the littlest flower girl for her Aunt Heather's big day. Such an important milestone for someone only 7 weeks old :D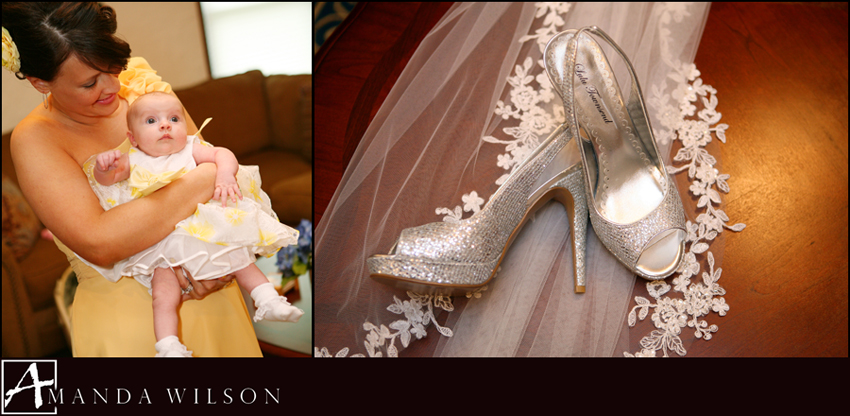 The snow changed to rain that ran down the window while the girls stayed tucked away in the bride's room at the church getting ready. Heather brought this mirror from home for this photo - both her sister and her mom have the same photo with this mirror on their own wedding days.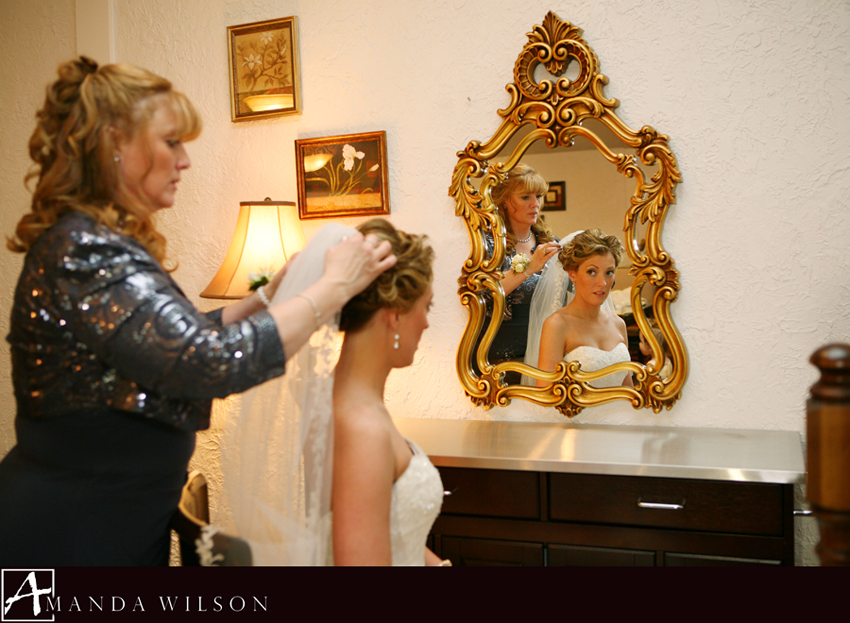 Nick and the groomsmen arrived on the motorcoach between raindrops. They modeled their socks for us.
Right image by Ashley.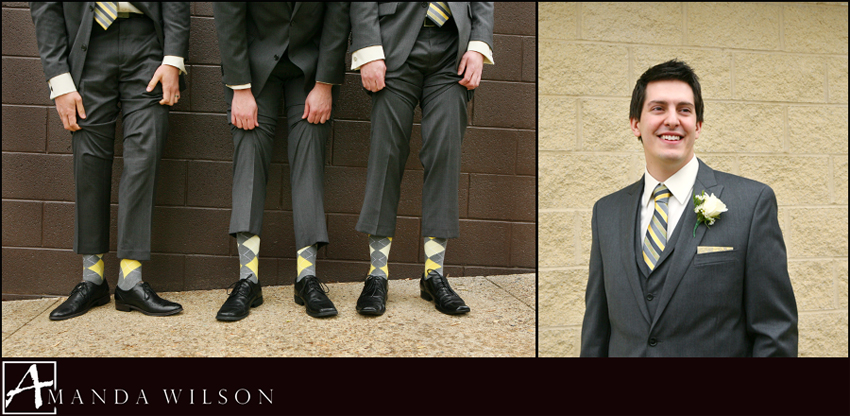 Their ceremony was simple, sweet, and full of joy.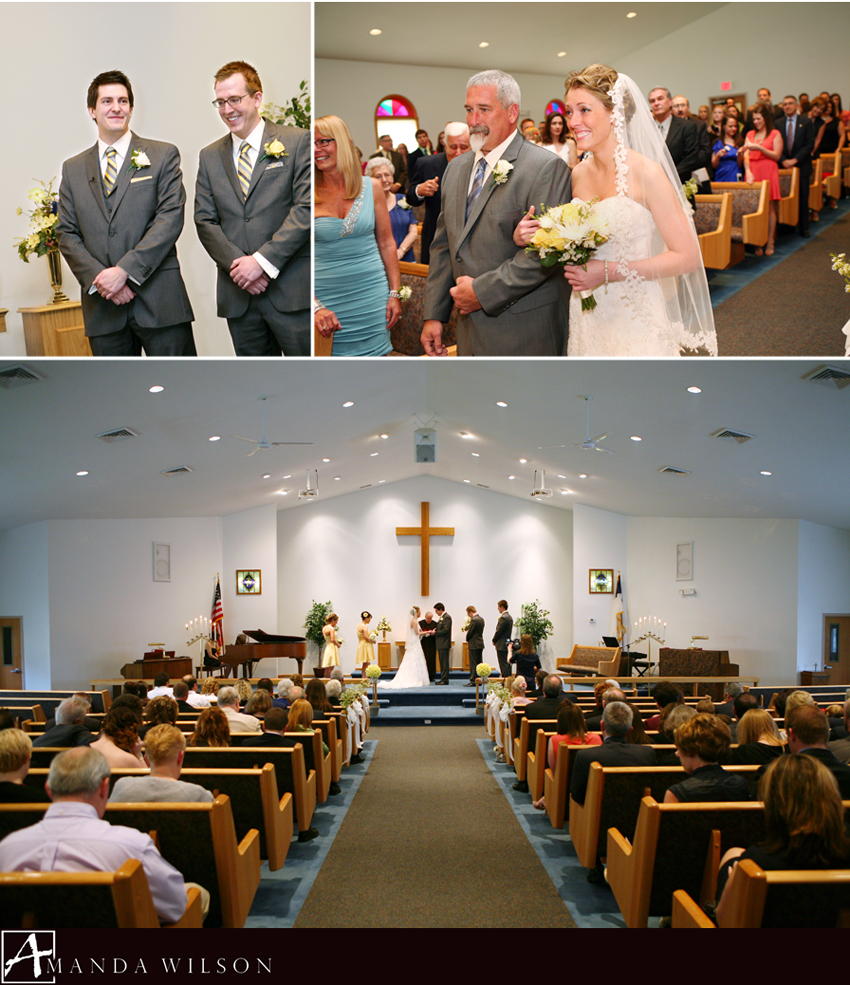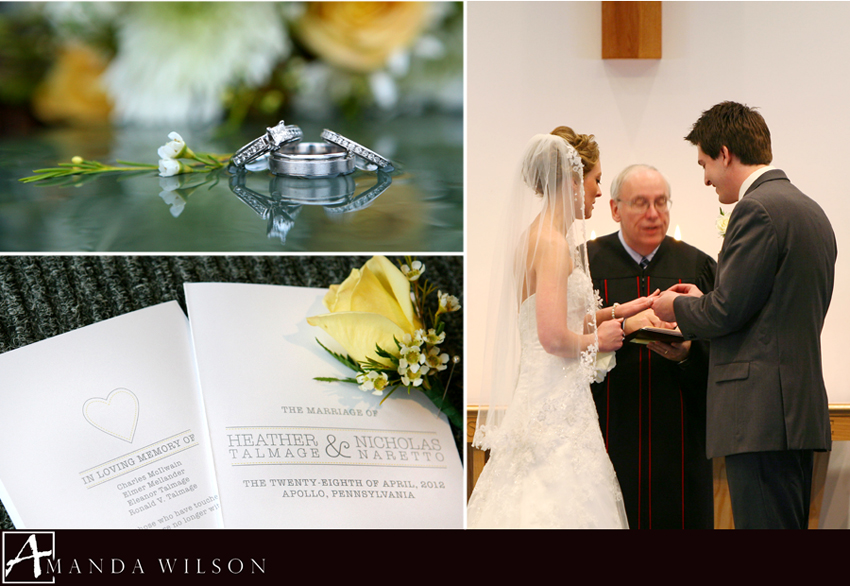 Married !!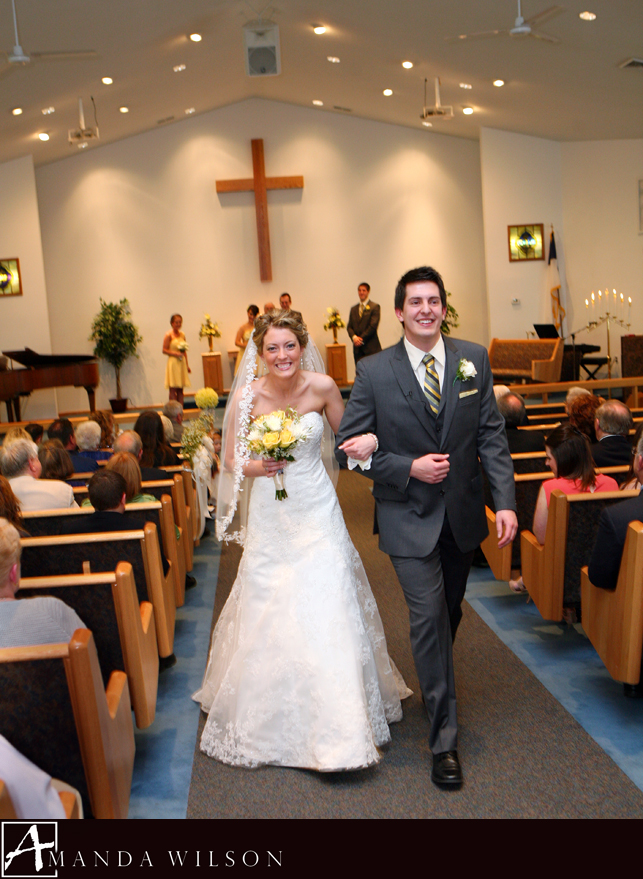 Heather was more than beautiful this day - on her wedding day, she shined :)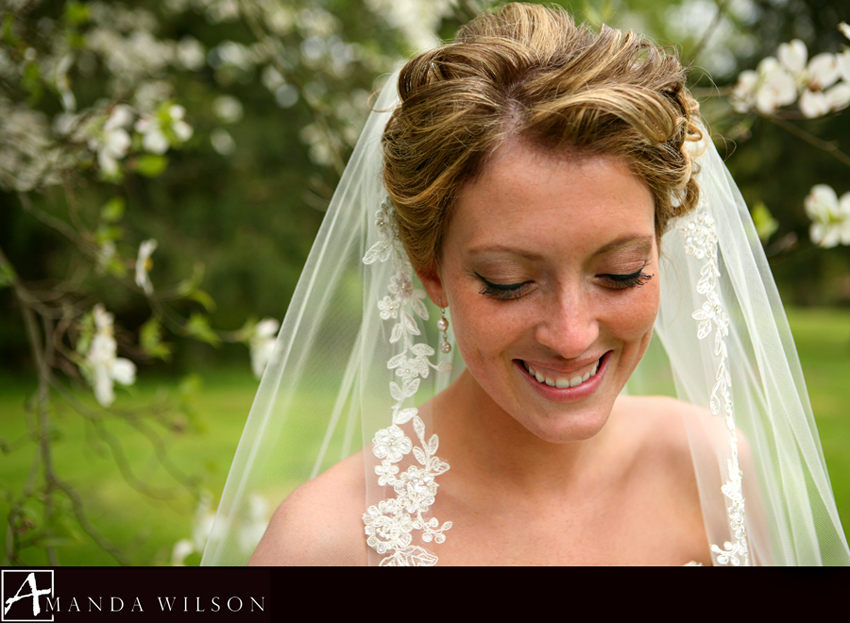 We totally lucked out! After the ceremony, the rain let up enough that we were able to get some outdoor photos with the wedding party who braved the cold and the squishy grass! Big shout out to Amber from aroseproductions.com for her mad video skills and for being so fantastic to work with. (She promised not to film me when at one point I was almost flat on the ground in the muddy grass reaching for just the right angle! She also promised to dub music over top of all of my bad jokes!)
Center right image by Ashley.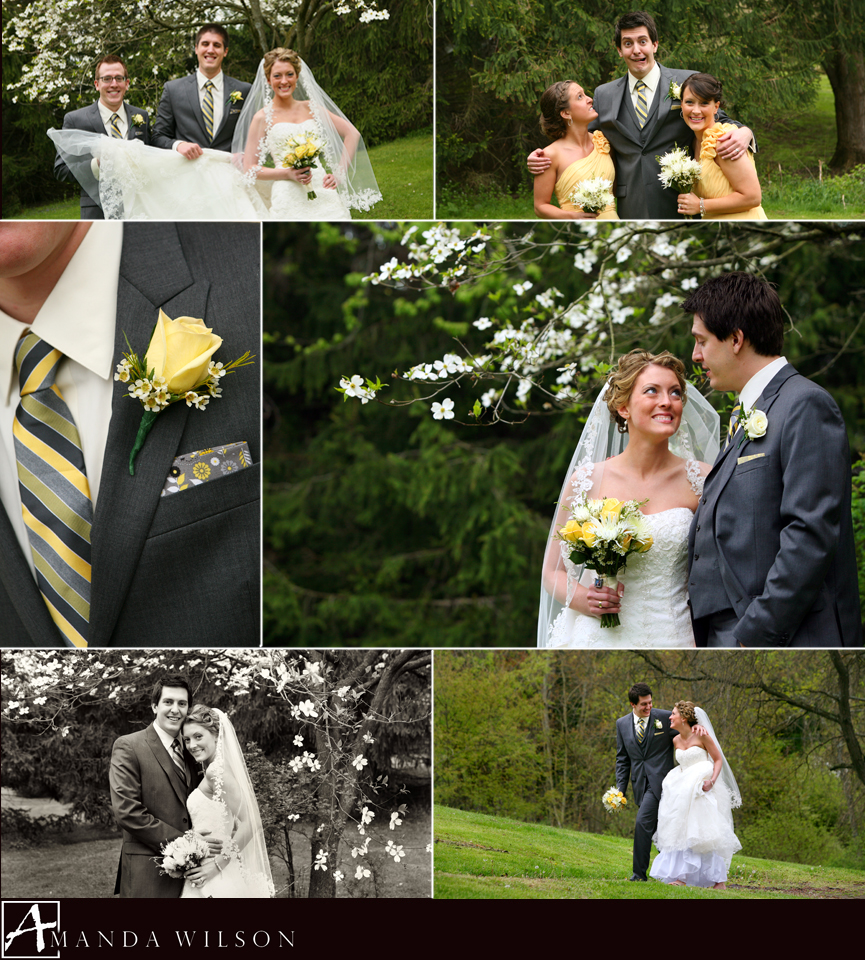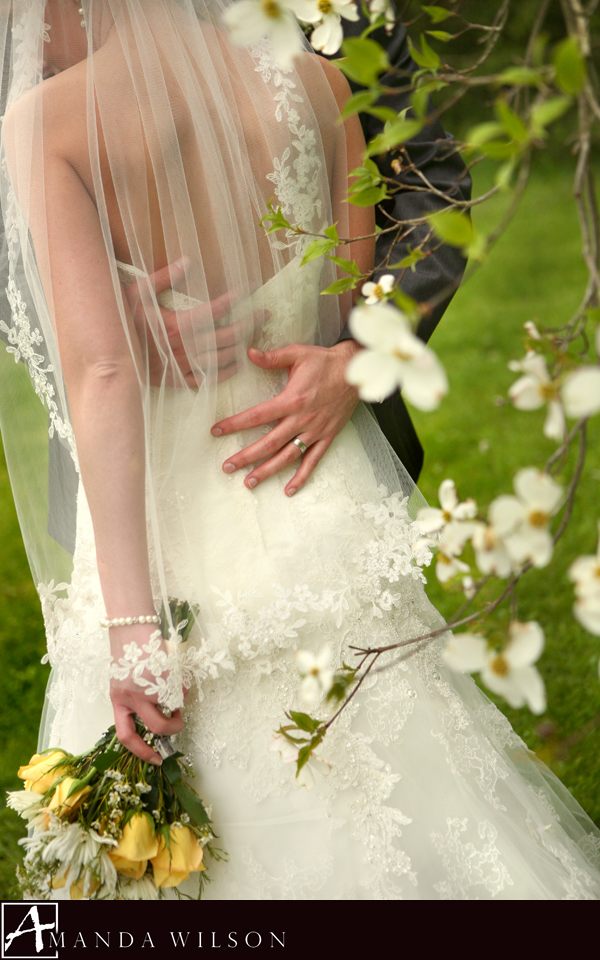 Love this shot Heather picked out from Pinterest. Pinterest is such a great place for wedding planning.
I love the image on the left that Ashley caught when Nick raised his hand to salute Heather while I was switching memory cards. That's Nick's brother, Joe, "stealing a kiss" from Heather through the picture frame.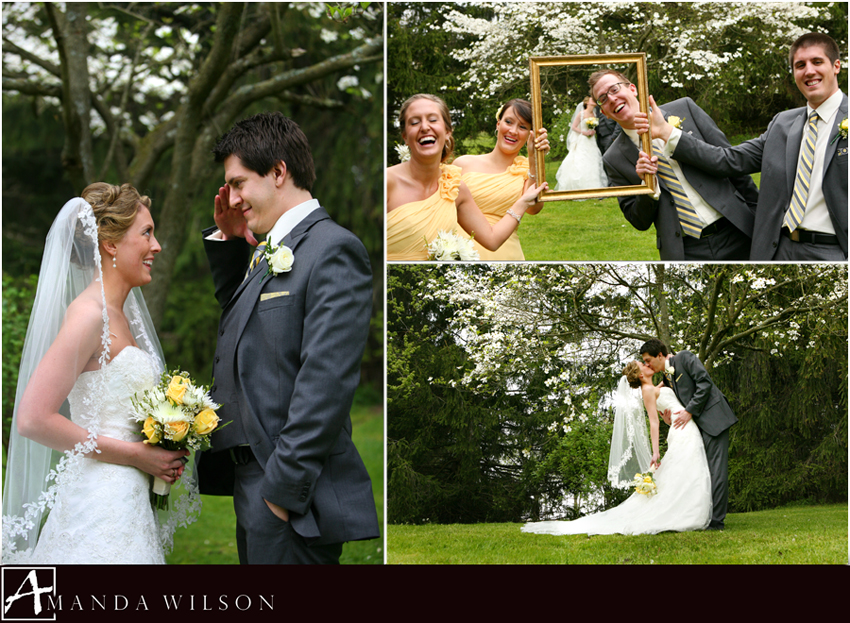 Image by Ashley.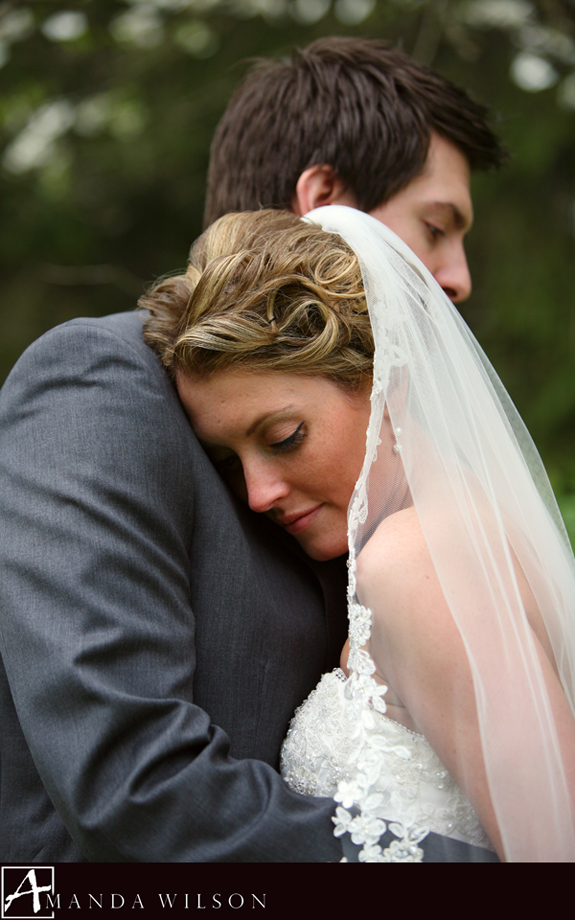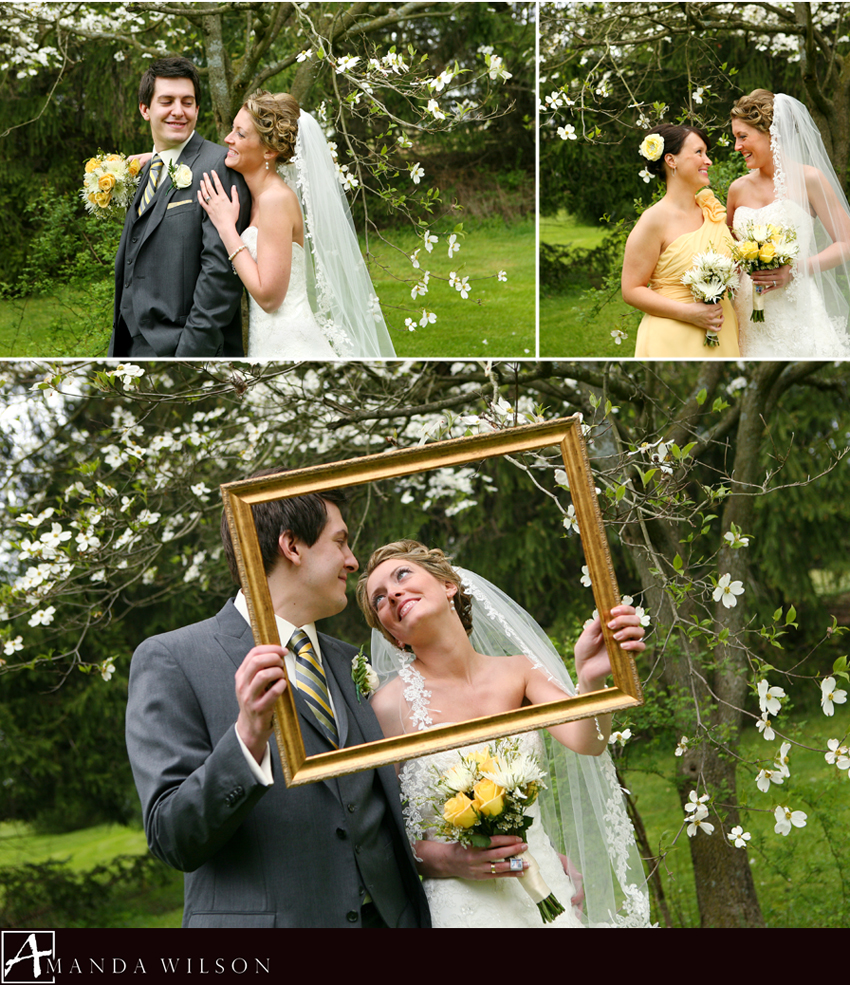 Once we got the bus turned around, it was off to Futules Harmar House in Cheswick for their vintage chic yellow and grey reception. The tables were decorated with blue mason jar centerpieces made with spider mums courtesy of Leechburg Floral. Guests enjoyed smores cupcakes and everyone received a plastic drinking cup with Nick and Heather's monogram which came in handy throughout the evening ;-) I also loved that they used their engagement photos to make a photo guestbook!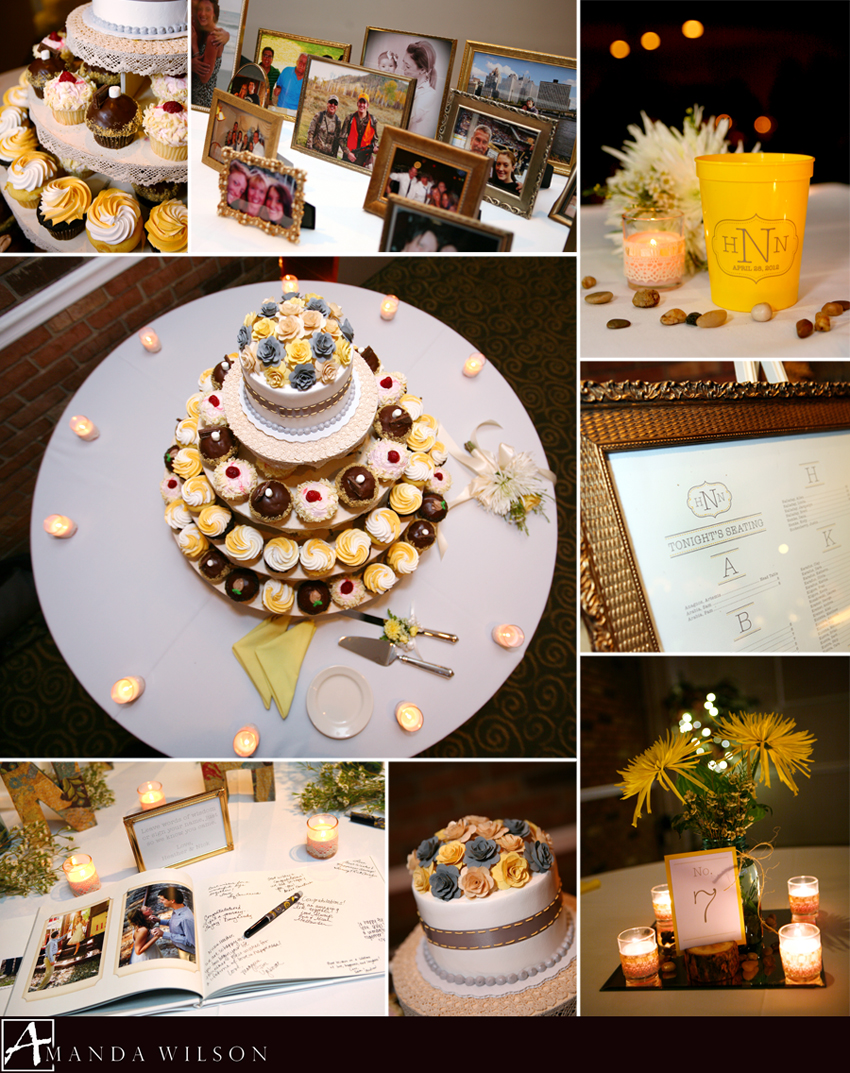 First dance :)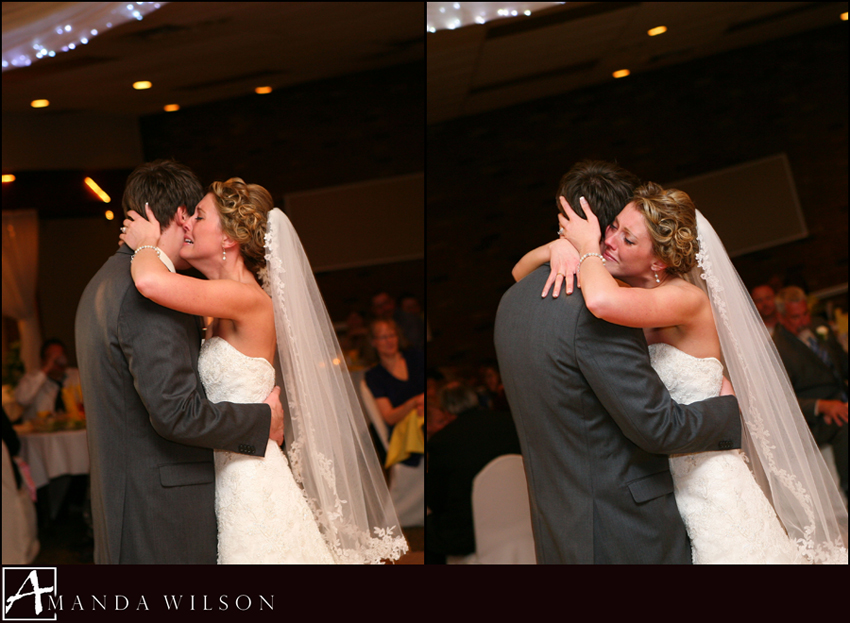 Cookie tables are a tradition in western Pennsylvania (I seriously feel bad for all the underprivileged out-of-staters out there). This was a cookie table of legend. The ladies at Leechburg Floral really outdid themselves this time by bringing in antique suitcases, cigar boxes, trays, tins, baskets, and mason jars to bring together Heather's vision for her themed cookie display. **Vicki - I have no idea how you're ever going to top this but I CAN'T WAIT to see you try!!**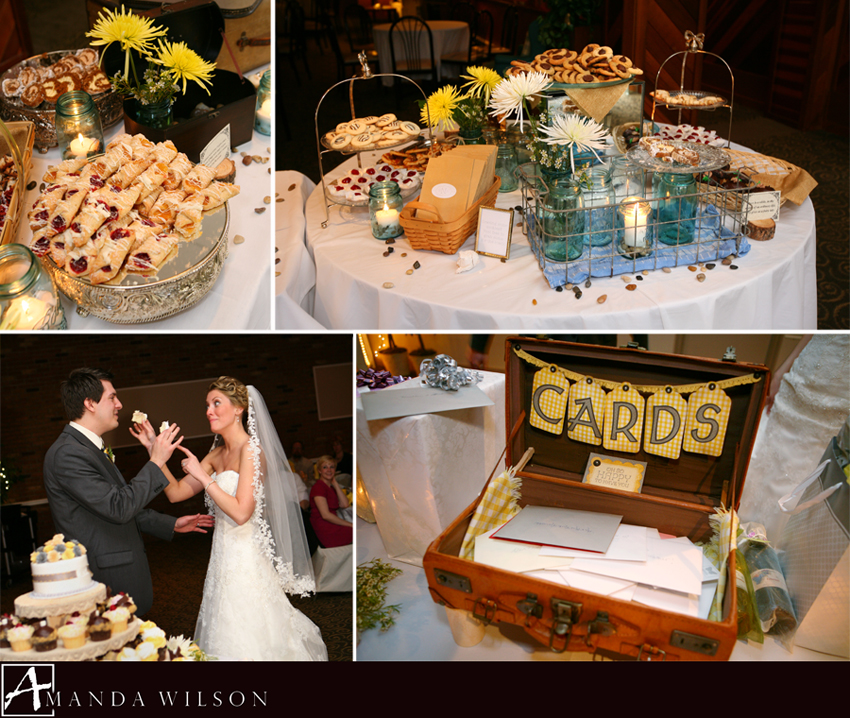 For the wedding, I really wanted to tie in their engagement photos and scouted a spot for us to get some shots on the railroad tracks. Heather and Nick got 1,000 bonus points for hopping in the cars and heading down the street mid-reception for some romantic photos in the rain.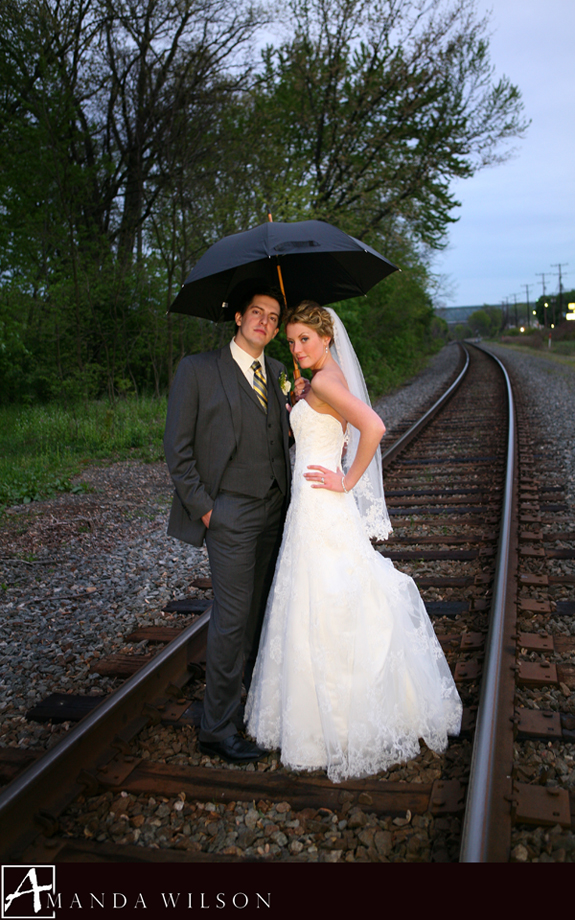 Left image by Ashley.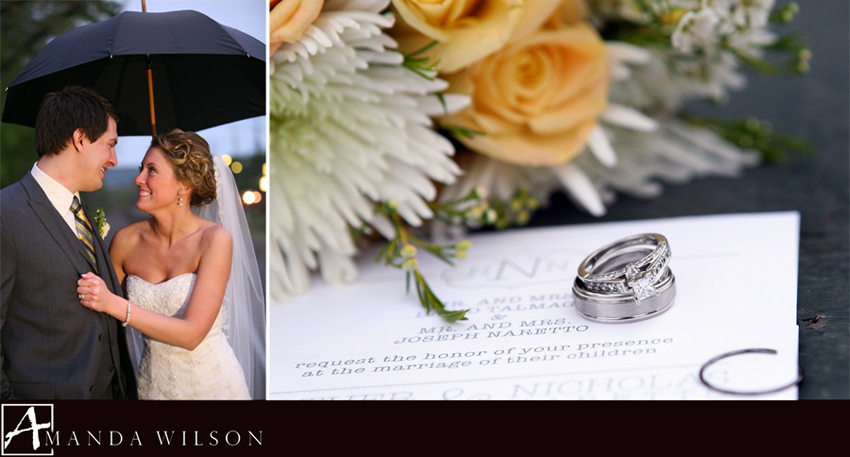 When we returned to the reception, Heather shared an emotional dance with her Dad to Edwin McCain's "Walk With You." The rest of us said silent thank you prayers for auto focus as we blubbered behind our cameras.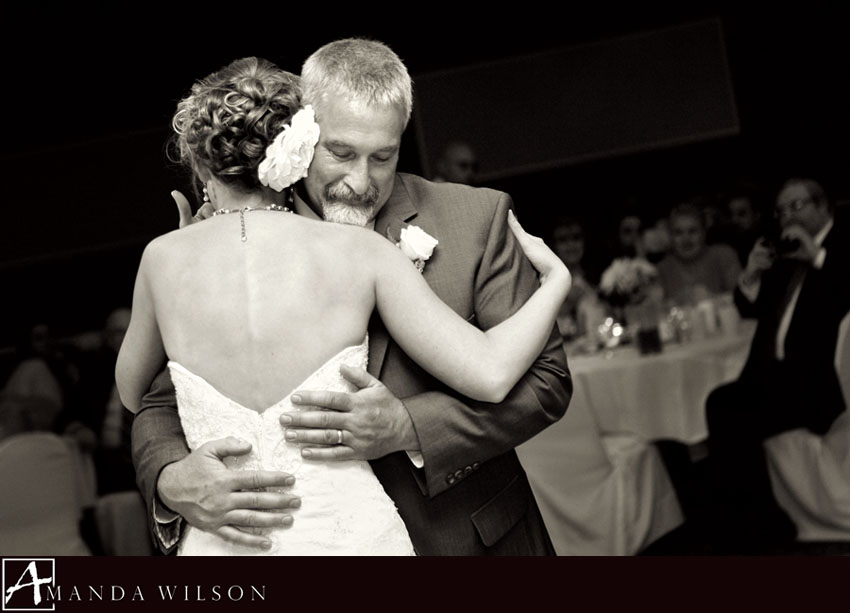 The party really kicked off later on - and I can sum it all up in one word:
THUNDERSTRUCK !!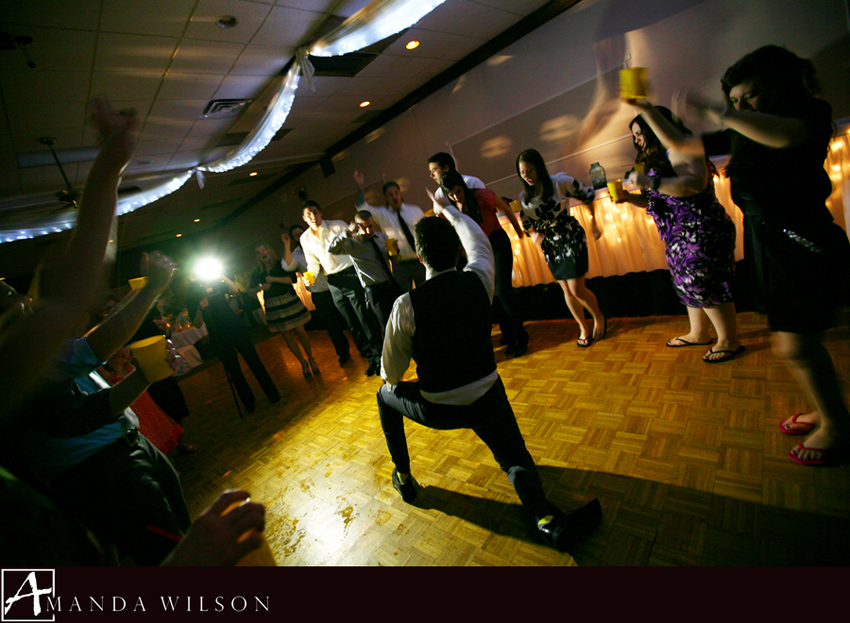 Congratulations Nick and Heather on your wedding, your new house, and all the wonderful memories that are still to come! Thank you for a fantastic start to the wedding season, I could not have asked for a more perfect day!
---
Ceremony location: Apollo Free Methodist Church
Reception Location: Futules Harmar House
Hair and MakeUp: Fashions A Head
Floral Design: Leechburg Floral
Videography: A Rose Productions
Entertainment: Greg McAtee
OMG it's May already.
The sun is shining, the weather is warm, busy season has kicked off - and I can't stop thinking about Montana.
The shot for May's calendar month is from our hike along Holland Lake in Montana to photograph Holland Lake falls. (More proof that sometimes the journey can be just as good as reaching the destination.) Located along the western edge of the Bob Marshall Wilderness, Holland Lake is a deep blue oasis in the mountains.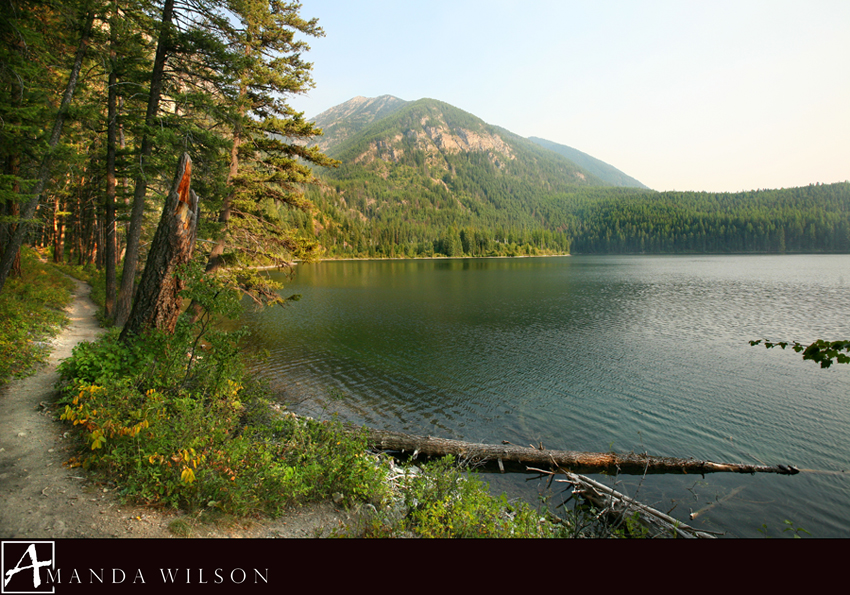 The Bob Marshall Wilderness, referred to by cool people as "The Bob", is 2400 square MILES of wilderness. No towns, houses, no roads. Just the land and the wildlife that calls it home - grizzly bears, moose, elk, and more.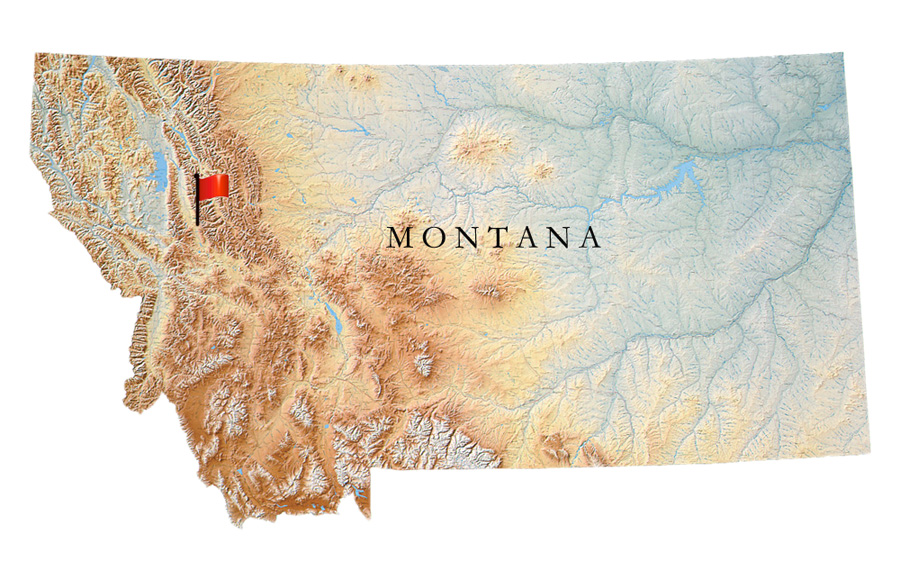 The hike to Holland Lake falls is a good story. Sean and I touched down in Montana via airplane and so we were not able to bring any of the safety items with us that are recommended for hiking in grizzly country. On our way in we passed a few people hiking out that were armed with bells, bear spray, and firearms. We were on our way IN with a camera and a water bottle. Sean was a little concerned for our safety. I mused over how awesome it would be to photograph a charging grizzly. (Other photographers can relate - we feel invincible behind the lens as though the camera makes for a shield. I've been face to face with bears, snakes, steep drop offs, dangerous heights, icy rivers, etc and all that matters is getting the shot. But take the camera away and my 'bigness' is threatened.) It's good for me that when I'm leaning too far over the edge Sean is almost always there and holds onto the back of my jeans while I dangle precariously. I can remember another instance where I was flat on my belly in the tall grass shooting a poisonous spider as it fought with a daddy long legs a few inches off the end of my lens. I was admiring what a beautiful creature of nature it was - all the while Sean stood overtop of my shoulders holding a big stick with instructions that if the beautiful creature of nature suddenly made a leap for my face he was to kill it. Kill it dead.
Lucky for us, we didn't encounter any dangerous wildlife along our hike to the falls. Although I nearly passed out from dehydration (another story entirely). When we reached the falls it was worth it, and we were greeted by 3 of these little guys. They looked exactly like the chipmunks we have here in PA just twice as big. They were friendly and clearly used to getting handouts from hikers. I fed them our peanuts from the airplane. (Sean was convinced I had doomed us death since the airplane peanuts were all we had to sustain us should we become trapped out in the wild and I had the nerve to feed them to a rodent...)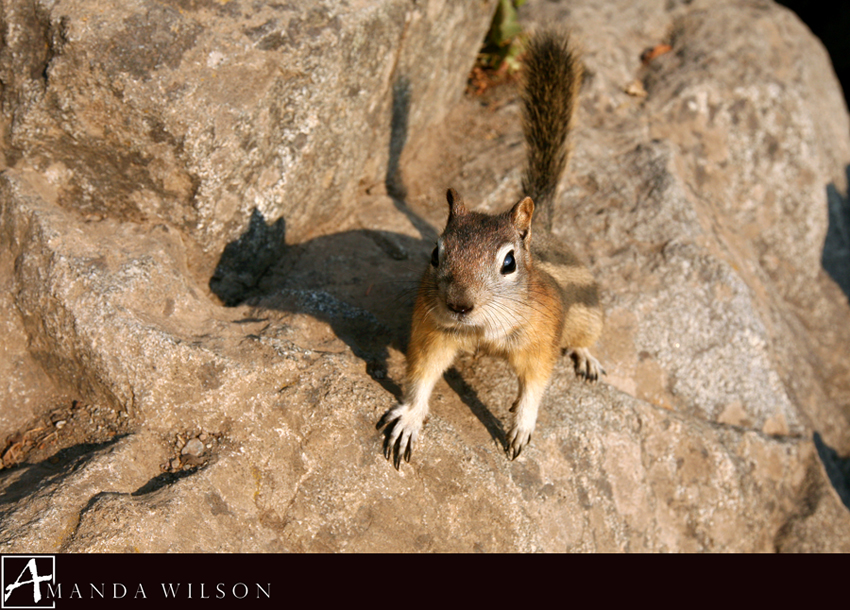 May is a great month to GET OUT ! See your home state, take pictures, make memories, visit your local parks, interact with wildlife!
Just don't get eaten by bears....or Sean will be all "I told you so".