Madelyn was worried when the sky opened up and poured rain on the parking lot of the salon in somerset where the girls were having their hair done. A quick call out to the guys setting up at Penn Scenic View put our fears to rest that over the mountain it was sunny and beautiful. The rain didn't sit still though. When we made it out to the lake lodge, it followed us and washed the dust from edges of the dirt road.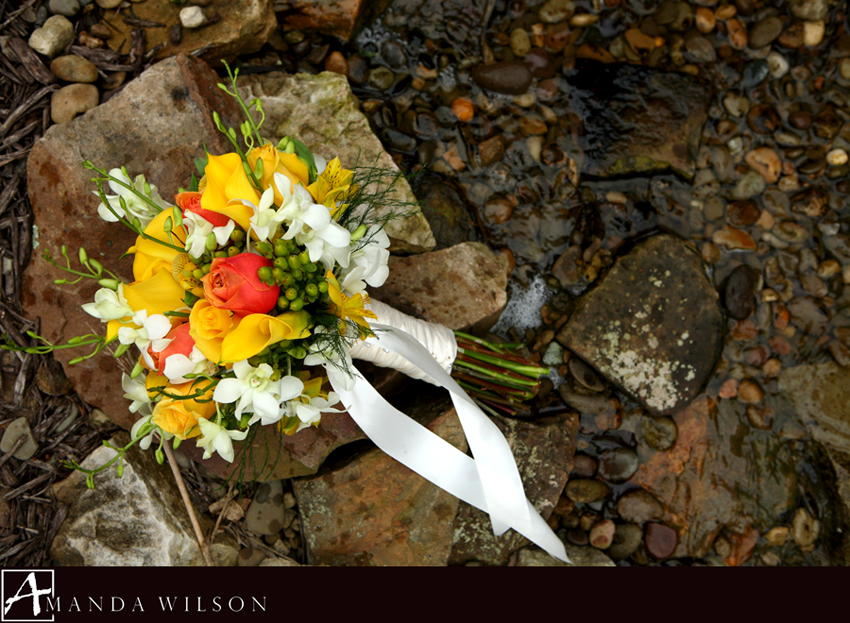 The girl's got dressed in the Hemlock cabin. It was almost time for Madelyn and JR to see each other for the first time. They had agreed to meet at the top of the hill at the look out, but the rain threatened to keep everyone inside.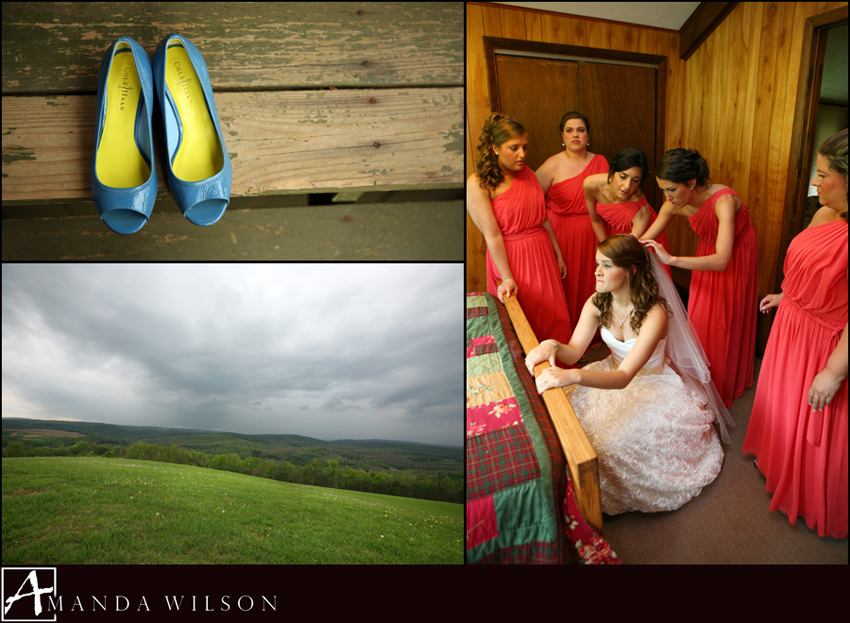 If you saw their engagement session, you'd know that they are an adventurous couple. So they said - heck with the rain and headed for the lookout. JR waited as the girls took Madelyn to the edge of the hill and then he turned to see her for the first time in her wedding dress.
Top left and middle right image by Dana.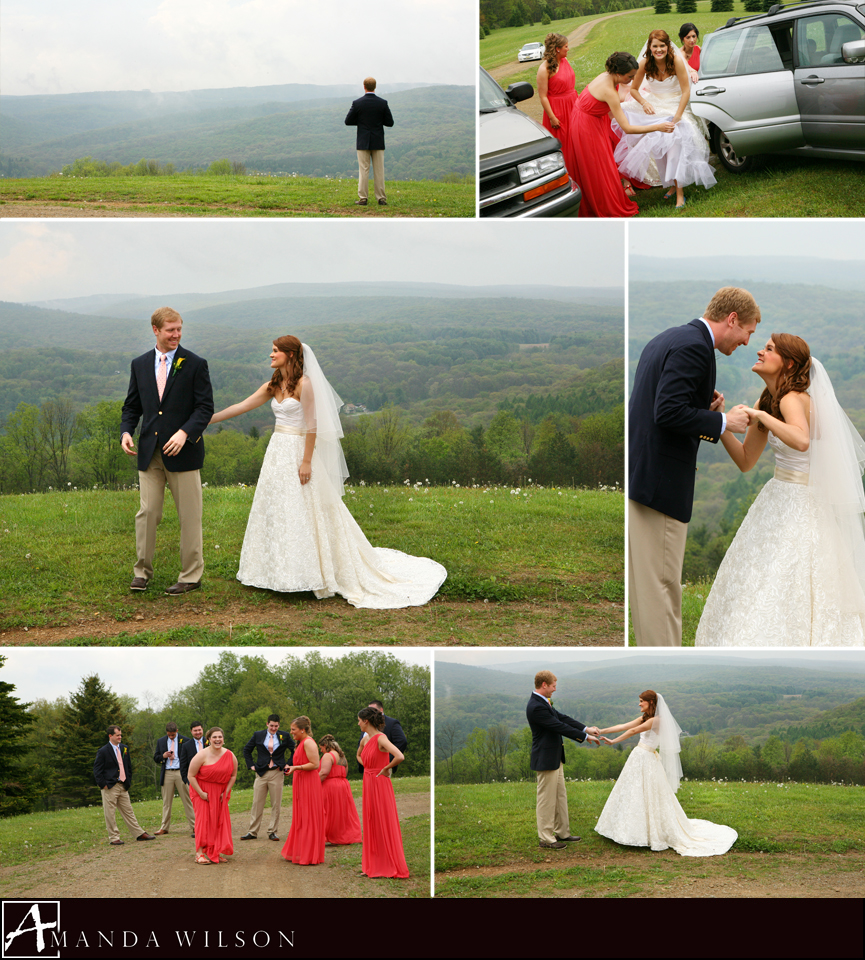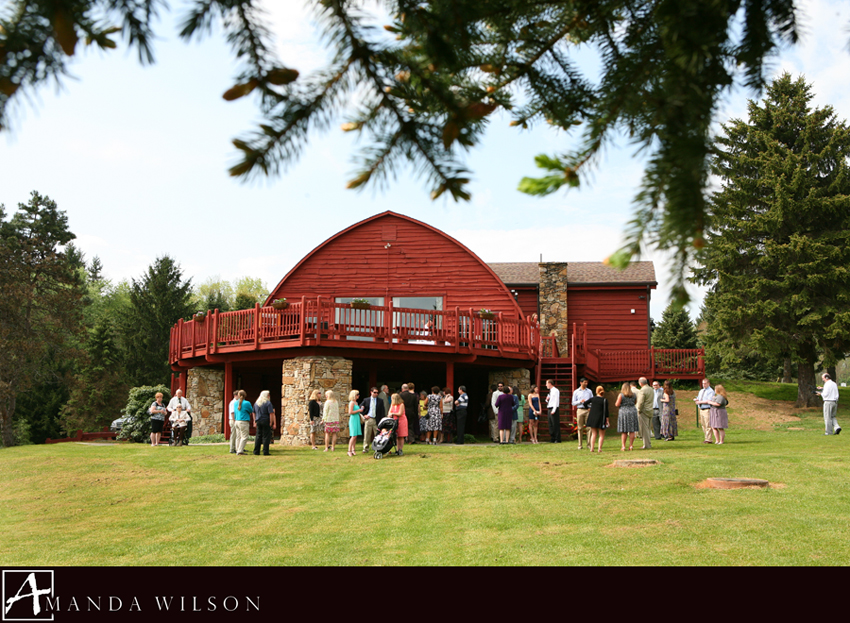 Guests sat at the edge of the lake to watch their ceremony by the water.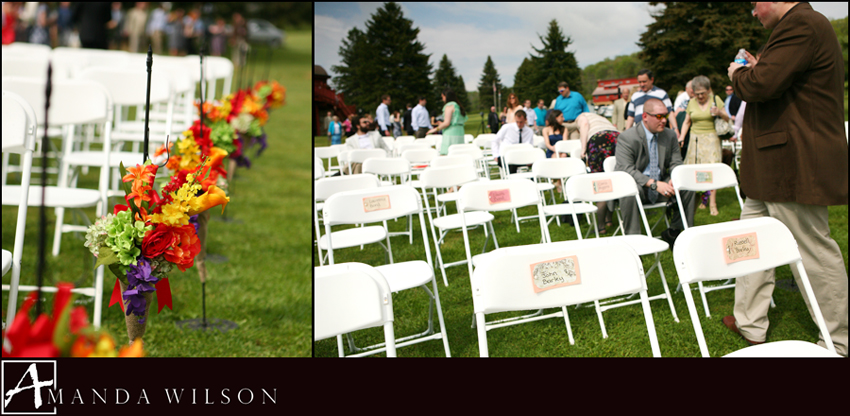 Even though they had already seen each other, JR was still speechless when his bride walked down the aisle.
Bottom left photo by Dana.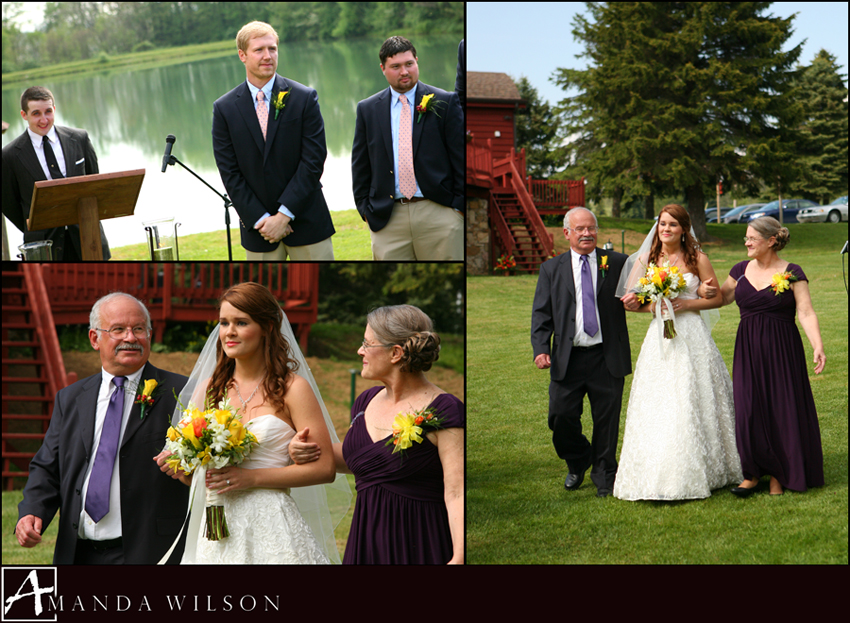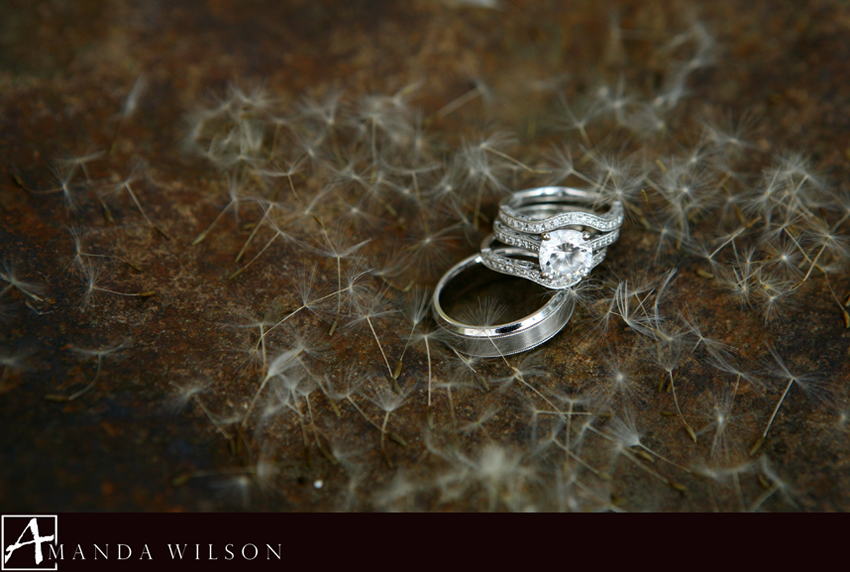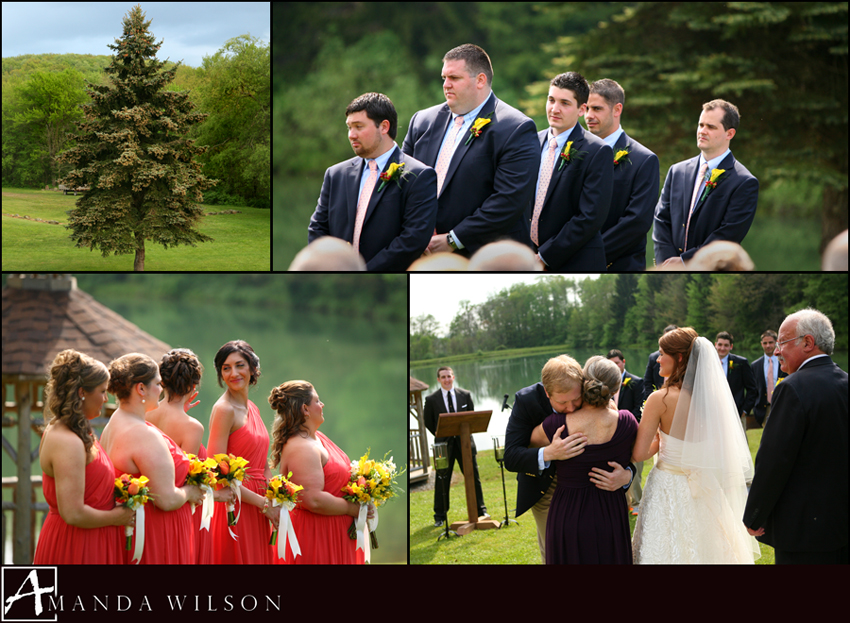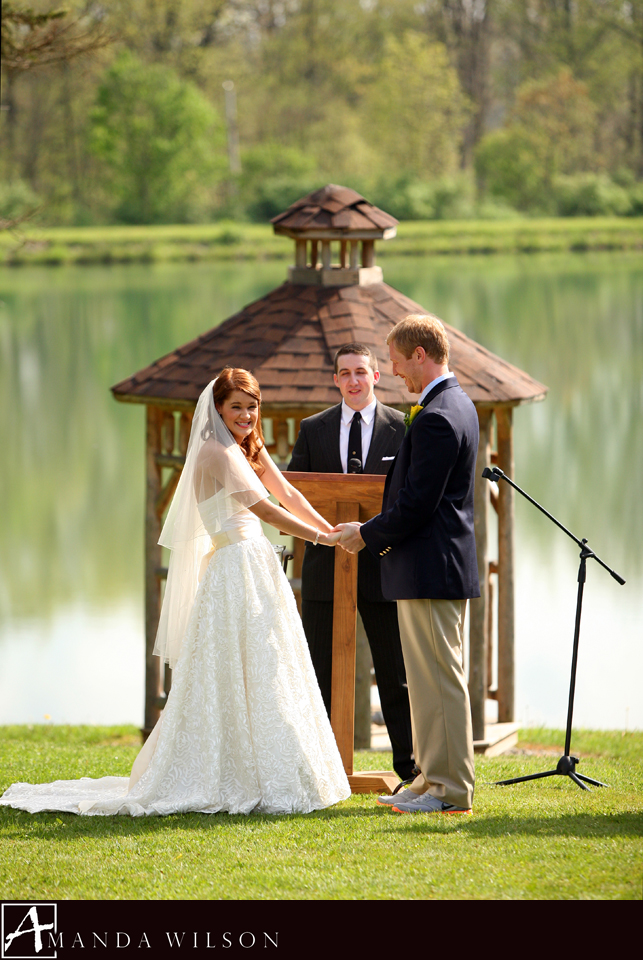 Each of their grandfathers did a special reading specific to each one of them.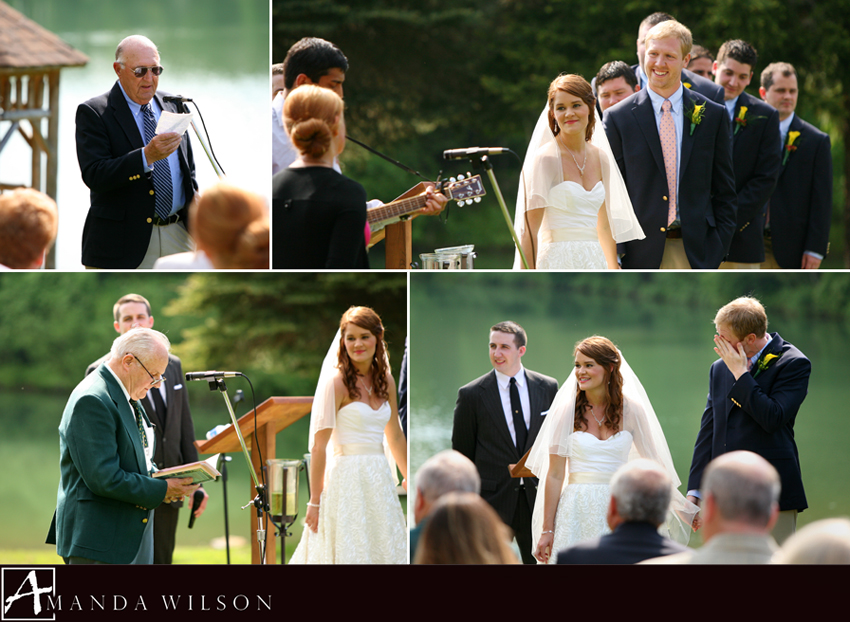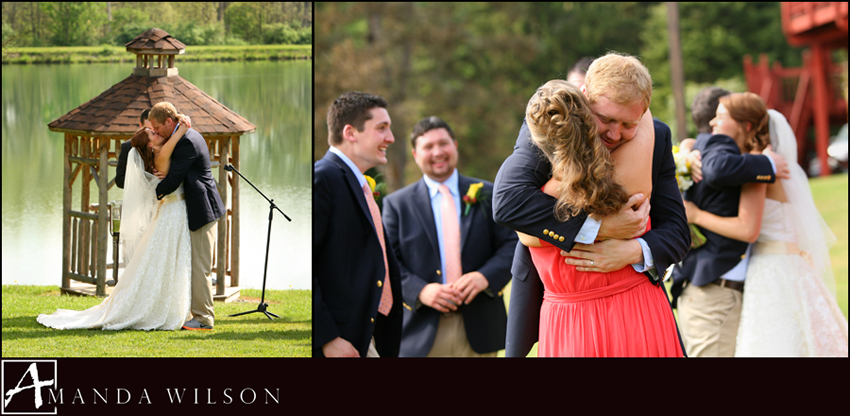 We did a huge group photo of everyone at the wedding just after the ceremony before the guests walked up for cocktail hour. Dana caught this great angle as I was shooting from overhead.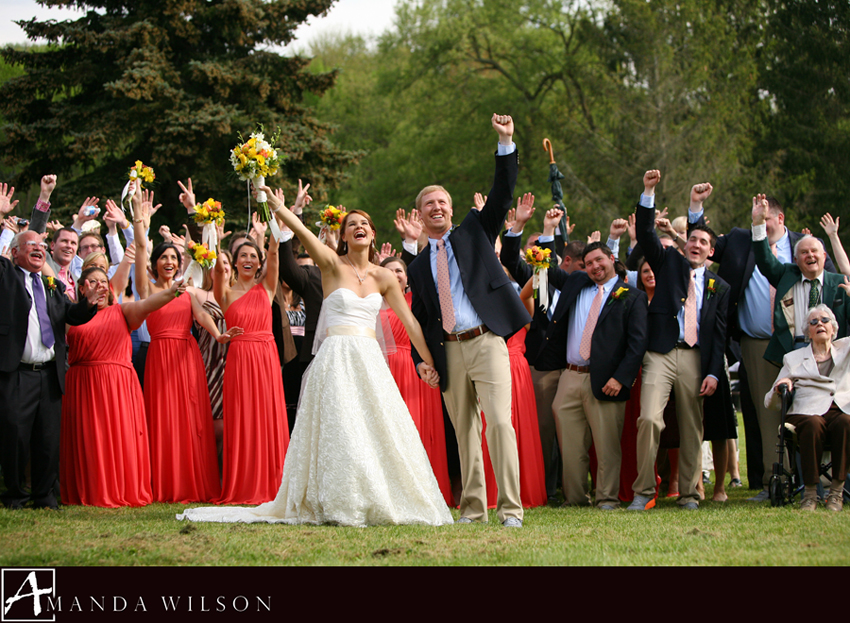 Everyone at this wedding from the guests to the wedding party were SO MUCH FUN! We had a fantastic time !
Middle left and right images by Dana.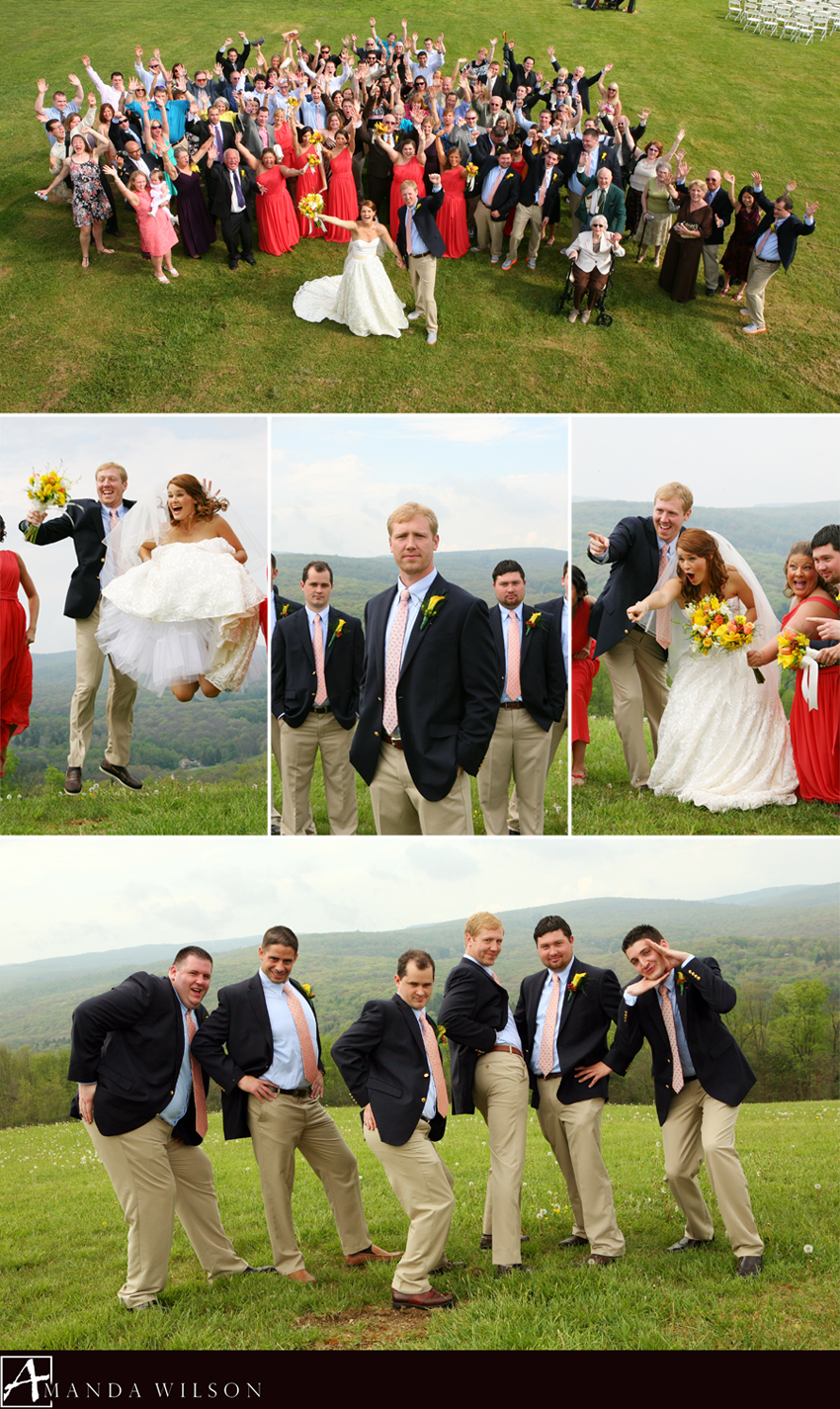 Love this top image of Madelyn, we were shooting some portraits with the wedding party and Madelyn realized that she'd gotten ready and left the cabin so quickly that she never stopped to look in the mirror and so had no idea what she looked like in her dress all done up ! I was happy to provide some instant proof!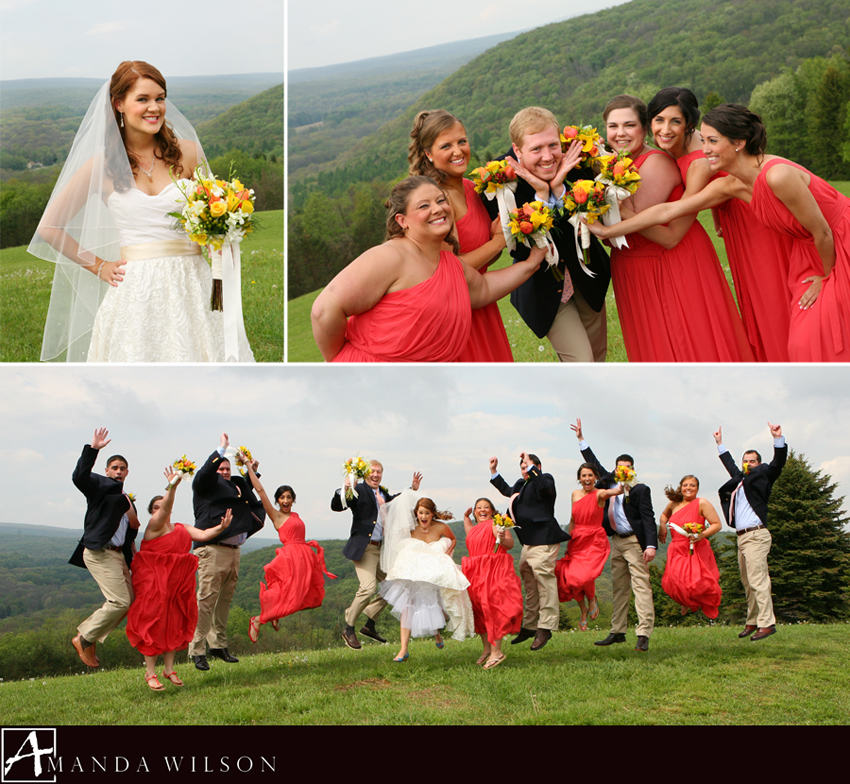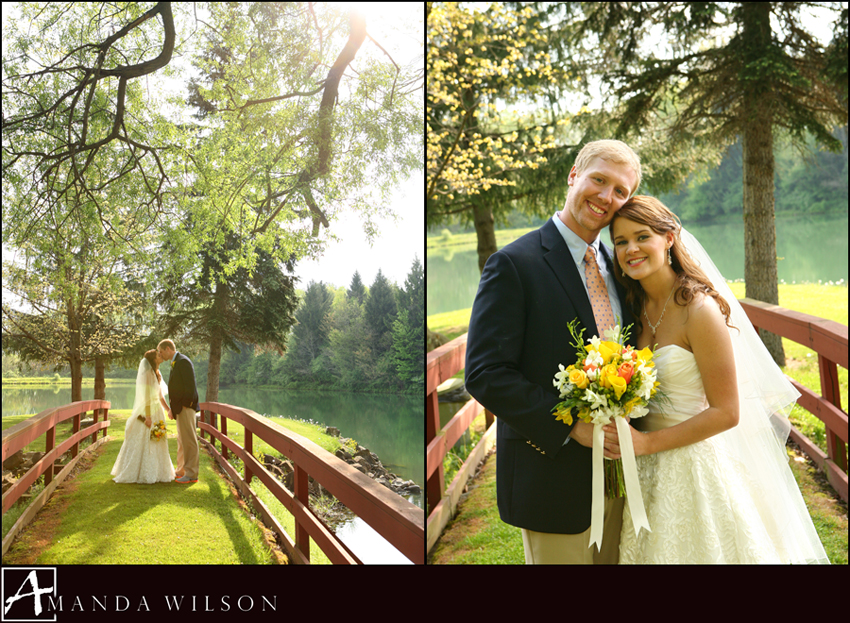 Their reception was a laid back party with a roasted pig provided by Pittsburgh BBQ Company and the BEST cornbread I've ever tasted!! They decorated with burlap and wildflowers. Their favors were drinking glasses that had mustache's painted on them for guests to use throughout the evening and then take home. They even decorated a mailbox to use as their cardbox that they can put up in front of their new house!!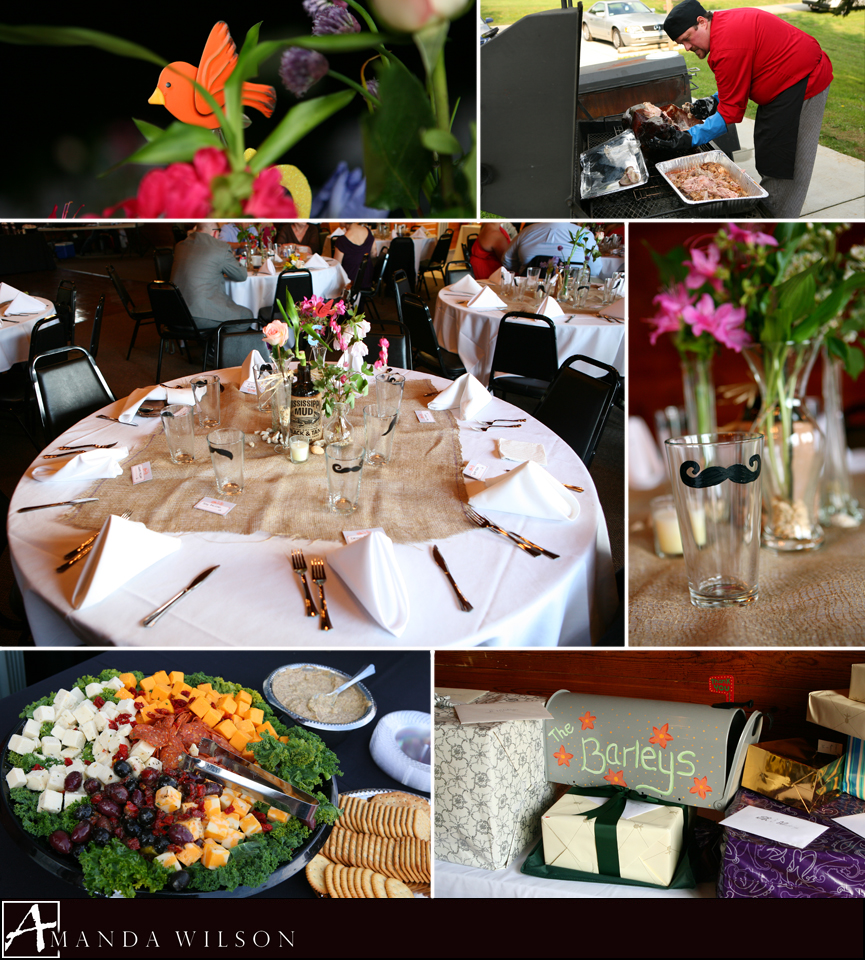 First dance.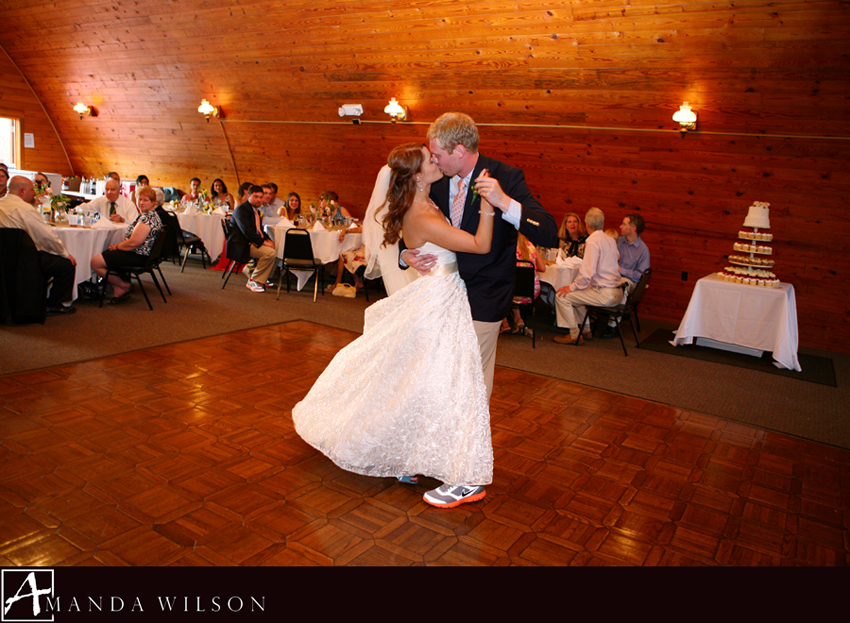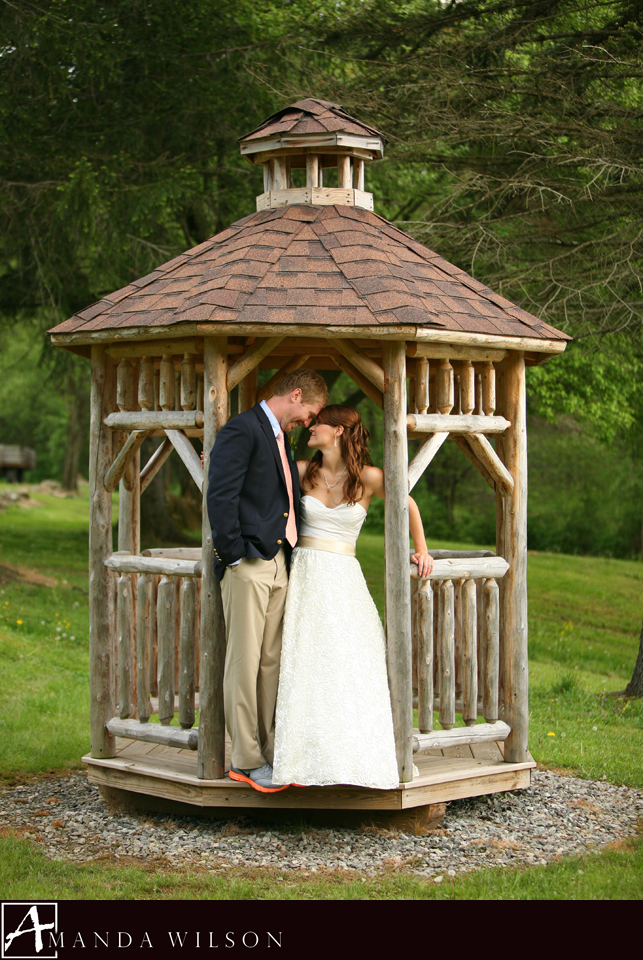 Got a wet squishy foot and nearly lost my sandal for this one jumping the creek to get to the other side of the lake. (The ground on the other side was not nearly as solid as I'd hoped when jumped off the bank.) But it was totally worth it ;)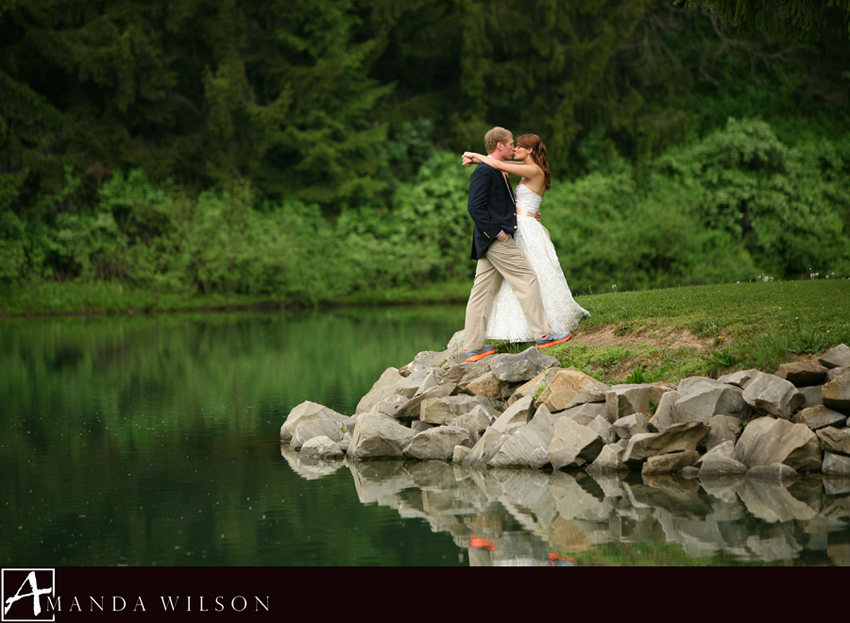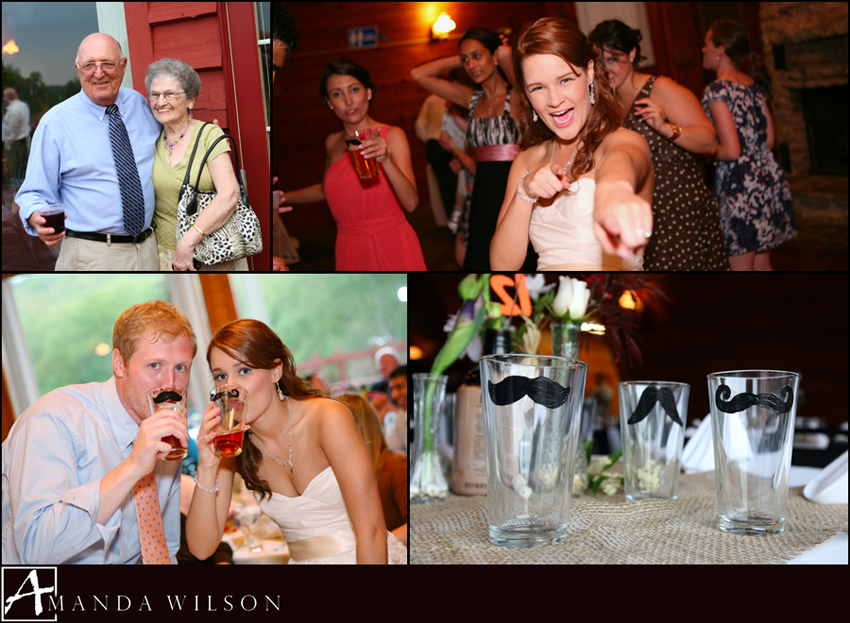 Congrats Madelyn & JR on a perfect wedding, moving in to your new house, and finding a partner in crime to share your adventures with :D
---
Hair & Make Up: Tanglz Salon
Ceremony & Reception Venue: Penn Scenic View
Catering: Pittsburgh BBQ Company